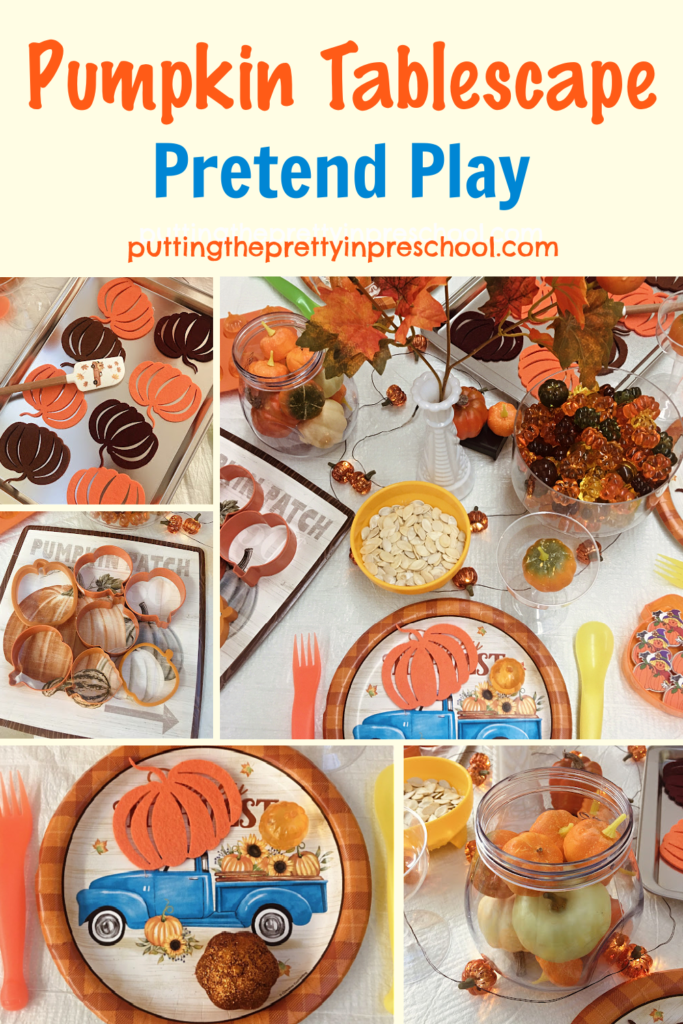 _______
This bright and cheery pumpkin tablescape pretend play setup has a host of loose parts that make it super fun to explore.
_______
Follow me on Pinterest for more early learning ideas.
_______
Supplies To Collect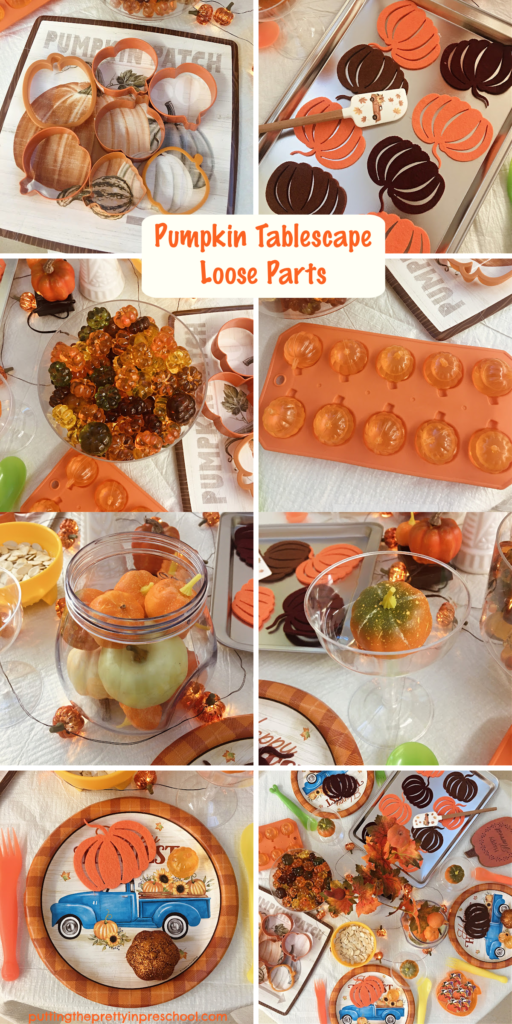 _______
Pumpkins are a huge part of fall décor, so it is easy to find accessories for this inviting, seasonal dramatic play activity. Here's a list of items gathered:
white tablecloth
vase with artificial flowers
a string of pumpkin lights
pumpkin-themed disposable plates and serving trays
non-breakable cutlery and drinking glasses
acrylic gem pumpkins
artificial mini pumpkins
wooden pumpkin beads
pumpkin cookie cutters
pumpkin seeds
reusable pumpkin ice cubes
pumpkin-themed ice cube tray
felt pumpkins
fall-themed mini spatula
wooden harvest/pumpkin plaque
plastic jars and serving bowls
cookie tray
serving utensils
_______
Setting Up The Pumpkin Tablescape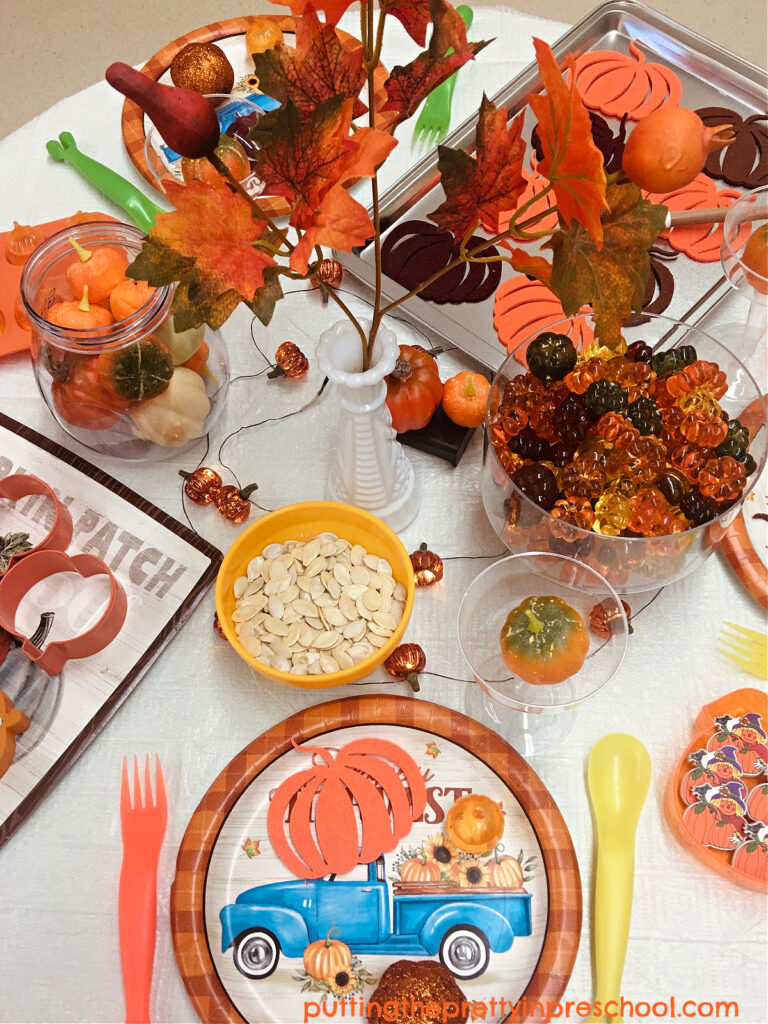 _______
It's so quick and easy to set up this play tablescape. I keep a large storage container with pumpkin-themed accessories and take out the tableware and loose parts that work for the center.
To get this activity ready, first cover a child-sized table with a white tablecloth. Then, set an unbreakable vase with pumpkin-themed artificial flowers in the center. Add a string of pumpkin lights around the vase.
Next, arrange place settings with fall-themed disposable plates and cutlery on the table.
Then, drop artificial mini pumpkins into clear drinking glasses and include them in the place settings.
After this, set out the rest of the supplies in the open spaces:
tray of felt pumpkin "cookies"
jar of artificial mini pumpkins
bowl of pumpkin/turkey bead "candies"
ice cube tray with reusable pumpkin-themed ice cubes
bowl of pumpkin seeds
jar of acrylic pumpkin gems
fall-themed spatula
Finally, add serving spoons to the play tablescape.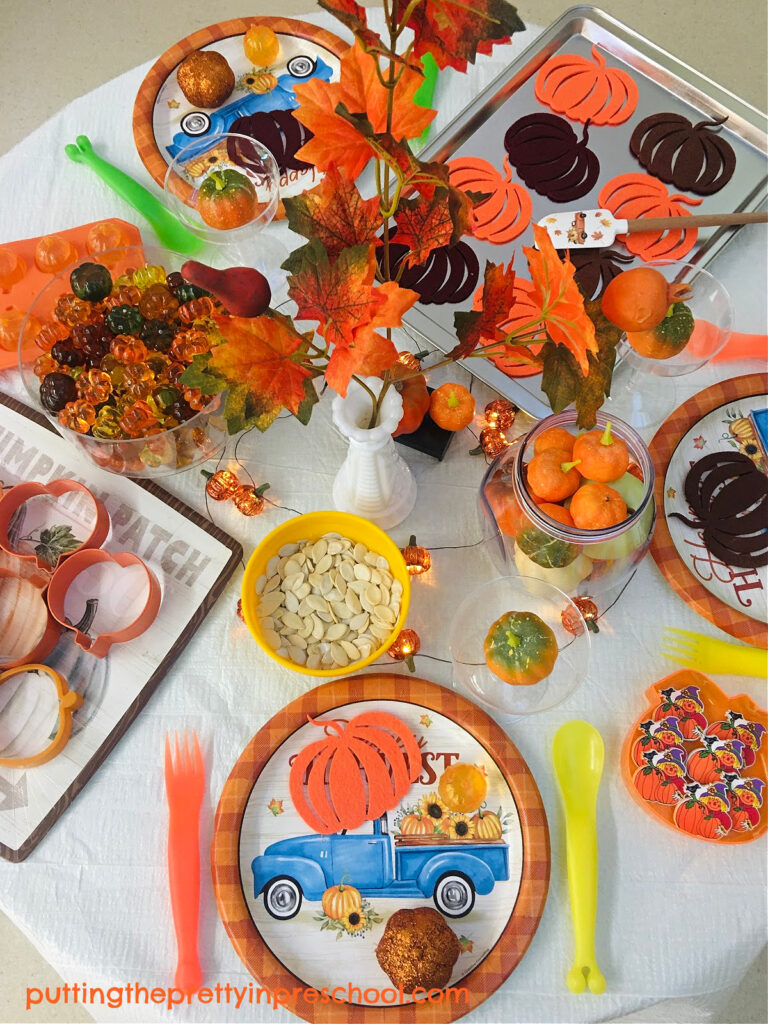 _______
Your little learners will be excited to discover this pumpkin tablescape pretend play center, and I'm sure a lot of imaginative, quality play will take place.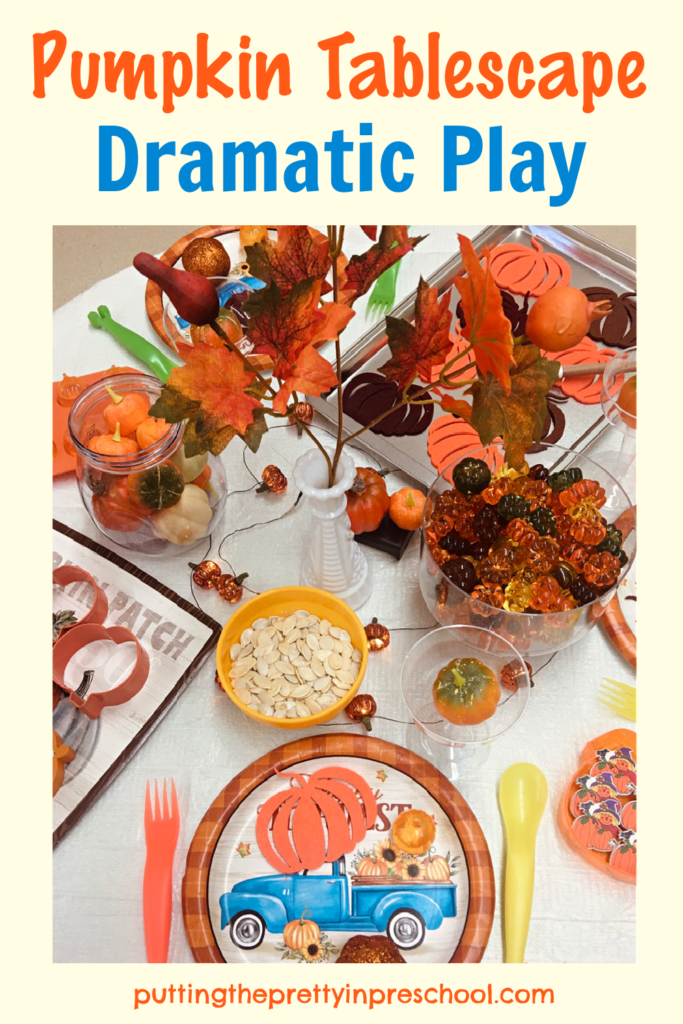 _______
View this Pumpkin Tablescape Pretend Play Center as a video.
_______
More Pumpkin Activities
_______
_______
You may also like: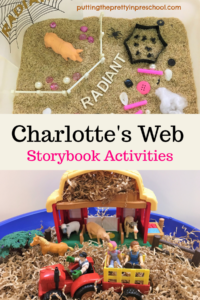 _______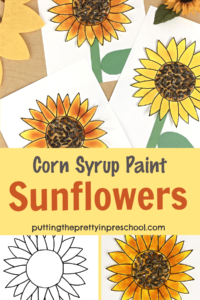 _______
Don't forget to share this post on Pinterest or your favorite social media channel. Sharing is caring!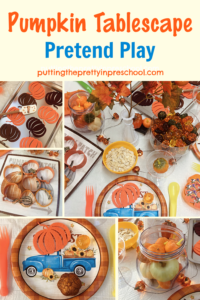 _______
© Annette Kaminsky October 21, 2022
_______
Follow me on social media for more ideas: