One of the easiest vegetables to grow in an indoor or outdoor garden is carrots. This makes carrot activities ideal for hands-on nature experiences with young children.
_______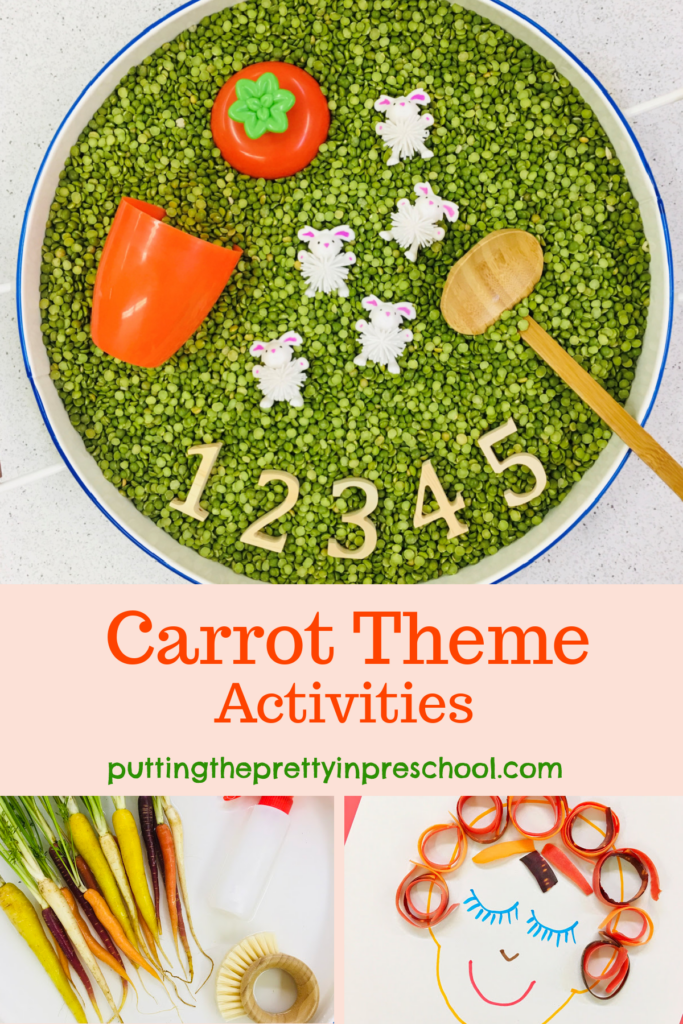 _______
We usually think of carrots as orange, but did you know that they come in a variety of colors? You can purchase a rainbow bunch, which has purple, red, orange, yellow, and white carrots. Being a lover of all things colorful, I chose rainbow carrots for some of the carrot theme activities.
Carrot Washing Station
A carrot washing station, set up outdoors or in a sensory tub indoors, offers early learners a farm day experience.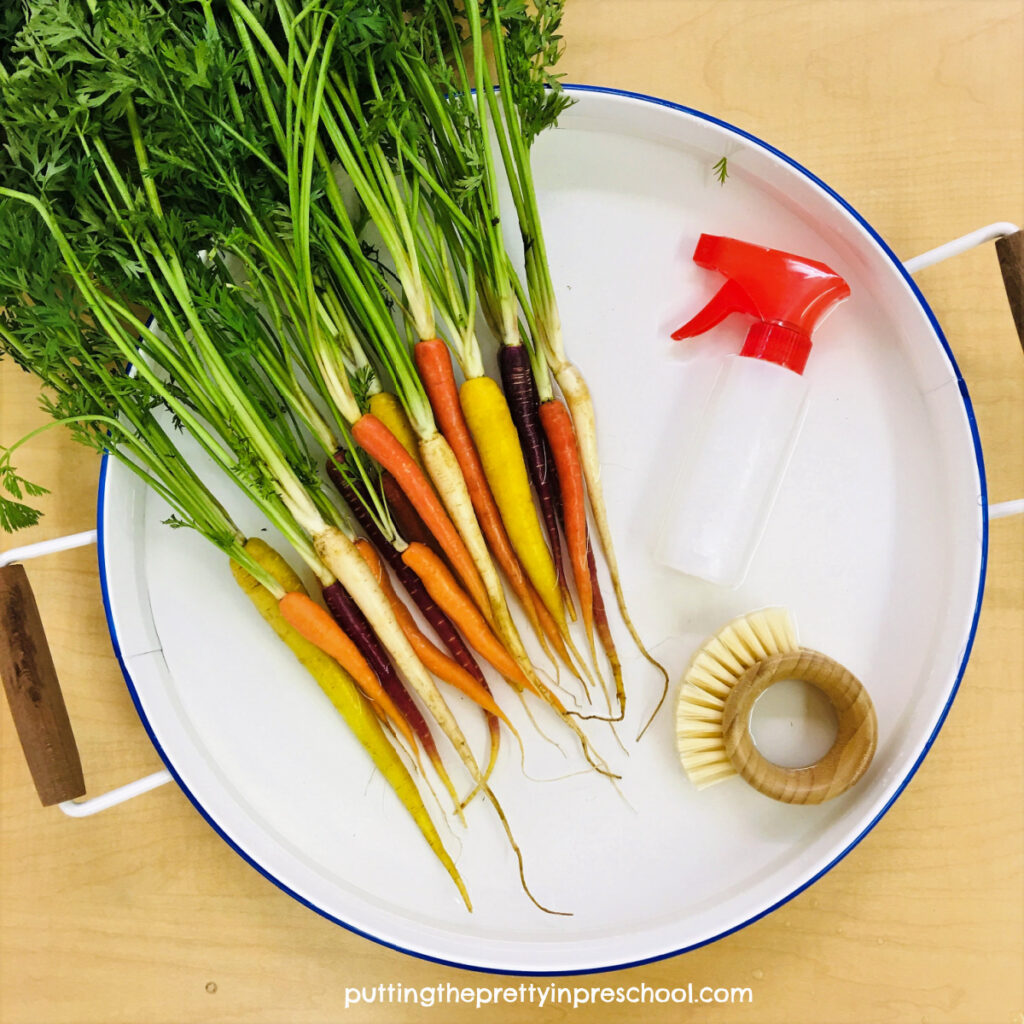 _______
Save the tops of the carrots for your little ones to use with a mortar and pestle. View the post by Fairy Dust Teaching called "SMASH, CRUSH, DESTROY! How To Use A Mortar And Pestle In Your Sensory Play" for more information about introducing these implements in early learning activities.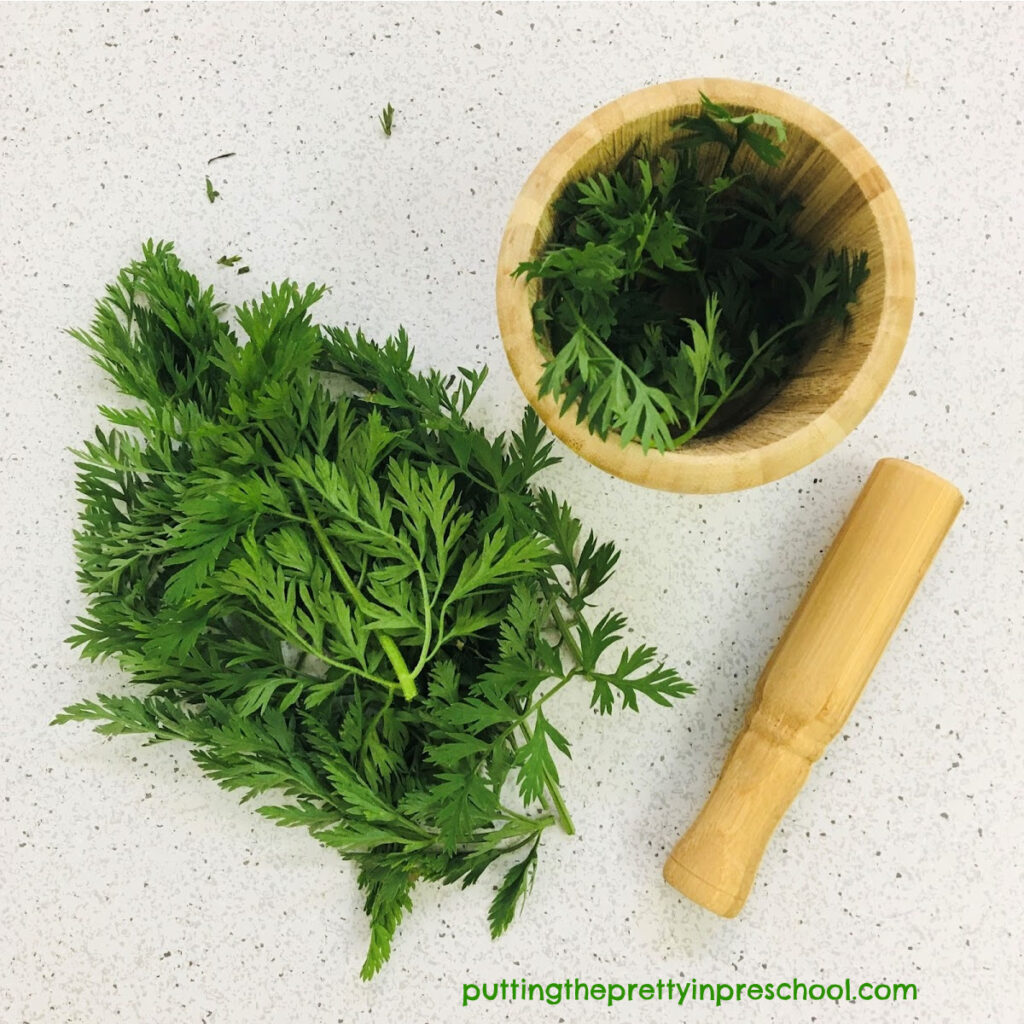 _______
Curled Carrot Hair Portraits
Curled carrots make statement hairdos! On a sturdy piece of paper using felt pens, draw a face. Or have your little learners draw one. Invite them to add carrot hair to the face. Since natural human hair is made up of an array of colors, rainbow carrots work fabulously in this challenge.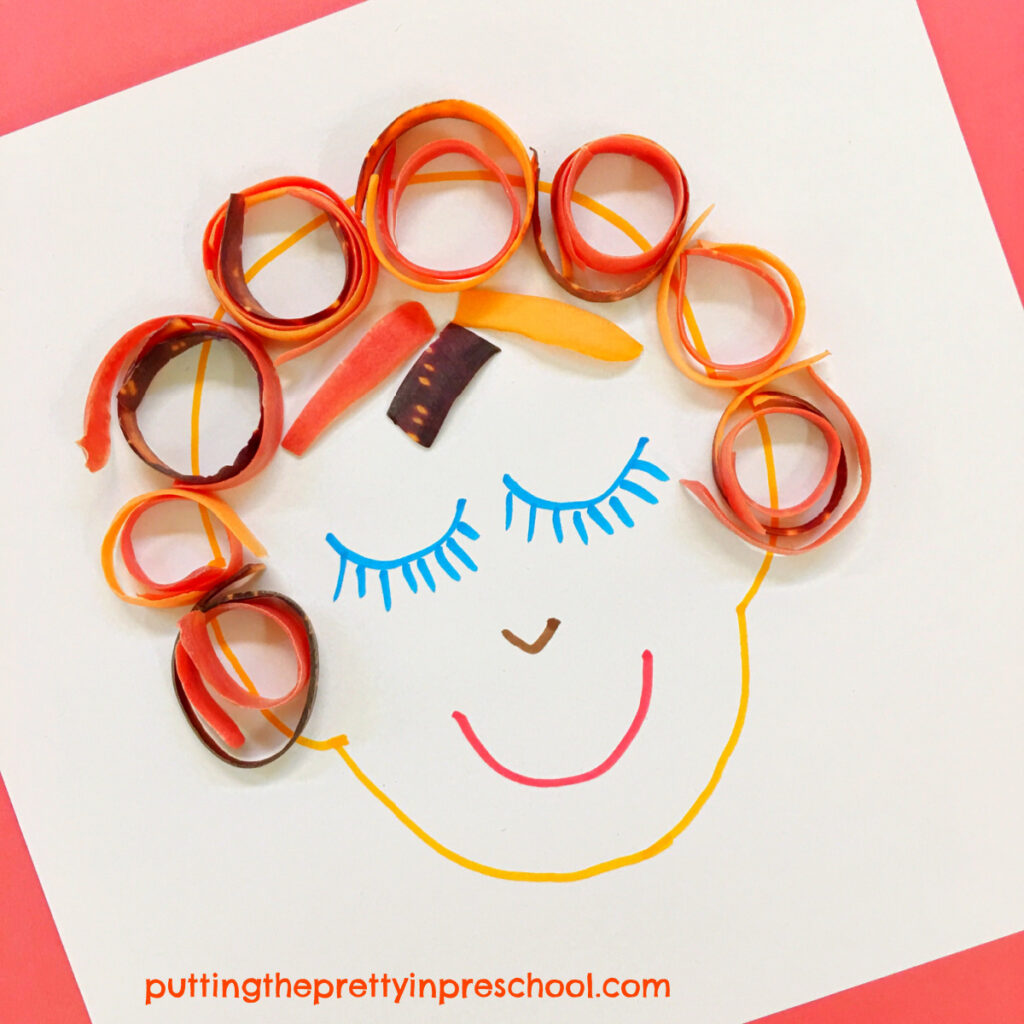 _______
If the carrot curls straighten, they still make striking hair.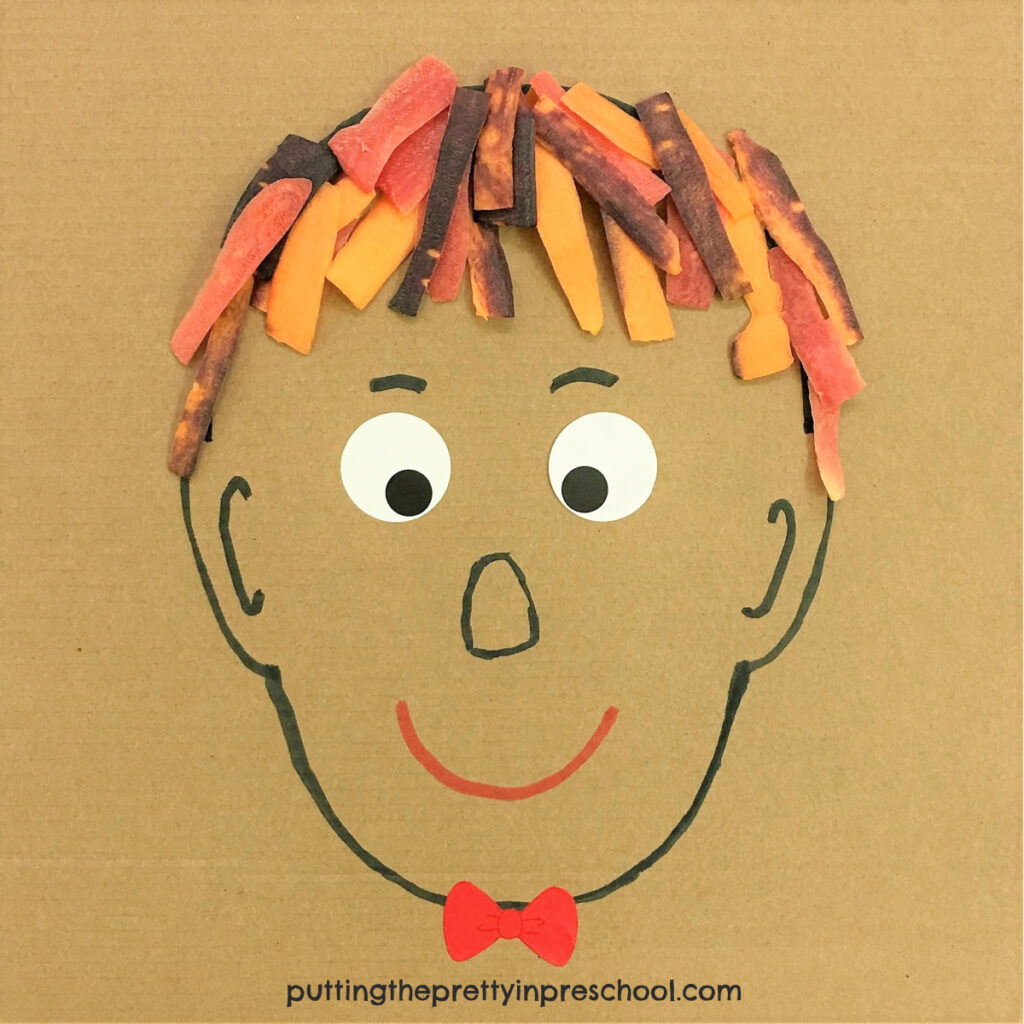 _______
Carrot Contour Drawings
Contour carrot drawings are the perfect follow-up activity to reading a storybook such as "The Carrot Seed" by Ruth Krauss. And carrots make a superb subject for guided drawing.
Start by showing early learners a large carrot (with a green carrot top.) Hold up the carrot in one hand. Ask them to follow along with their eyes as you air trace around the outside with your other hand. Discuss the long, thin, triangular shape of the carrot, and the delicate lines in the carrot top. Afterward, offer green and orange felt pens and large pieces of paper for little learners to create one.  
Below are drawings preschoolers have made.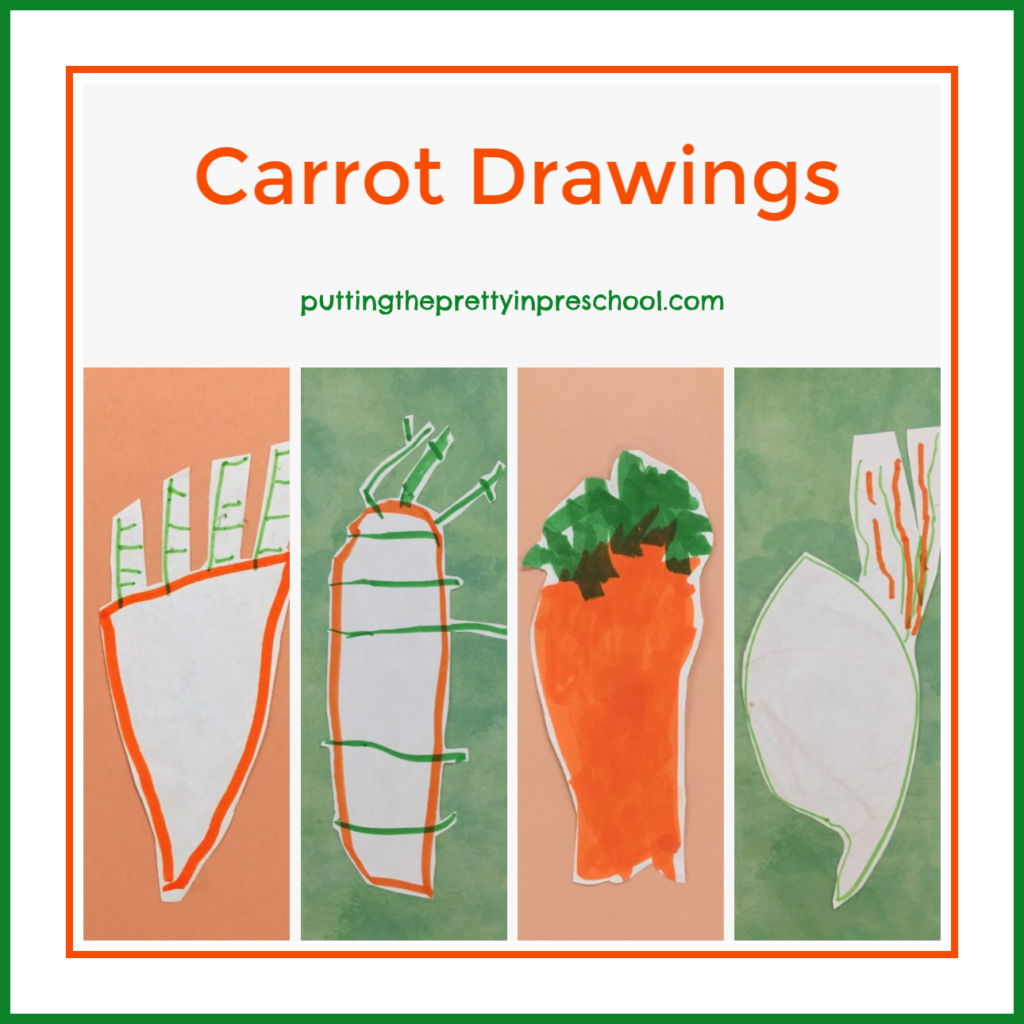 _______
Carrot And Bunny Sensory Trays
Little learners love sensory trays with scooping, pouring, sifting, and counting opportunities. Below are two garden-themed trays. They prominently feature carrots and bunnies…a natural pairing!
The first tray has a green split pea base and is simple to put together. It includes:
plastic carrot cup with lid
rubber bunny woolies
ladle
wooden numbers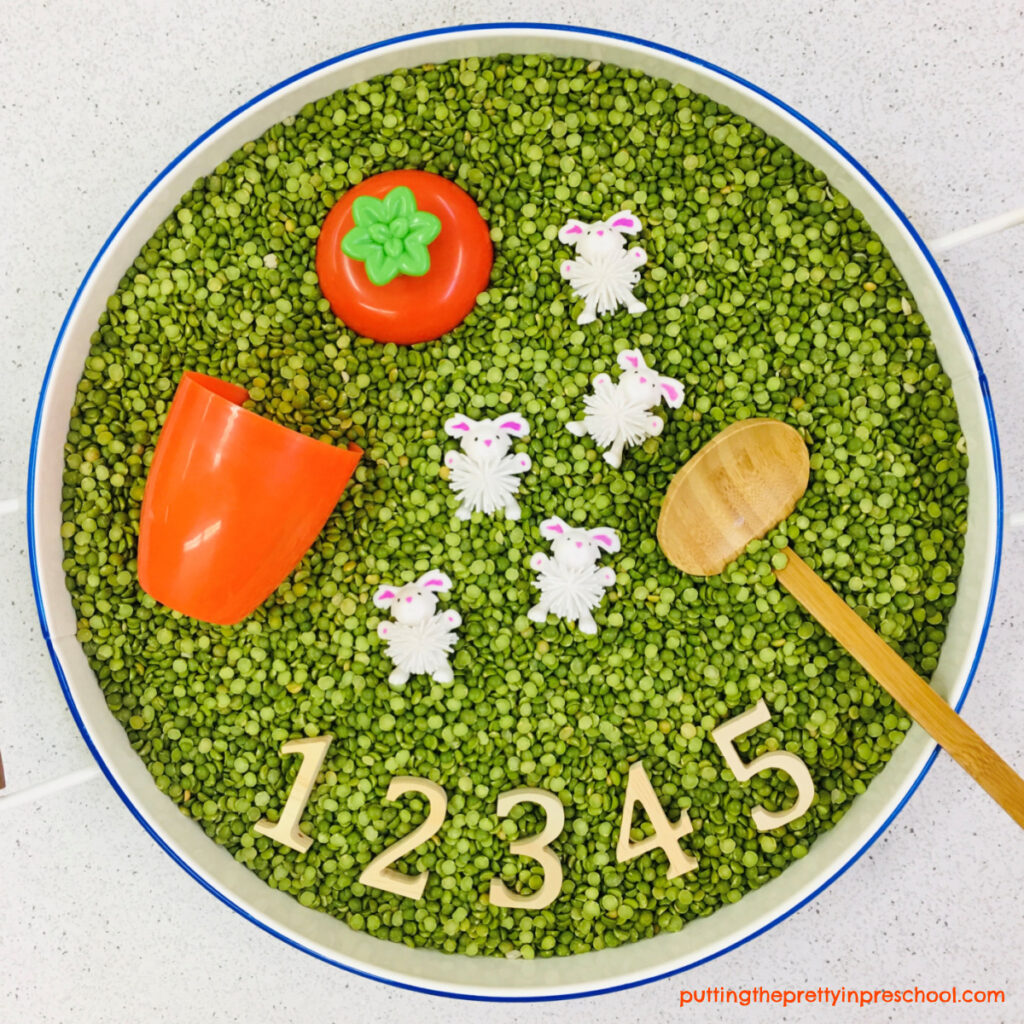 _______
This second sensory tray is brimming with bunnies, carrots, numbers, and gems. Green split peas and black beans are the base ingredients.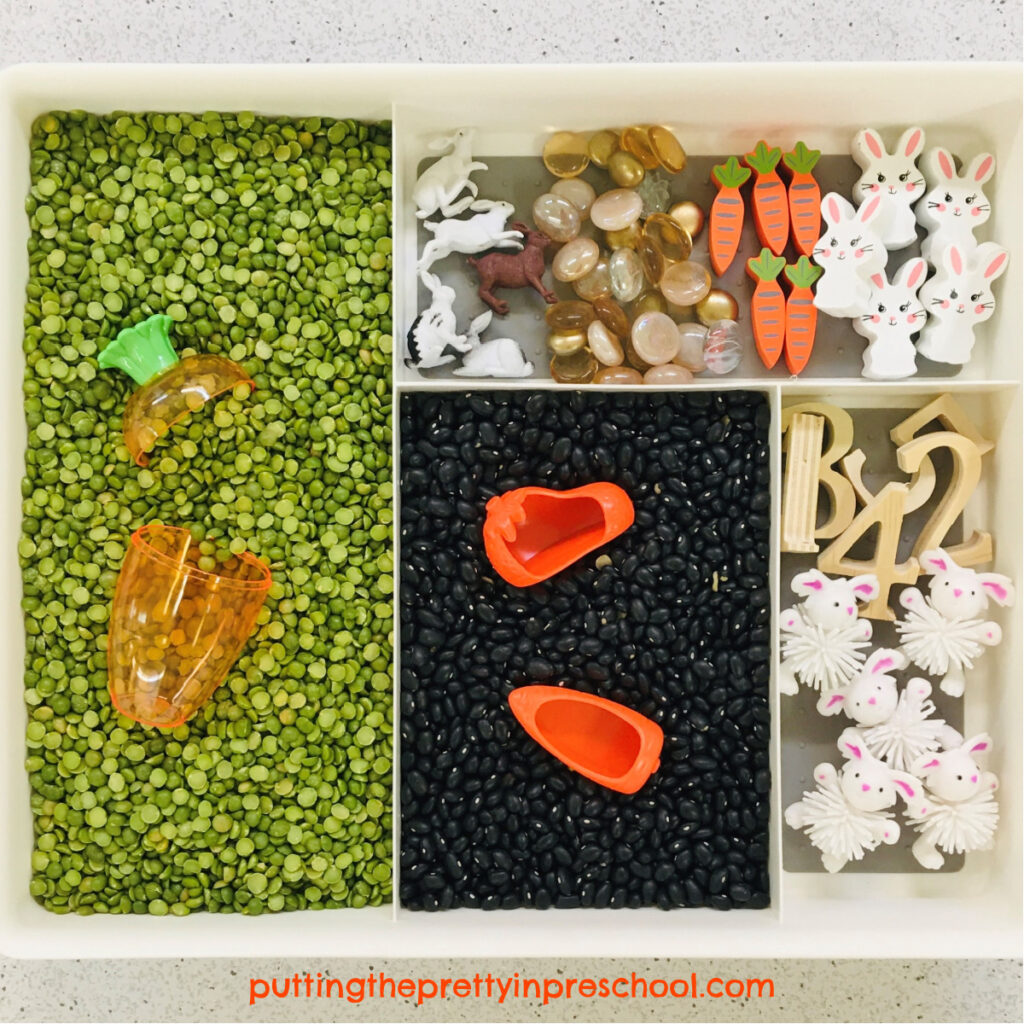 _______
Carrot Measurement
A rectangular piece of sturdy cardboard, measuring tape, and washed carrots are all that is needed to give early learners practice in measuring the length of these crunchy vegetables.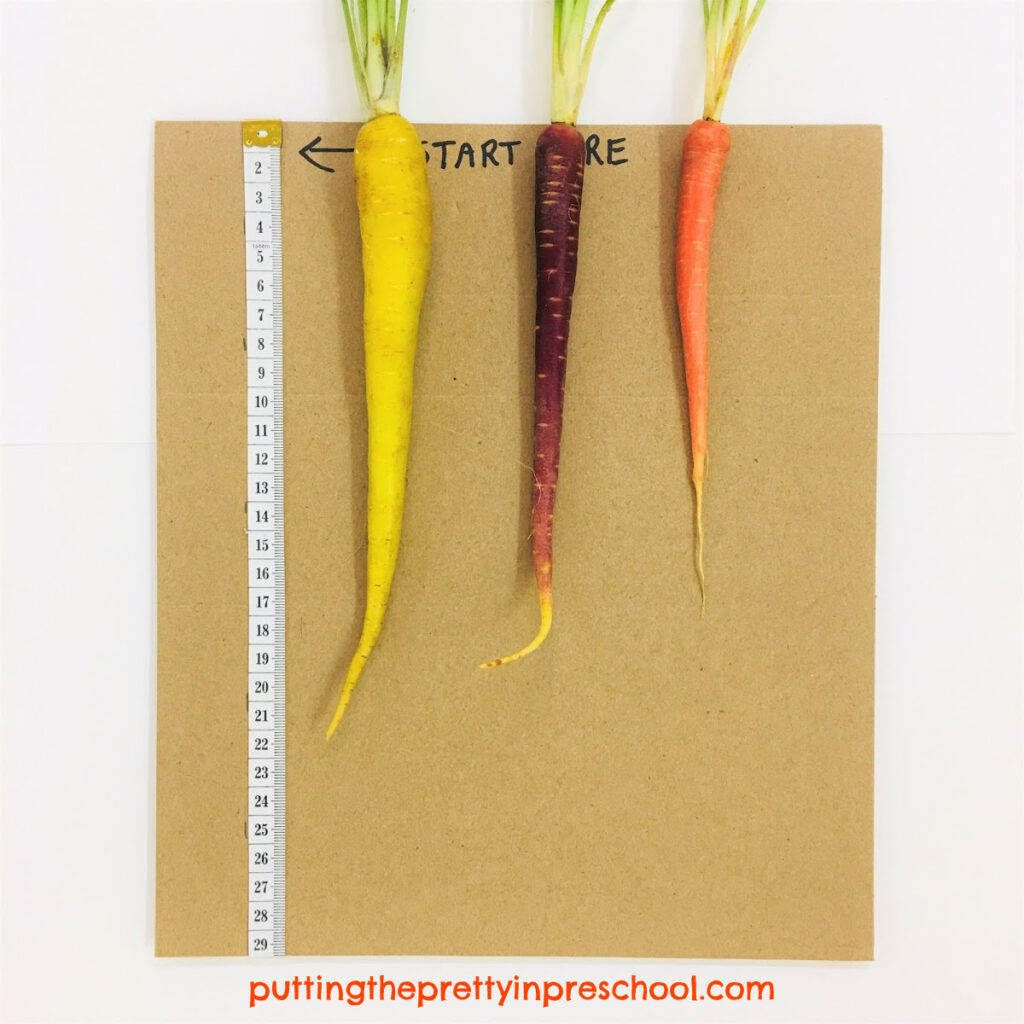 _______
Along with offering carrots in early learning activities, include them in snacks too. And this Roasted Rainbow Carrot recipe from the Food Network Kitchen makes a colorful and appetizing addition to any meal.
Do you have a favorite carrot activity?  Share in a comment below.
_______
_______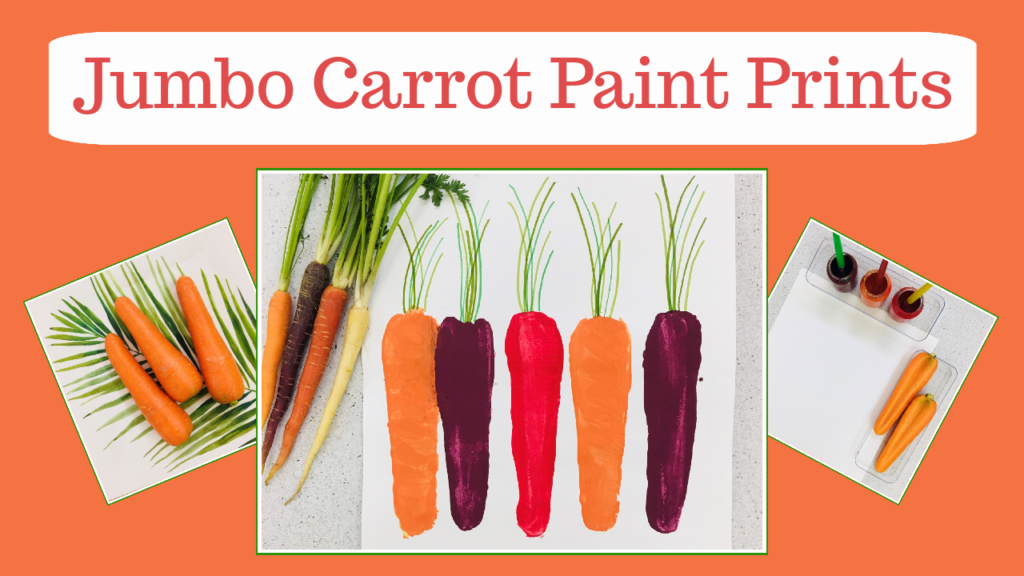 _______
_______
You may also like:
_______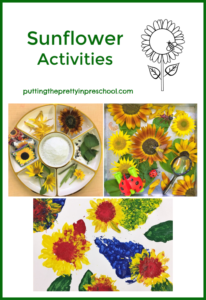 _______
Don't forget to share this post on Pinterest or your favorite social media channel. Sharing is caring!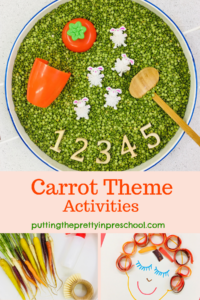 _______
© Annette Kaminsky April 18, 2020
_______
Follow me on social media for more ideas: