_______
Beans in a variety of colors weren't the only thing I discovered on a recent street market stroll. I also stumbled upon a delightful vegetable stall with three different colors of cauliflower. The uniquely hued vegetables are the inspiration for cauliflower theme activities to try, including super easy raw and cooked cauliflower snacks, cauliflower science, and arts and crafts activities.
The easiest cauliflower to find is cream-colored, but did you know that this popular vegetable also comes in green, orange, and purple varieties? These additional colors have recently popped up at vegetable stands. They add variety to food offerings and would certainly be a conversation piece at any gathering.
_______
Follow me on Pinterest for more early learning ideas.
_______
The cauliflower colors I found and feature in snacks and activities are cream, light green, and medium green. I am still on the hunt for purple and orange and look forward to being able to find them.
_______
Cauliflower Snacks
Cauliflower is a versatile vegetable and can be used in many different dishes. Two easy ways to introduce cauliflower are in a vegetable tray or as a roasted dish.
Cauliflower Vegetable Tray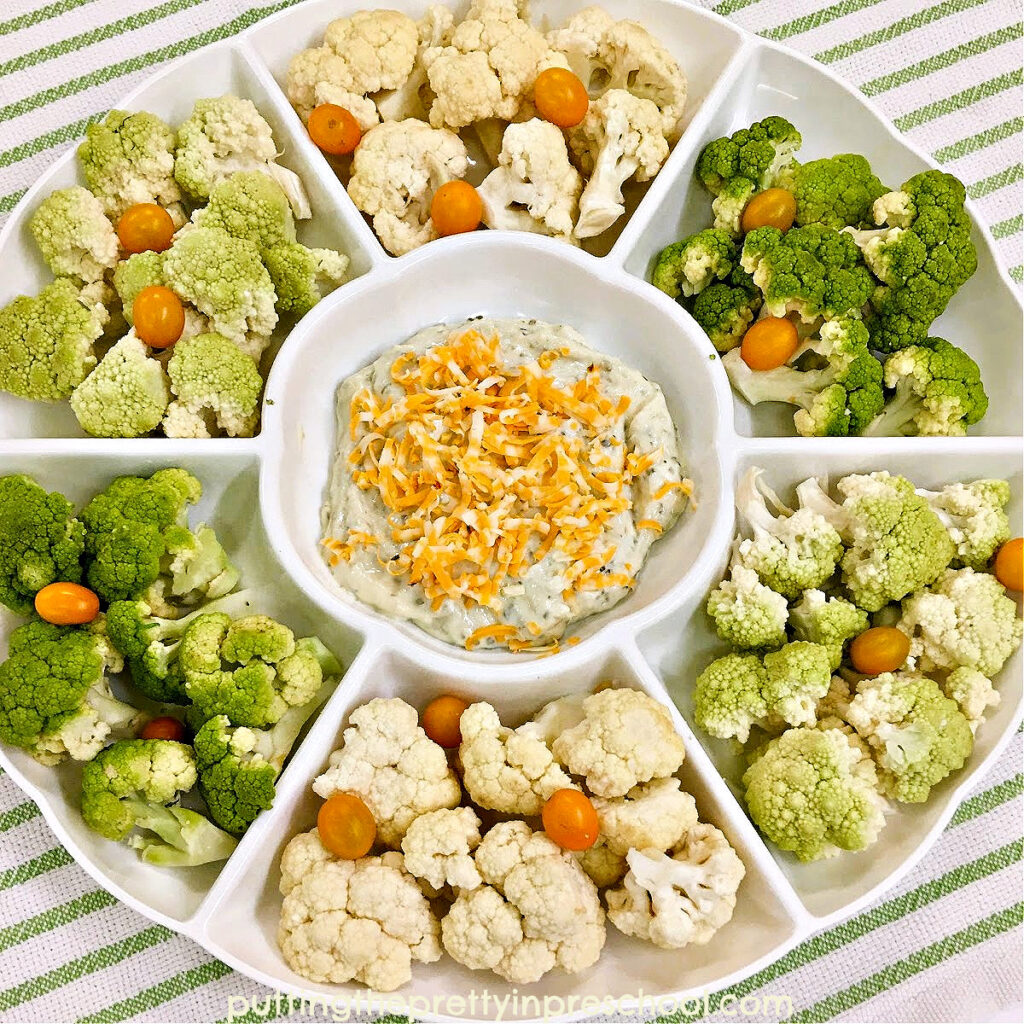 _______
To give them a moment to shine, include different-hued cauliflower florets in a vegetable tray. Add a favorite dip in the middle of the eye-appealing snack. A little shredded cheese sprinkled on top of the dip and a few cherry tomatoes placed around the cauliflower add pops of color to the tray.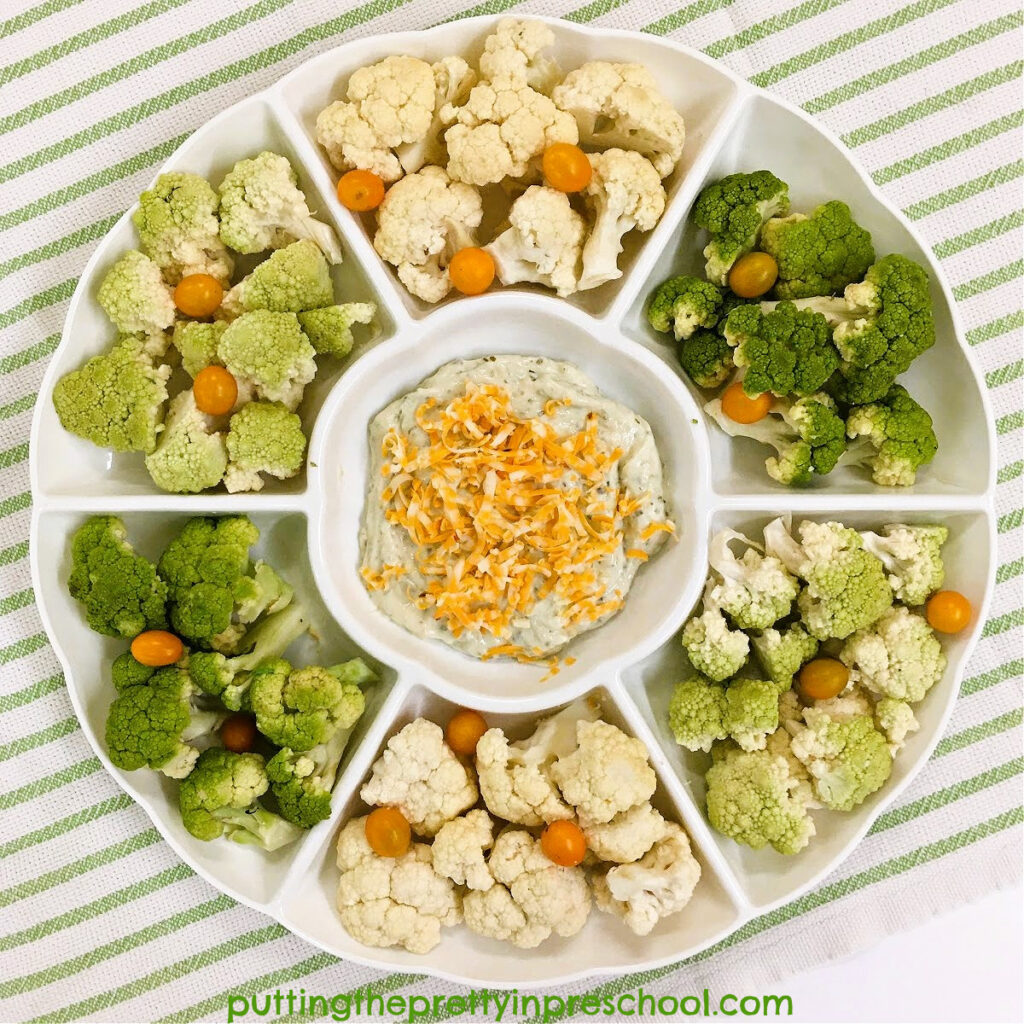 _______
Roasted Cauliflower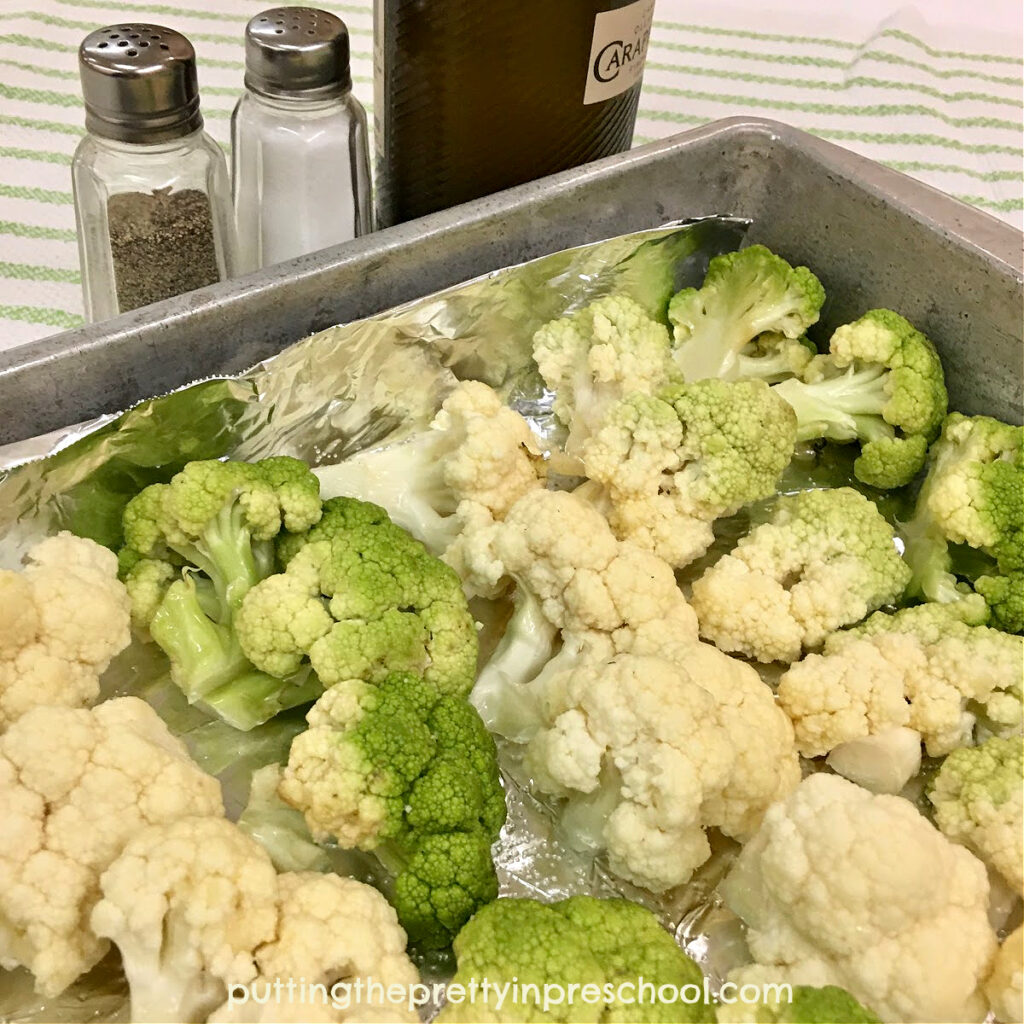 _______
Offer different colored cauliflower varieties in an easy-to-make roasted dish. First, pour a little olive oil in a bowl. Then cut the heads of cauliflower into florets and toss them in the oil. Spread the cut pieces in a baking pan lined with parchment paper or aluminum foil. Finally, sprinkle a little salt and pepper on the florets and bake them in an oven heated to 400 degrees for about 25 minutes.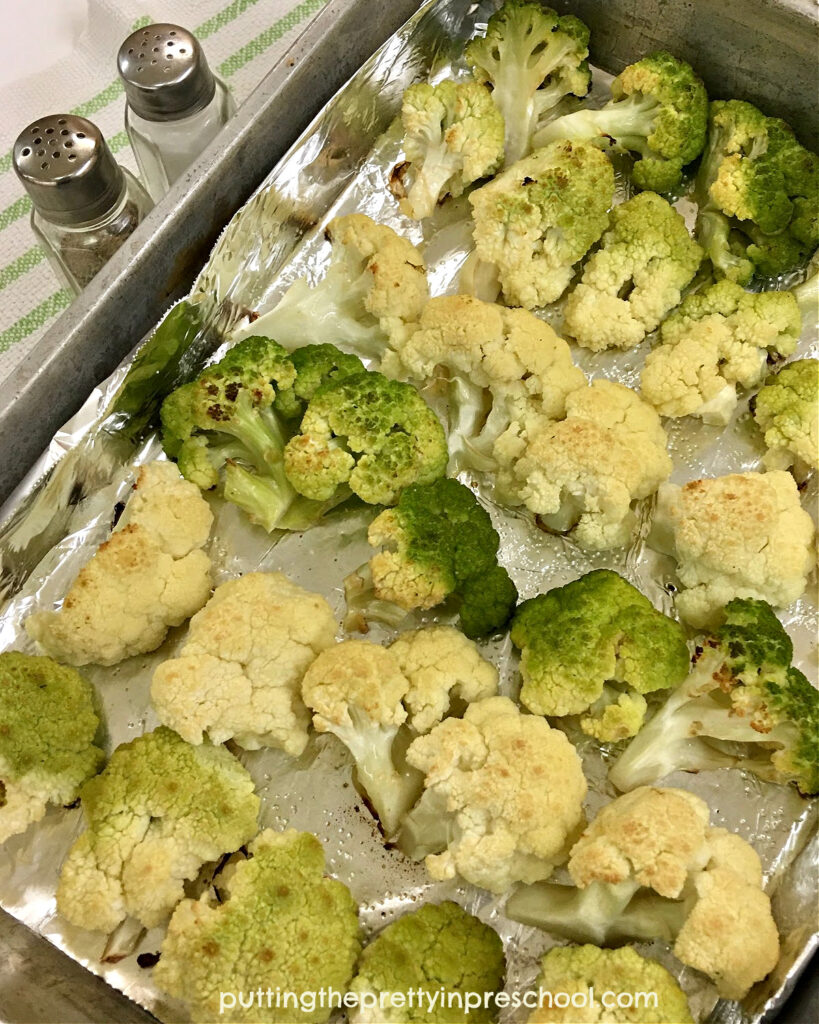 _______
Cauliflower Science
Before cutting a few different colors of cauliflower into florets, set them on a table for participants to view. Discuss cauliflower parts such as the head and stem leaves.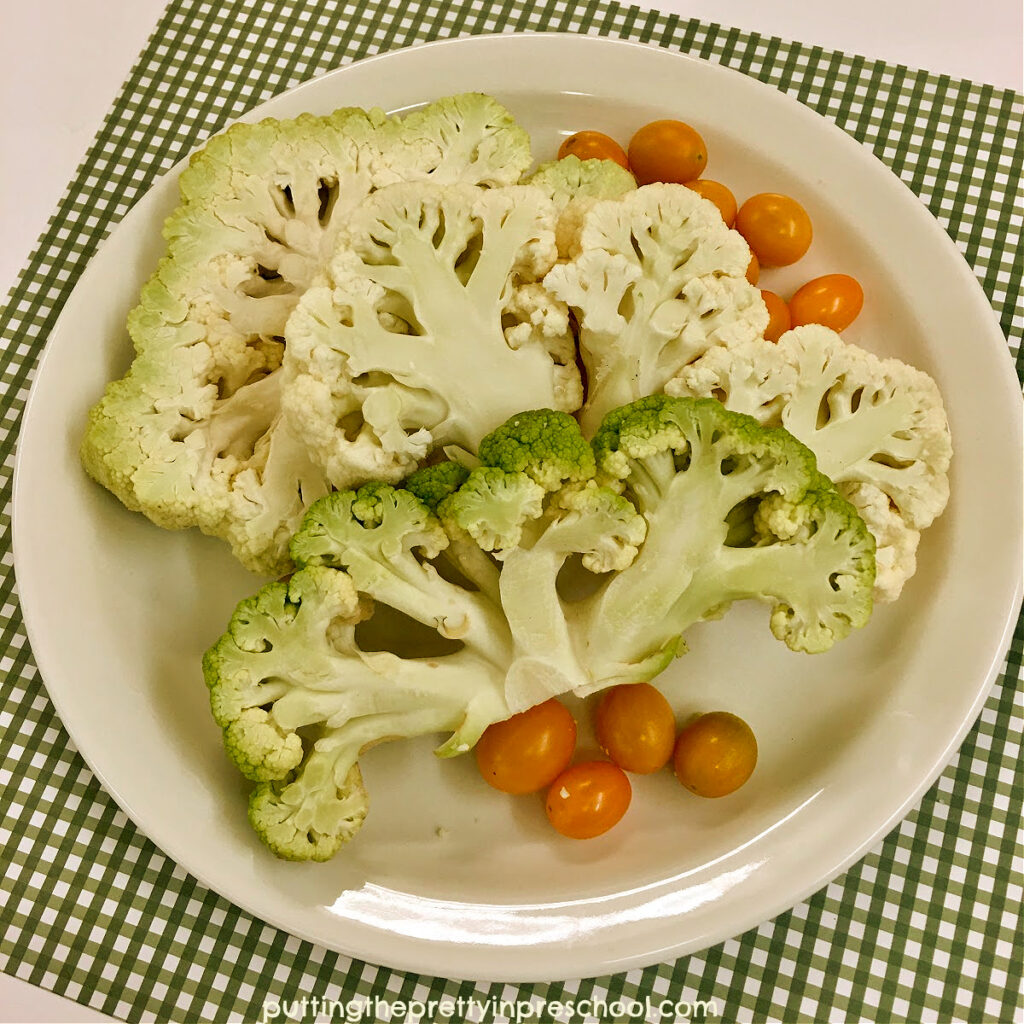 _______
Next, slice a cauliflower into wedges to see cross sections of the cruciferous vegetable. View the stem and florets. If the cauliflower is green, orange, or purple, note if the insides of the cauliflower slabs are the same color as the outsides.
Discuss that this nutrient-rich vegetable has lots of vitamins and minerals, and is very healthy to eat.
_______
Cauliflower Arts And Crafts
You may not be able to find purple and orange cauliflower at your local grocery store, but their hues can certainly be included in cauliflower art and craft projects. In addition to green and cream, they are eye-catching colors to introduce in arty activities.
Vegetable Printing With Cauliflower
Create interesting, unexpected designs by using cauliflower florets as printmaking tools.
First, cut cauliflower into different-sized florets.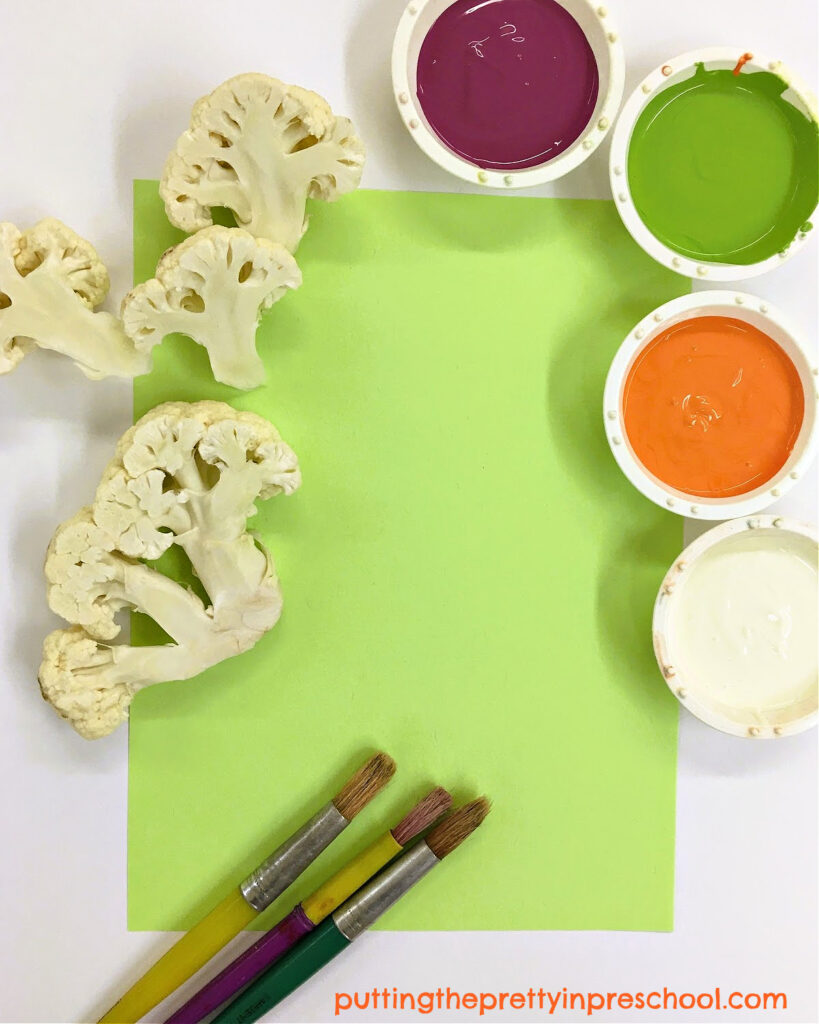 _______
Next, paint the flatter sides of the florets with tempera paint. Cauliflower hues are a standout in this painting activity.
Then press down the florets onto a piece of sturdy art paper to make vegetable prints. Black and green fade-resistant construction paper work nicely for this cauliflower printmaking project.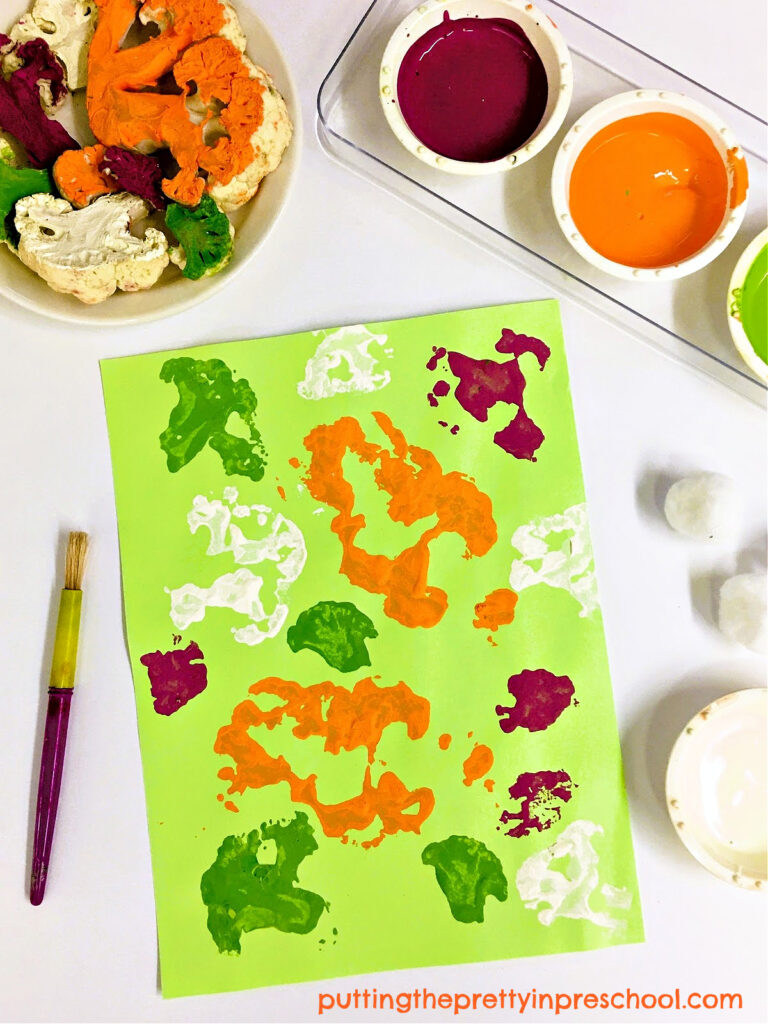 _______
Paint Mixing Tips:
Add a drop of yellow tempera paint in the white to make a lovely cream color.
Mix a little yellow paint into green to make a lighter and brighter hue.
Drop in a teaspoon or two of white paint into purple and orange to make softer hues.
_______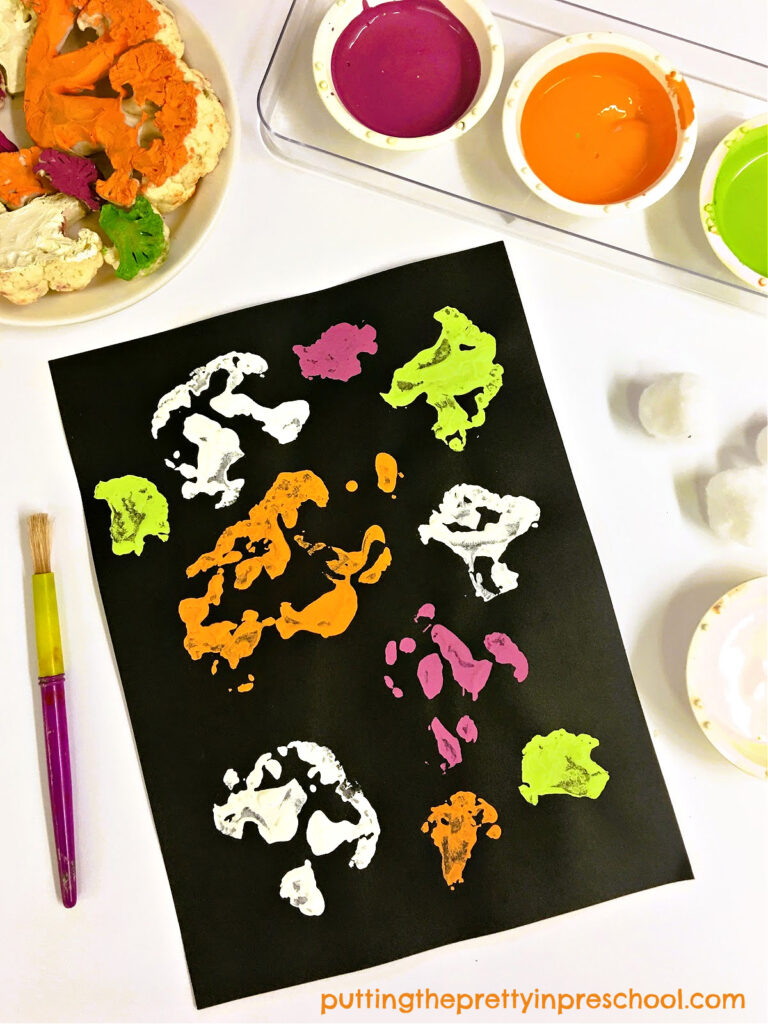 _______
Cauliflower Paper Craft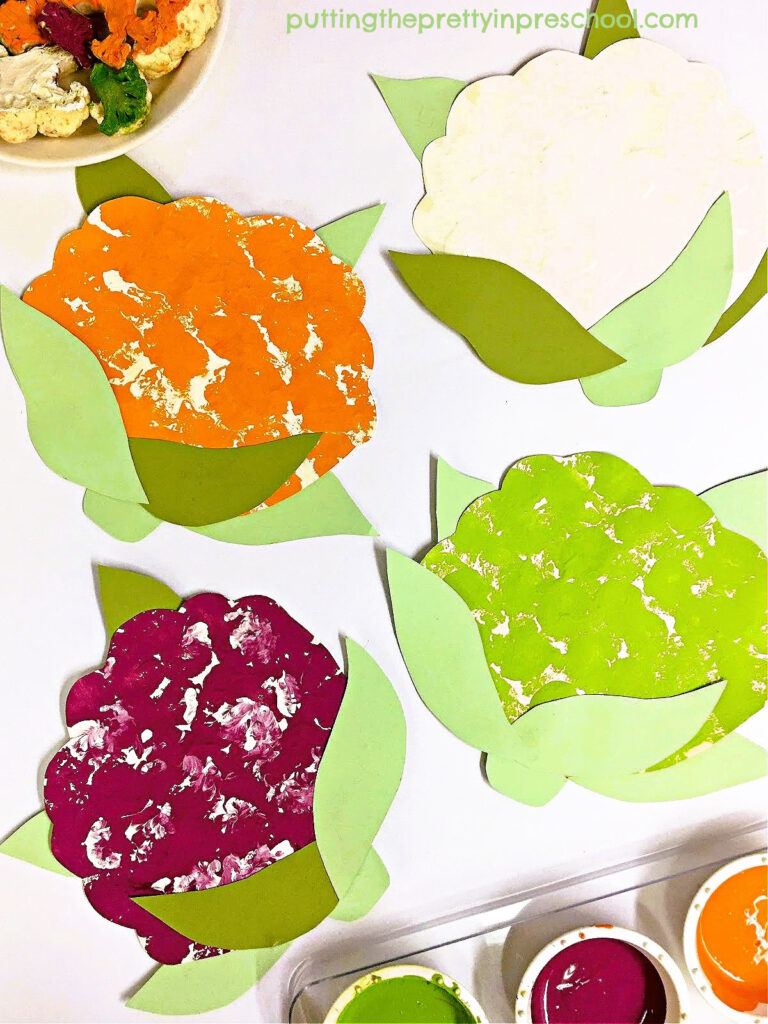 _______
This cute cauliflower paper craft also includes printmaking.
To do the craft, first cut cauliflower heads from manilla tag or cream construction paper, and humps and stem leaves from one or two shades of green cardstock or construction paper. Choosing fadeless paper for the project is recommended.
Feel free to download this template for the vegetable craft project.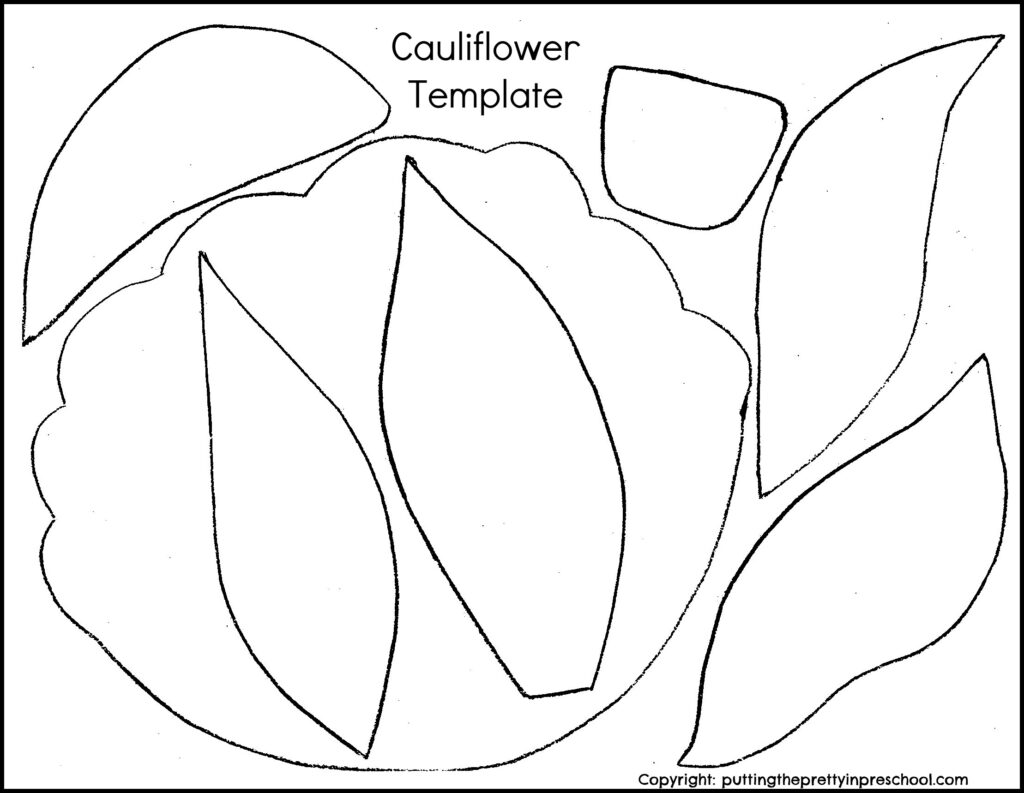 _______
This printable is for individual or one classroom use only.
_______
Next, print color onto the paper cauliflower heads in hues of cream, green, orange, and purple using painted florets. Or simply use cotton balls dipped in tempera paint for the printmaking process.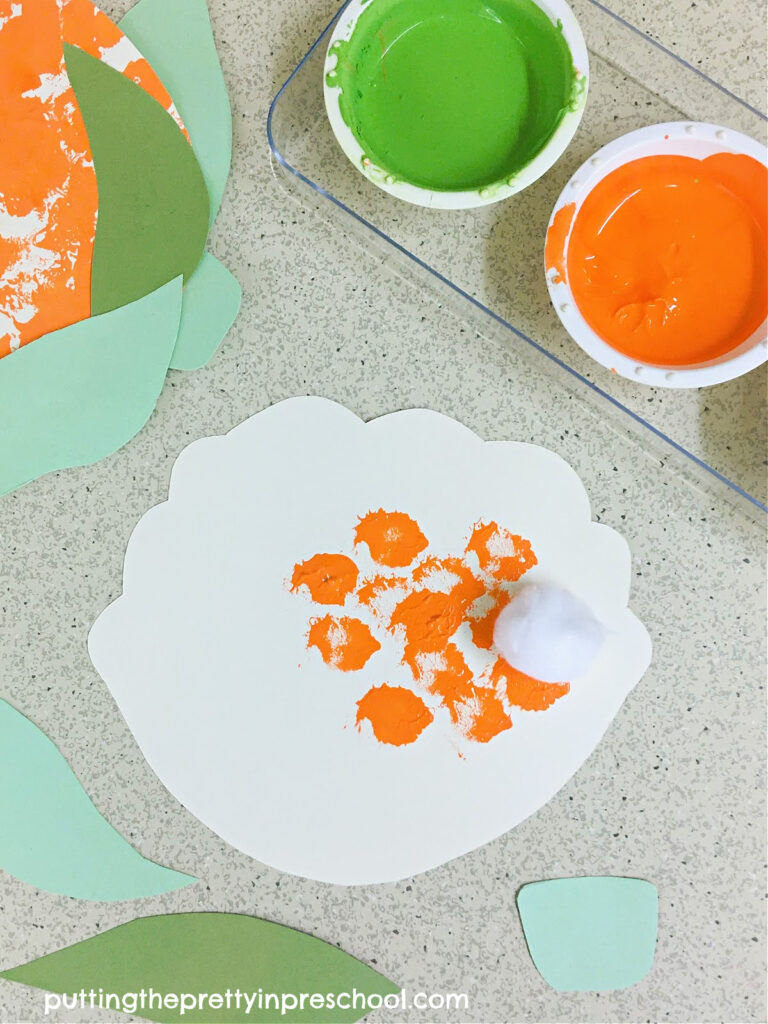 _______
After the painted cauliflower heads are dry, use a glue stick to affix a hump to the back of each one.
Finally, glue two or three paper stem leaves onto each side of the cauliflower heads.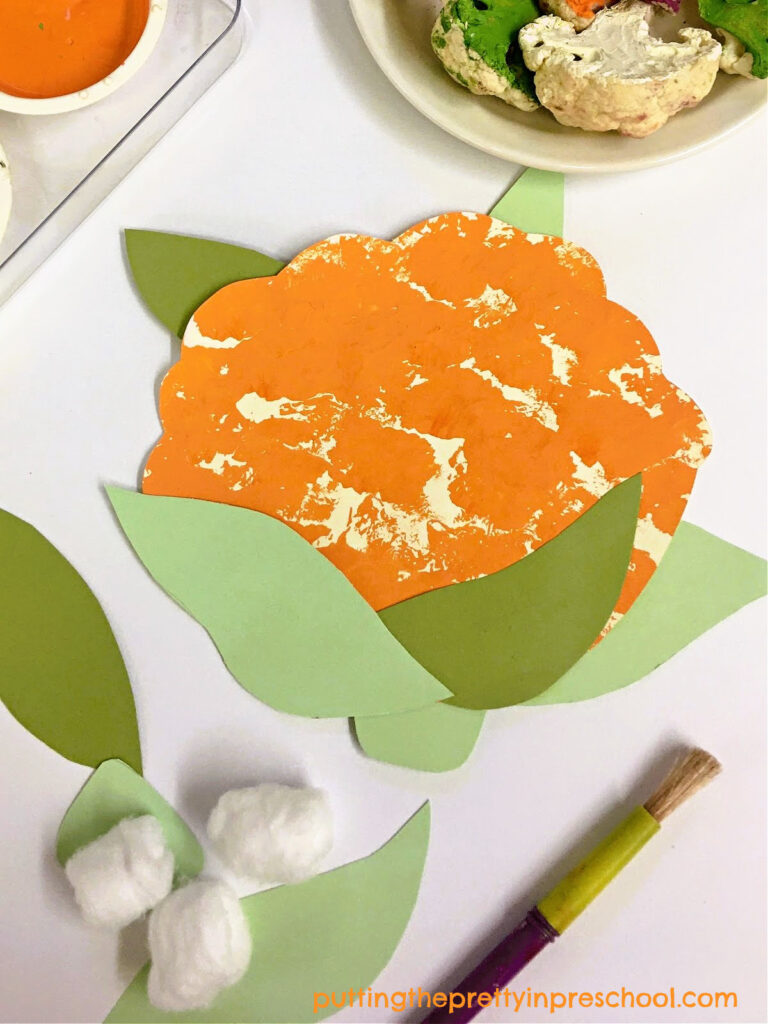 _______
_______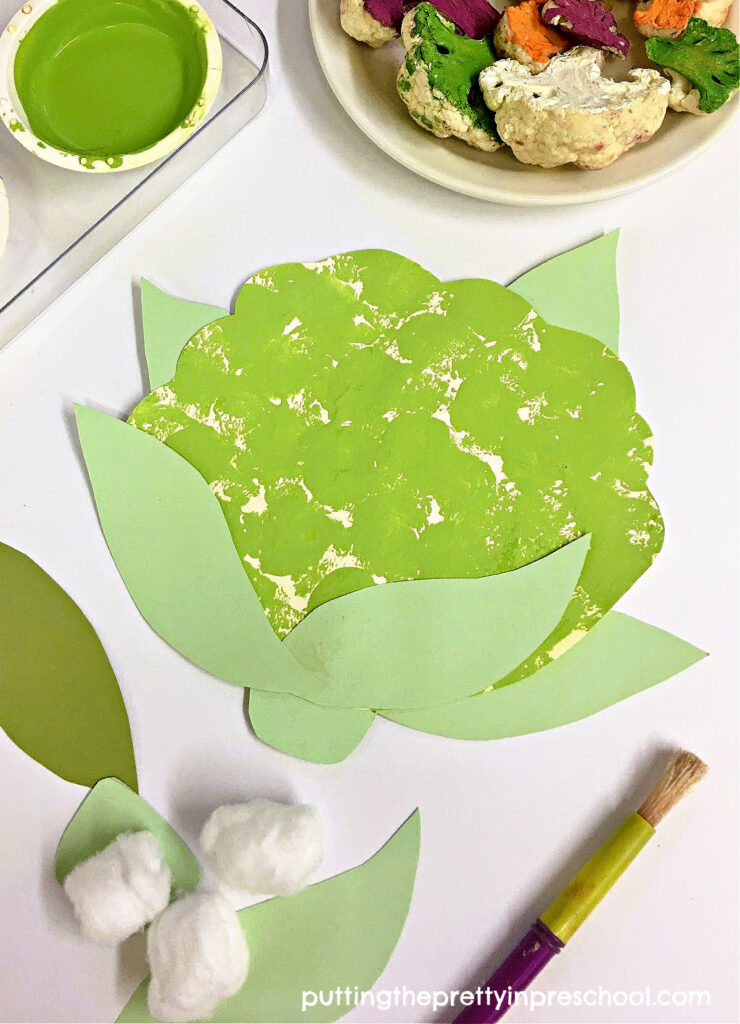 _______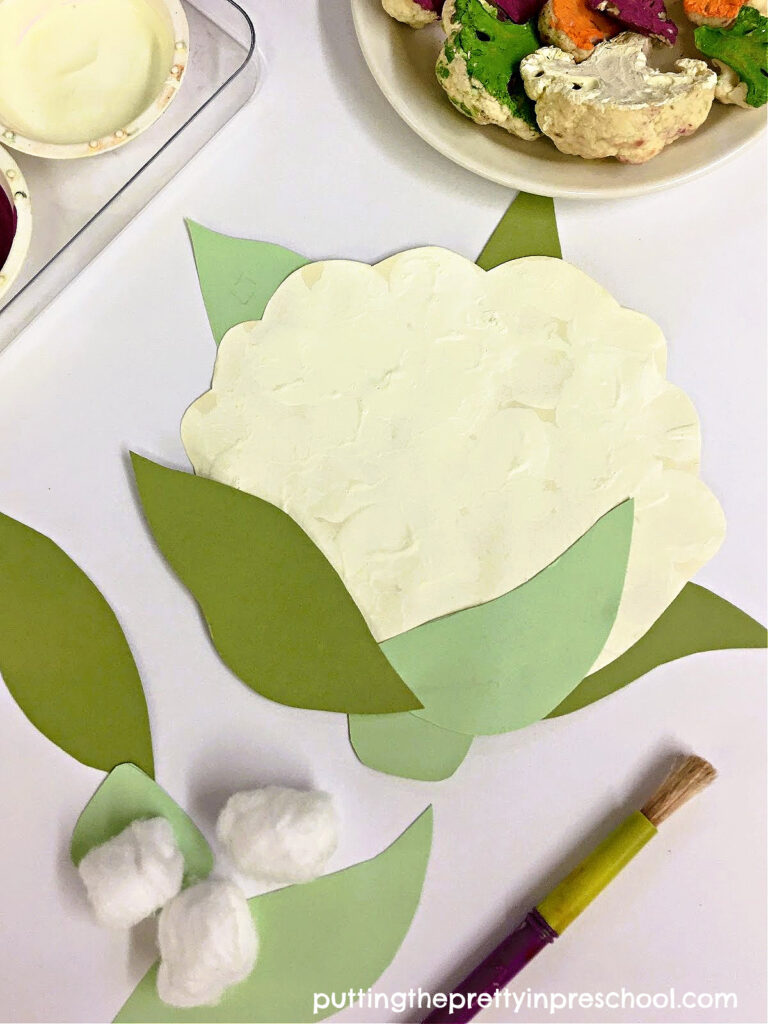 _______
These cauliflower theme activities celebrate the vegetable's vibrant colors and are perfect for a fall or garden theme.
_______
Related:
Beet Science And Sensory Activities
_______
[Read more…]

about Cauliflower Theme Activities