_______
Penguins are well-loved animals and are a popular subject for art activities and sensory bins. Here they get a further notice in a penguin pretend play tablescape.
_______
Follow me on Pinterest for more early learning ideas.
_______
Supplies Collected
_______
My preschoolers love to discover seasonal loose parts in a dramatic play center.  And just a few themed accessories and matching loose parts make for engaging learning through play. Supplies collected for this penguin-themed tablescape are:
crafted foam penguins
penguin coasters and cookie tin
muffin tin and cupcake liners with a penguin theme
mini penguin erasers
penguin ice cube tray
black bowls, baskets, trays, and serving spoon
white spoons and forks
clear cups and faux ice cubes
black and white plaid styrofoam balls
red, black, and white stuffed felt hearts
black and white letter tiles
cotton balls
white buttons and pearl beads
black and white gift box, placemat, and striped straws
play food fish and eggs
penguin themed key chains
white tablecloth
_______
The Penguin Pretend Play Tablescape
Even though we have snow in our area well into March most years, penguin-themed supplies are usually only available in fall or early December. If you see them, you buy them because there is no guarantee you will spot them again.
_______
In this bin, the penguin-themed coasters, cookie tin, and ice cube tray are dollar store finds.
Black bowls, serving spoons, and trays as well as white forks and spoons fit the color scheme.
Mini penguin erasers and penguin-themed cupcake liners add character to the theme.
Crafted foam penguins and stuffed felt hearts make great play cookies.
Penguins eat fish and lay eggs, so fish and egg play food is a good fit.
_______
A black and white gift box and placemat add design elements. The letter tiles give the opportunity to spell the word "penguin."
A mound of cotton balls is a reminder of the snowy environment most penguins live in.
The penguin-themed key chains make great dinner party favors.
Black and/or white loose parts such as buttons, straws, pearl beads, and cloth-covered styrofoam balls round out the supplies.
All accessories are set on a white tablecloth.
_______
This penguin-themed pretend play tablescape is a good example of how a few themed supplies and inexpensive complimentary loose parts offer many dramatic play opportunities.
_______
Related Posts:
Arctic Animal Facts And Sensory Trays
_______
_______
You may also like: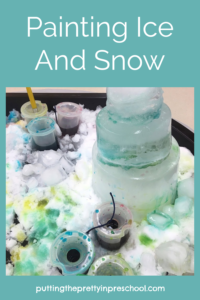 _______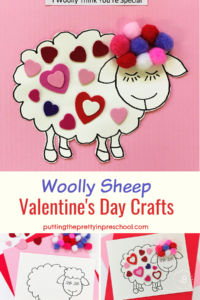 _______
St. Patrick's Day Sensory Table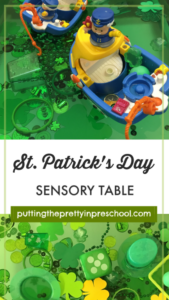 _______
Don't forget to share this post on Pinterest or your favorite social media channel. Sharing is caring!
_______
© Annette Kaminsky   February 9, 2023
_______
Follow me on social media for more ideas: