There are so many rainbow images and activities posted online in March, and most are associated with leprechauns and St. Patrick's Day celebrations. But I'm introducing this rainbow sensory tray (with a container for "gold)" in May since the colorful arcs will be a common sight in the sky in the coming months.
_______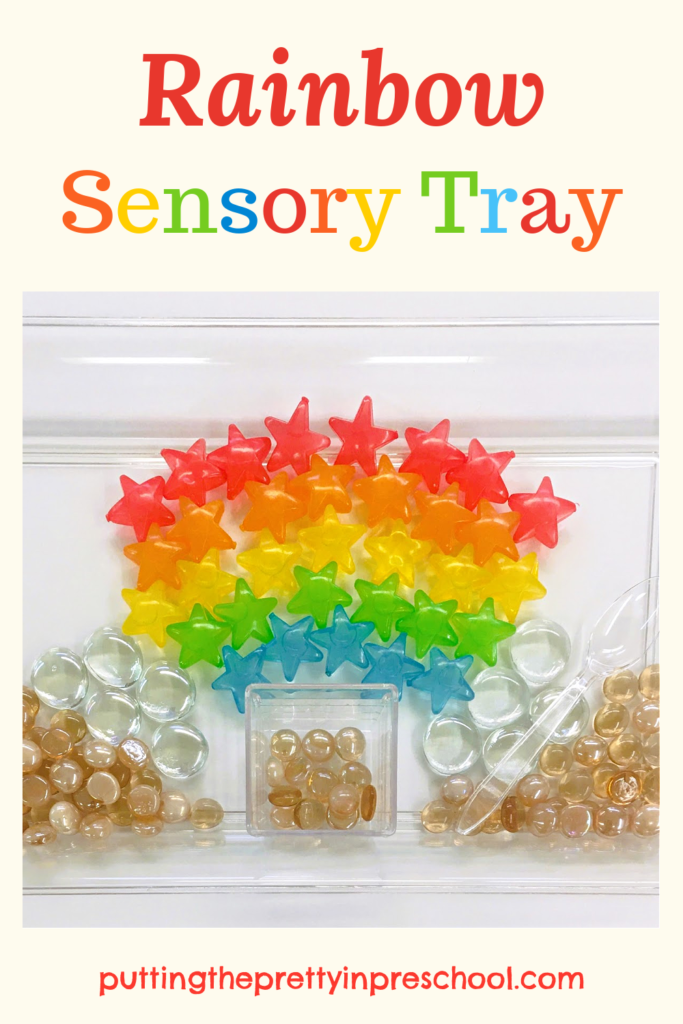 _______
Rainbows and a stash of gold have other meanings than those suggested in the leprechaun legends we are familiar with. For instance, a rainbow represents an effort-filled journey towards a goal. The journey itself is meaningful and beautiful, just like a rainbow. The resulting accomplishment is the "pot of gold." Completing post-secondary education, learning to drive a car, or buying a home are examples of worthy goals.
The colors in a rainbow can represent character qualities helpful in achieving goals in life:
Vibrant red represents strength and energy.
Luscious orange signifies optimism and spontaneity.
Bright yellow oozes creativity.
Green stands for peacefulness and balance.
Tranquil blue suggests honesty and reliability.
And other than coins or a difficult goal achieved, a "pot of gold" may signify a great friend, a home with a loving family, or valuable skills and insights learned.
And so…a rainbow and pot of gold sensory activity is appropriate any time of the year!
_______
Follow me on Pinterest for more ideas.
_______
Supplies To Collect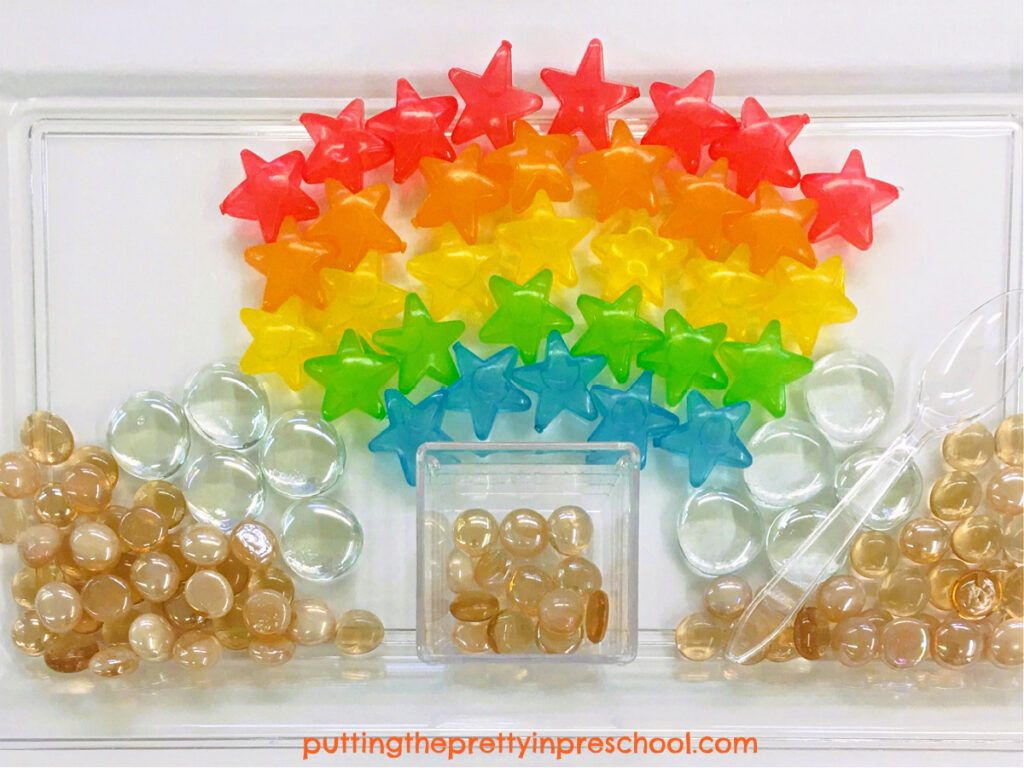 _______
For this cheery sensory tray, gather the following supplies:
a clear rectangular serving tray
transparent reusable ice cubes in a variety of colors
gold acrylic pebble gems
large clear, flat acrylic gems
a small, clear container and a large spoon
_______
Setting Up The Rainbow Sensory Tray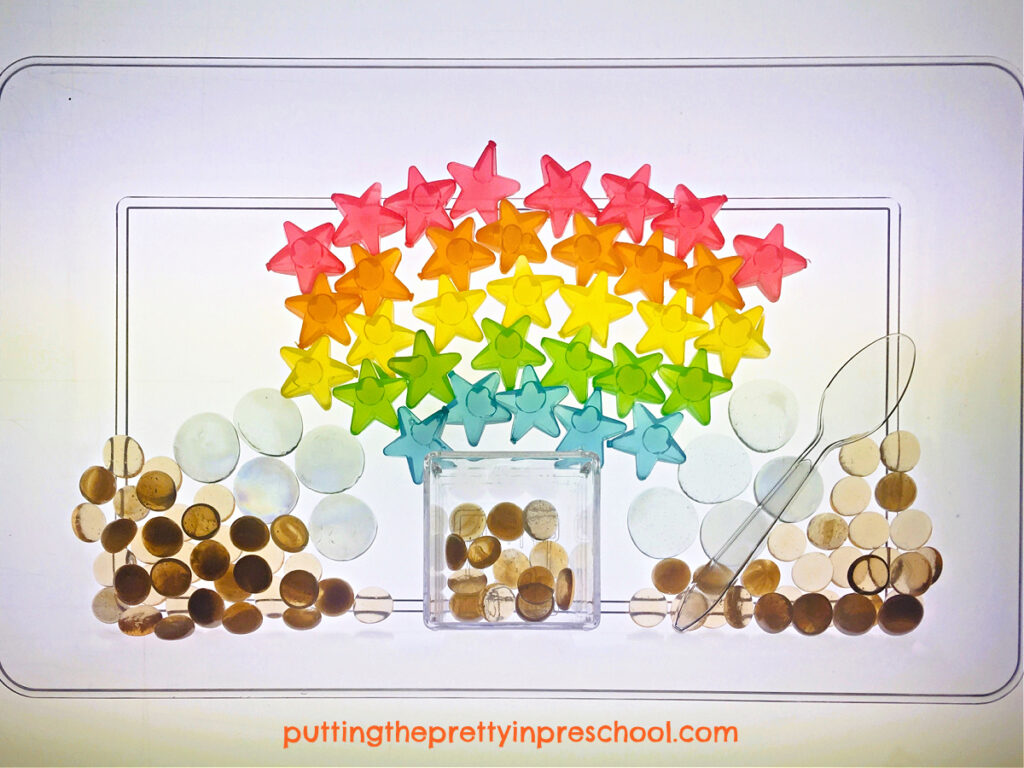 _______
This sensory tray can be set up in minutes:
First, arrange the ice cubes in a rainbow design on a clear rectangular tray.
Next, add clear rock-shaped gems to be clouds at the rainbow ends.
Then sprinkle in gold gems to represent coins.
Lastly, add the clear container and a large spoon for scooping.
_______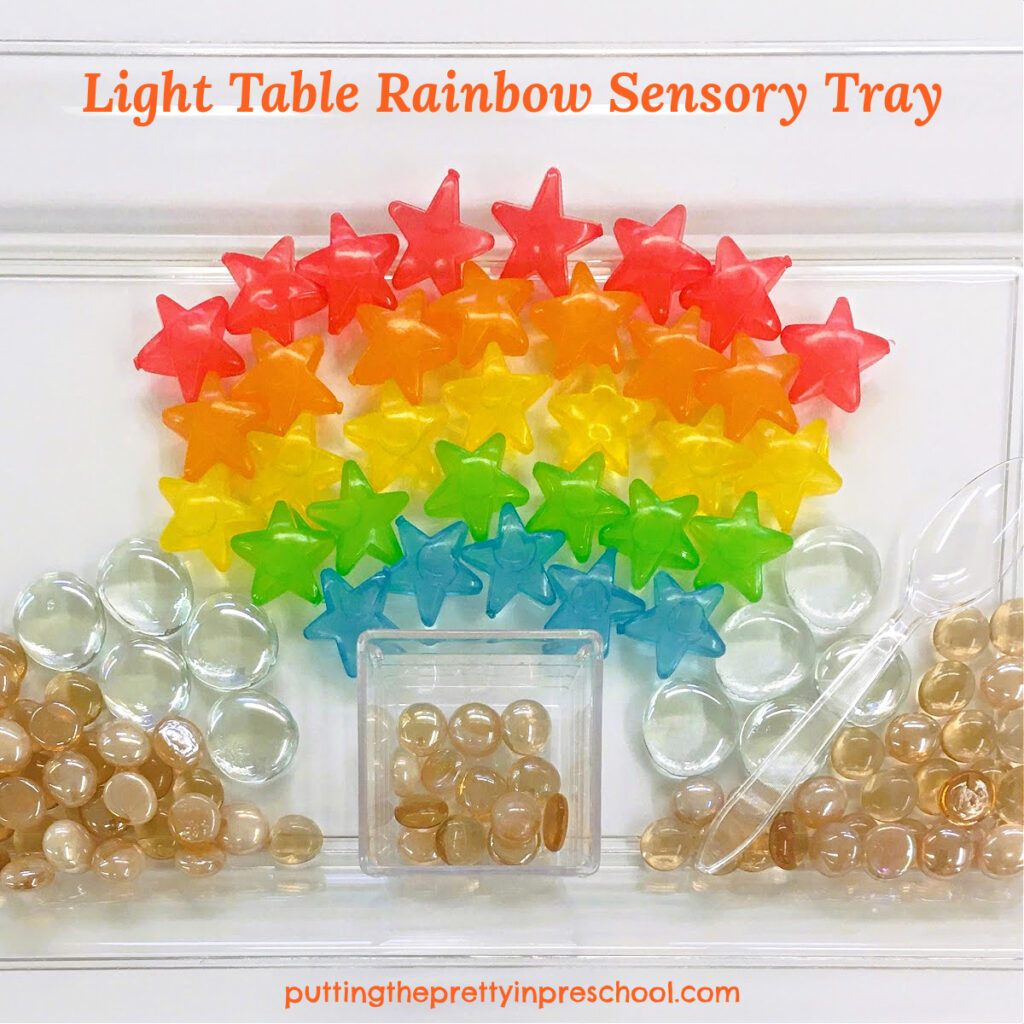 _______
The tray is designed to be offered on a light table or lightbox. But it would work fine as a play invitation on a regular table too.
_______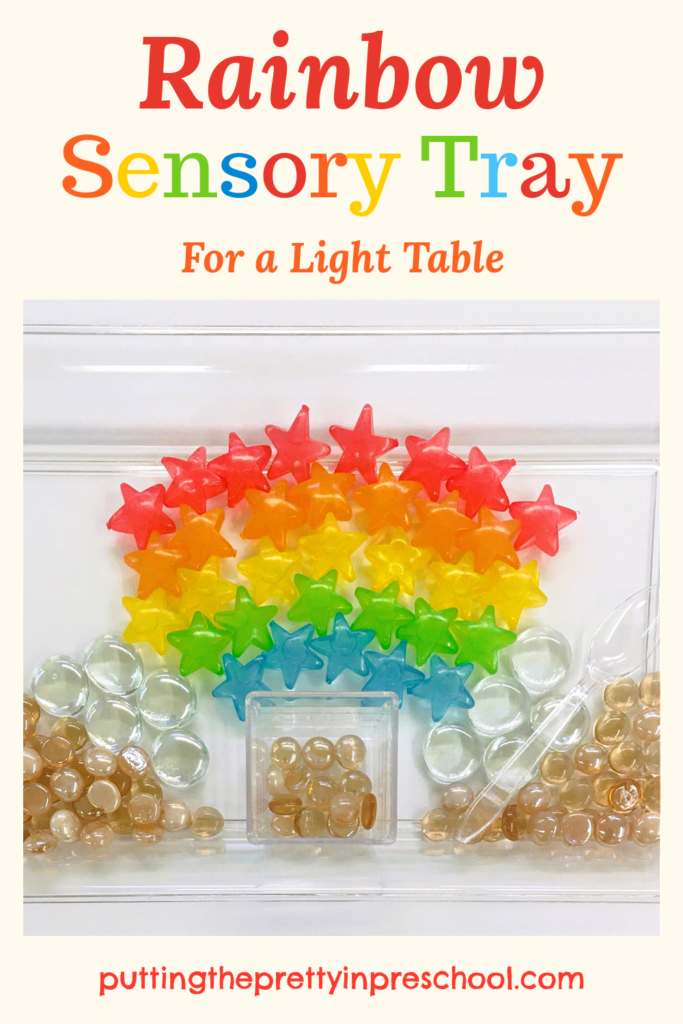 _______
Related: St. Patrick's Day Light Table Tray
_______
_______
Do you want to learn how rainbows form in the sky? Click here for a simple explanation:
_______
[Read more…]

about Rainbow Sensory Tray