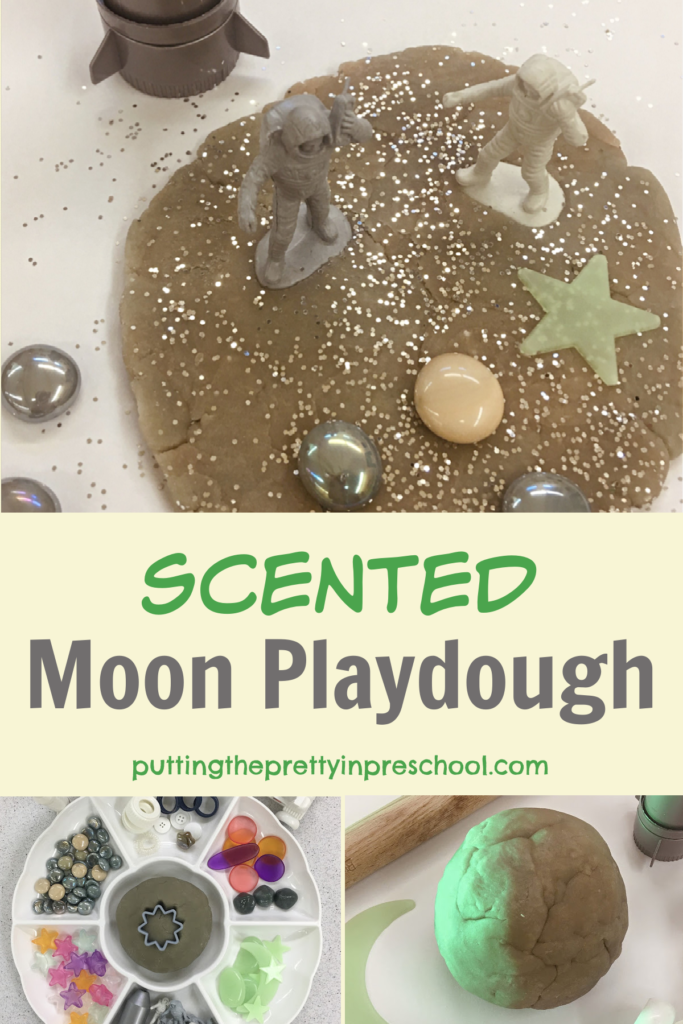 _______
This scented moon playdough is the result of a color and flavor mixing science experiment with jello powder. Can you guess which flavors of jello were used?
_______
The Scented Moon Playdough Recipe
_______
To make a big batch of this steely gray playdough that matches the color of the moon, gather the following supplies:
3 cups flour
1 ½ cups salt
6 teaspoons cream of tartar
1 85-gram package of lime jello powder
2 85-gram packages of grape jello powder
3 cups water
3 tablespoons oil
Add the first three ingredients to a sturdy pot and mix them together.
Boil the water and stir in all three packages of jello powder.
Then stir in two tablespoons of oil.
Add the liquid to the dry ingredients and combine.
Heat the pot on the stove on medium heat.
Stirring frequently, cook the mixture until it is no longer glossy and the dough forms a ball.
Scoop the dough onto a cutting board.
Knead when cool, adding one tablespoon more oil.
Store the playdough in a sealed plastic bag.
Note: The liquid in the pot is very black at first, but when mixed thoroughly with the dry ingredients, the result is gray playdough!
_______
Scented Moon Playdough Invitation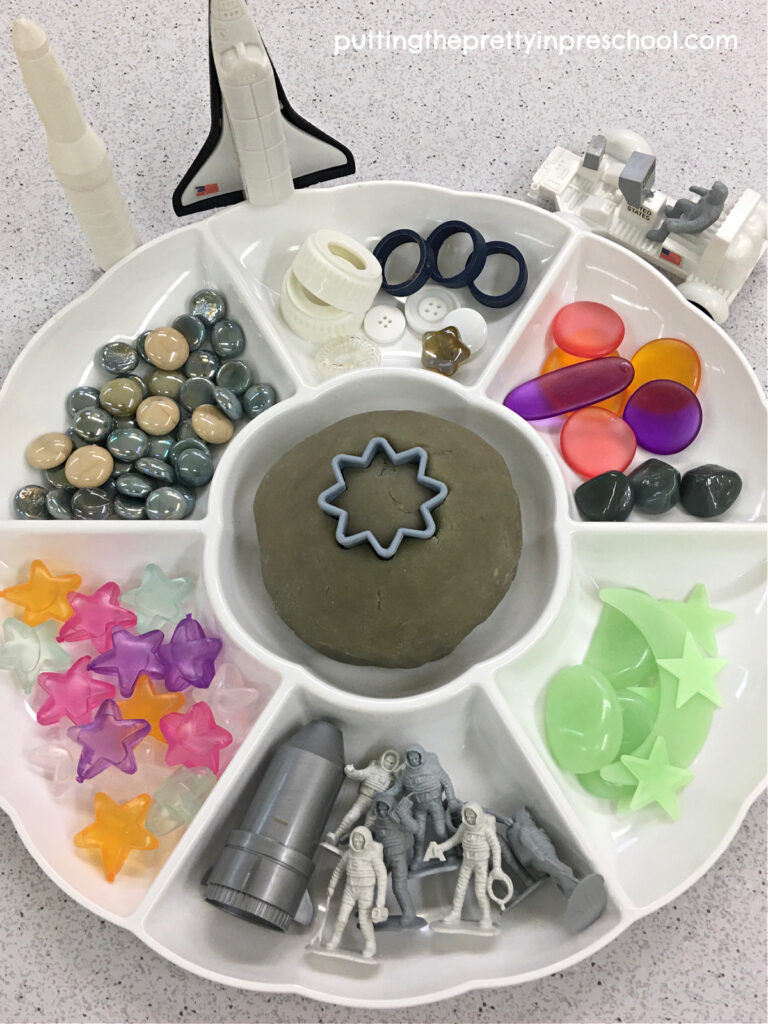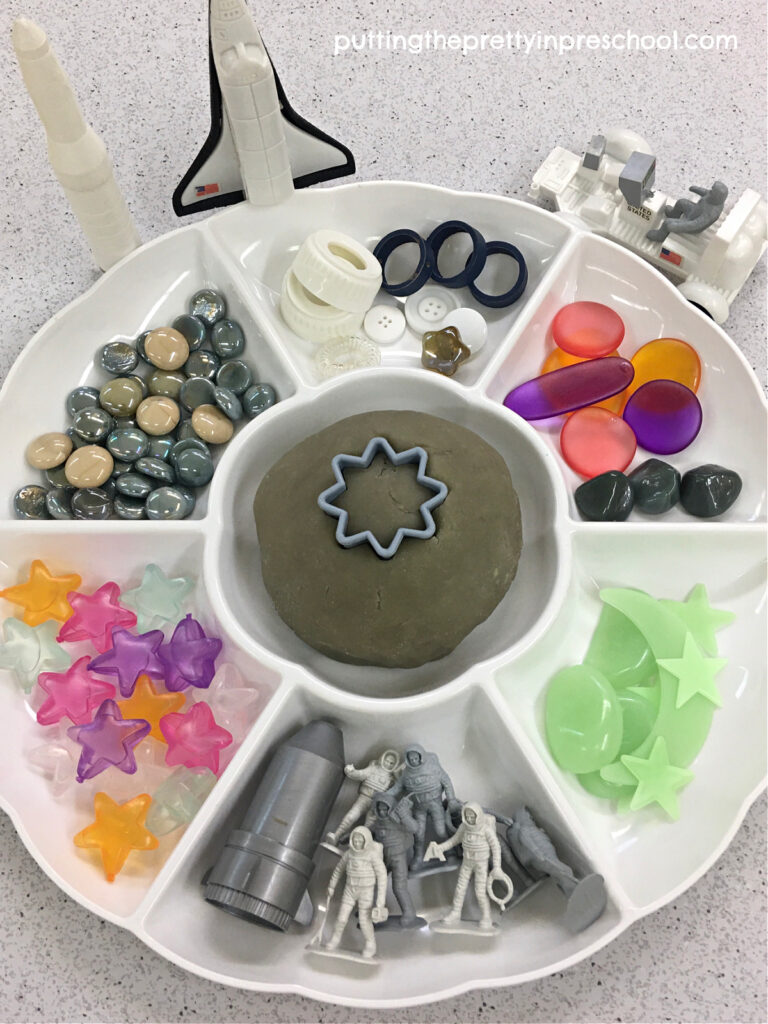 _______
Set out the moon playdough in a compartment tray with the following supplies:
star-shaped reusable ice cubes and cookie cutters
glow in the dark moon, stars, and stones
gray and tan gems and rocks
loose parts such as baby bottle collars, buttons, hair ties, and wooden circles
space vehicles and lunar rovers
astronaut figurines
After the playdough has been used a time or two, sprinkle silver glitter and/or foil stars on the dough to extend interest in the play invitation.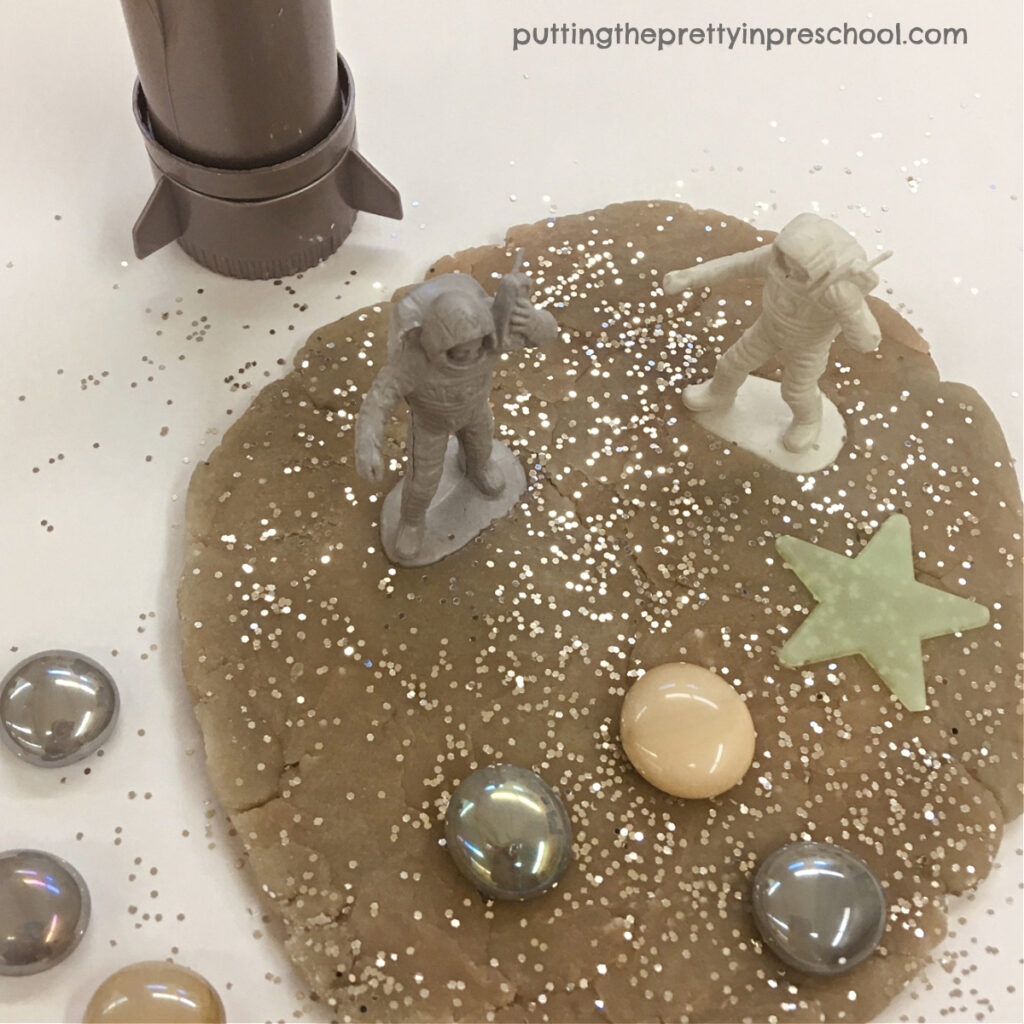 _______
Note: This gray scented playdough has a blended grape and lime scent. When I introduced the dough to my preschoolers, I wasn't sure what they would think. Overall the children felt it smelled pretty nice.
_______
Colored Light And Moon Playdough
Our moon is mostly hued in lighter and darker grays. But from the earth, we see the moon shine due to reflected sunlight. To us, it often looks bright yellow.
The full moon, which we see once a month, can appear in different colors and sizes. This is due to its position in the sky, the particles in the atmosphere, the amount of air pollution, and the current season.
To see the full moon in a variety of colors, check out a post titled "Colors Of The Moon" by Nasa Science. It features an amazing photo showing different colors our rocky satellite has been viewed and photographed by one astrologer in Italy.
In the home or classroom, a color-changing light is fun to use to illuminate the moon playdough so that it shines in different hues.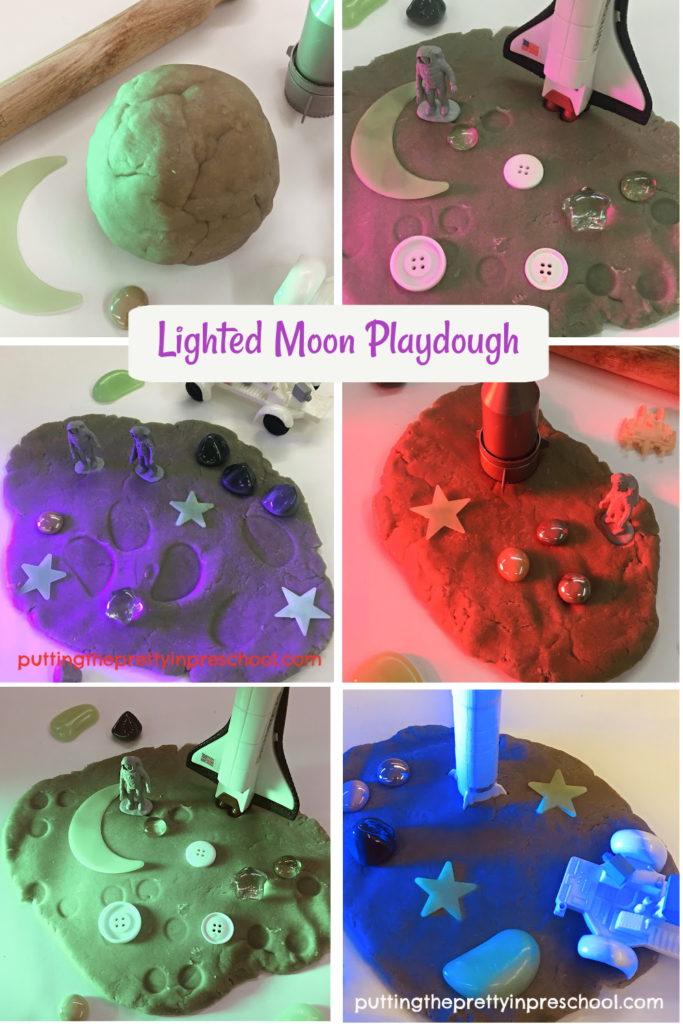 _______
My featured light shines red, green, purple, blue, and white. Since the moon has been photographed in tones of red, blue, and purple, this lighting isn't a stretch. Green is a popular color for depicting aliens, and some moon rocks with a green tinge have been discovered. And so the green lighting works too!
_______
Playdough Dwarf Planets
This scented grey playdough also works as a follow-up activity to a discussion about dwarf planets. These small planets are far away, super icy, and take many years to orbit the sun. Some dwarf planets are:
Pluto: Recently reclassified, it shines red and grey in space and has one big moon named Charon.
Ceres: This dwarf planet is grey and dotted with craters.
Haumea: A grey and egg-shaped dwarf planet with two moons.
Eris: This round dwarf planet takes a half-century to orbit the sun. it is far, far away and has one tiny moon.
_______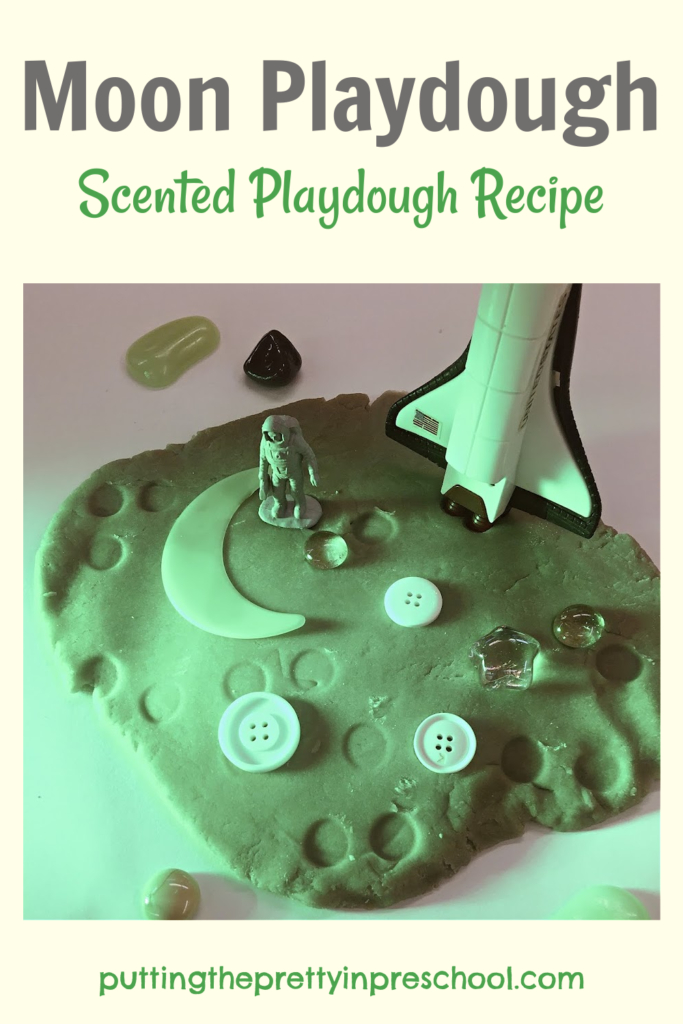 _______
Follow me on Pinterest for more early learning ideas.
_______
_______
You may also like:
Green Huntsman Spider Activities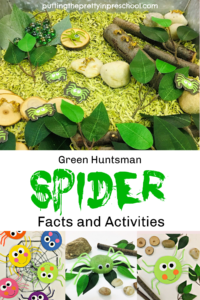 _______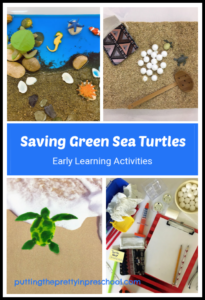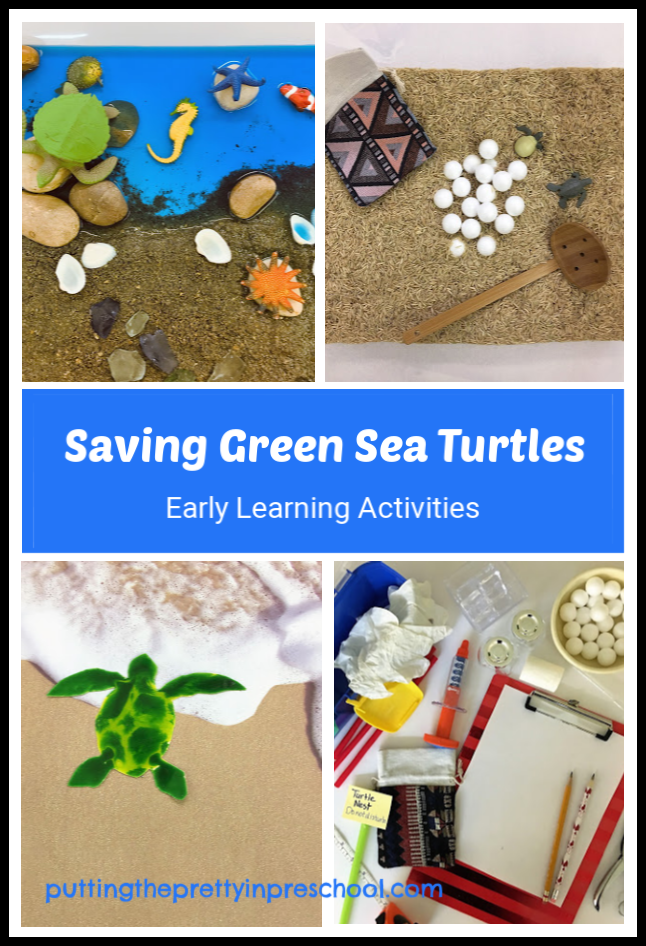 _______
Don't forget to share this post on Pinterest or your favorite social media channel. Sharing is caring!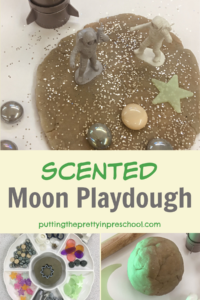 _______
© Annette Kaminsky July 29, 2022
_______
Follow me on social media for more ideas: