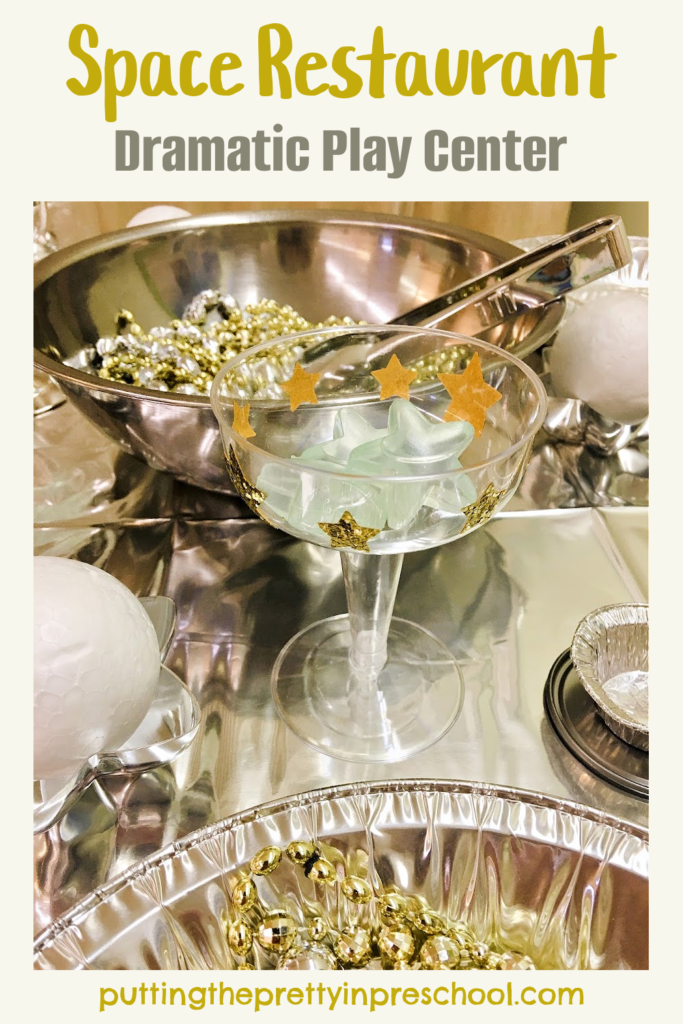 _______
A space restaurant dramatic play center is one of the most fun pretend play activities you can offer your little learners. Loose parts shine in this center, offering a plethora of opportunities for creativity and imagining.
_______
Follow me on Pinterest for more early learning ideas.
_______
Supplies To Collect
Break out all the metallic silver and gold loose parts you have for this shiny, inviting dramatic play center. The following are ideas for supplies to gather: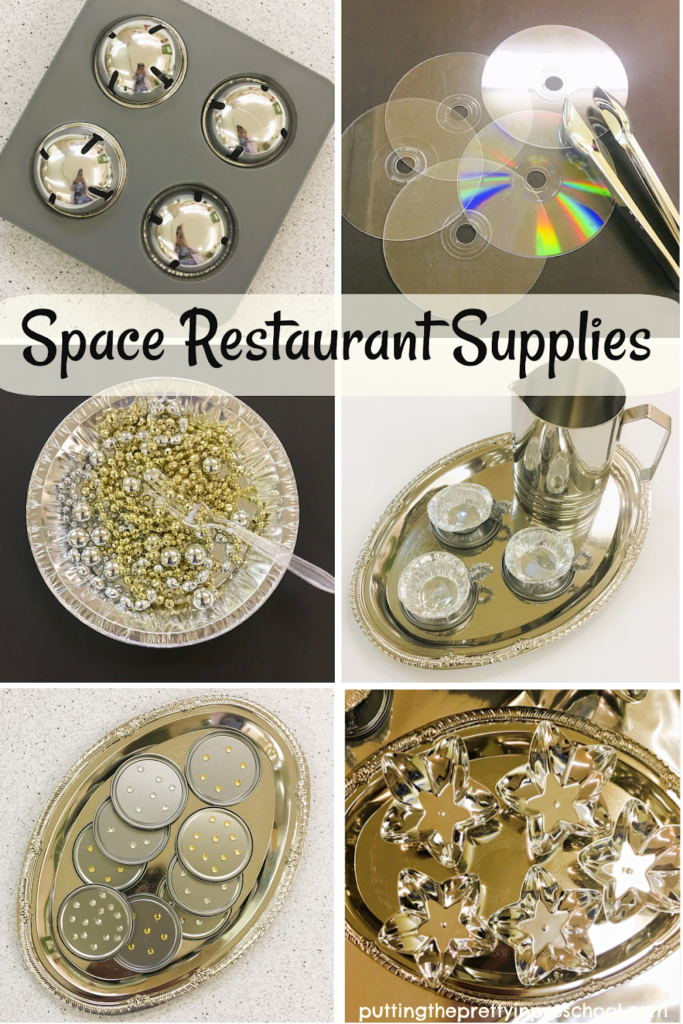 _______
aluminum foil pie pans, tart pans, and storage containers
silver muffin pans
metal pitcher, tongs, bowls, and trays
disposable clear stemware, forks, and spoons
reusable star-shaped ice cubes
gold and silver bead necklaces and garland
clear discs
gold star-shaped stickers
round silver and gold gem stickers
metallic silver pipe cleaners
juice lids
styrofoam balls
large silver or gold bells
foil alphabet letters and spray centerpiece
silver tablecloth
glue gun, scissors, and painter's tape
_______
The Space Restaurant Dramatic Play Center
In this out-of-this-world pretend play center, the words "Space Restaurant" are tacked on a wall with painter's tape, and aluminum foil pans and storage containers are displayed beneath it for decoration and ambiance.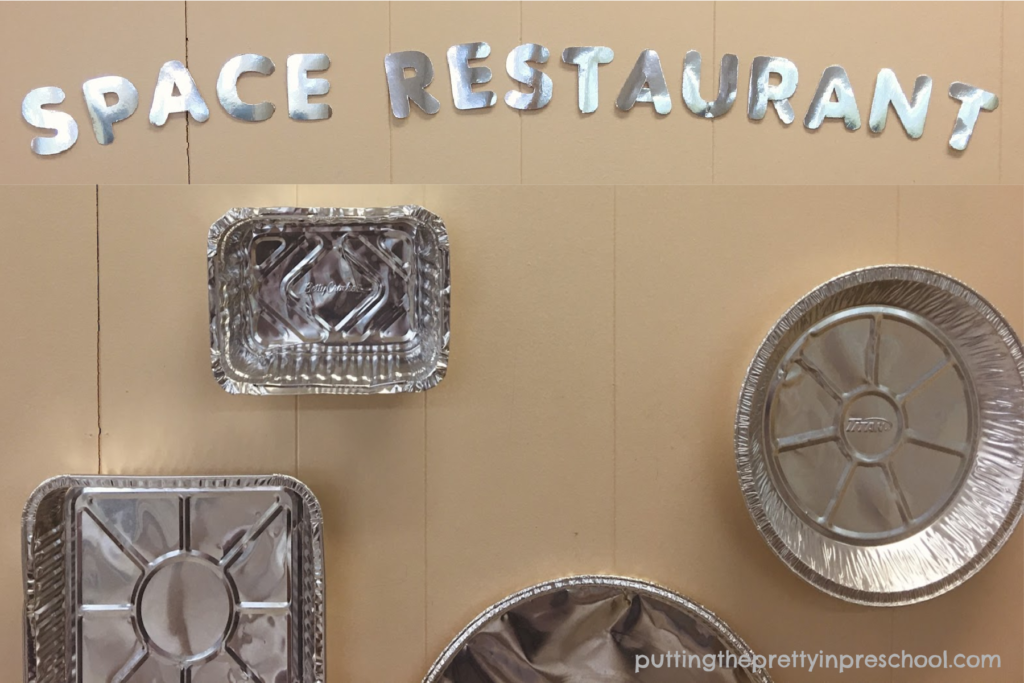 _______
A space-themed dining table is set up by adding a metallic silver tablecloth and a foil spray centerpiece.
Table settings include aluminum pie pan plates and transparent cutlery. Clear, disposable stemware glasses are decorated with gold star stickers to fancy them up.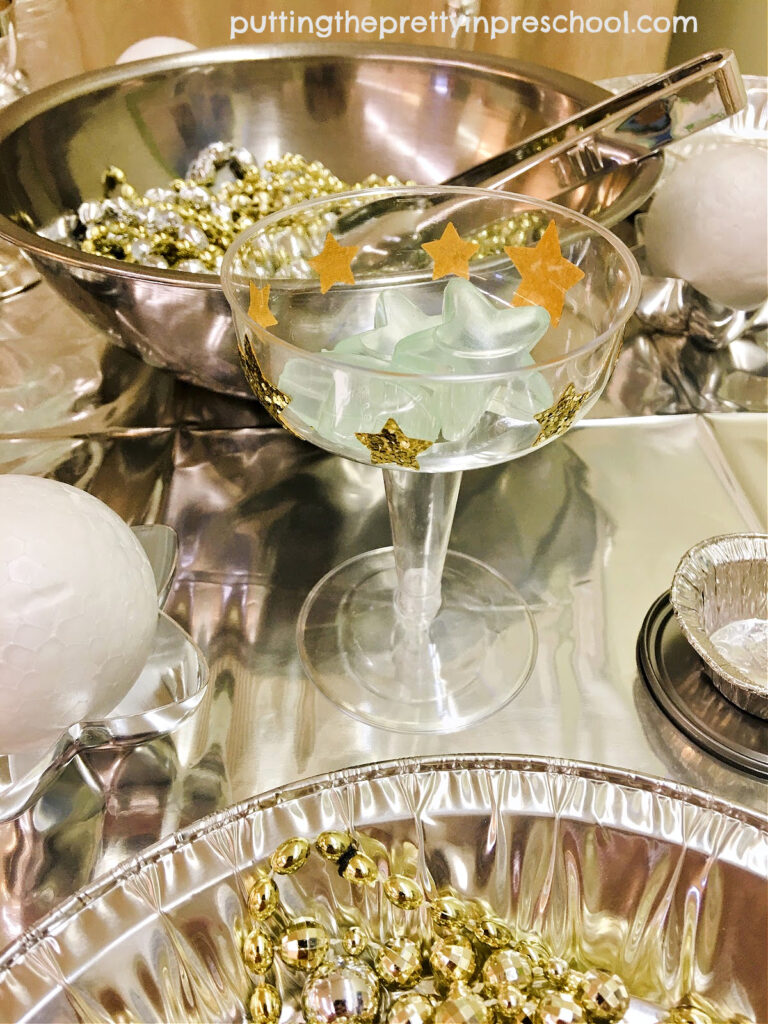 _______
Dainty teacups are created by gluing metallic silver pipe cleaner handles to aluminum foil tart pans, and then affixing them to metal juice lids.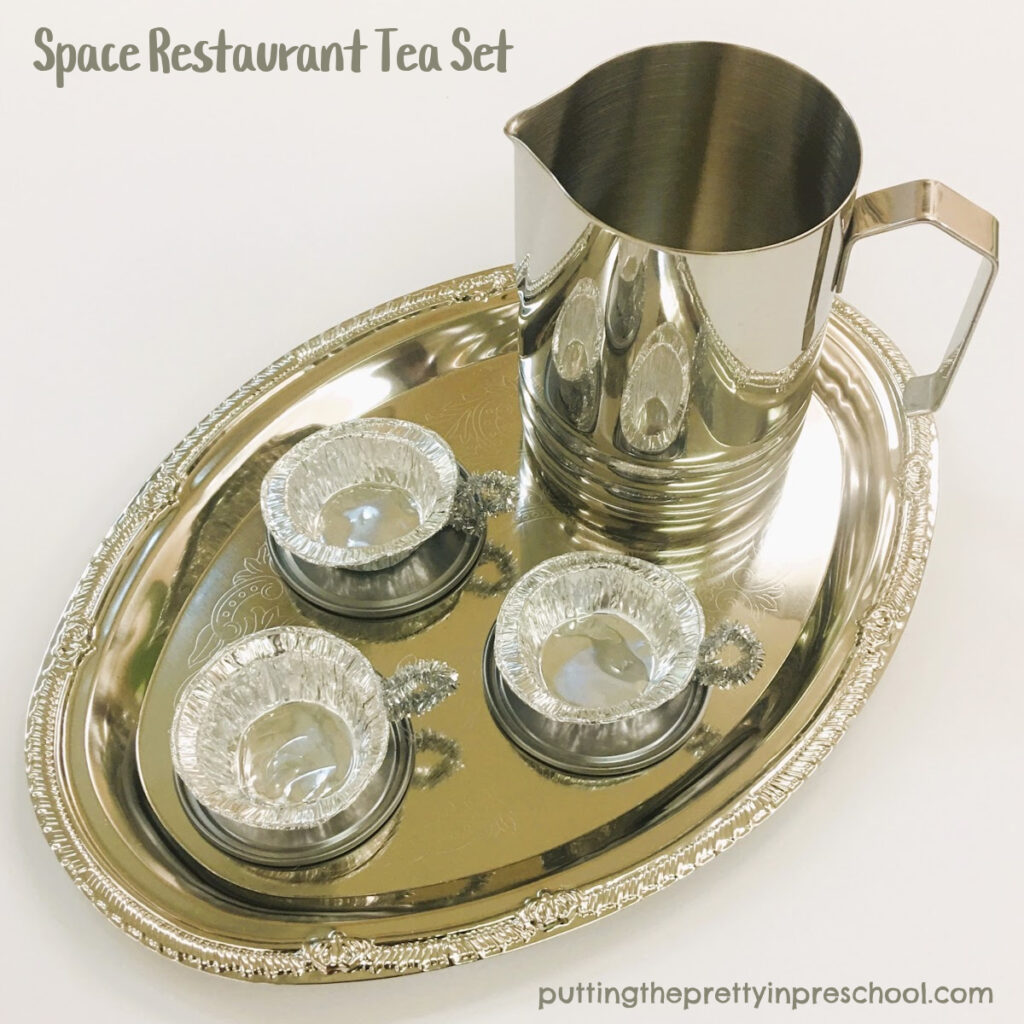 _______
Shiny, metal serving trays and star-shaped dessert cups add elegance.
Large silver or gold bells make great pretend muffins and add a musical element.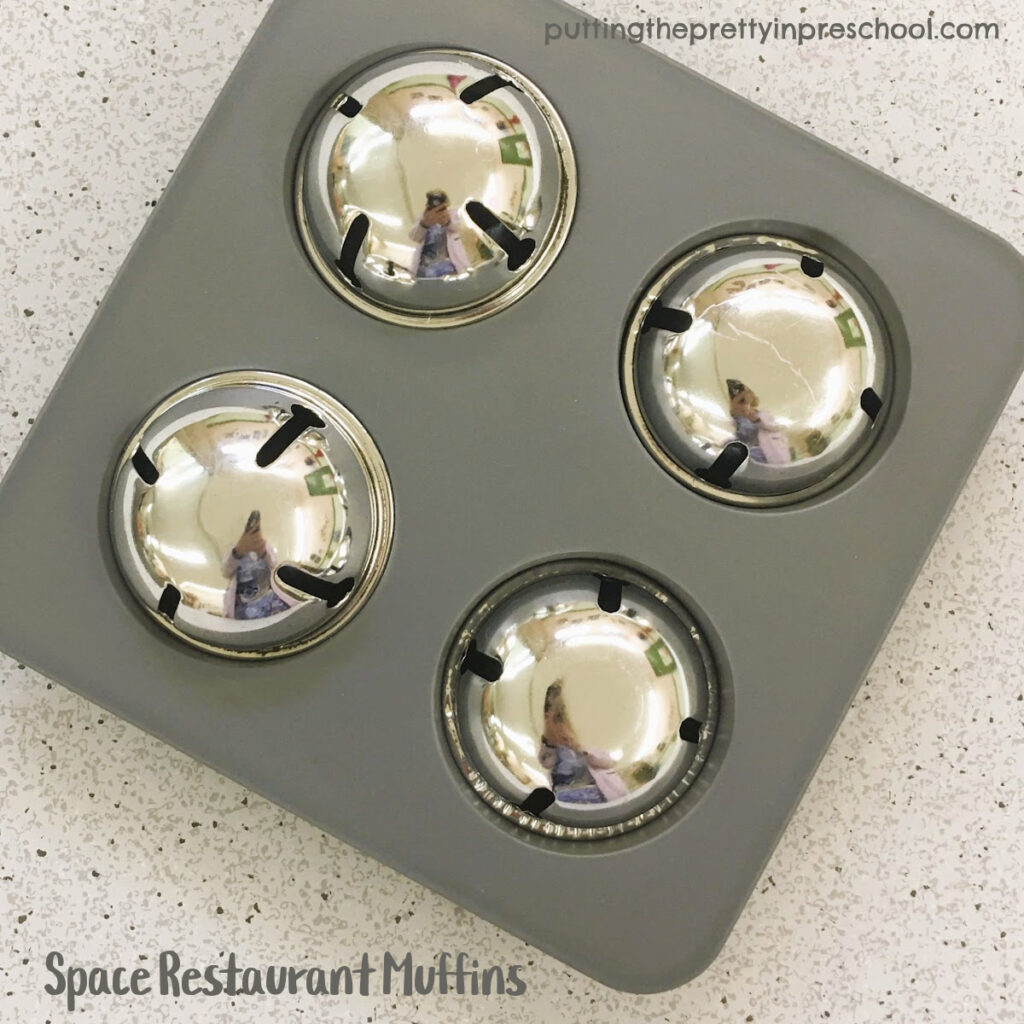 _______
Clear discs are repurposed as space pancakes.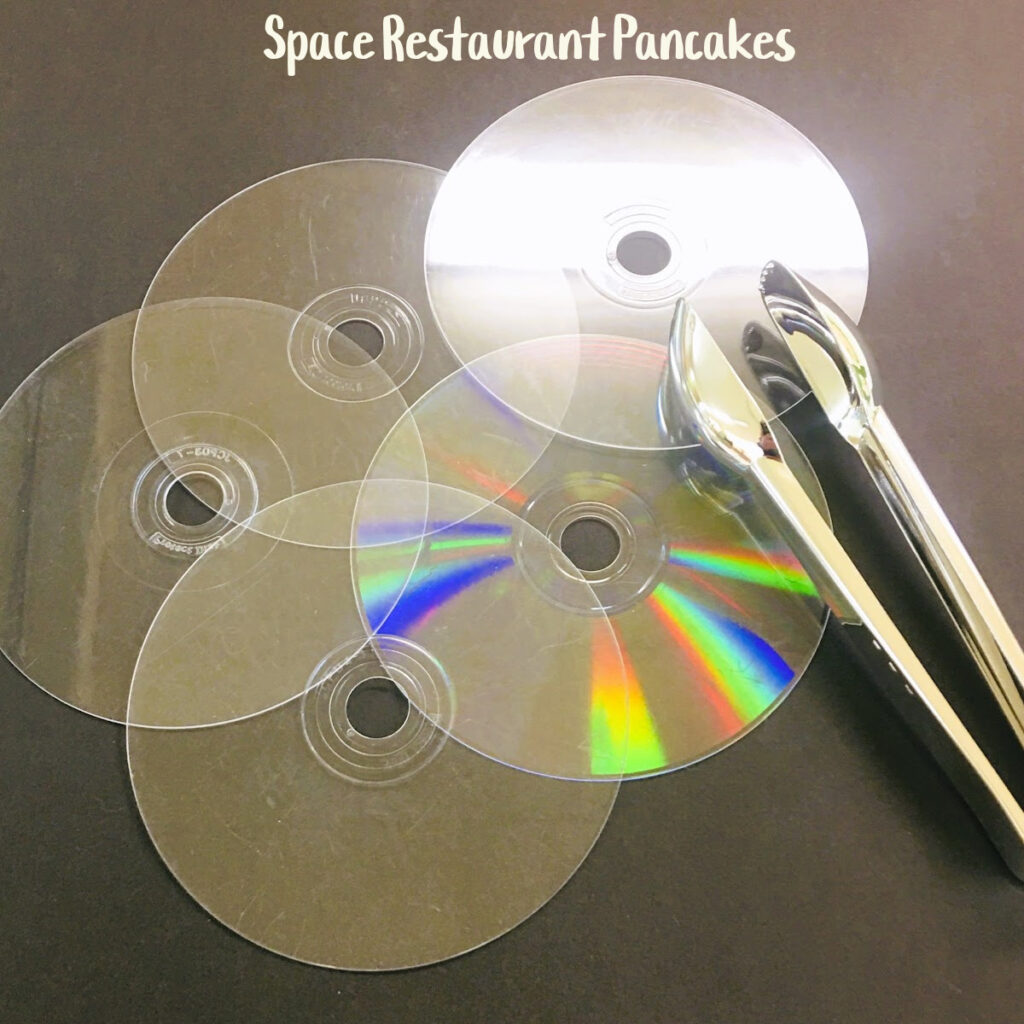 _______
Pretend play chocolate chip cookies are created by adding round silver and gold gem stickers to juice lids.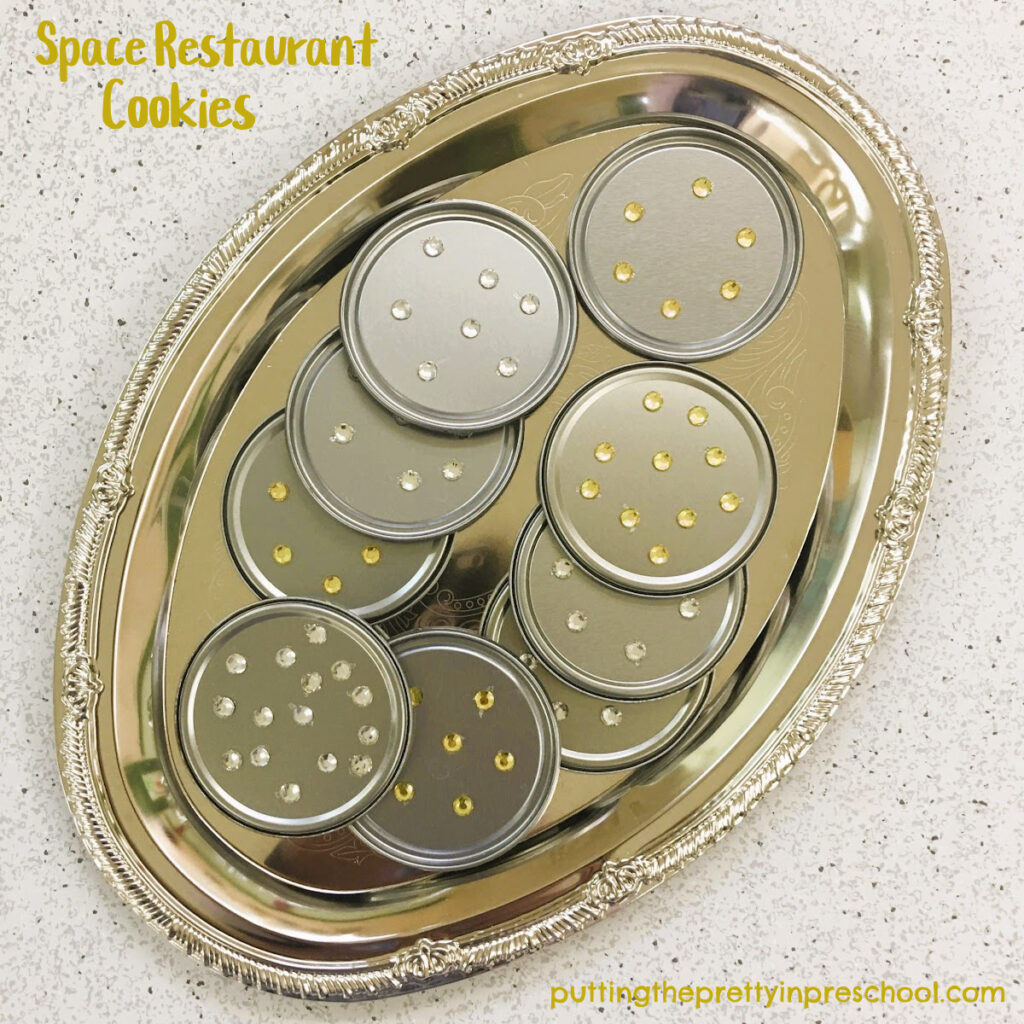 _______
Styrofoam balls are muffins or snowball-themed desserts. They can be painted with silver or gold acrylic paint to add glitz.
Gold and silver bead necklaces cut into strips are spaghetti noodles, and larger bead balls cut from bead garland are the meatballs. The play spaghetti can be stored in a big silver bowl and served with metal tongs.
_______
More Space-Themed Play
For additional space-themed ambiance, a colored light can be positioned to illuminate the restaurant table.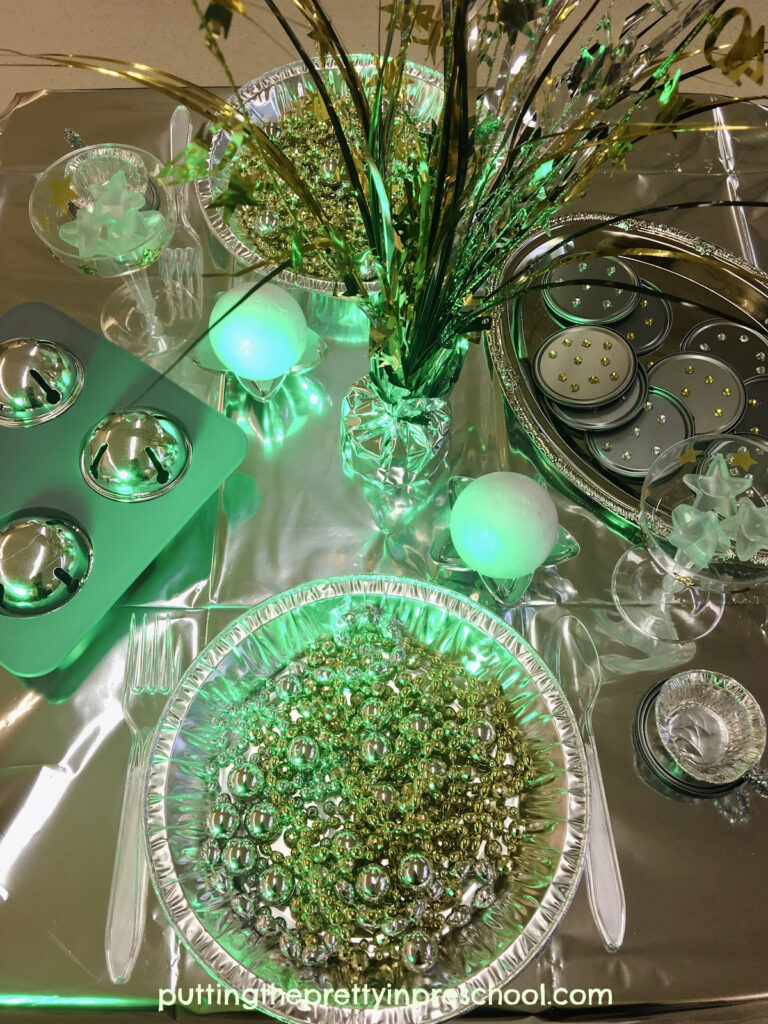 _______
Early learners may be inspired to add loose parts from other activity centers to the space restaurant. Below, participants included crater-filled yellow "moons" and large diamond crystal gems to the spaghetti play food.
_______
The supplies in this post can also be included in a space-themed play kitchen setup.
What would you add to this space restaurant dramatic play center? Share your ideas in a comment below.
_______
Related:
White Lilacs and Black Playdough
_______
_______
You may also like:
Lemonade Stand Dramatic Play Center
_______
Apple Stand Dramatic Play Center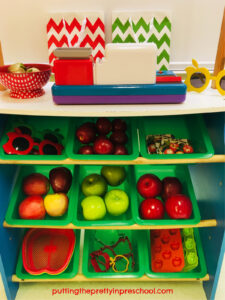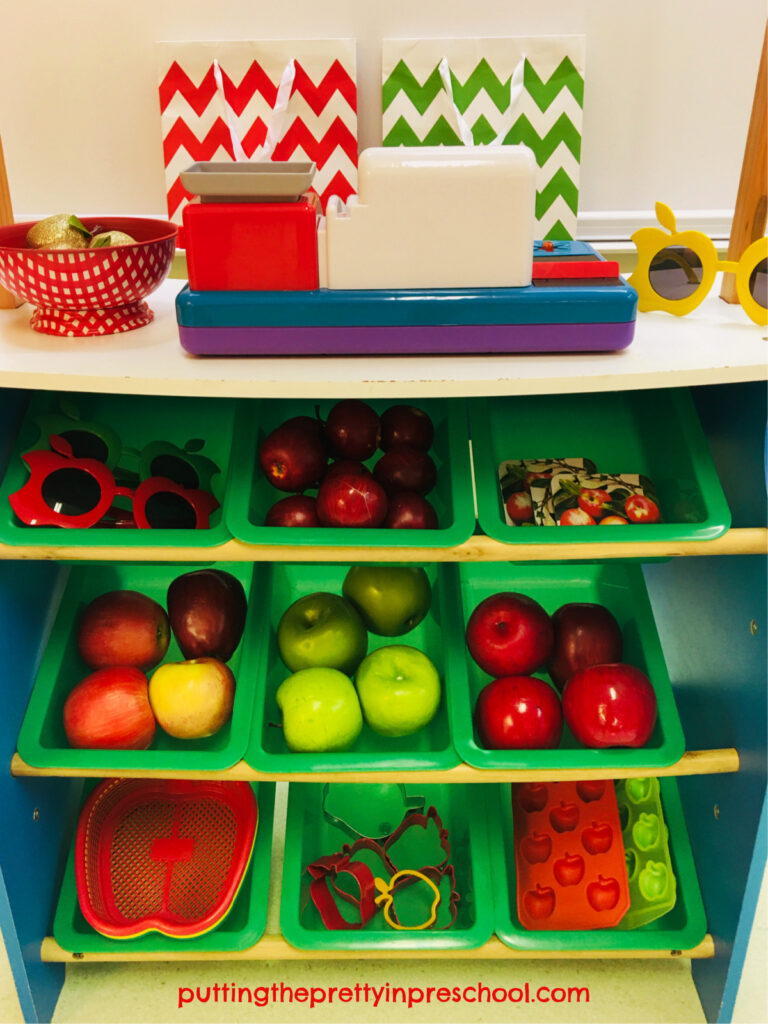 _______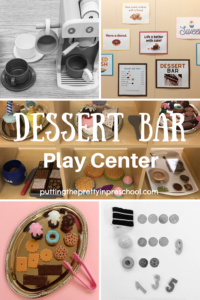 _______
Don't forget to share this post on Pinterest or your favorite social media channel. Sharing is caring!
_______
© Annette Kaminsky July 18, 2023
_______
Follow me on social media for more ideas: