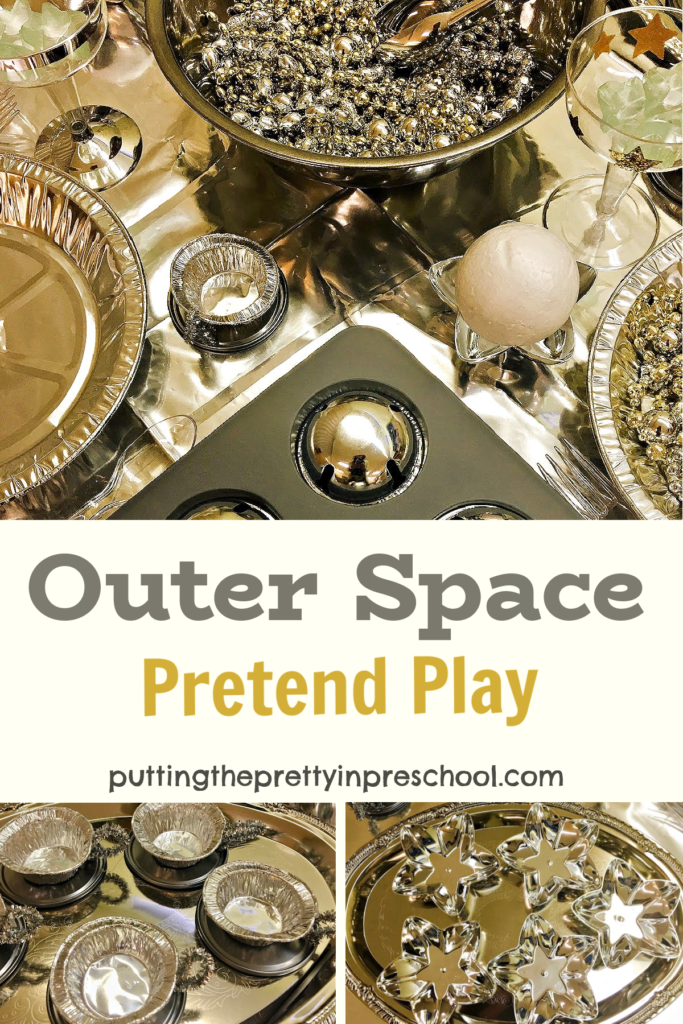 _______
This outer space pretend play tablescape is one of my absolute favorites. It has lots of shiny, metallic pieces that are perfect for an out-in-space dining experience.
_______
Follow me on Pinterest for more early learning ideas.
_______
Supplies To Collect
The following supplies work well in this space-themed pretend play tablescape your little astronauts will love:
small metallic silver star-shaped dessert bowls
juice lids
gold and silver adhesive gems
large silver bells
silver bead garland
gold bead necklaces
star-shaped reusable ice cubes
aluminum foil tart baking cups
silver pipe cleaners
metal serving bowl
silver tongs
clear cutlery
small silver tray
grey muffin tin
styrofoam balls
clear plastic stemware
metallic silver or gold tablecloth
metallic spray centerpiece
aluminum foil pie pans
_______
The Space Tablescape Pretend Play Set Up
A shiny, metallic silver and gold color scheme transforms the play kitchen into an outer space pretend play area.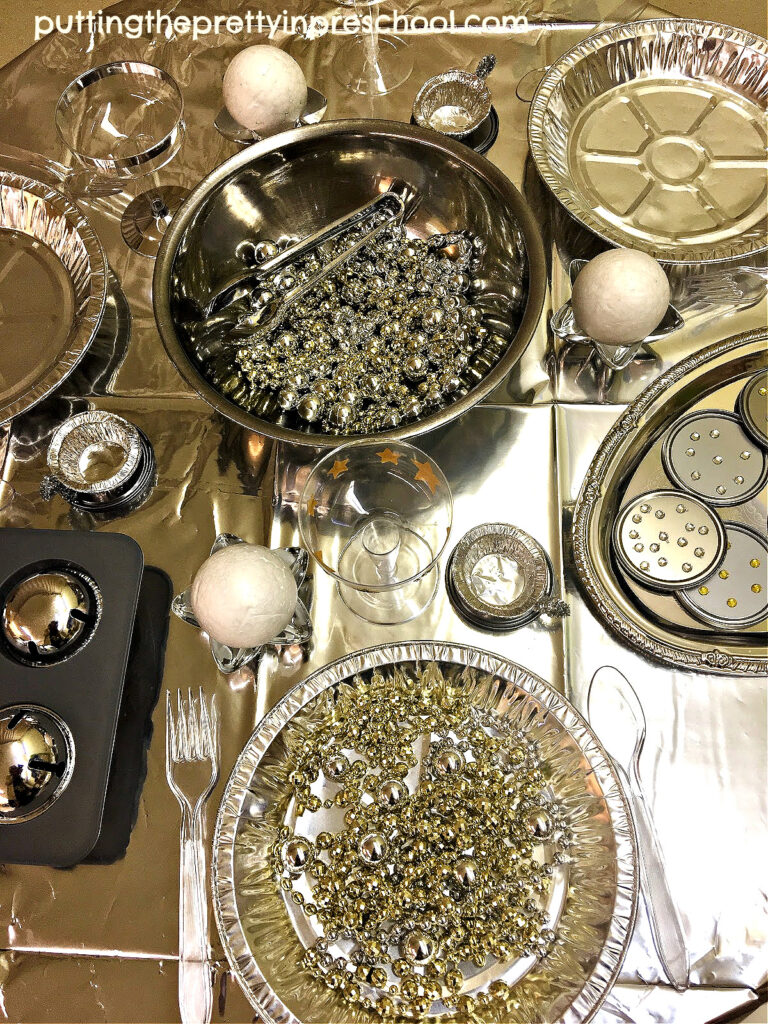 _______
Aluminum foil tart baking cups glued onto juice lids along with silver pipe cleaner handles make cute space-themed tea cups.
_______
The addition of gold star stickers is an easy way to have stemware fit the outer space theme.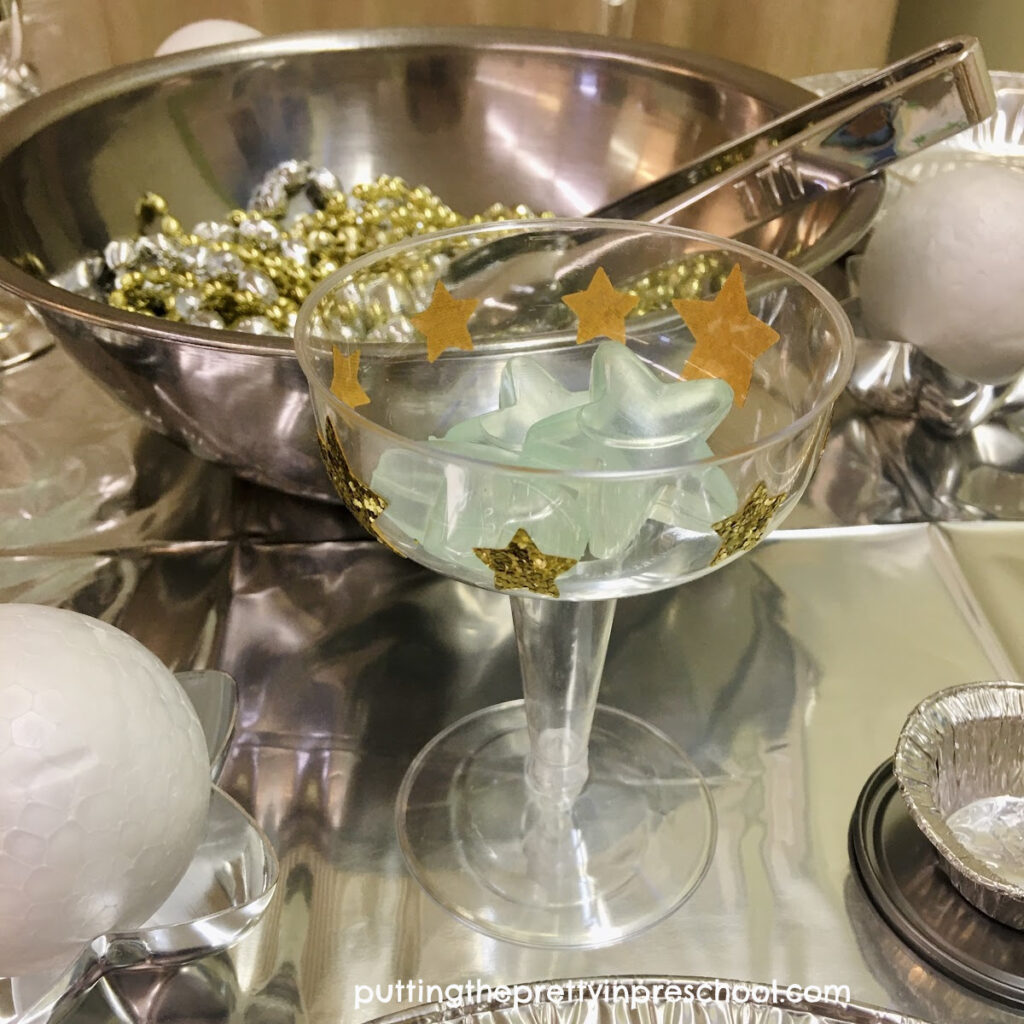 _______
Silver-edged clear plastic stemware glasses add elegance to the table display.
_______
Large silver bells serve as muffins, white styrofoam balls are buns, and aluminum foil pie pans are dinner plates.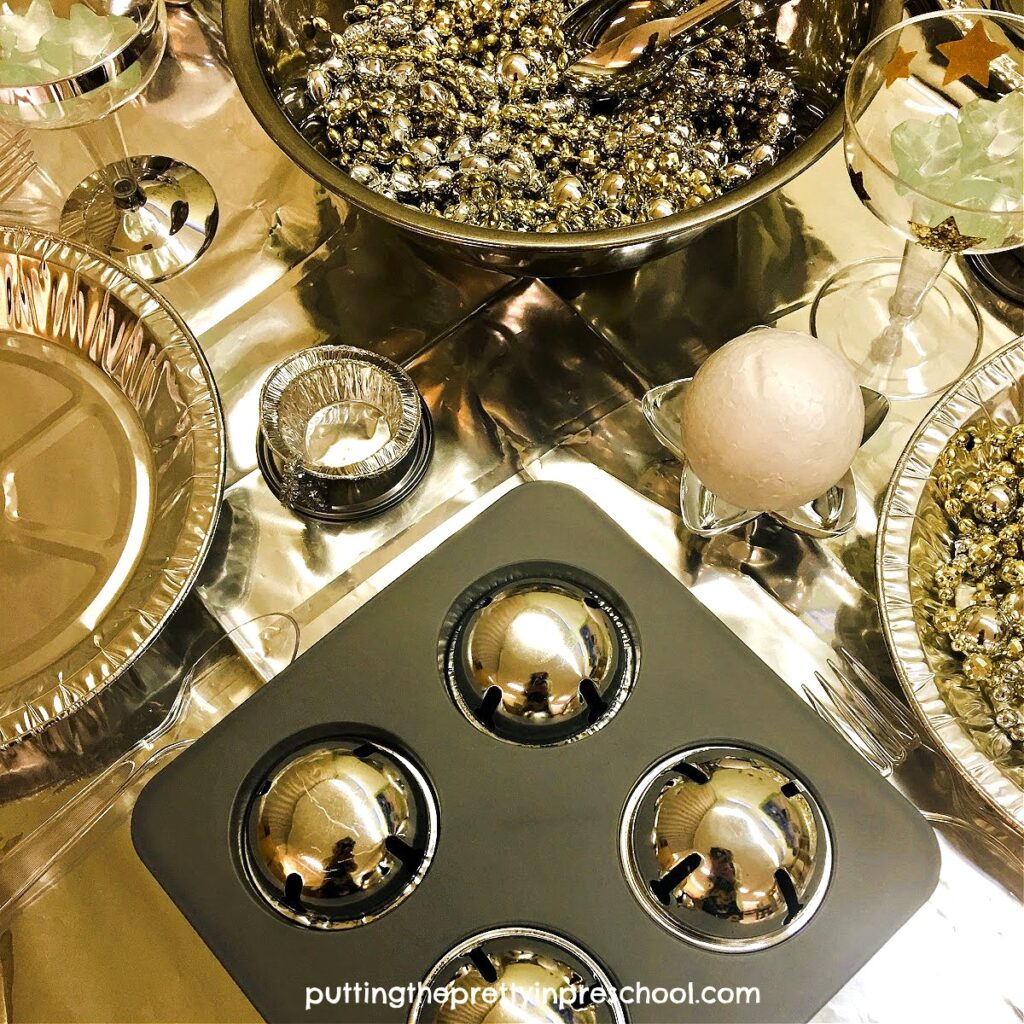 _______
Gold bead necklaces cut into strips make great pretend spaghetti noodles. Silver balls cut from garland are the meatballs.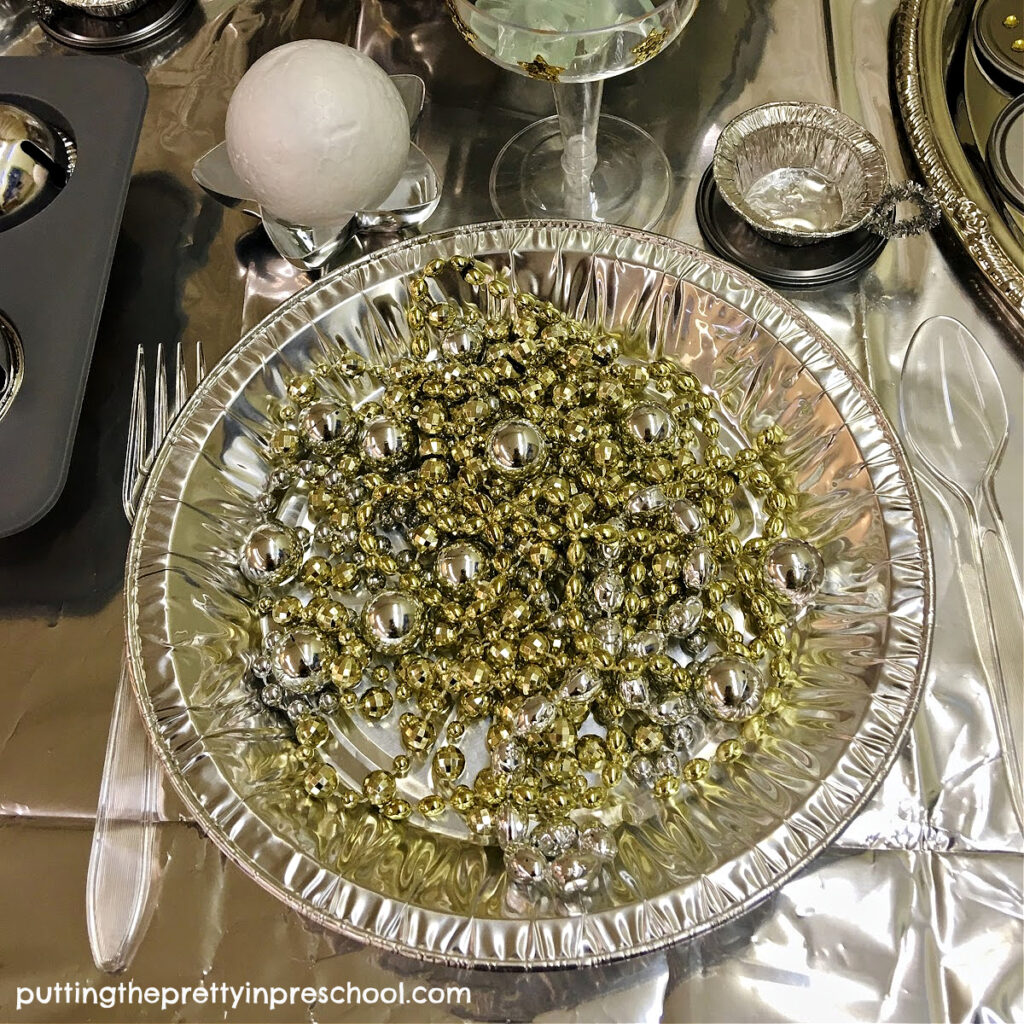 _______
Silver and gold adhesive gems added to juice lids make tasty chocolate chip cookies.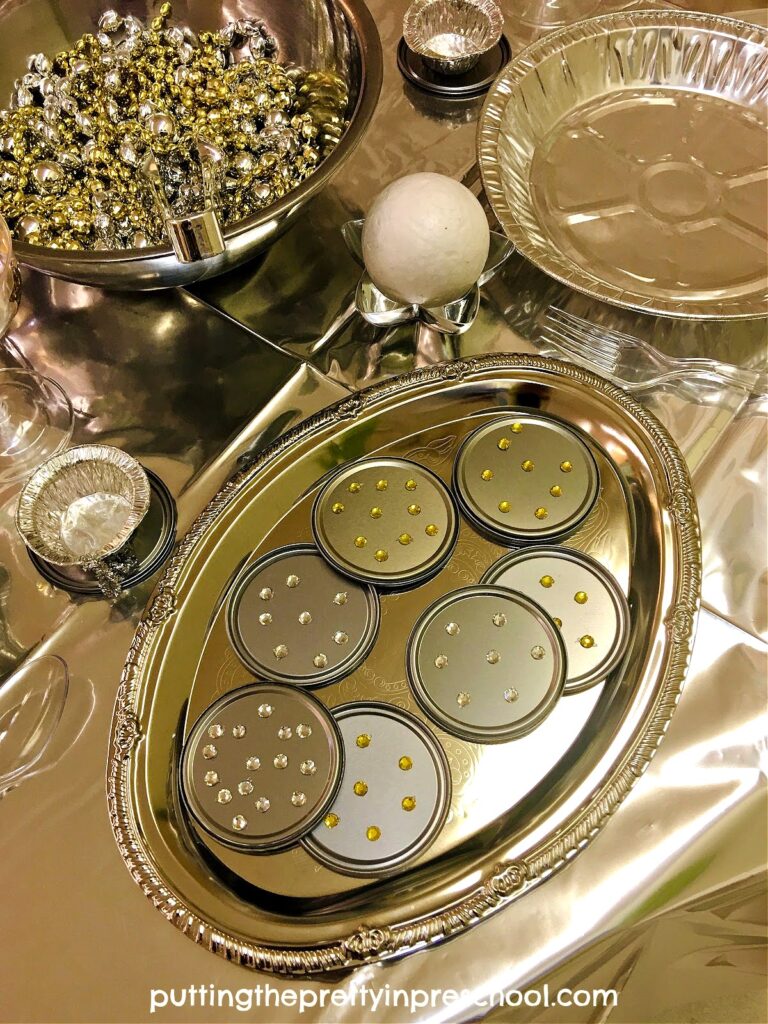 _______
A metallic silver tablecloth, reusable star ice cubes, and a silver bowl, tray, muffin tin, and pair of tongs round out the supplies in this glittery outer space pretend play tablescape.
_______
Lighted Outer Space Pretend Play
For added flare, include a metallic spray centerpiece and shine a professional stage light on the outer space pretend play tablescape.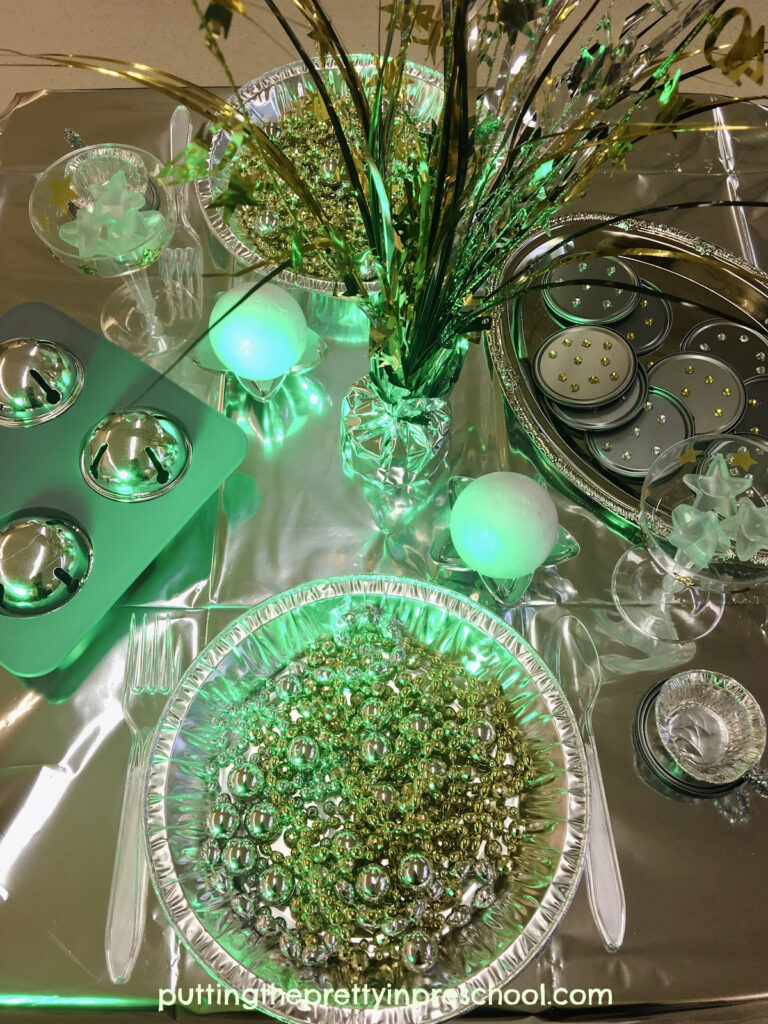 _______
Related:
White Lilacs and Black Playdough
_______
[Read more…]

about Outer Space Pretend Play