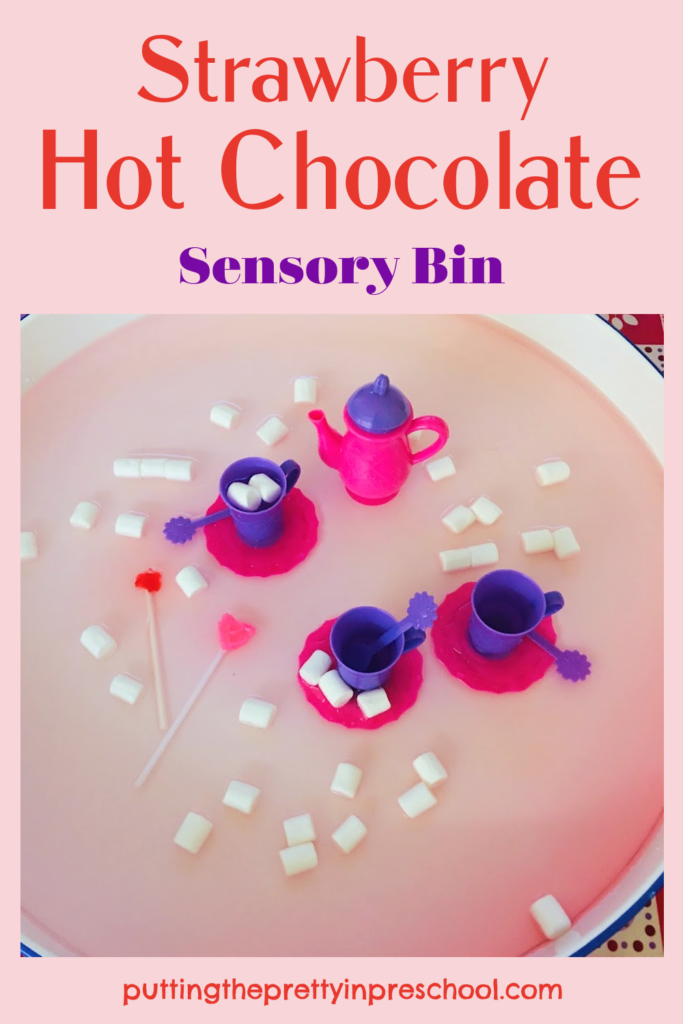 _______
This taste safe strawberry hot chocolate bin is sure to excite your little learner. It incorporates marshmallows, lollipops, and pouring with a miniature tea set, all mega-hits with young children.
For this activity I originally planned to try a classic hot chocolate sensory bin, using chocolate-flavored candies or lollipops. But I didn't have any luck finding hard chocolate candy. So, a dreamy strawberry hot chocolate-themed bin it is.
_______
Follow me on Pinterest for more early learning activities.
_______
Supplies To Collect
Gather the following supplies for this taste safe sensory bin:
red and pink heart-shaped lollipops
mini marshmallows
miniature toy tea set
small white tub
cool water
_______
Introducing The Strawberry Hot Chocolate Bin
First, thoroughly sanitize the tub and toy tea set.
Note: If more than one child is participating in this activity, give them their own bin.
Then set the tea set in the bin, and add an inch of cool water. Invite your little learner to play with the cups and saucers and pot in the bin.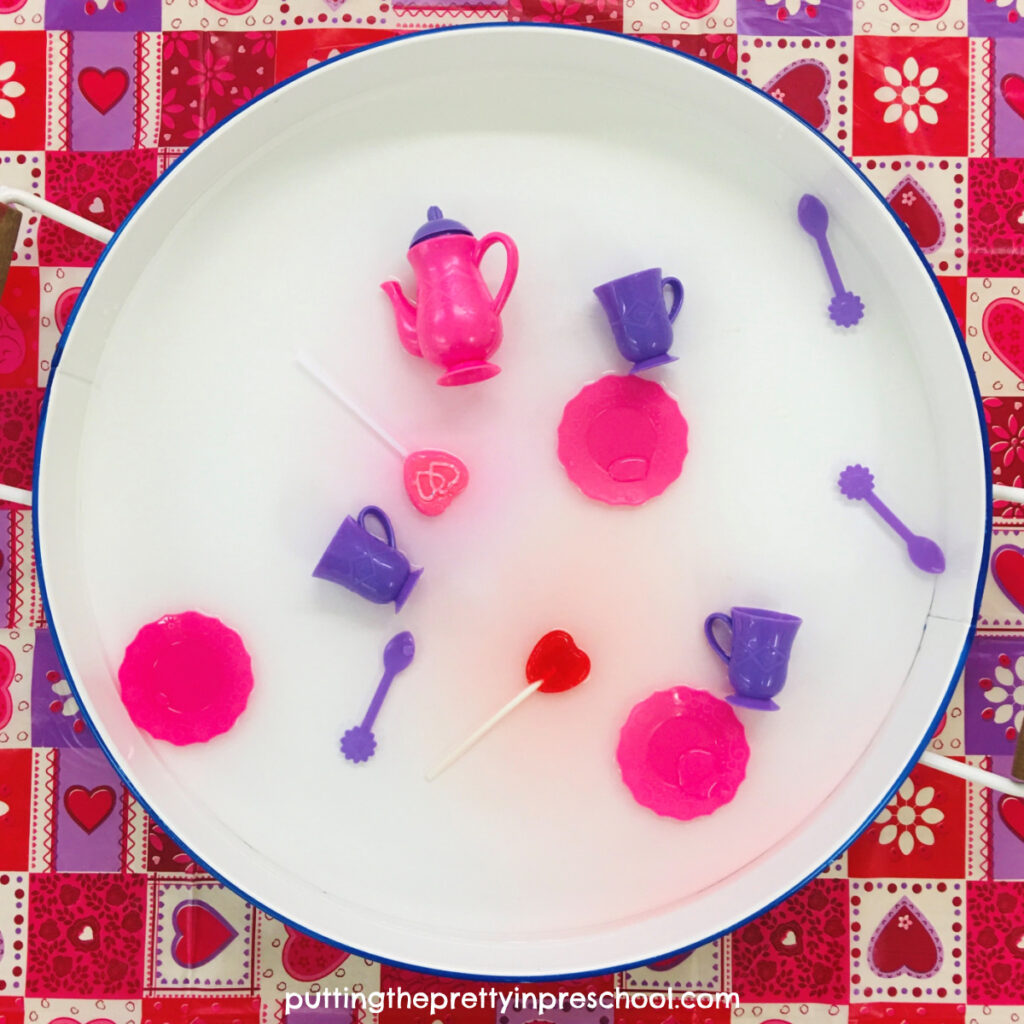 _______
Next, drop in two lollipops. Suggest that a little tasting is allowed, but that the lollipops should go back in the bin afterward. Draw attention to the gradual color change in the water: the liquid slowly changes to light pink. And observe that the lollipops shrink over time.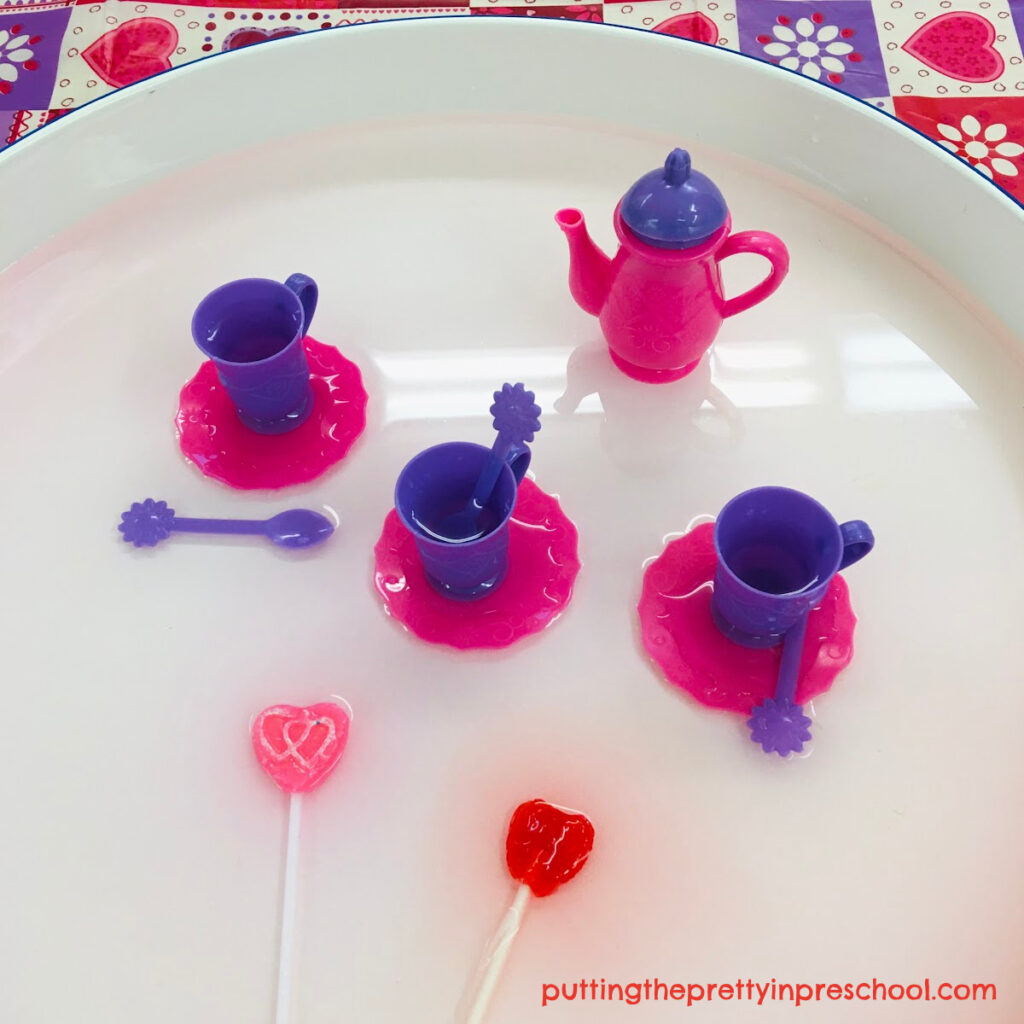 _______
Then sprinkle a few mini marshmallows into the bin. Encourage your little learner to include the marshmallows in pouring activities.
Tip: Staggering the addition of marshmallows and lollipops extends the time the children will spend in the sensory activity.
This sensory bin is totally taste safe, and part of the experience is to be able to taste the lollipops, marshmallows, and flavored water. The colored water will likely have a light, fruity taste.
Make sure hands are washed very carefully after playing in the bin, as they will be a little sticky.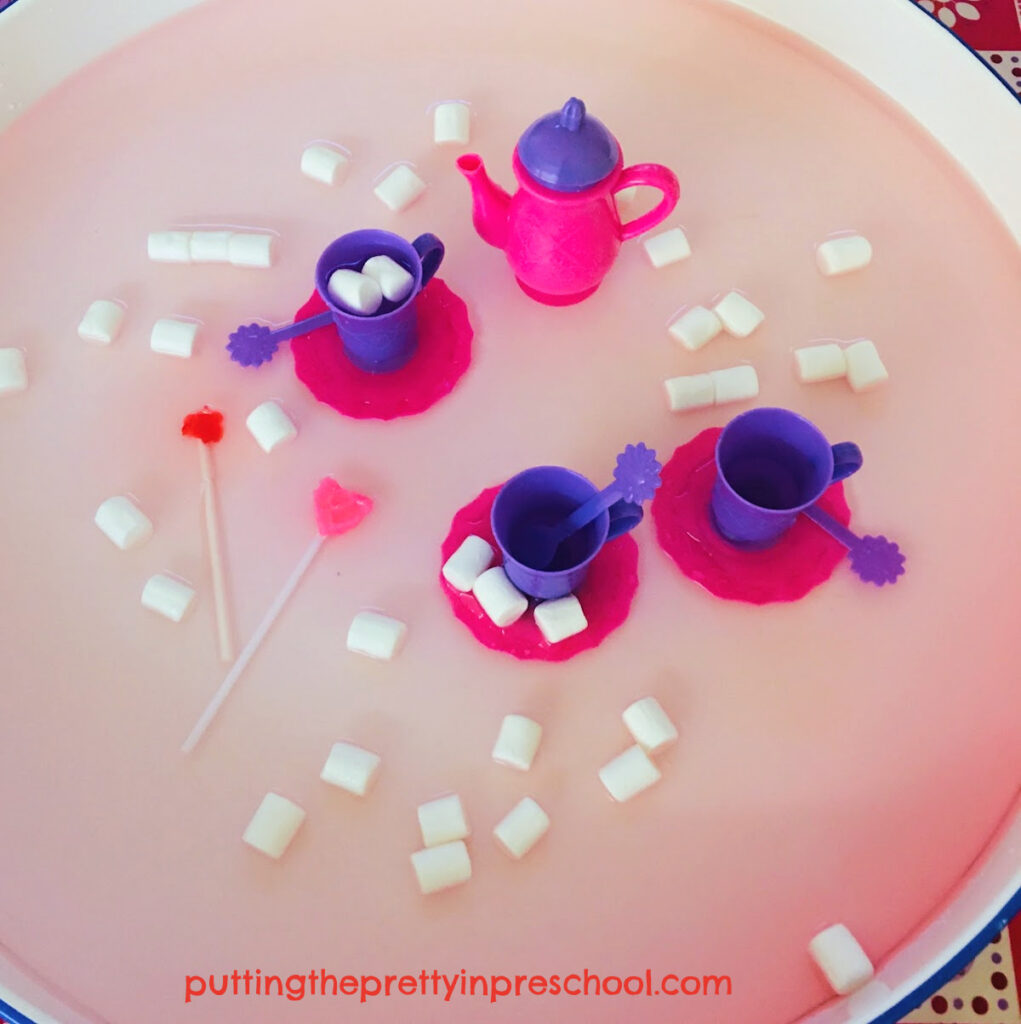 ________
Benefits Of This Sensory Bin
There are many benefits of this tasty sensory bin:
exercising eye-hand coordination in pouring "hot chocolate" and sipping from tiny cups.
experiencing a color change science experiment when lollipops are added to the bin.
encouraging language development by describing the look and feel of the bin and the taste of the lollipops, marshmallows and water.
discussing that sweet treats should be eaten in moderation.
experiencing joy by participating in an unexpected, new, super fun sensory activity.
This strawberry hot chocolate bin is perfect for a party day such as Valentine's Day. It would also work wonderfully for a Mother's Day celebration.
_______
Strawberry Hot Chocolate Recipes
If you would like to try or serve authentic strawberry hot chocolate, here's a couple of blogs with delicious recipe posts:
Sprinkle Bakes features an instant strawberry hot cocoa mix.
My Heavenly Recipes showcases a strawberry hot chocolate recipe.
_______
Related: Candy Cane Science Experiment
_______
_______
You may also like:
Color Explosion Science Experiment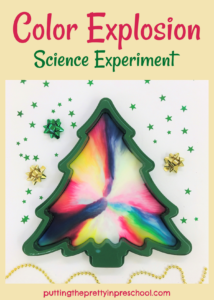 _______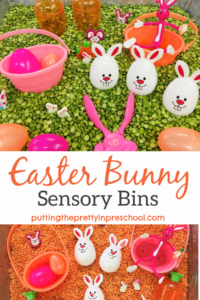 _______
Don't forget to share this post on Pinterest or your favorite social media channel. Sharing is caring!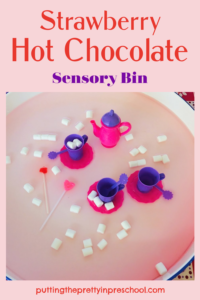 _______
© Annette Kaminsky February 19, 2022
________
Follow me on social media for more ideas: