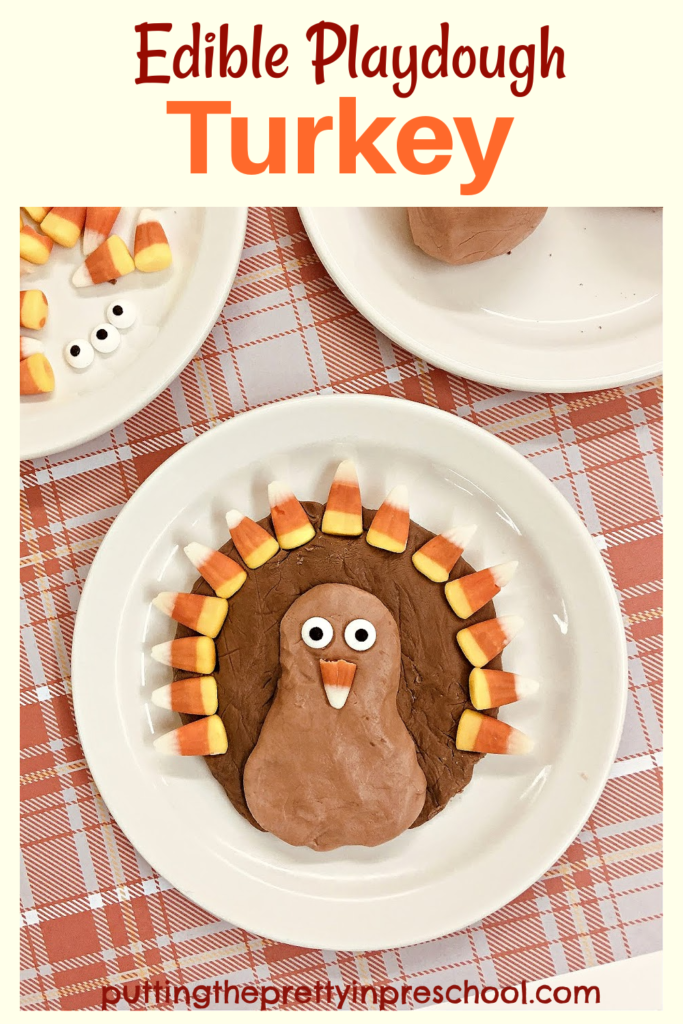 _______
Here's a sweet, edible playdough turkey craft just in time for Thanksgiving Day. It is suitable any time of the year for a farm animal theme. It is simple to make and uses five easy-to-find ingredients.
_______
Follow me on Pinterest for more early learning ideas.
_______
Supplies To Collect
Gather the following supplies for this color-infused playdough turkey:
chocolate frosting
vanilla frosting
powdered sugar
candy corn
white candy eyes
small serving plate
large mixing bowl
large spoon for stirring
knife
_____
Making The Edible Playdough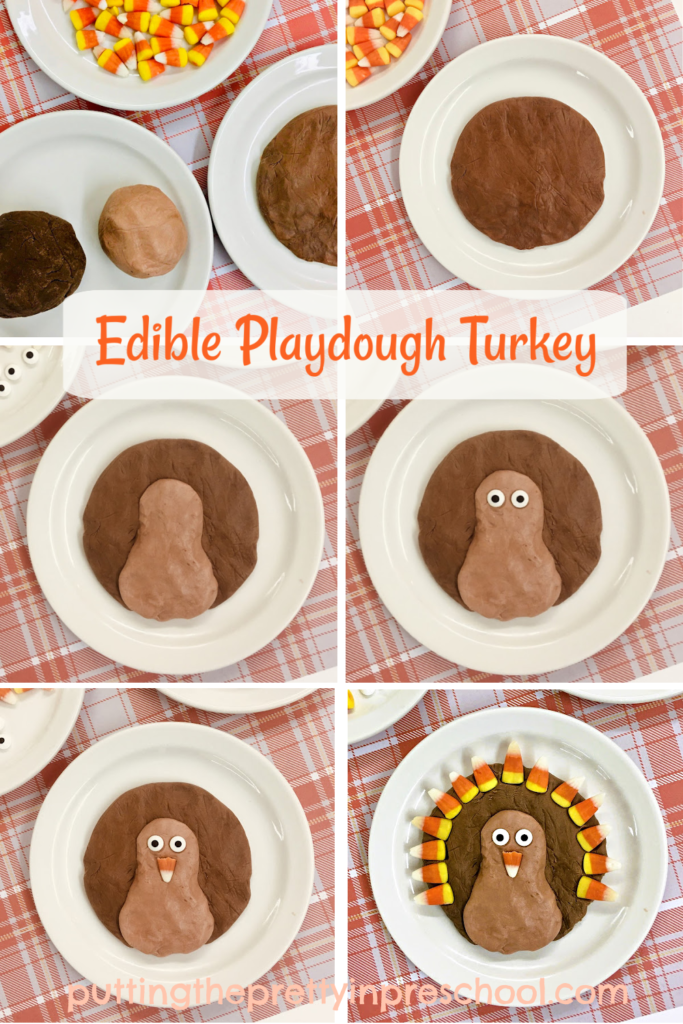 _______
To make this edible playdough, first select a large bowl for the ingredients.
Next, empty half a container of vanilla frosting into the bowl.
Then scoop in an equal amount of powdered sugar.
With a large spoon, stir the powdered sugar and frosting together.
Afterward, knead the ingredients thoroughly, adding more powdered sugar or frosting if necessary, until the dough is a non-sticky playdough consistency.
Make a similar batch of playdough using chocolate frosting, incorporating powdered sugar with the brown icing.
Then form a ball of vanilla playdough and a smaller one of chocolate. Knead the two balls together to get a light brown shade.
Finally, add a little vanilla playdough to a ball of chocolate. Knead them together to get the medium brown shade.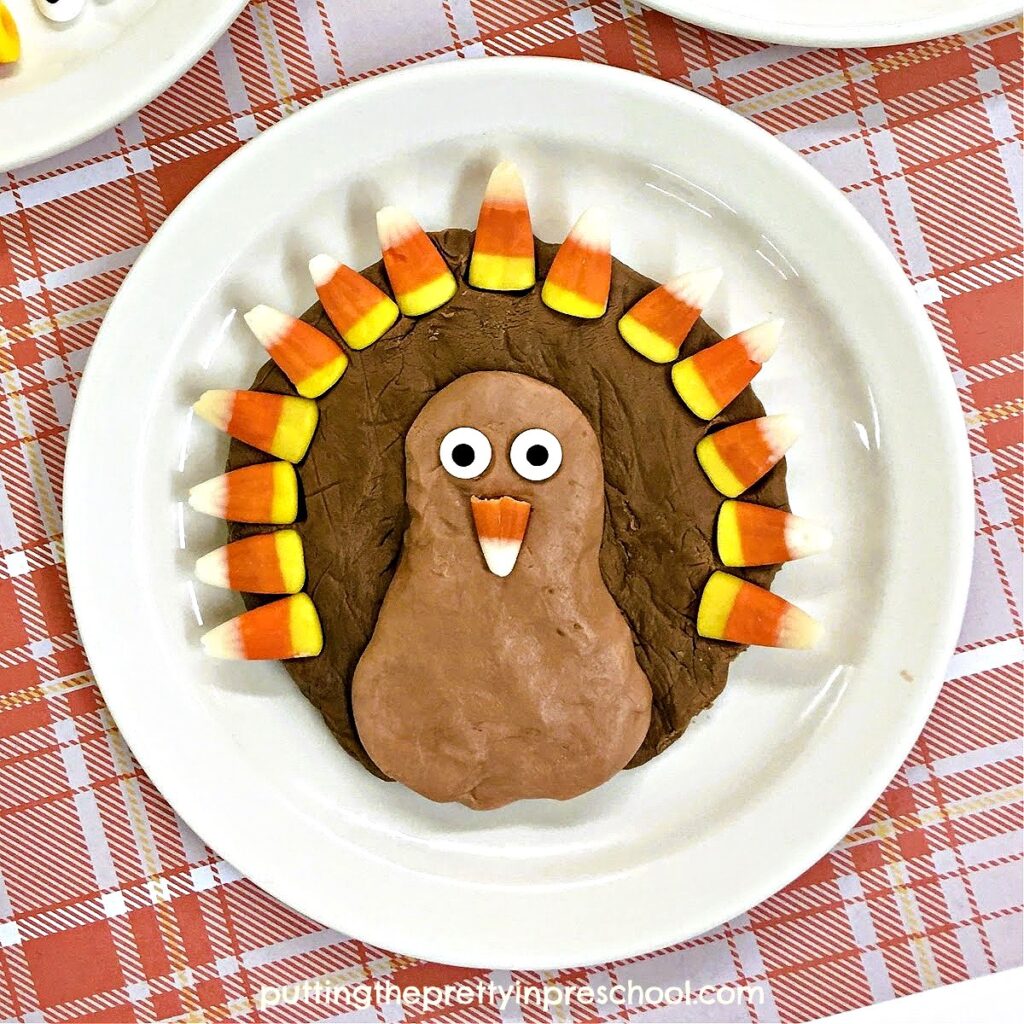 _______
Little learners will love to help make this tasty edible playdough, and will especially enjoy the kneading part. Discussions about color mixing, spheres, and small and large sizes can be introduced during the playdough and turkey-making process.
_______
The Edible Playdough Turkey
Fashioning the playdough turkey is almost as easy as making the two colors of dough.
First, form a ball of medium brown playdough and flatten it into a circle on a dessert plate.
Next, make a light bulb shape from the light brown playdough and press it on top of the circle, designing a turkey head and neck.
Then add two candy eyes and a candy corn beak.
Tip: Slice off the wide end of a piece of candy corn with a knife to make a shorter beak if desired.
Finally, position candy corn pieces all around the edge of the large playdough circle.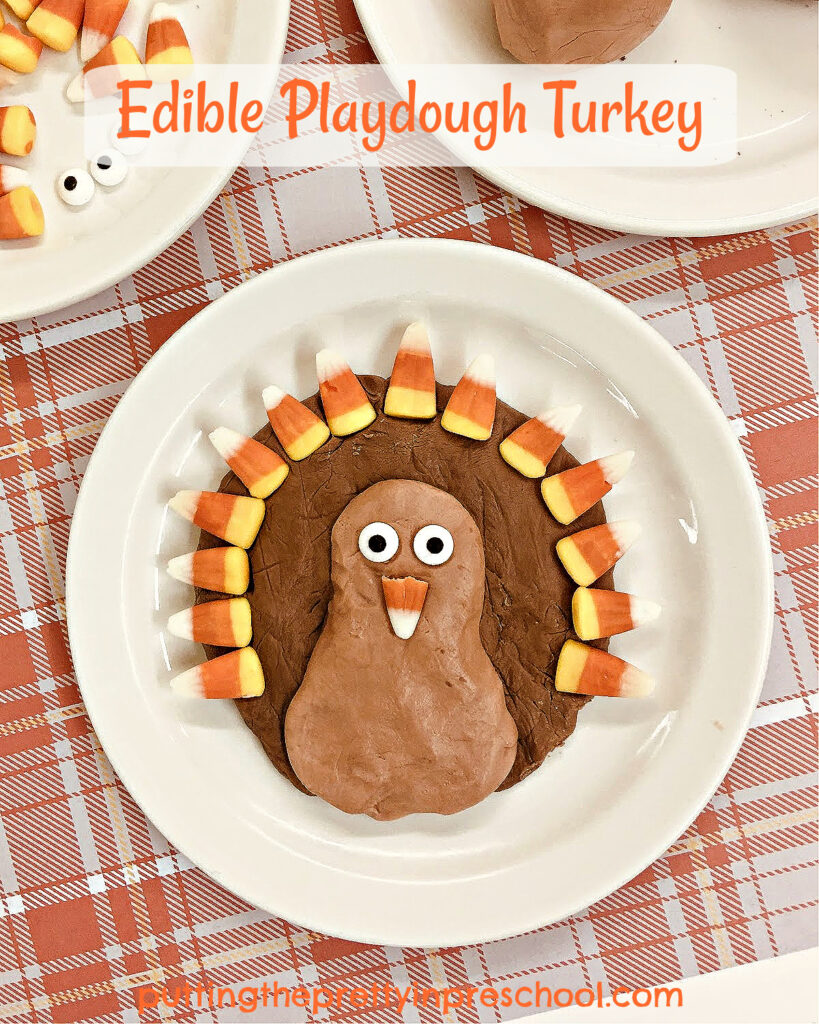 _______
You may have noticed that this playdough is super sweet. It's a good idea to encourage participants to design their turkey first and then snack on some of the extra supplies.
After the turkeys are made and participants have had the chance to do a little snacking, wrap leftover frosting playdough in saran wrap and place it in a jar or plastic bag. Store the playdough and part containers of frosting in the fridge to use another time.
_______
Festive Graham Cracker Turkeys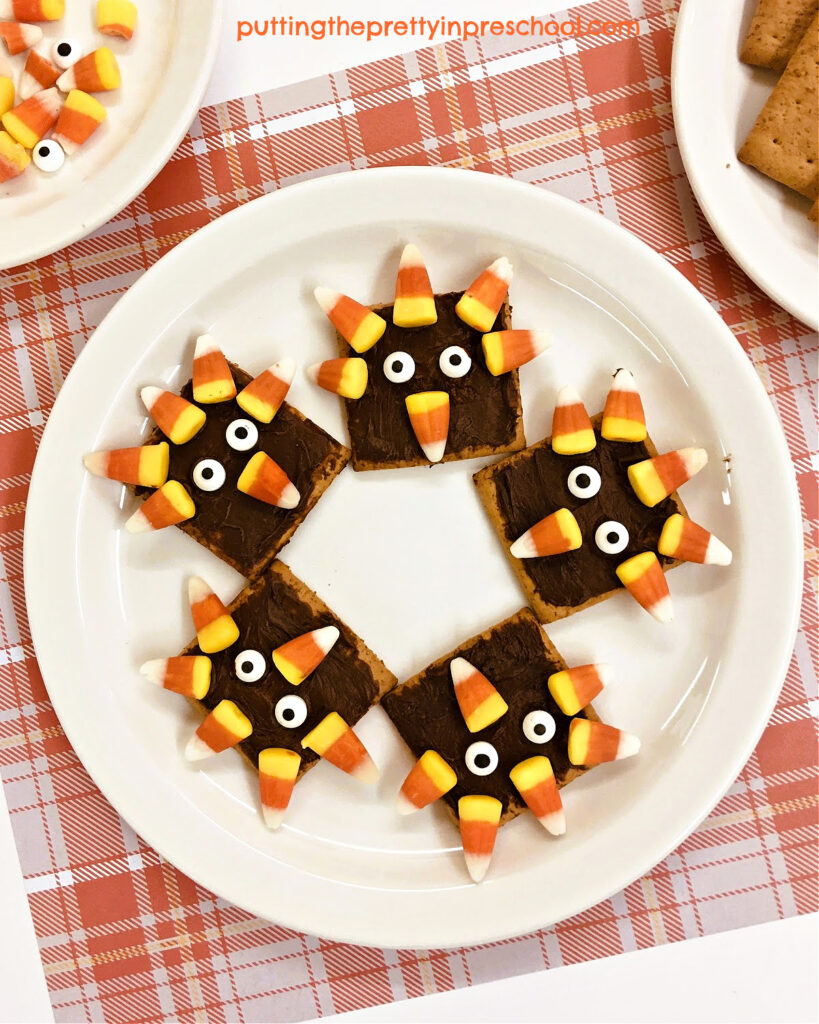 _______
The leftover frosting and candy eyes will come in handy for desserts, so nothing will go to waste. One idea is to spread a thin layer of chocolate or vanilla frosting on graham crackers. Add two candy eyes to each one, and five candy corn pieces around the upper edges. Slice off the wider end of some of the candy corn pieces and place them under the eyes for beaks. You'll end up with festive turkey treats that will quickly be gobbled up by your little charges.
_______
Non-Edible Playdough Turkey
The tasty turkey can be made with a basic playdough recipe instead of the sweet, edible dough. You can leave the playdough uncolored to create a white farm turkey or add varying amounts of brown gel icing color to small batches of playdough to get similar turkey colors as with the edible playdough turkey.
_______
More Turkey Activities
_______
[Read more…]

about Edible Playdough Turkey Craft