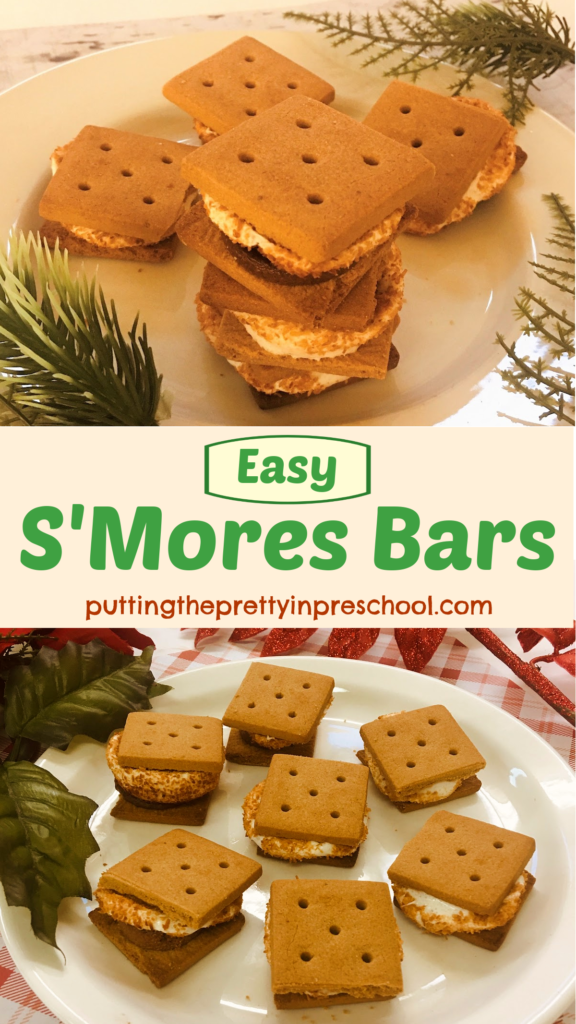 _______
This easy s'mores bars recipe comes from having forgotten to add wrapped round chocolates to October treat bags. Orange and purple don't naturally transition into November activities, so I decided to use the chocolates in this melty dessert.
To add versatility to the recipe, I also feature chocolate coins and chocolates wrapped in Christmas style.
S'mores bars were originally classic campfire treats. Made indoors they can be enjoyed year-round. And little learners love to help make them!
_______
S'mores Bars Supplies To Collect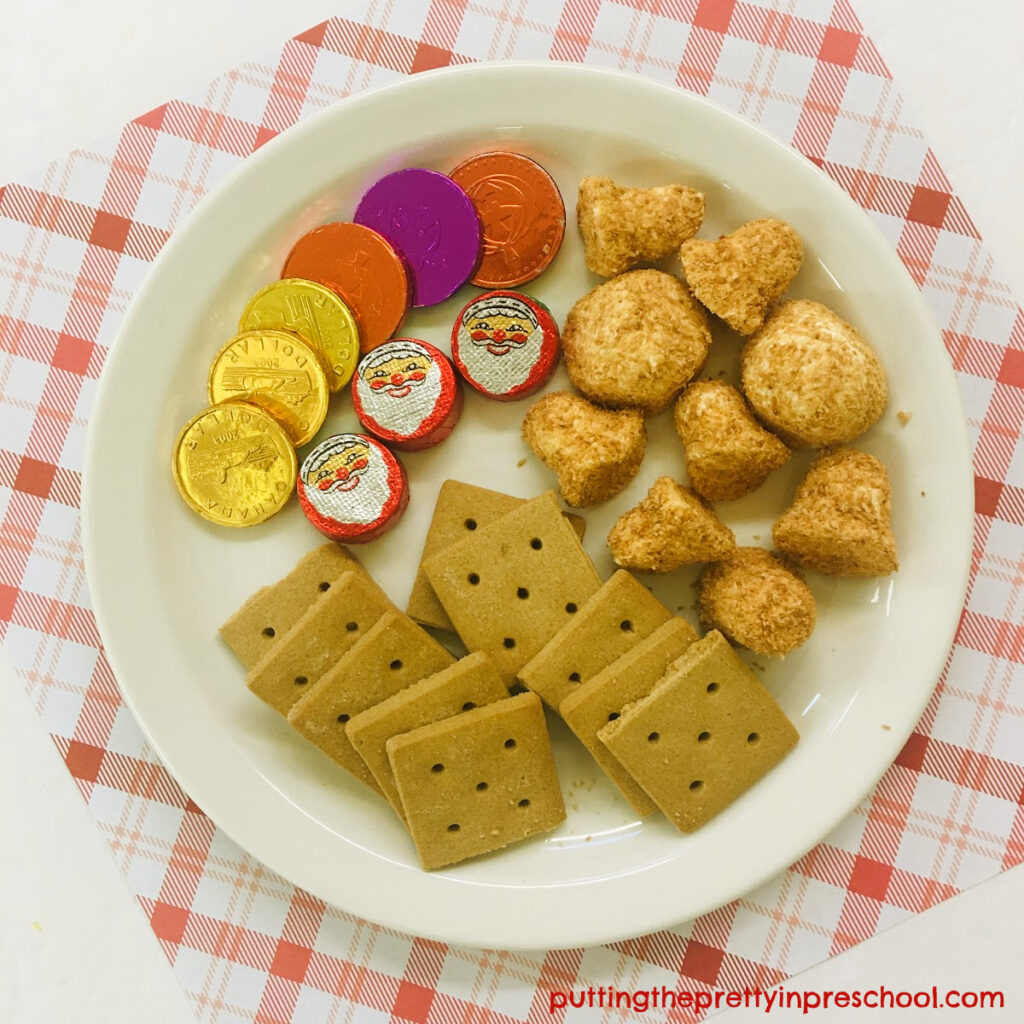 _______
Gather the following ingredients and baking supplies:
toasted coconut marshmallows
coin-shaped chocolates
graham wafers or gluten-free crackers
parchment or wax paper
2 cookie sheet pans
_______
Making These Easy S'Mores Bars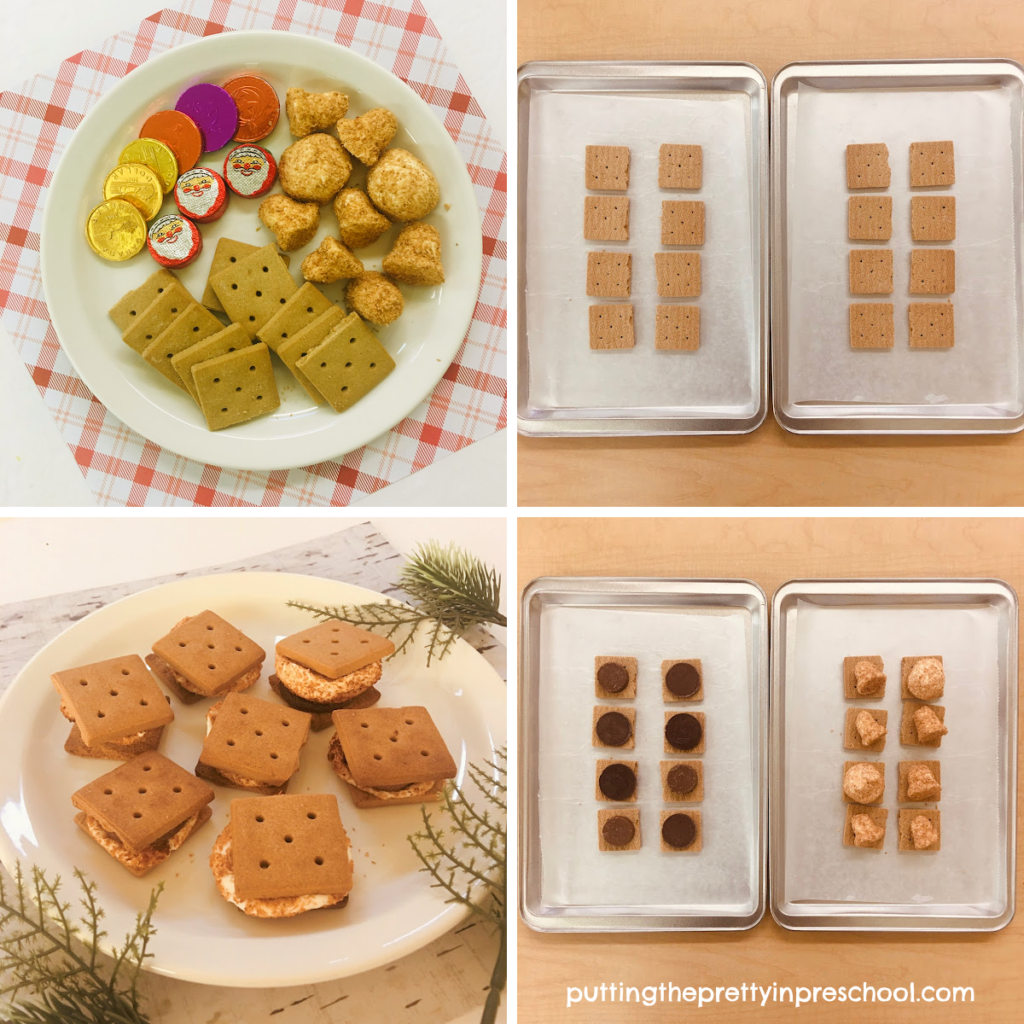 _______
Preheat an oven to 350 degrees.
Spread the graham wafers onto two sheet pans lined with parchment or wax paper.
Place a toasted coconut marshmallow on top of each wafer on one pan. Set unwrapped chocolates on the wafers on the other pan.
Heat both pans in the oven for three to five minutes. Watch carefully as the square halves can easily be overbaked.
Sandwich wafers with chocolate together with marshmallow wafers and place on a dessert plate. Serve when slightly cooled.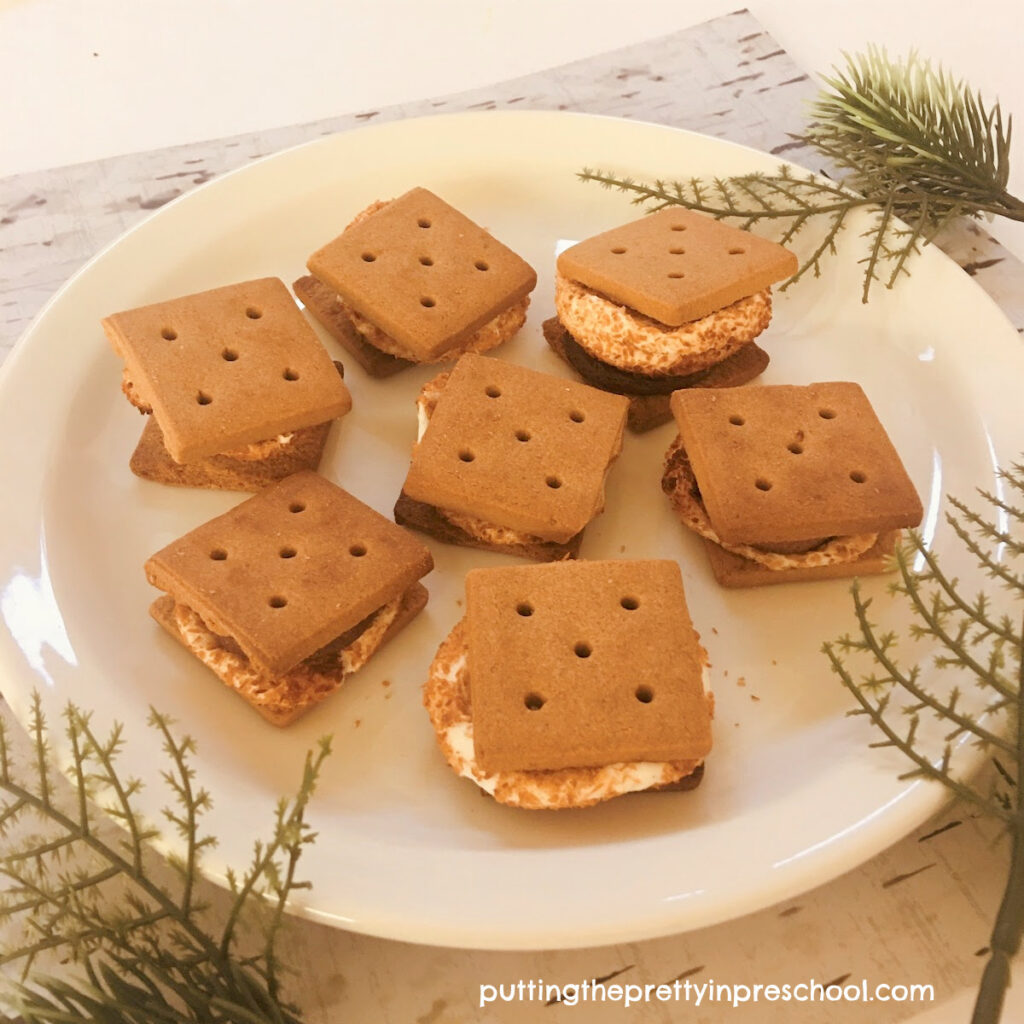 _______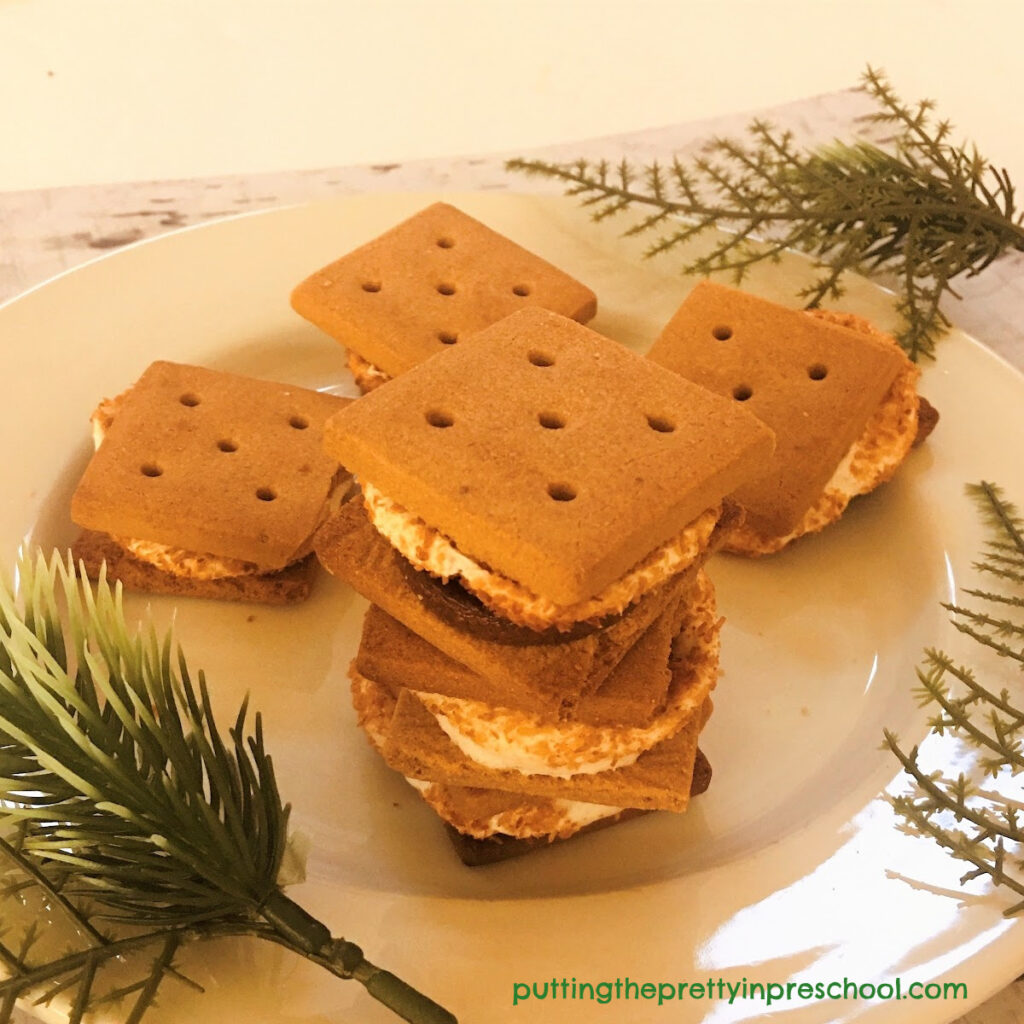 _______
Variations Of This S'Mores Bars Recipe
My recipe features gluten-free graham crackers. Graham wafers are a traditional choice.
Regular or mini marshmallows can be substituted for toasted coconut ones.
Creamy Hershey's chocolate bar squares can be used instead of wrapped chocolates. And why not experiment with one of Hershey's festive flavors, such as "Strawberries 'n' Cream, "Birthday Cake", or "Cookies 'n' Mint."
_______
Seasonal Recipes
If you wish to go seasonal and are up for a bit more challenge, try one of these ingenious s'mores bars recipes:
Fall S'mores (Recipe at southernfatty.com)
Christmas S'mores (Recipe at darcyandbrian.com)
Snowman S'mores (Recipe at kitchenfunwithmythreesons.com)
Valentine's Day S'mores (Recipe at prettyinpistachio.com)
Easter Peeps S'mores (Recipe at domesticsuperhero.com)
_______
Or surround this gooey, three-ingredient s'mores bars dessert with seasonal décor.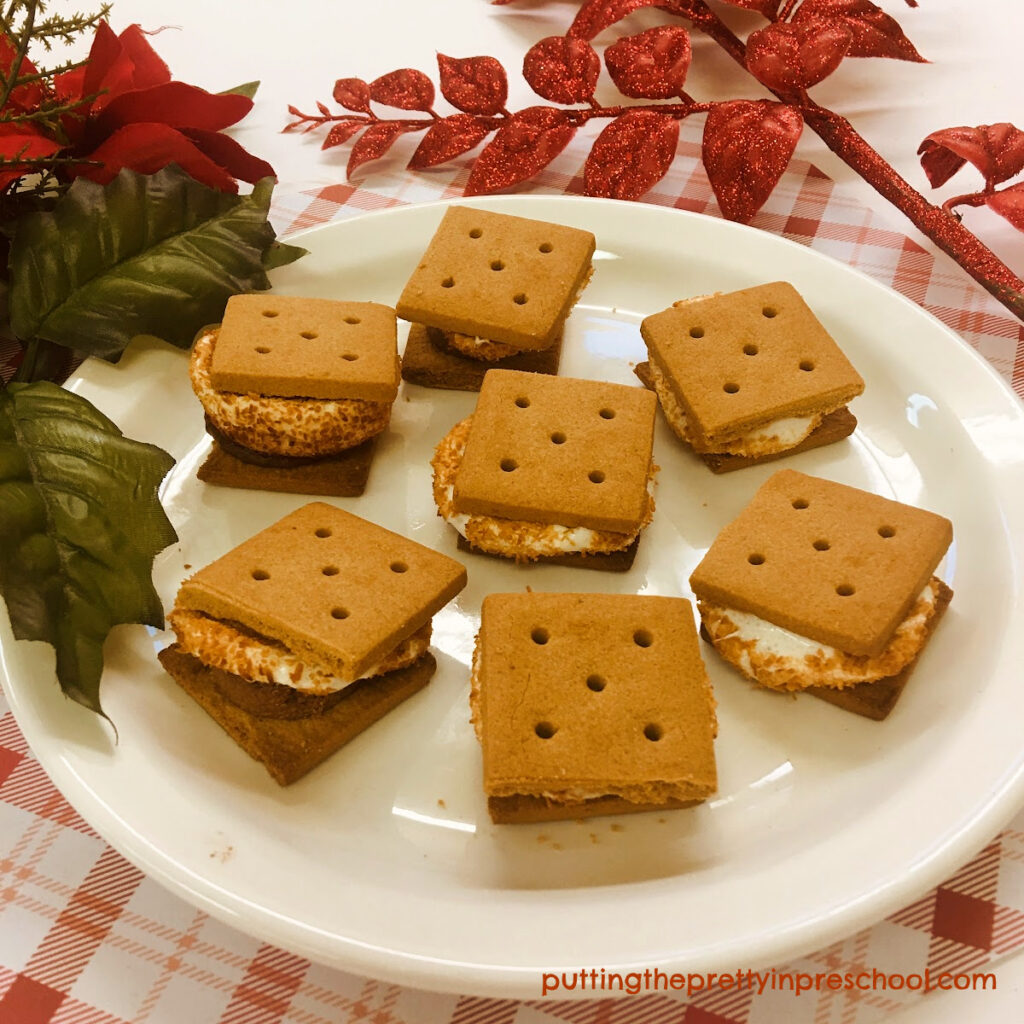 _______
[Read more…]

about Easy S'Mores Bars