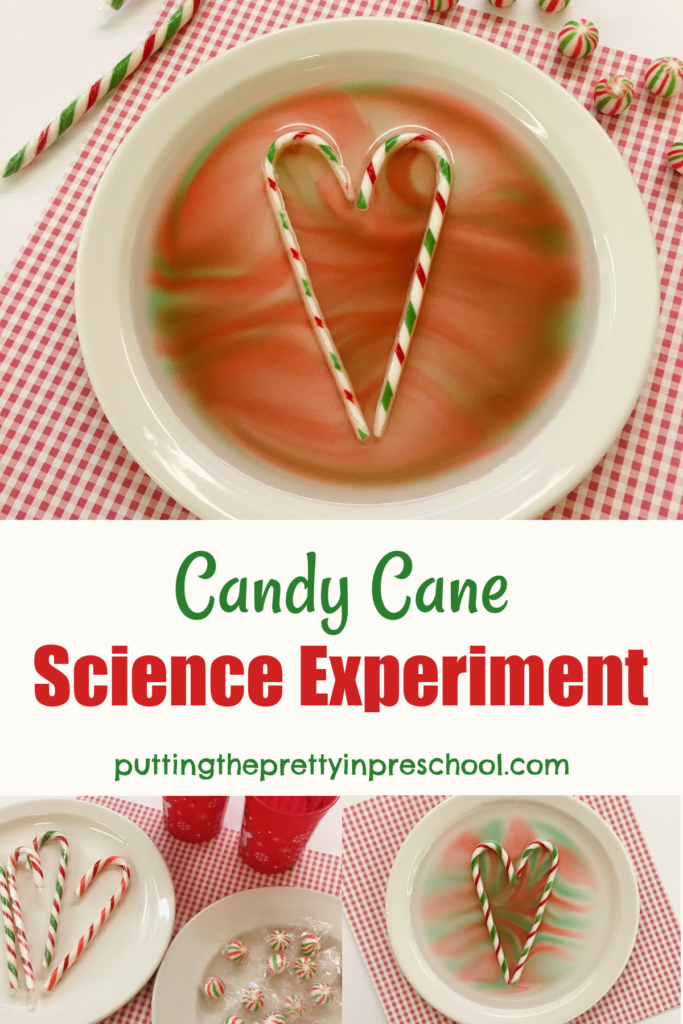 _______
This Christmas I went on a candy cane hunt, primarily to add a few of these festive treats to my preschoolers' party bags. Although easy to find in the past, I visited three different stores before I spotted some.
Candy canes had been brought up in class discussions, so I thought the children would be excited to discover them in their party bags. As I tried to give one child extra candy canes for his siblings, I noticed that he was furiously trying to give his original ones away. It turned out that he immensely dislikes them! So needless to say, there were a few candy canes leftover at school after the holiday celebrations.
So then came Plan B…the decision to use some for this easy-peasy candy cane science experiment.
_______
Supplies To Collect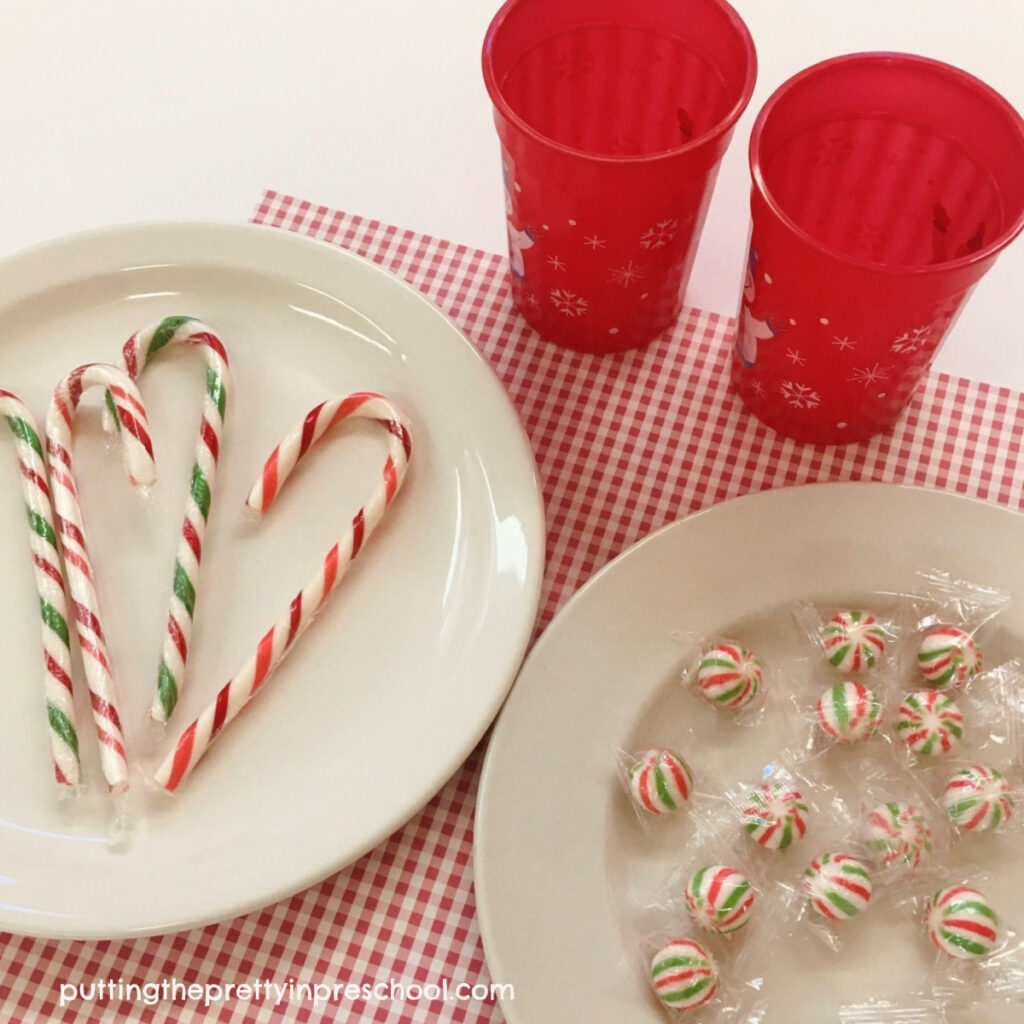 _______
The supplies for this science experiment couldn't be any simpler. Gather the following three things:
white or cream-colored dinner plate with a rim
cup of warm water
two large candy canes
_______
Conducting The Candy Cane Science Experiment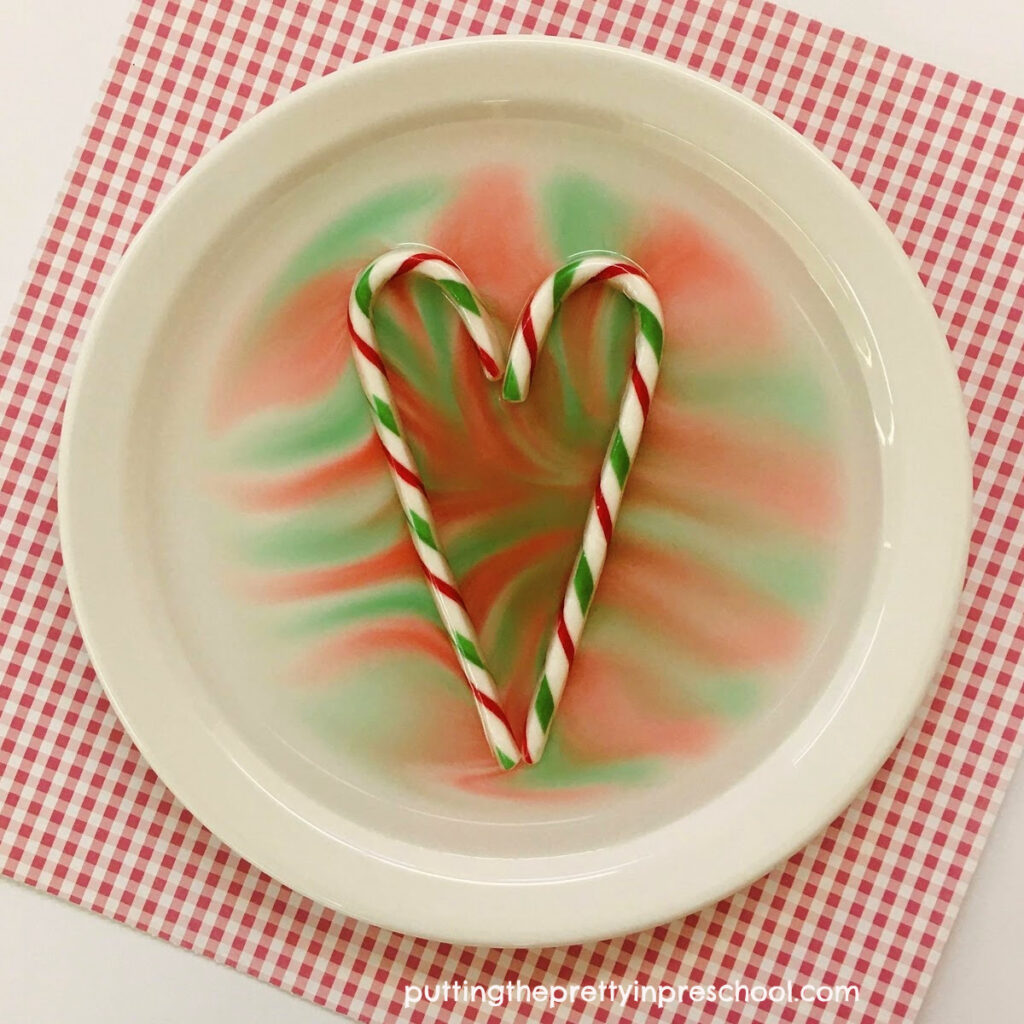 _______
Place two candy canes in the center of the plate in a heart shape.
Slowly pour in warm water to a level just beneath the plate rim.
The food coloring will immediately diffuse from the candy canes, and the color patterns will change right before your eyes!
This experiment can be tried with other colors of these treats. The red, pink, and white color scheme below would work perfectly for Valentine's Day.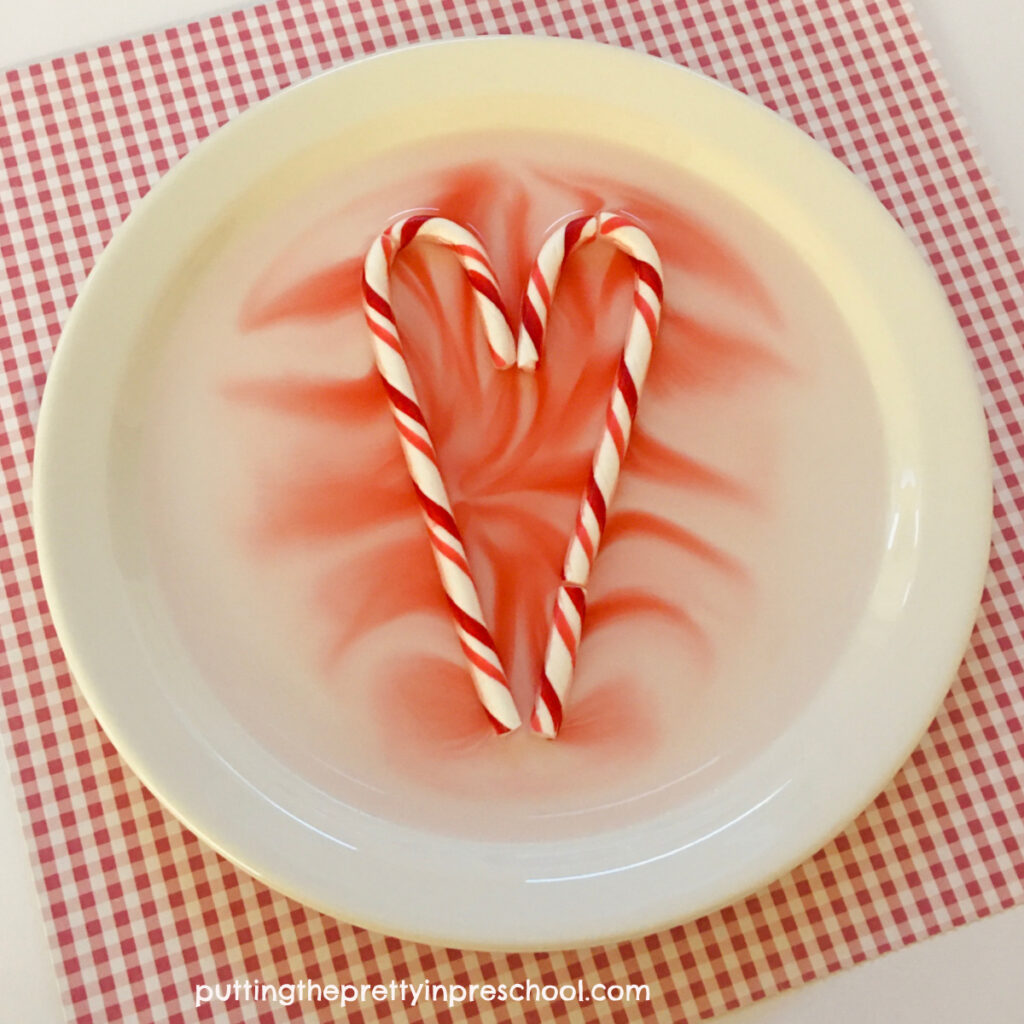 _______
Variation Of The Candy Cane Experiment
There was a second candy escapade this holiday season, as a type of striped, spherical, Christmas candies I purchased turned out to be much too hard. I tasted one, and it just wouldn't dissolve in my mouth. I imagined students choking on the candy on the drive home from preschool, and didn't want to risk that. As you might have guessed, the super hard candies didn't make the treat bag cut.
Conveniently, these holiday candies work in the same science experiment. In the picture below, the candies are arranged next to the rim of a plate. When warm water is added, green and red food colors slowly move through the liquid away from the candies. The process is so slow, the colors blend to make a rich brown hue soon after they spread. Since little learners love mixing colors to make brown, they would be excited to see this!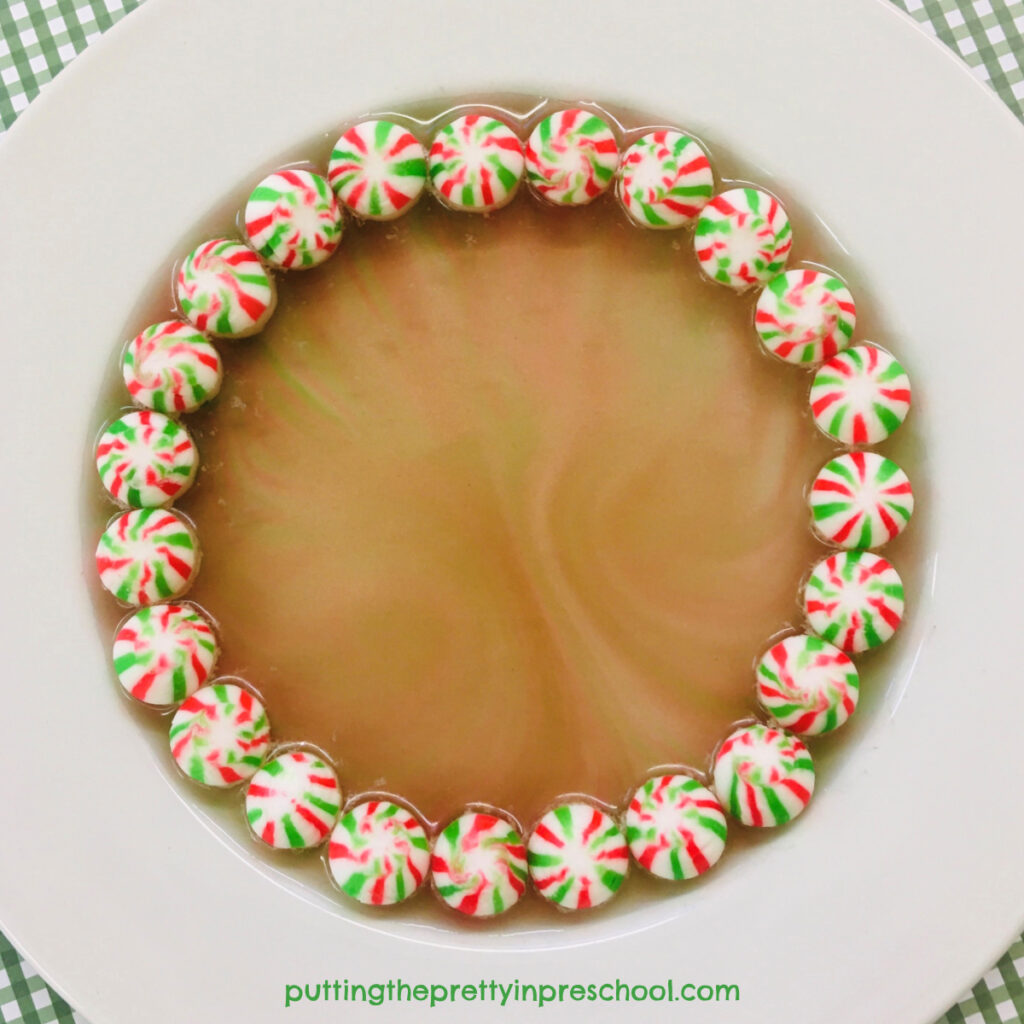 _______
The candies can be placed a little farther apart around the plate rim, so the colors don't mix as quickly when water is added. Or they can be spread apart as in the picture below. Then moving red and green colors are visible a little while after warm water is added.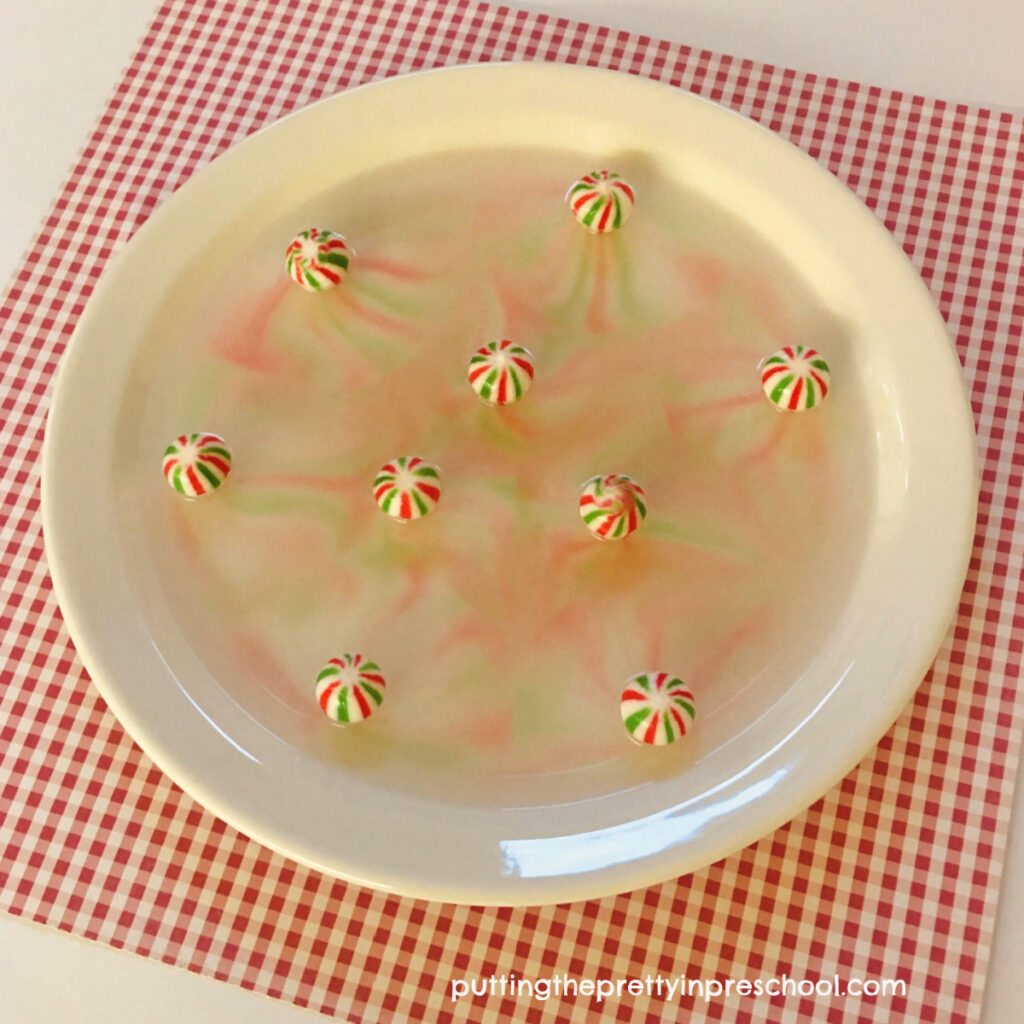 _______
Tip: If the colors in the candies dissolve at a snail's pace, as in one of my experiments, you can choose to use hot water. This will speed up the scientific process. Make sure little learners observe what happens only with their eyes, keeping their hands and bodies away from the plate.
After the science experiment is finished and the liquid is cool, you may wish to let your little charges taste a teaspoon of colored water. It will have a strong mint taste.
_______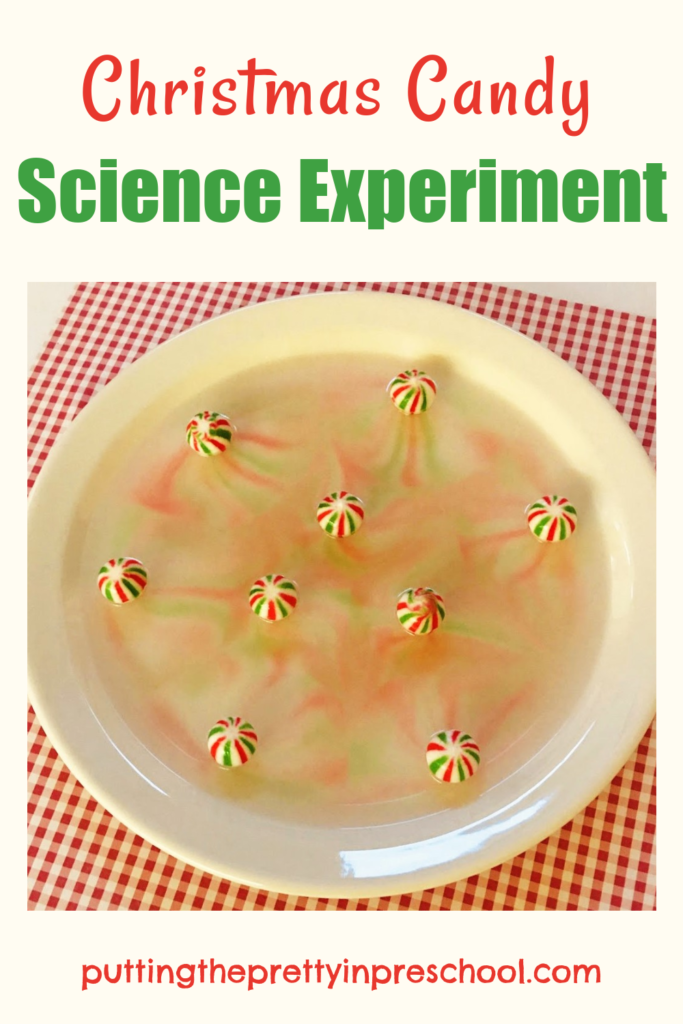 _______
Explanation Of This Candy Cane/Candy Experiment
The candy canes and candies are made of sugar. The water breaks the sugar molecules apart. Then the food colors move through the water from areas of higher sugar concentration (near the candy) to areas with less sugar (the center of the plate.) When the sugar concentration is the same in all areas, the colors stop moving.

Water temperature is a variant in this experiment. Sugar dissolves quicker in warm water, and food coloring moves at a faster pace.
This science experiment is so easy to set up and has immediate results, perfect for little learners. And participants get to use their senses of sight, smell, taste, and touch. Try it today with candies or candy canes!
_______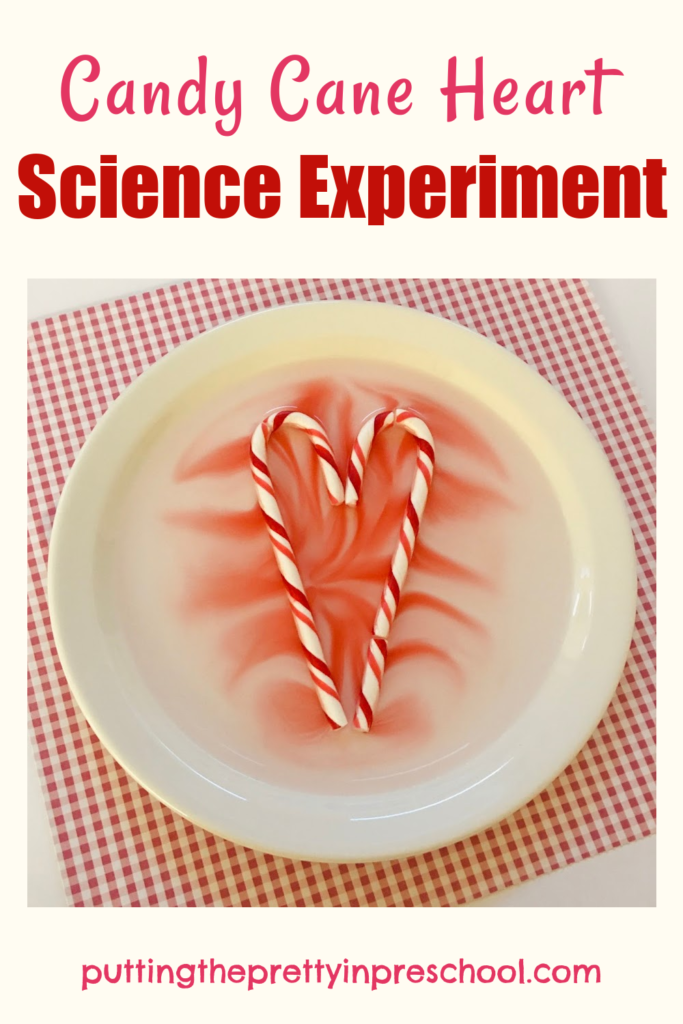 _______
Related: Color Explosion Science Experiment
_______
_______
You may also like: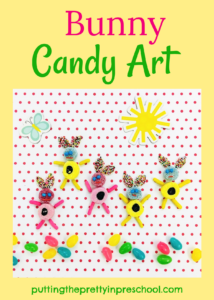 _______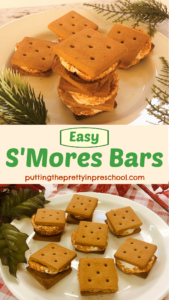 ________
Don't forget to share this post on Pinterest or your favorite social media channel. Sharing is caring!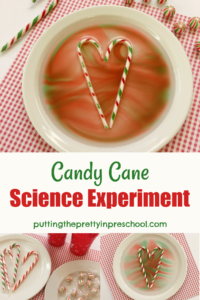 ________
© Annette Kaminsky January 1, 2022
_______
Follow me on social media for more ideas: