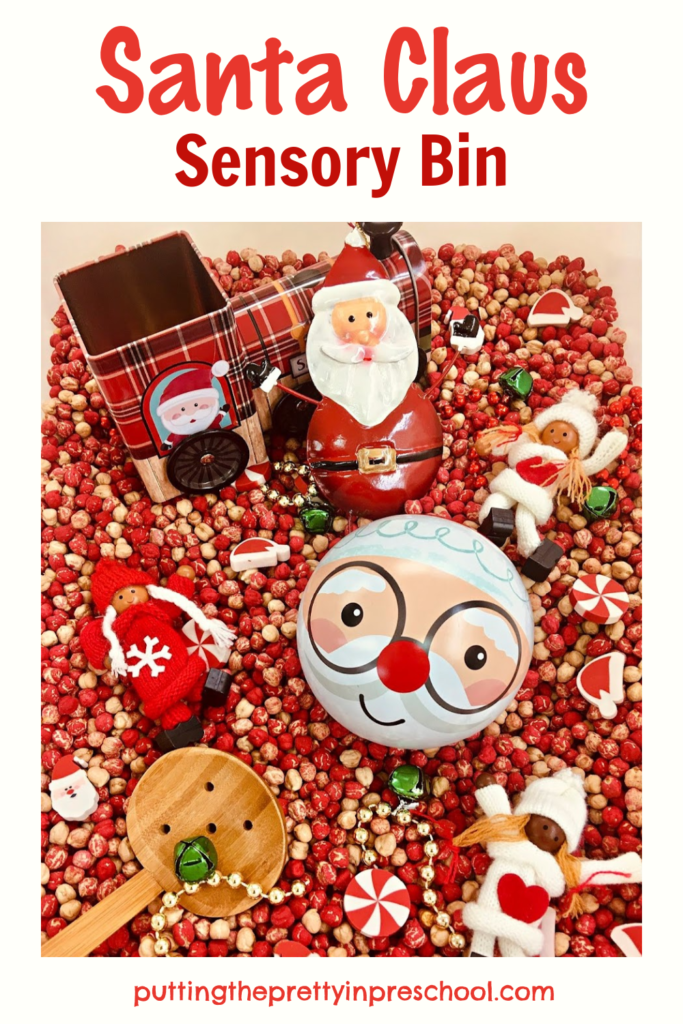 _______
With Santa on many children's minds right now it's the perfect time to set out a simple Santa Claus sensory bin.
This fun sensory activity is inspired by two Santa ornaments I was gifted this Christmas season. After receiving the ornaments, I realized I had enough supplies to make a no-fuss Santa bin. The bin is a great example of how just a few themed items can provide an interesting sensory invitation.
_______
Follow me on Pinterest for more early learning ideas.
_______
Supplies To Collect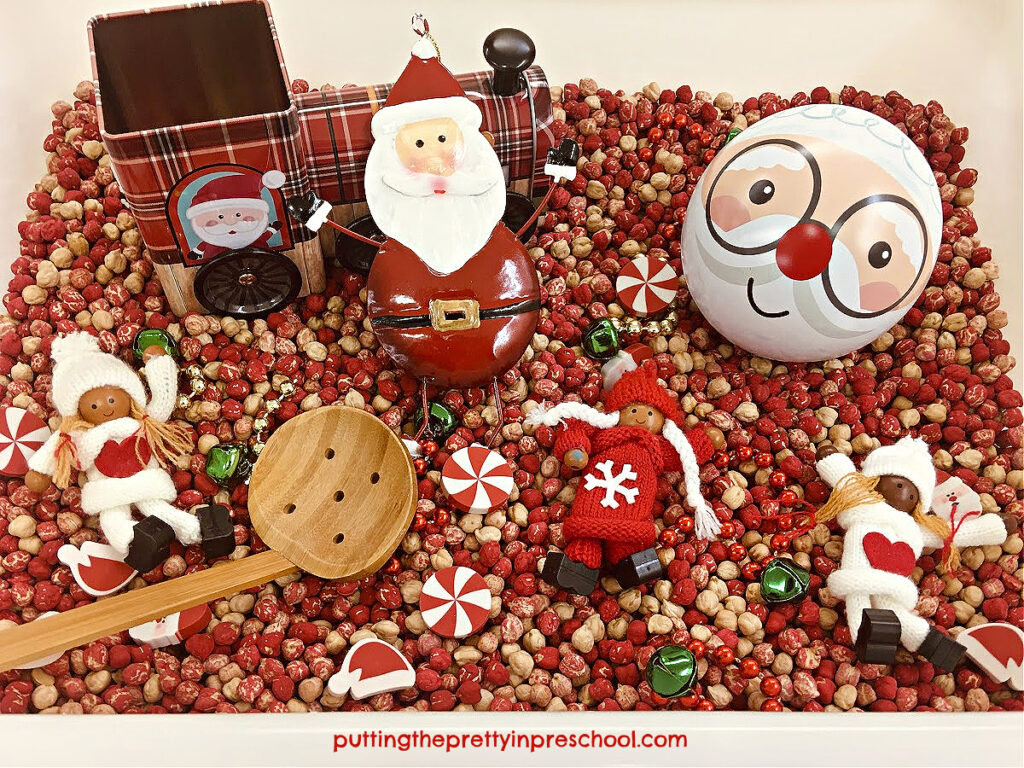 _______
Here are the supplies I gathered for the festive bin:
Santa train engine cookie tin
Santa ornament
knitted Scandinavian multicultural dolls
fillable Santa ball ornament
jingle bell garland
peppermint candy erasers
Santa and Santa hat erasers
wooden ladle
_______
The Santa Claus Sensory Bin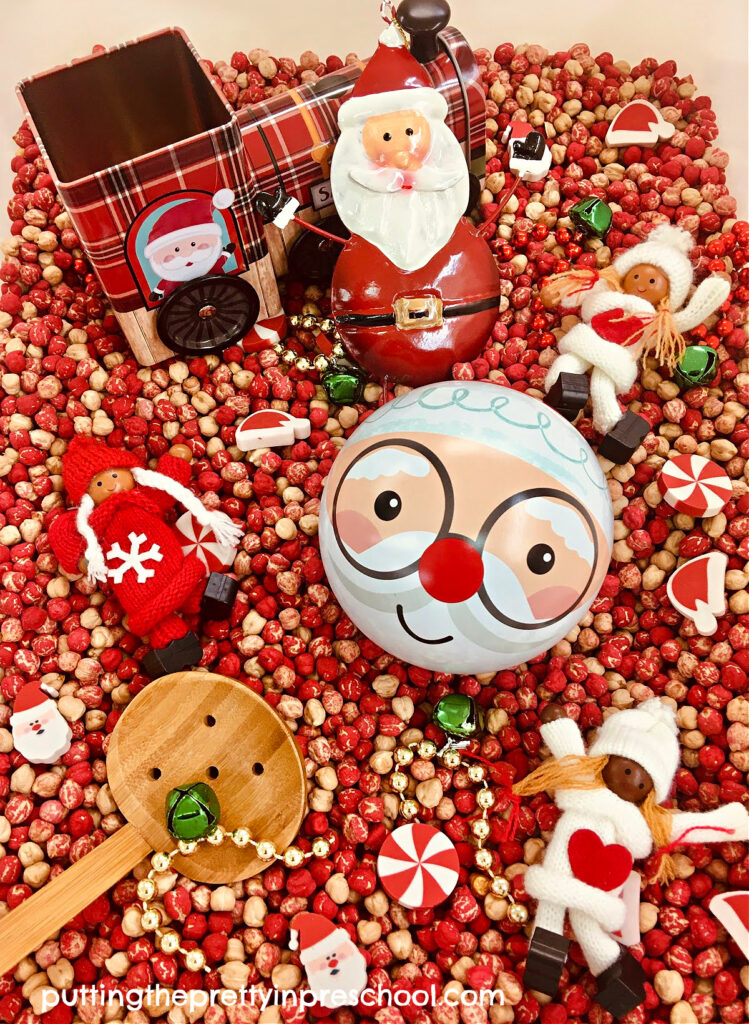 _______
This jovial sensory bin has a dyed chickpea base. The chickpeas are colored with various amounts of red acrylic craft paint. You can find out how to dye chickpeas in my blog post "Chinese New Year Sensory Play."
Note: As an alternative to using chickpeas for the base, white rice works well too.
The chickpeas are spread out in a white bus/utility tub. This size bin works well for one to three children to use.
The Santa train engine cookie tin was a happy find last year. I previously featured it in a blog post titled "Plaid-Themed Christmas Rice Bin."
The Santa ornament fits perfectly in the train engine. I checked to make sure it has no rough edges before offering it in the bin. A small plush Santa is a good fit too.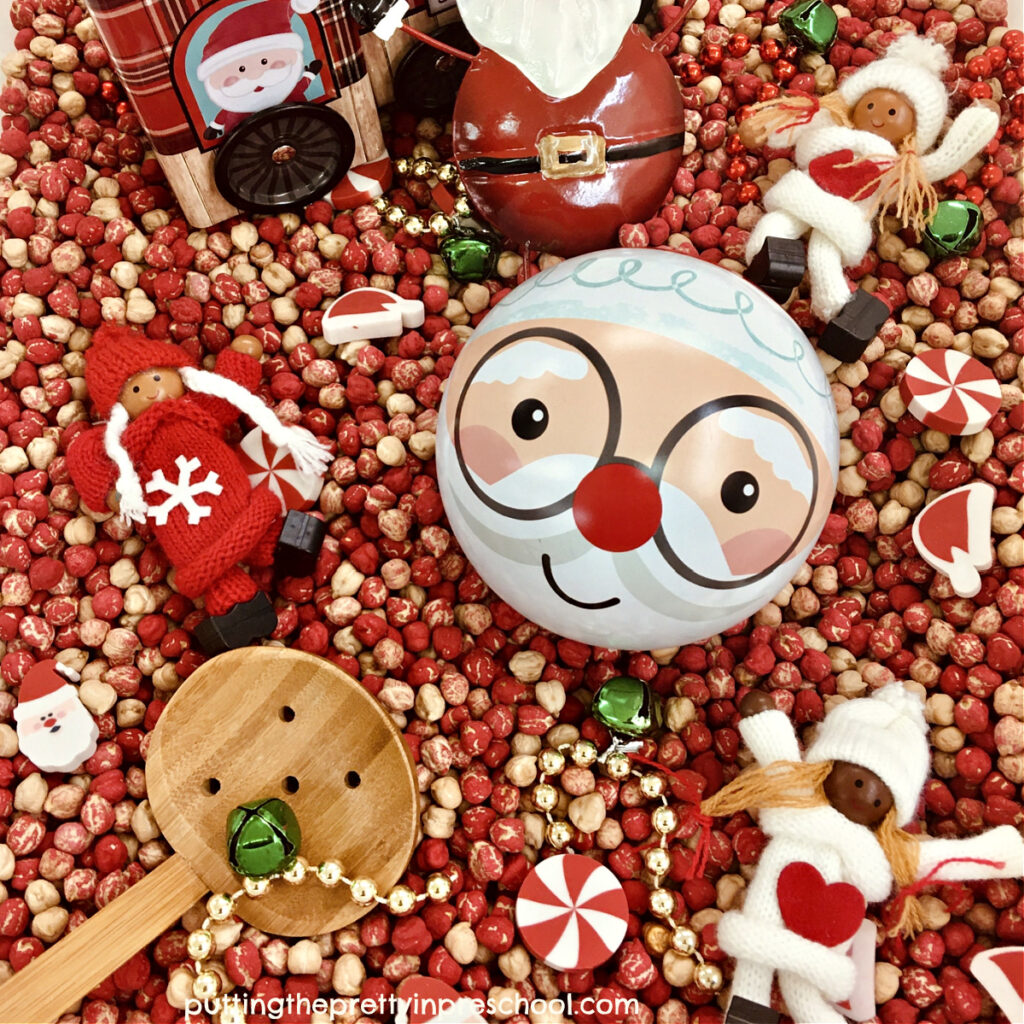 _______
The fillable Santa ball comes apart, and each half holds lots of chickpeas and loose parts.
The Scandinavian knitted dolls are cut from a Christmas garland. They make fun helpers for Santa!
Dollar stores carry metallic jingle bell garlands. Cut into strips, the garland becomes musical loose parts for the bin.
Peppermint and Santa-themed erasers add interest. They are great for counting and sorting practice.
A wooden ladle is useful for filling the Santa train and ball ornament with chickpeas, erasers, and garland. When using one, early learners get practice with eye-hand coordination.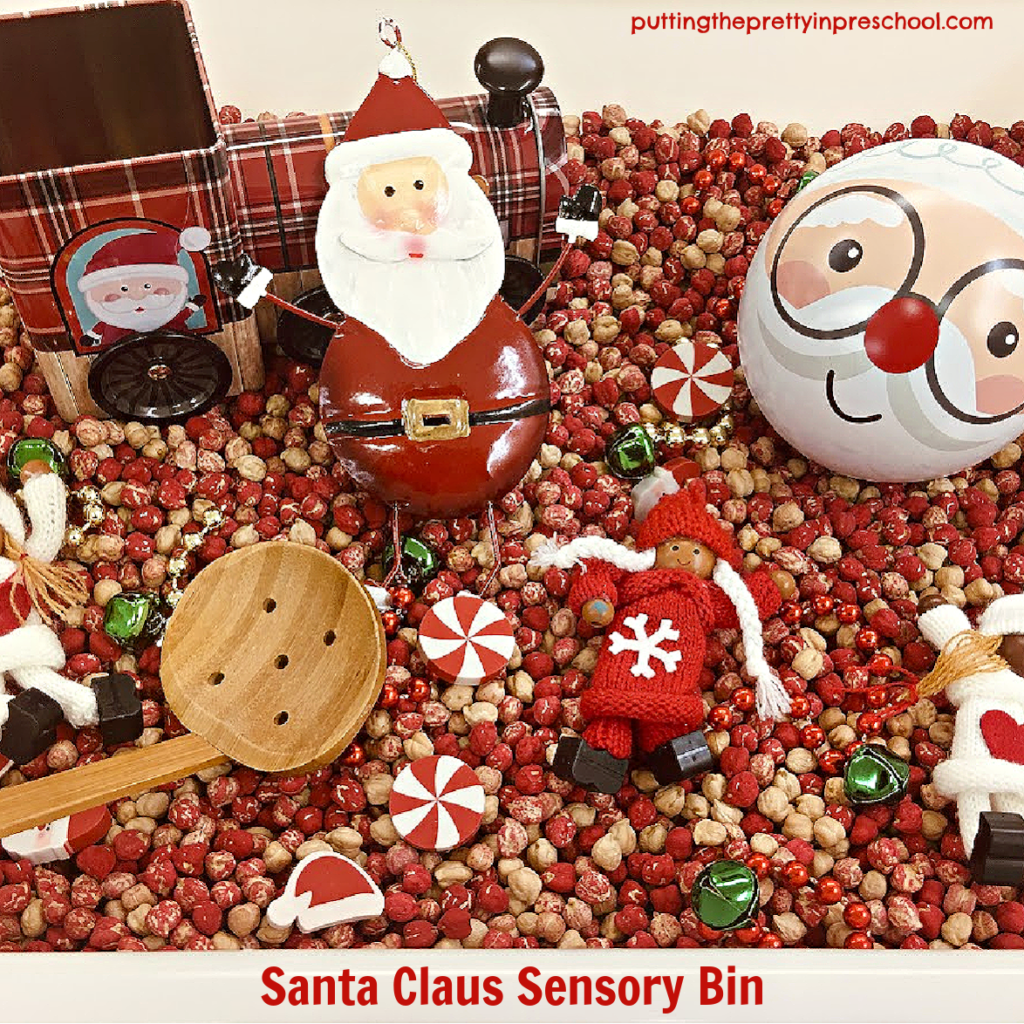 _______
Making Your Own Santa Claus Sensory Bin
Would you like to make a Santa Claus-themed sensory bin? You probably have a few interesting supplies already on hand to include. Then add a few dollar store finds. It's that simple!
_______
More Santa-Themed Activities:
_______
[Read more…]

about Santa Claus Sensory Bin