Mother's Day is just around the corner, and every mom deserves to be treated special. Here is an easy Mother's Day craft that is bound to hit the mark. A key chain or brooch makes a lovely addition as a gift.
Supplies used:
Flower and butterfly paper punches
Craft paper with gold, cream, silver and grey tones
Metallic sticker beads
Template with the word MOM
Glue stick
Preparing The Mother's Day Craft
Create a template with the word MOM on it or download my template. This template is for personal use only.
Paper punch small flowers and butterflies from patterned paper with complementary tones.
Add on sticker beads.
***
Making The Mother's Day Craft
Have children use a glue stick to attach butterflies and flowers, or just butterflies to the lines of the letters that spell the word "mom."
Add a brooch or key chain gift to the finished picture.
Metallic sticker beads are the inspiration for this color scheme. I was thrilled to find a scrapbook pad called "Bless Our Home" with paper sheets in patterns of gold, silver, grey and cream. The paper theme is perfect for a Mother's Day craft, and the colors and patterns complement the shiny gold and silver beads.
***
Leftover paper flowers and butterflies can be used as Table Scatter for a Mother's Day Tea.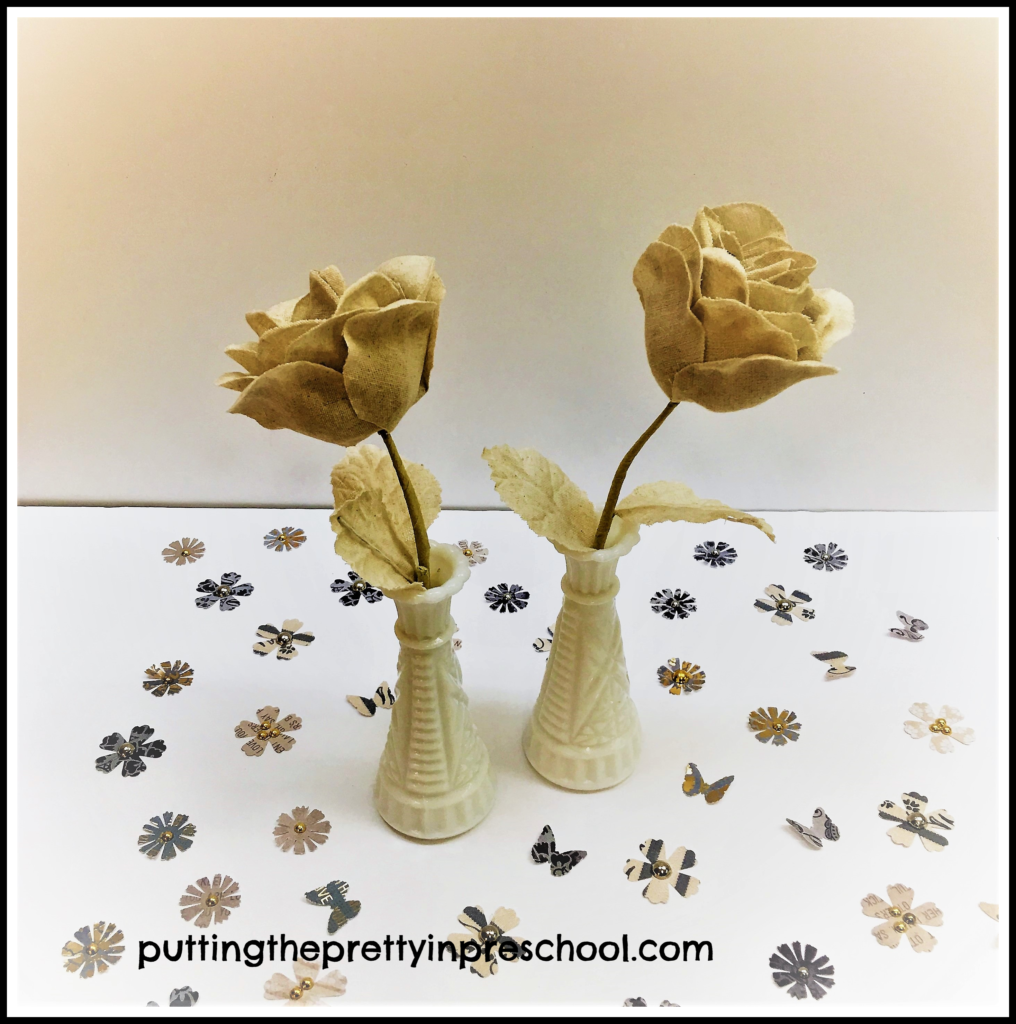 ***
Other Decorating Ideas
Have children to decorate the word "mom" with sticker pearls and jewels. This craft is simpler but just as beautiful. A sea turtle keychain is added to the picture below.
Have children decorate the word "mom" with jewel and butterfly stickers. A fish keychain is added to the picture below.
A sparkly flower brooch is added to the picture below.
***
Which of the above designs is your favorite?
What color schemes are inspiring you right now?
***
A Handmade Key Chain Option
Michelle (craftymorning.com) features Handprint Shrinky Dink Keychains that would go along well with a rainbow colored version of this craft.