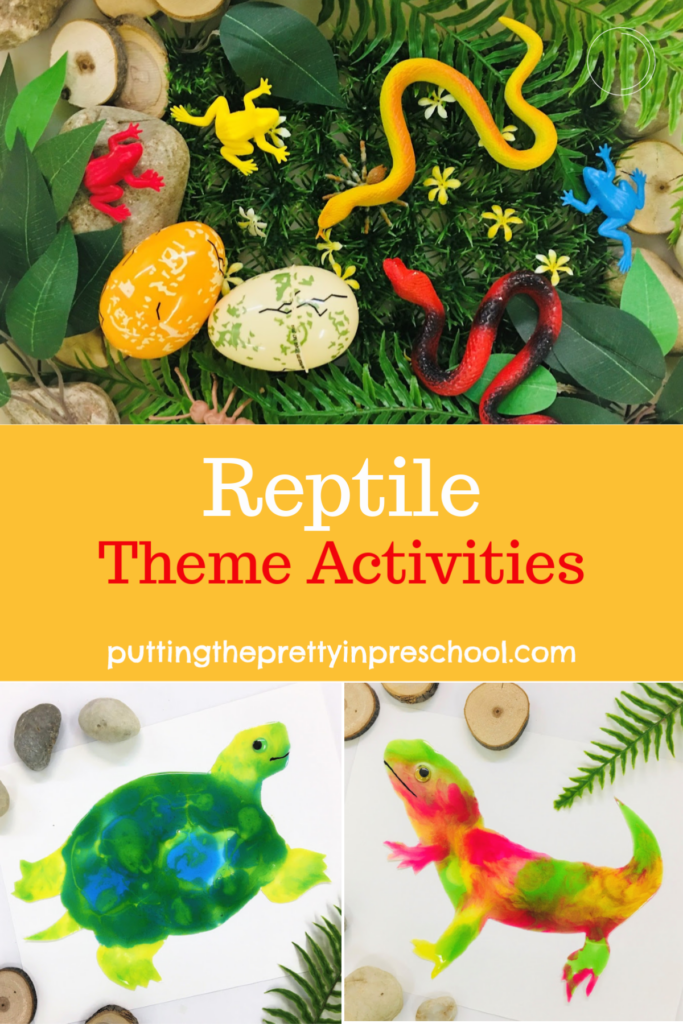 _______
A Reptile Theme is THE WAY to encourage early learners to get more comfortable with animals such as snakes, lizards, and turtles. Little ones often have a fear of these animals, partly because of how they get depicted on television. Hands-on activities alleviate fear and encourage an interest in learning more about these creatures.
_______
Reptile Pet Store
An effective way to introduce a reptile theme is to set up a pet store pretend play center. Collect the following and display them on shelves and tables gathered for the store:
snake. lizard, turtle, frog, and insect figurines
baskets and cages
cash register and play money
_______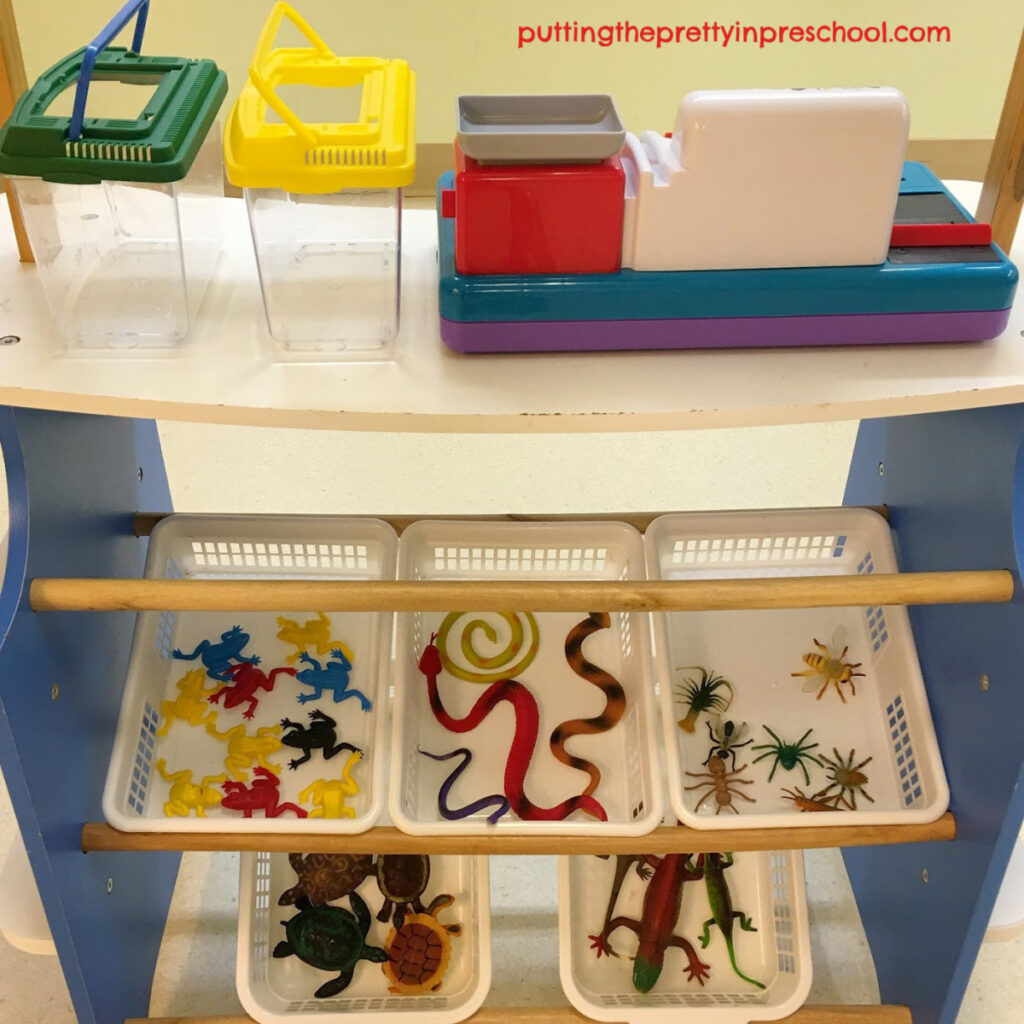 _______
At first, your early learners may say they are afraid of animals such as snakes, lizards, and turtles. But after playing in the store and organizing, buying, and selling the animal figurines, they will warm up to them.
_______
Geometric Shape Snake Craft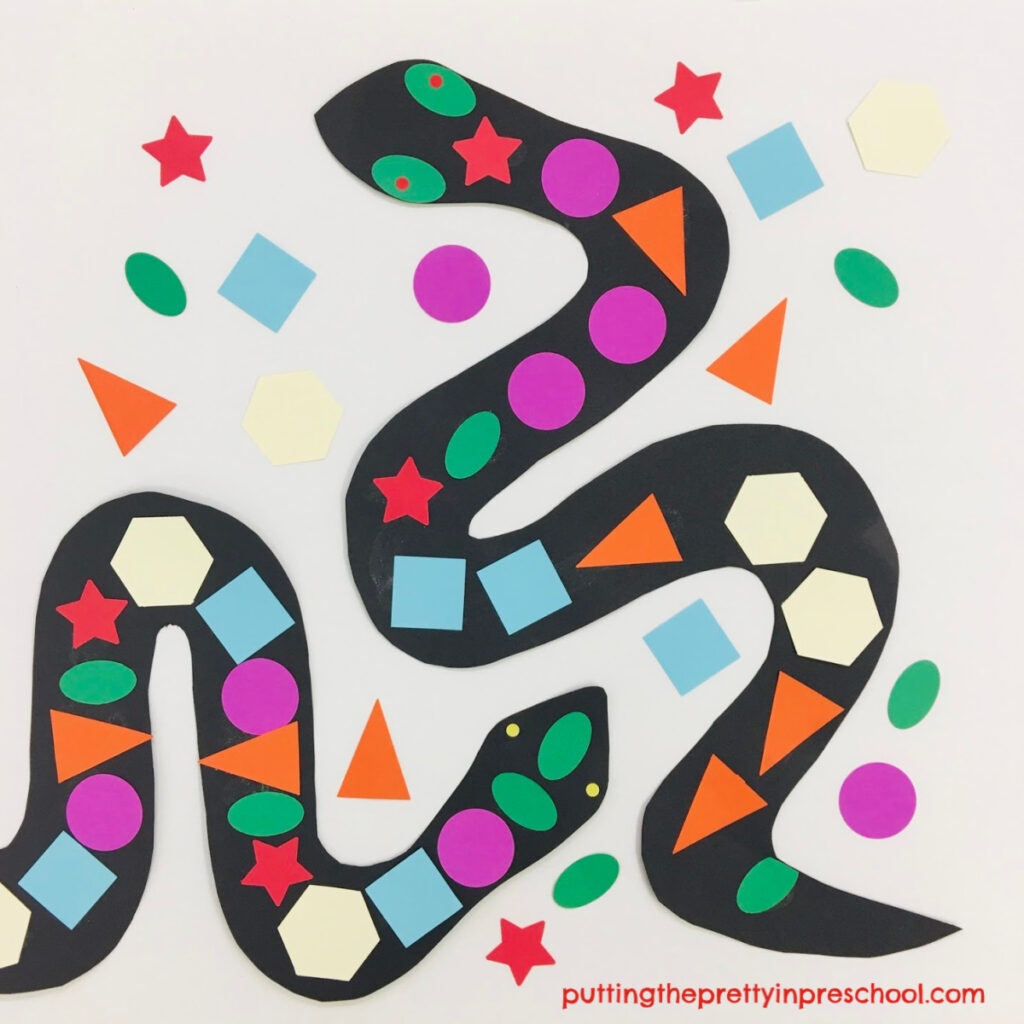 _______
Cut out large, winding snakes from 12-inch x 18-inch pieces of construction paper.
Paper punch circles, squares, triangles, ovals, stars, and hexagons from bright colored cardstock.
Ask your little learners to use glue sticks to attach shapes to the snakes. Offer tiny sticker eyes for a finishing touch.
Purchased sticker foam shapes would also work well for this craft.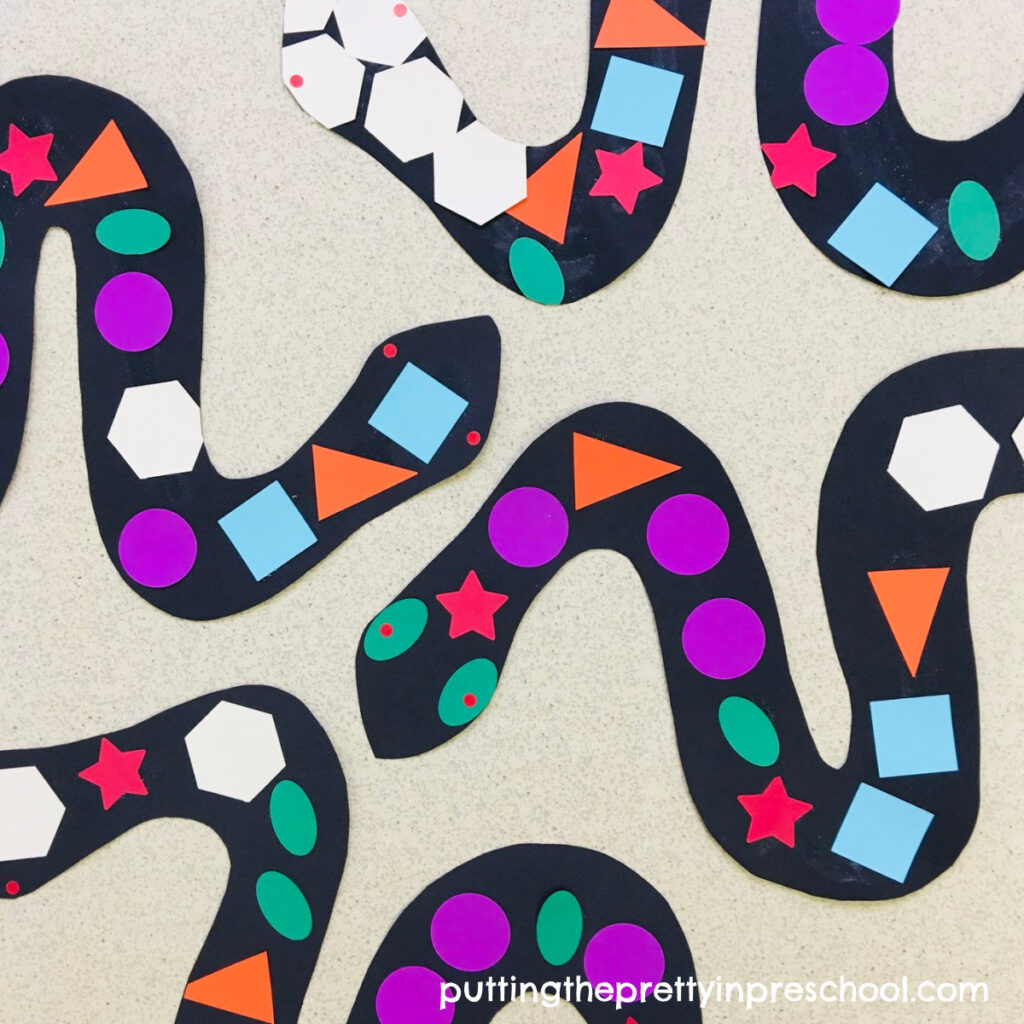 _______
Mounted together, these snakes make a dynamic display.
_______
Beaded Snakes
Early learners love using craft supplies like pony beads.
Offer pipe cleaners and a variety of pony bead colors.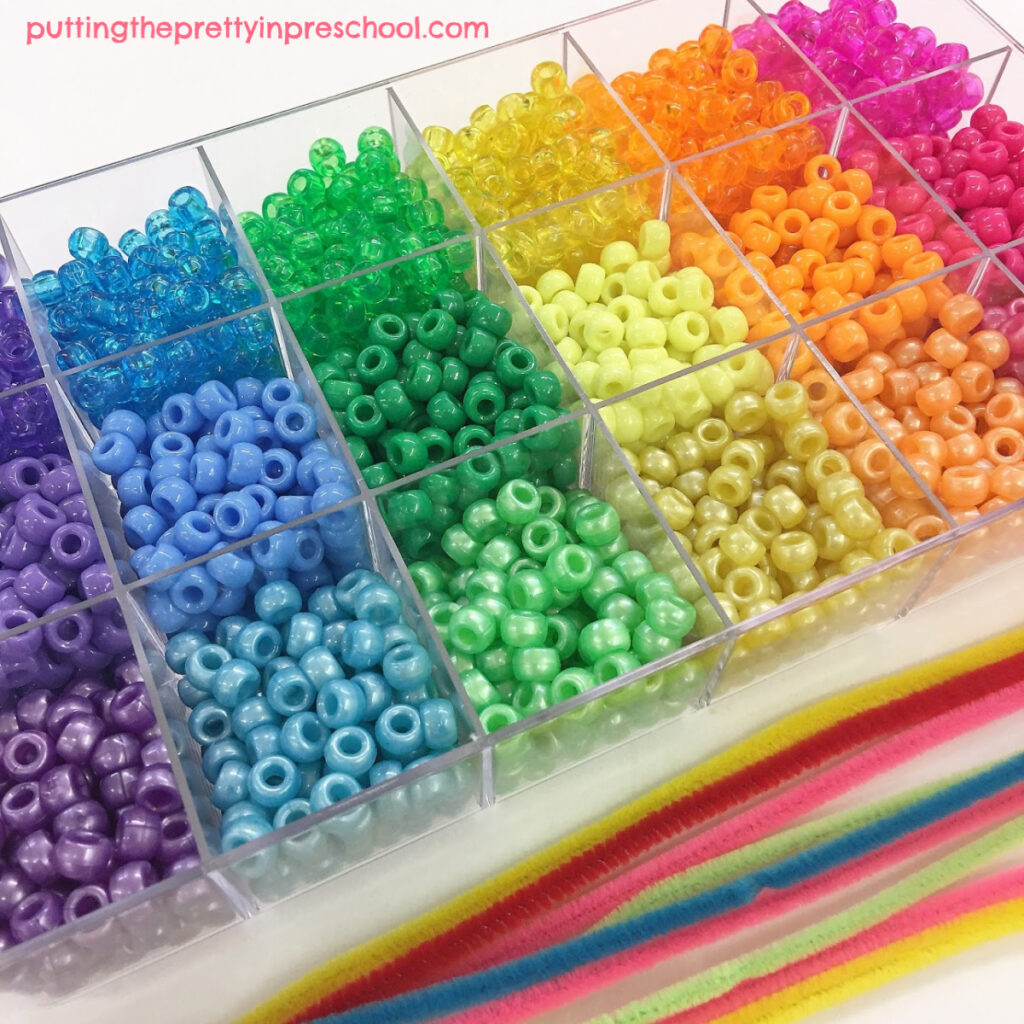 _______
Invite your early learners to string bead colors of choice on the pipe cleaners. Wrap the ends around the first beads so the rest will stay in place. Ask your little ones to stop stringing beads about 4 cm from the other end of the pipe cleaners.
Set the snakes aside and add beads to make the snake heads. Glue on tiny craft eyes.
_______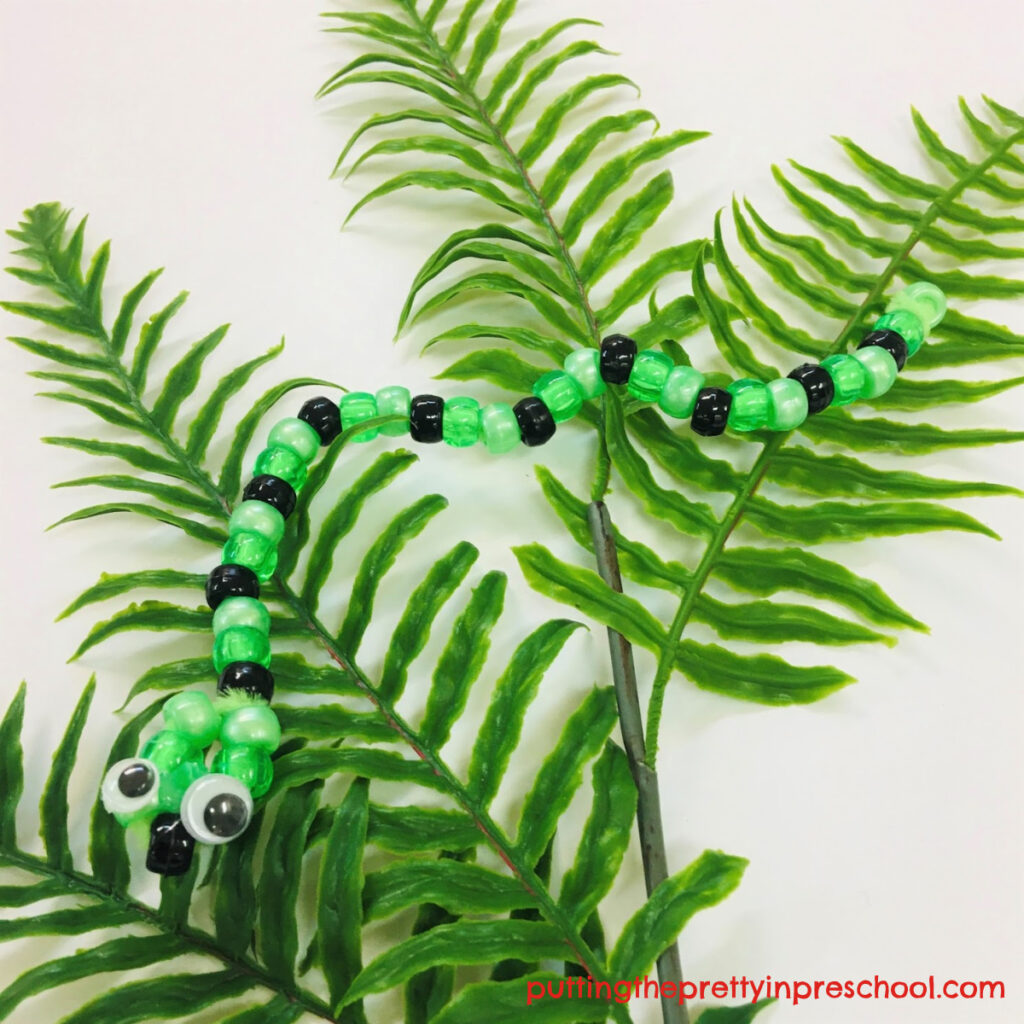 _______
Showing photos of real snakes and discussing their colors and patterns encourages little learners to bead a patterned snake of their own.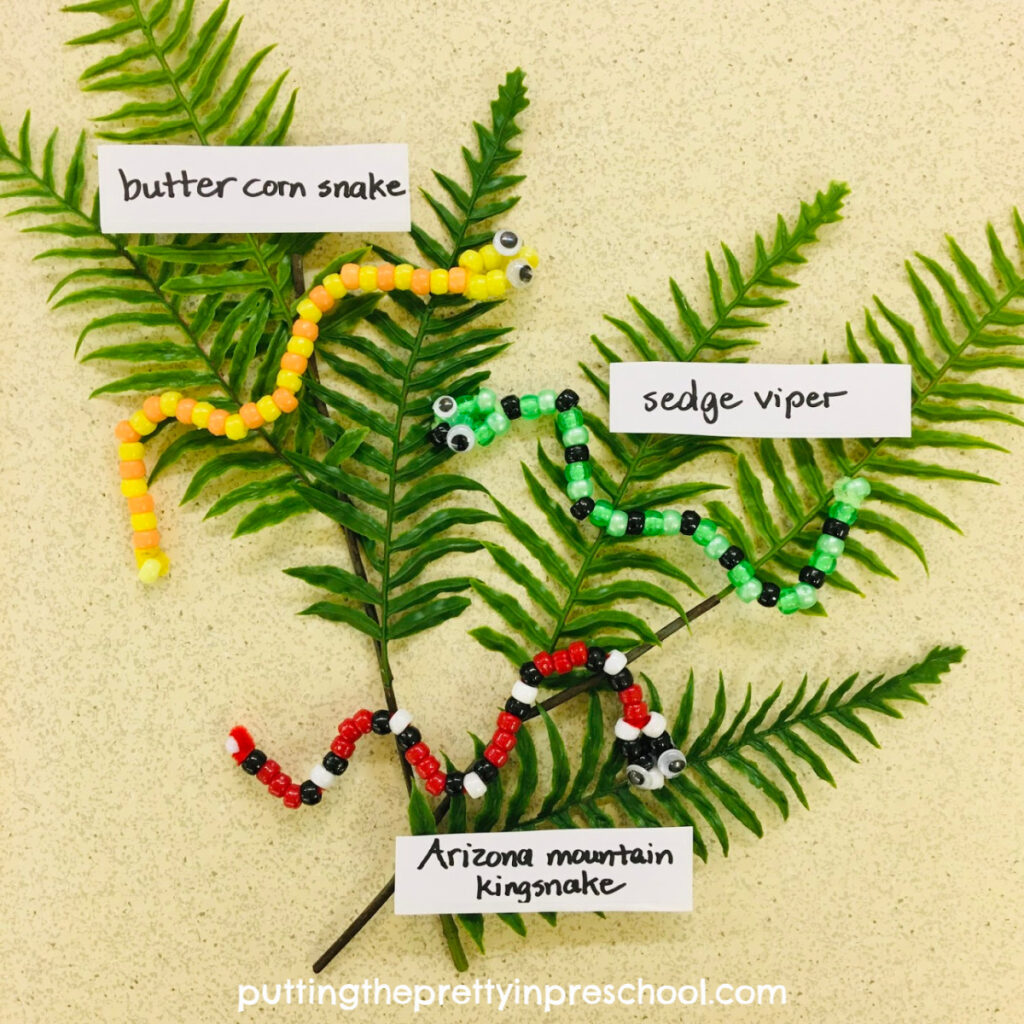 _______
Painted Turtle And Lizard
Set out this two-ingredient taste-safe paint in red, green, yellow, and blue colors.
You will need: white corn syrup and food coloring.
Pour corn syrup into paint containers. Stir in a little food coloring. Add a paintbrush to each color.
Cut out cardstock lizards and turtles. Feel free to download the turtle printable below.
Allow your little learners to paint them.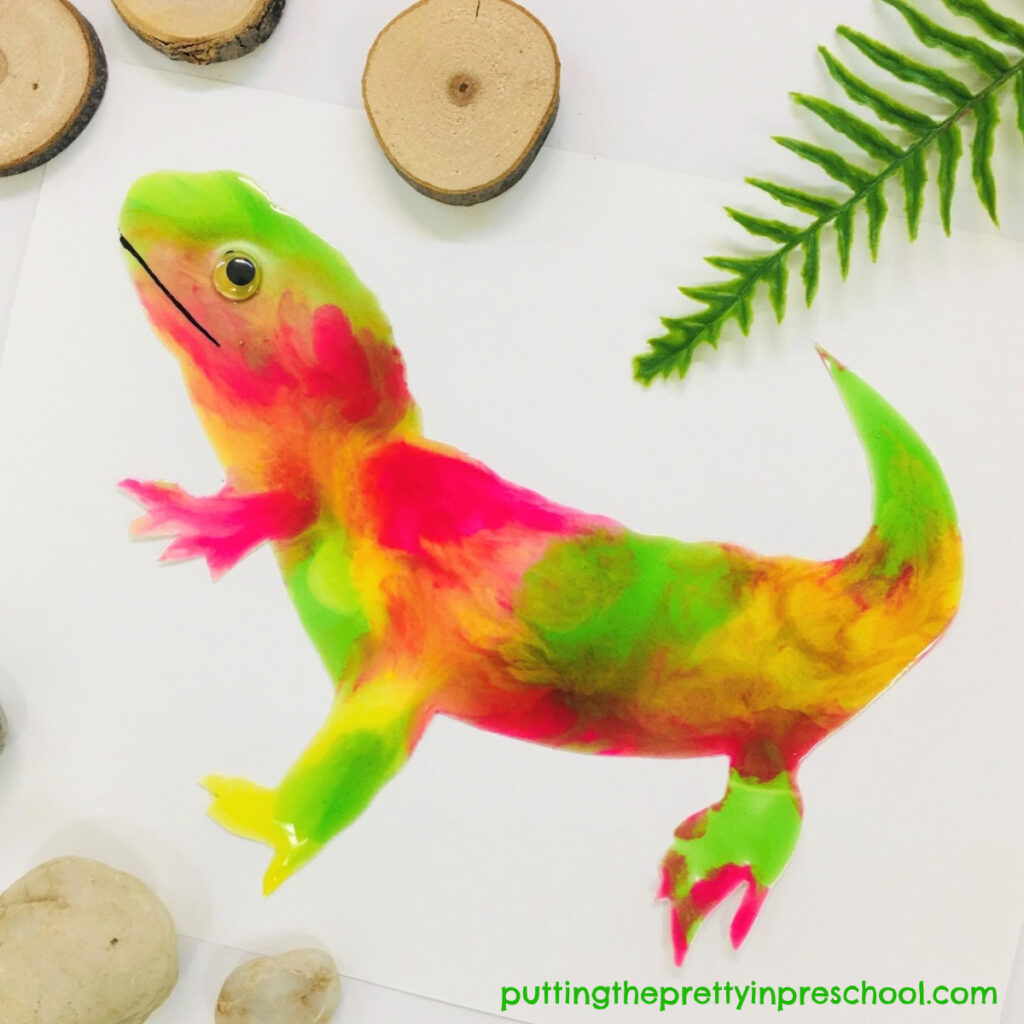 _______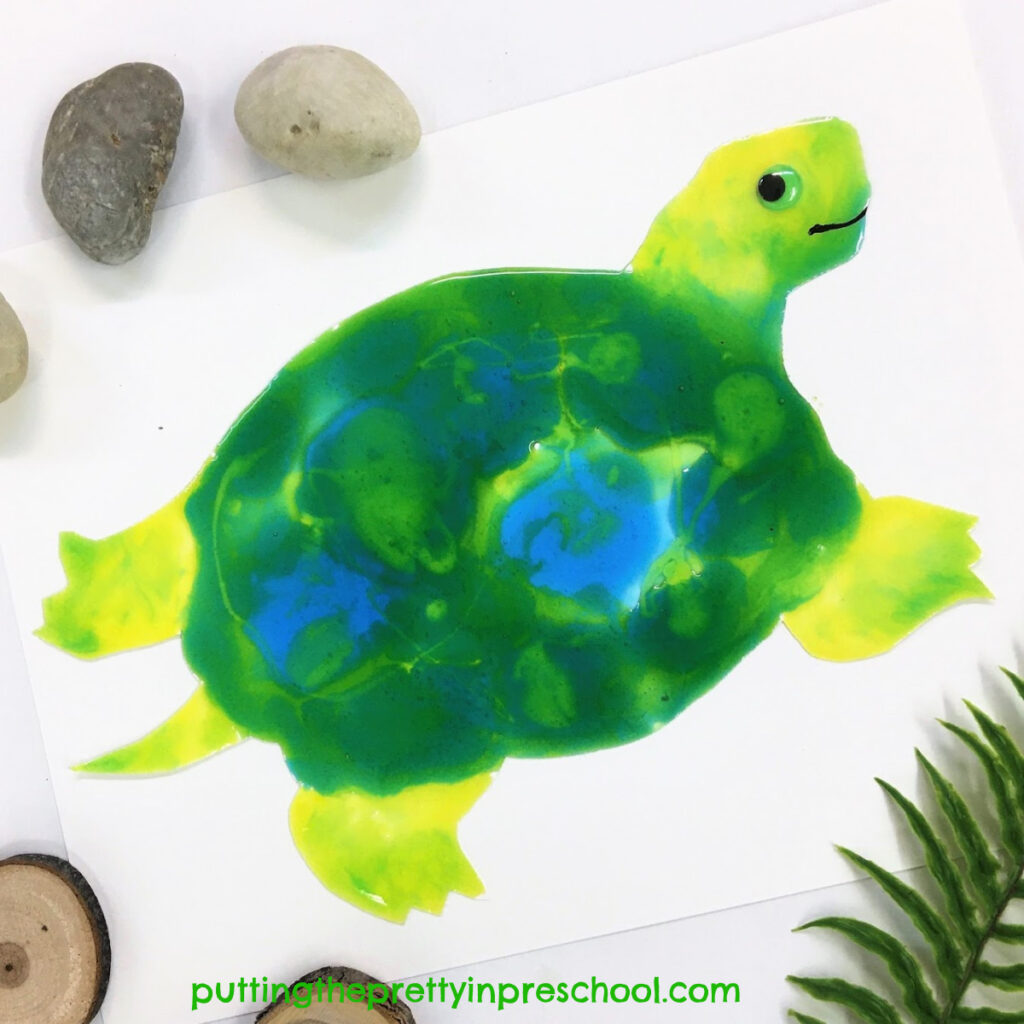 _______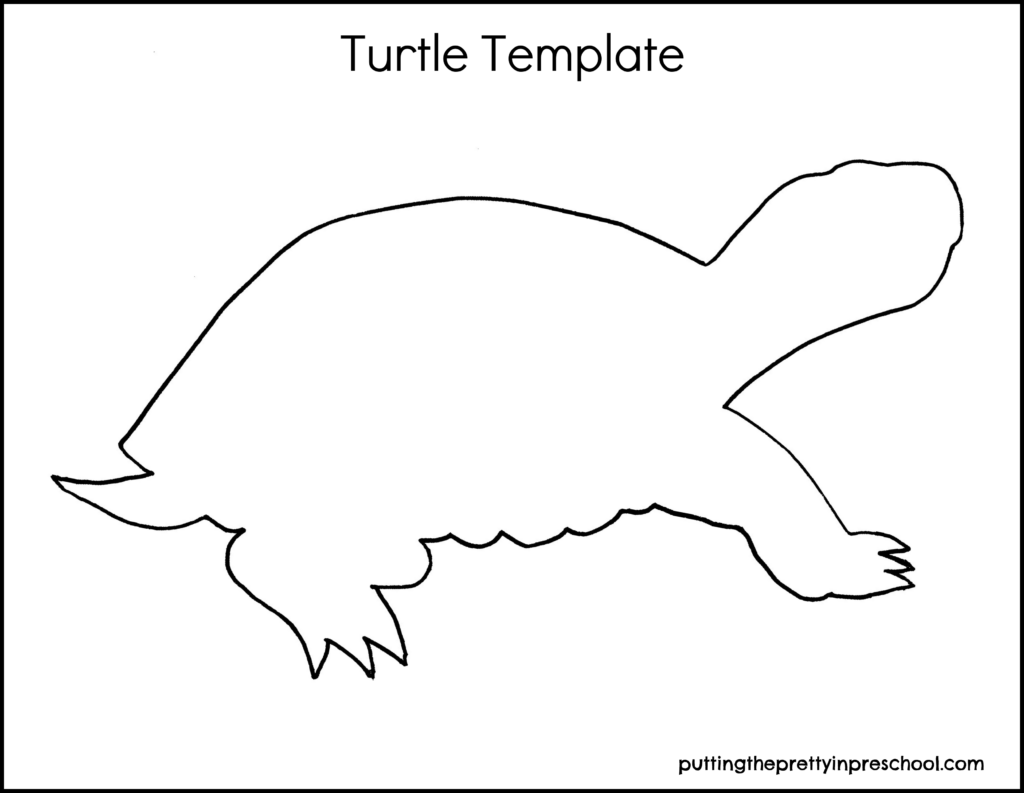 _______
This printable is for individual or one classroom use only.
_______
This craft needs generous time to dry. It also looks stunning displayed.
_______
Reptile Sensory Tub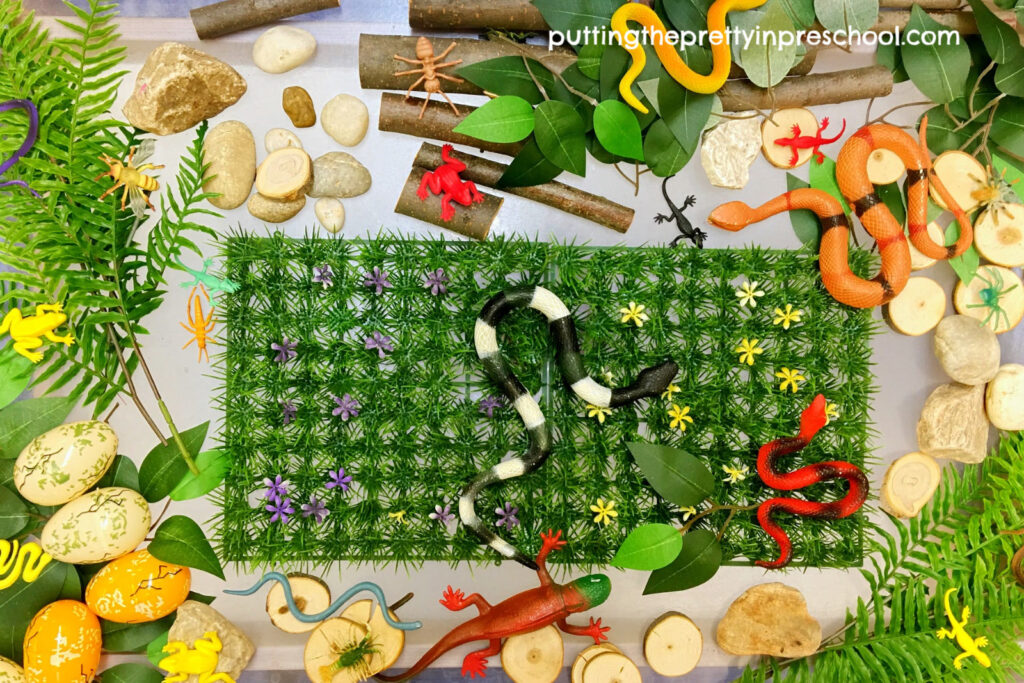 _______
This sensory tub is sure to delight your little ones. It includes:
leaves and a play grass base
rocks and wooden pieces
snake, lizard, frog, and insect figurines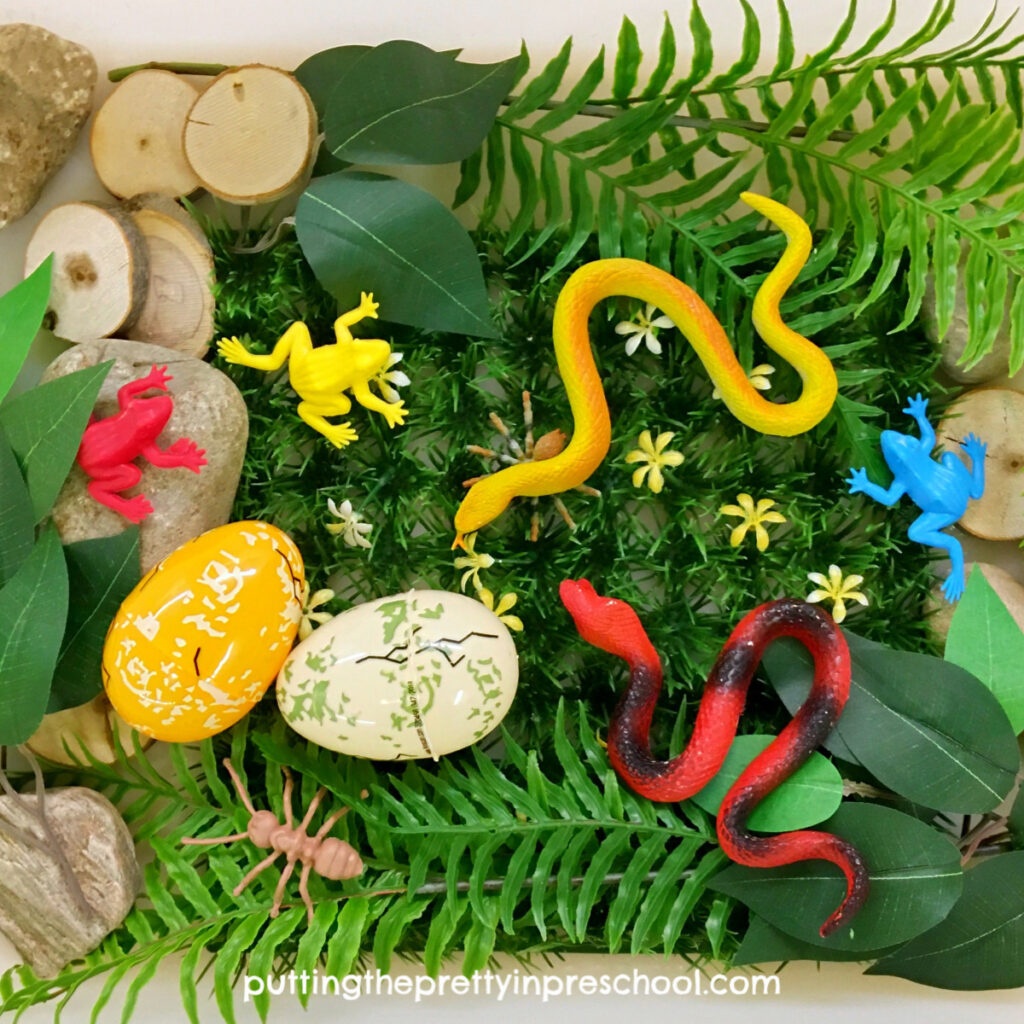 _______
Wildlife Worker Photo Op
Hang up a treed party backdrop and set up a table with hats, snakes, and lizards nearby. Ask your little learners to pick a few props and stand against the backdrop. Take lots of photos.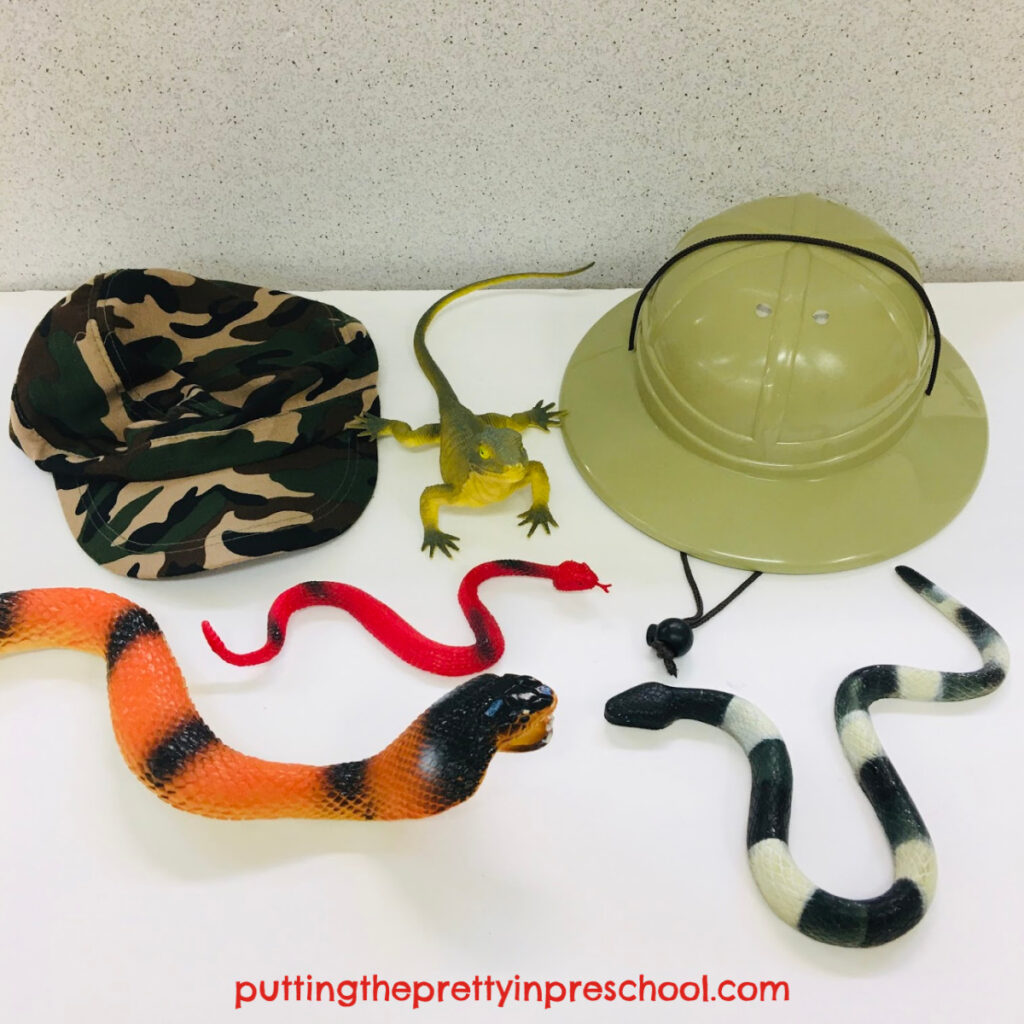 _______
Wildlife Worker Prop Box
Use the photo op props shown above, and add eggs, gloves, binoculars, and pails. Set all items in a prop box for your early learners to use during play.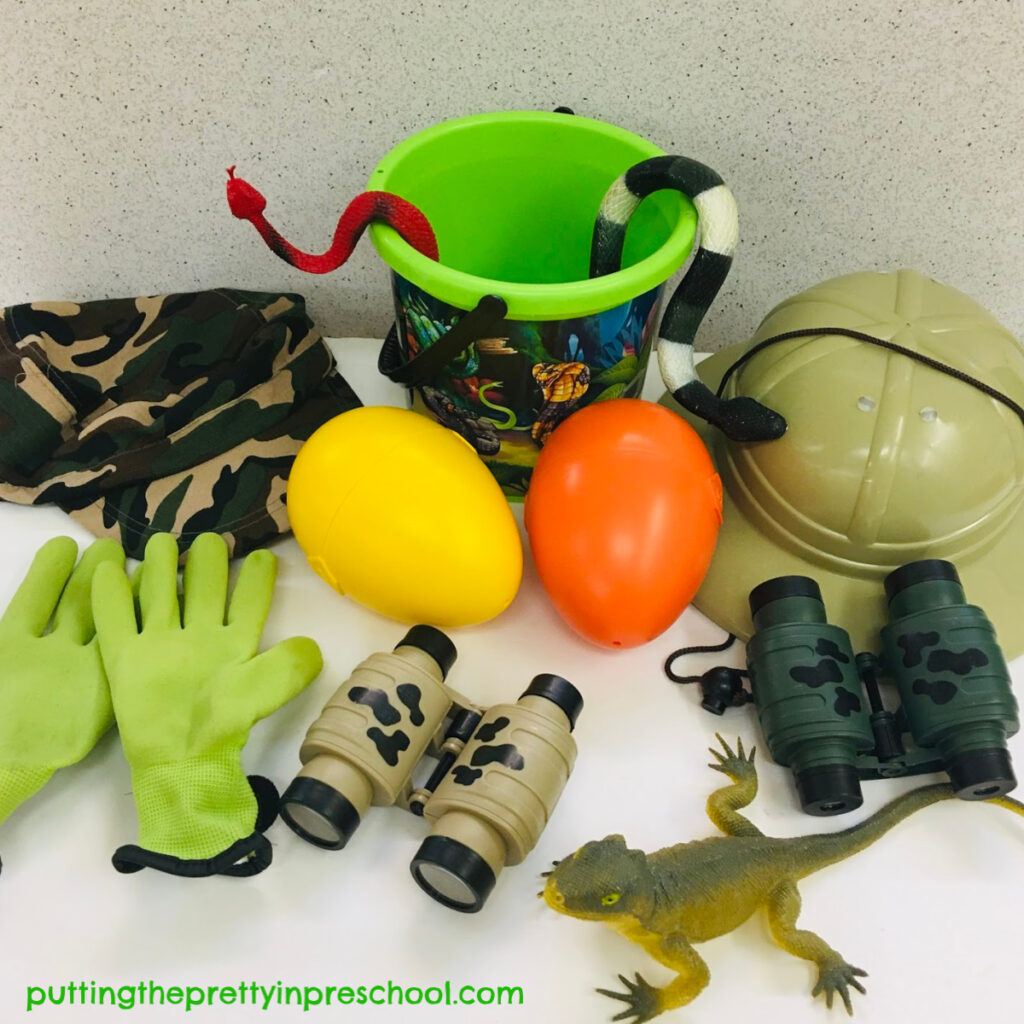 _______
Family Night
An epic way to end the Reptile theme is to plan a potluck supper family night:
Display art projects on the walls.
Create a spot for a Wildlife Worker Photo Op.
Set out Snakes And Ladders-themed paper placemats, dice, and game chips on the dinner tables.
Assemble plants and beaded snakes in vases for table decor.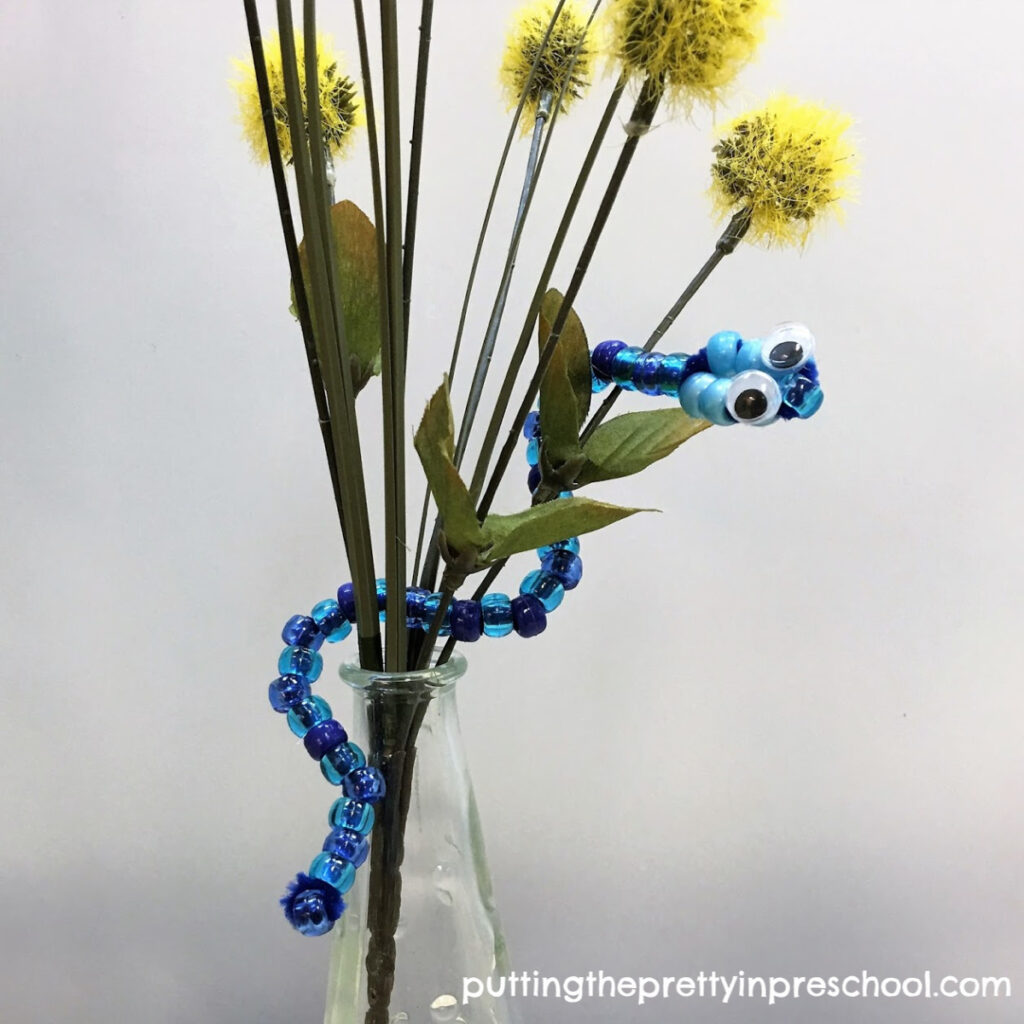 _______
Enjoy a potluck meal together.
Hire a guest to give a live animal presentation (that includes a snake and lizard) afterward. Having explored the topic of reptiles in a variety of ways, early learners are more receptive to being near live ones.
_______
Locally, Butterfly Wings n' Wishes gives wonderful animal presentations.
_______
This reptile theme allows children to participate in engaging, non-threatening activities that help them gain knowledge about snakes, lizards, and turtles. As a result, they value these animals more.
_______
[Read more…]

about Reptile Theme Activities