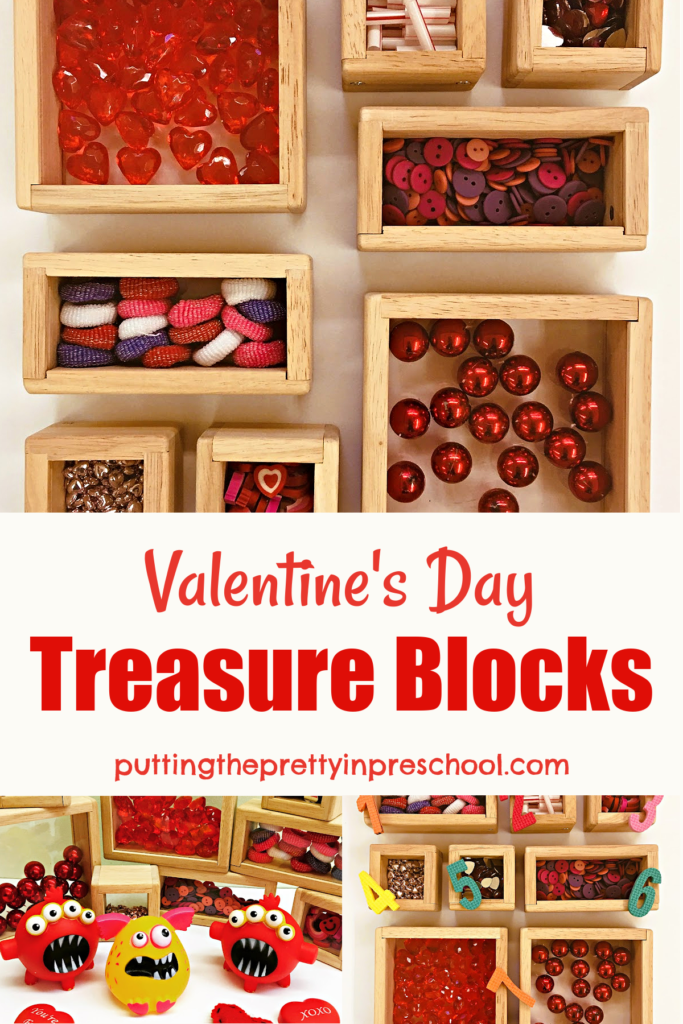 _______
To add interest to block play activities, treasure blocks are always a good choice. Their contents can be changed to match the current theme you are doing as well as your child's interests. Since we are in the month of February, Valentine's Day treasure blocks blend in perfectly and can be used in a variety of creative ways.
_______
Follow me on Pinterest for more early learning ideas.
_______
Supplies To Collect
There's no shortage of items to gather for valentine treasure blocks. You can go entirely with recycled loose parts or use economical purchased items. Or you can use a few of both.
The supplies I feature are red, pink, purple, and white – traditional Valentine's Day colors. Gathered and added to the blocks are:
cut straws
beads cut from garland and necklaces
buttons
heart and rainbow erasers
acrylic hearts
gem craft hearts
hair ties
_______
Valentine's Day Treasure Block Activities
At first, the filled treasure blocks can be set out on their own on a table or in a carpeted area for children to explore.
The blocks can be used as musical shakers, and children can be challenged to order them from quietest to loudest. With my blocks, the one with the hair ties hardly makes a sound, and the ones with bead garland balls and acrylic hearts tie for making the loudest sound.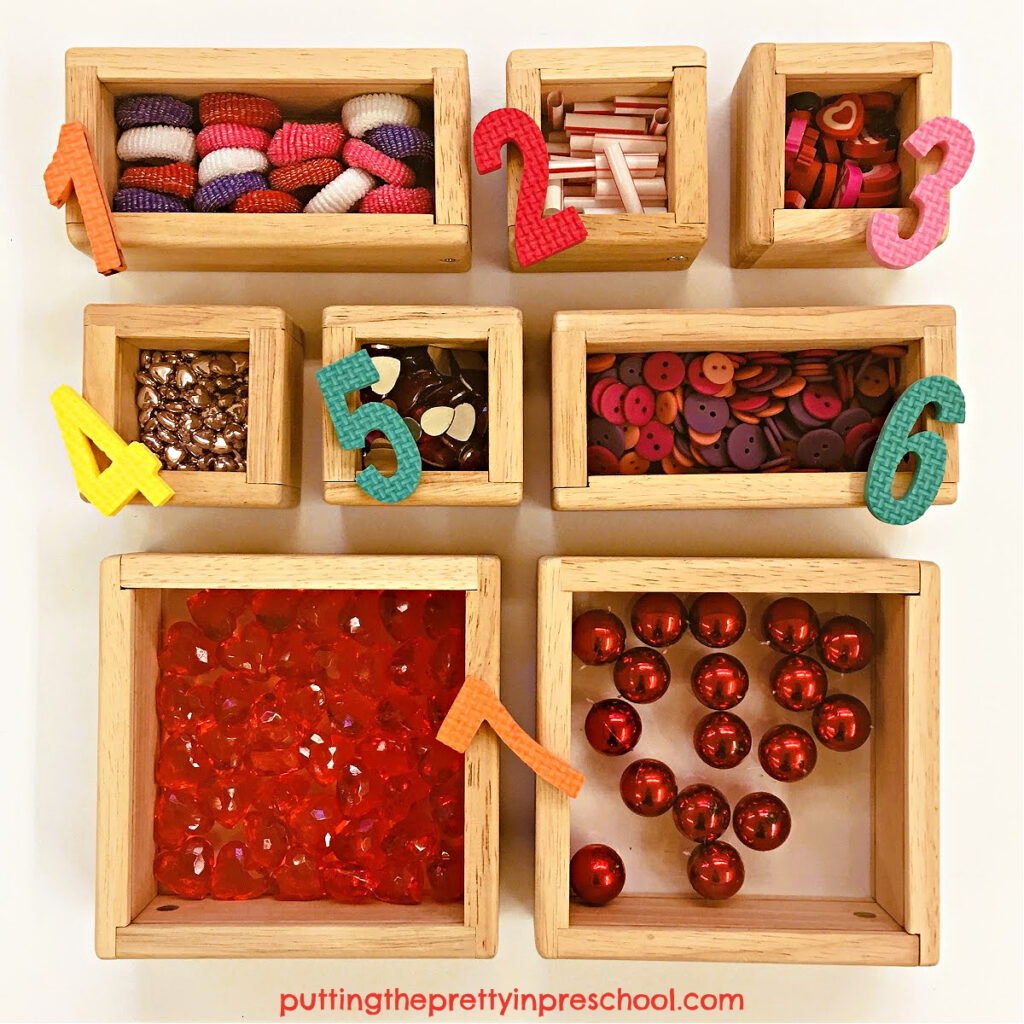 _______
Another day, introduce new items to the treasure block play area. Featured here are little monsters, inspired by the endearingly illustrated storybook "Love Monster" by Rachel Bright, and Valentine's Day loose parts. The monsters are actually repurposed dog toys, so they stand up superbly to block play! And they are squeaky, adding another element of sound to the play experience. Pairing the blocks, monster figurines, and loose parts together encourages children to think creatively in new ways.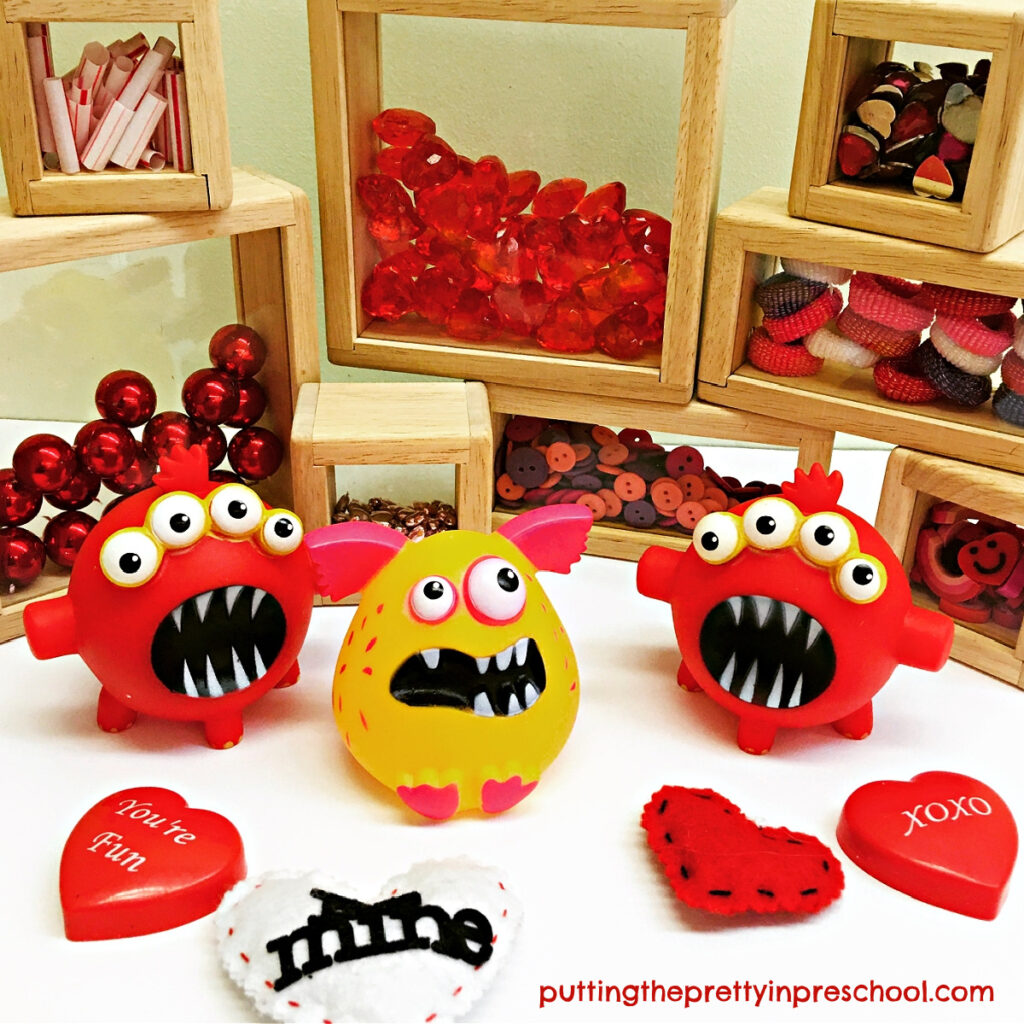 _______
Asking the question "What can you build for the monsters?" will foster even more creativity. When I asked my preschoolers this question some of the answers were:
"I'm building a monster lair."
"I am going to make a monster hiding place."
"I made a house for the monsters."
_______
More Block Play Possibilities
Pairing treasure blocks with mirror blocks is always a hit. The blocks are similar in size and shape and combine well for building large structures.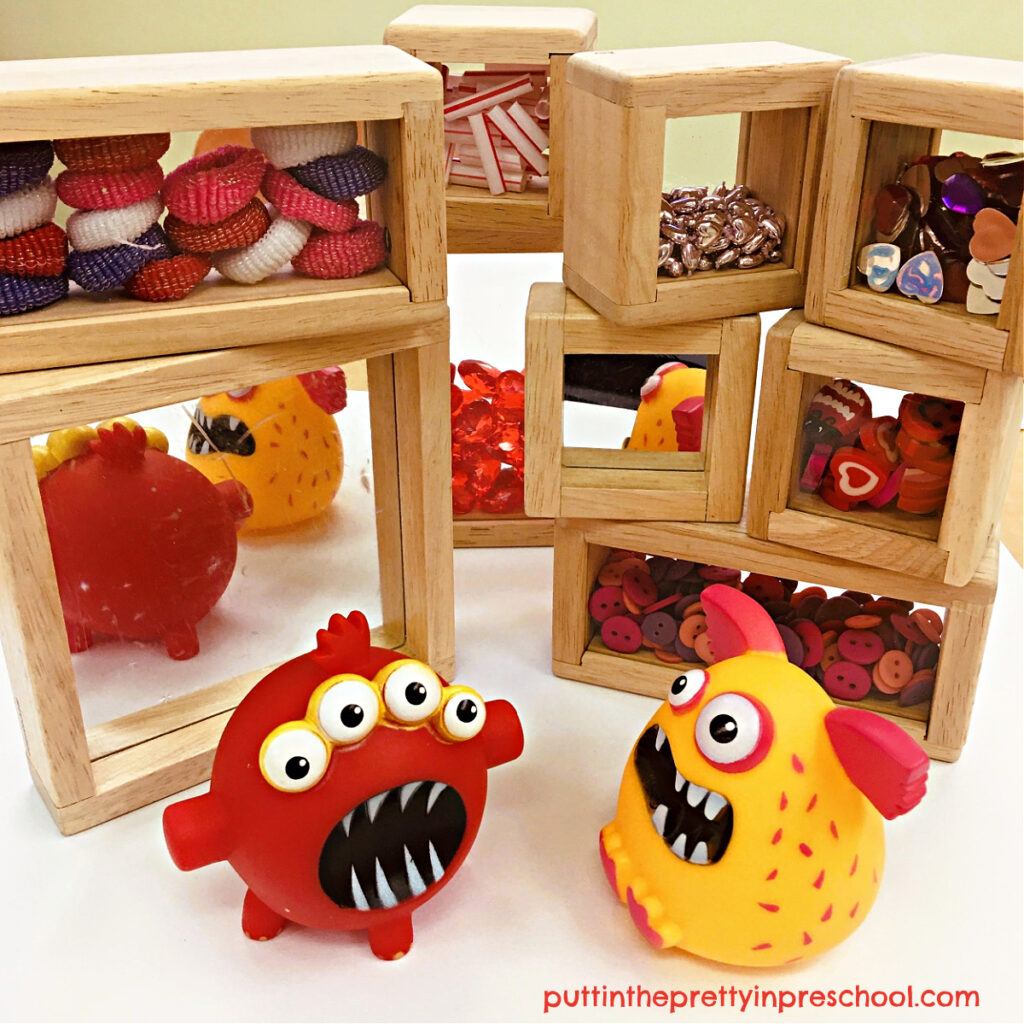 _______
And counting monster teeth and eyes, and discussing block shapes are ways to incorporate math into the play.
On their own, or combined with loose parts and other blocks, Valentine's Day treasure blocks offer many opportunities for learning.
_______
_______
[Read more…]

about Valentine's Day Treasure Blocks