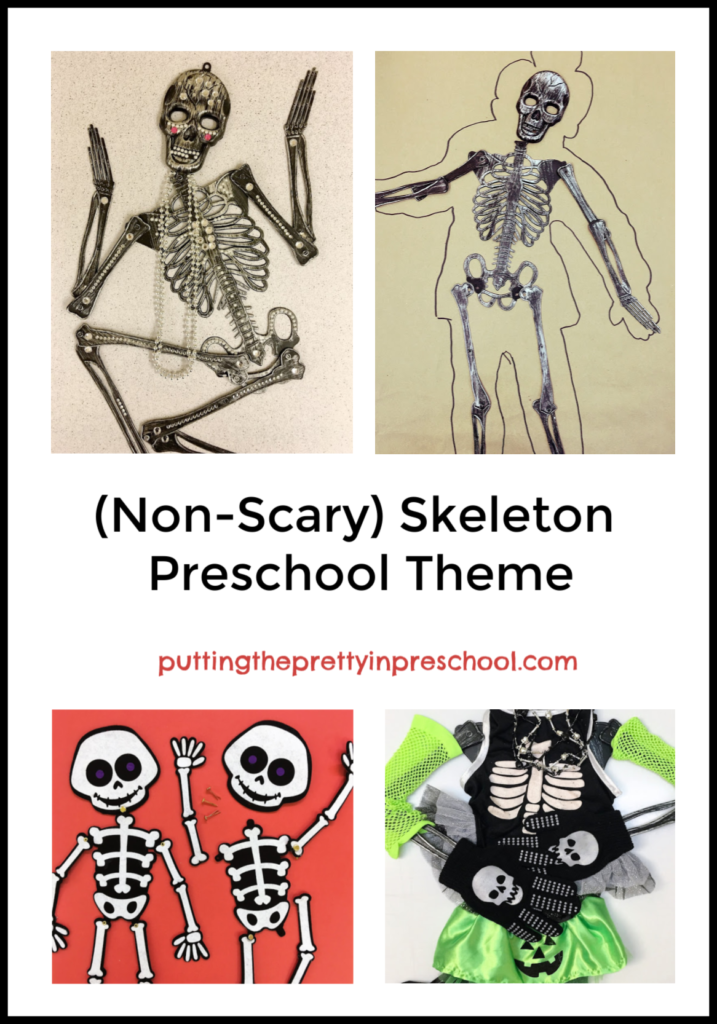 ---
Skeleton preschool theme? It's only something I considered doing recently. In the latter part of October, my activities usually focus on pumpkins…bright orange, happy ones! My preschoolers are encouraged to dress up in non-scary costumes. Skeletons are not on the list to plan a theme around for my little students.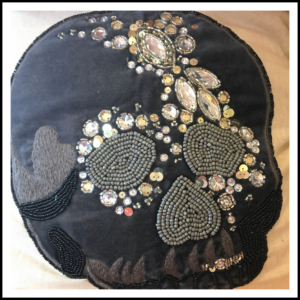 But I couldn't help notice a glammed up skull one fall day. Inspired by its beauty, my thoughts turned to "Yes, I can introduce some skeleton activities, and do it in a way that is non-threatening to preschoolers."
A focus for fall purchases became skeletons of all kinds. They were not hard to find … or expensive. Here's what I bought and here's what to do.
---
Introducing The Preschool Skeleton Theme
COLLECT:
Books about human bodies
X-rays of body parts
ADD:
Light table or a DIY lightbox (plastic tub with led lights)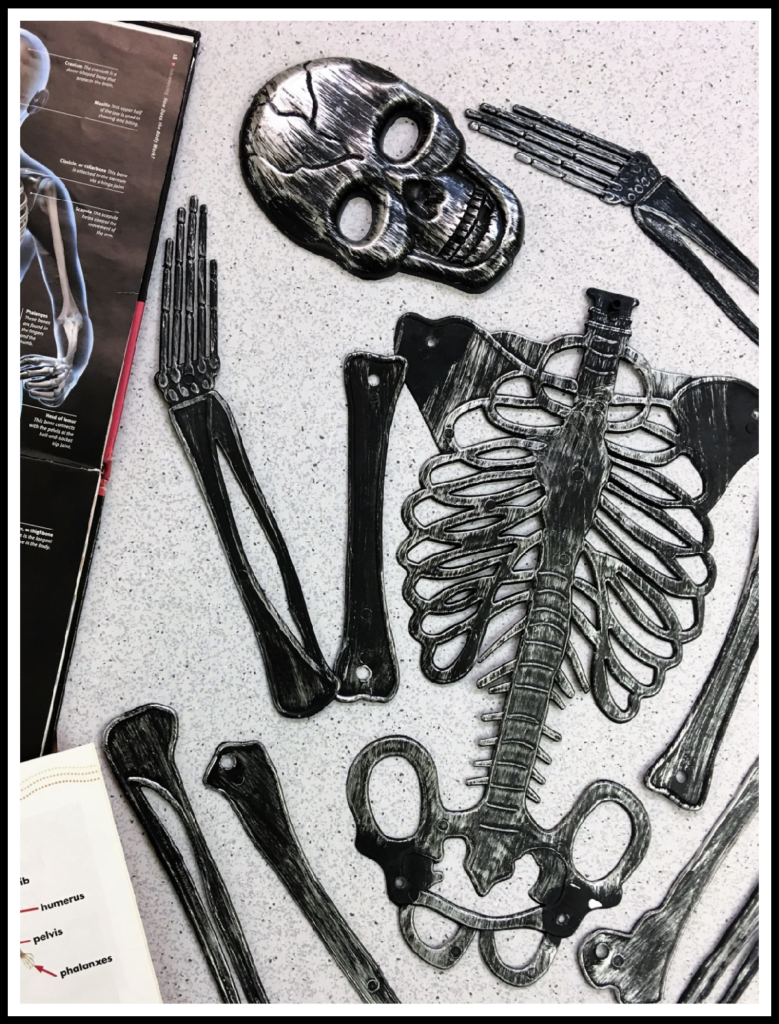 ---
Set out a variety of books featuring human bodies and skeletons.
Display x-rays of human bones on a light table.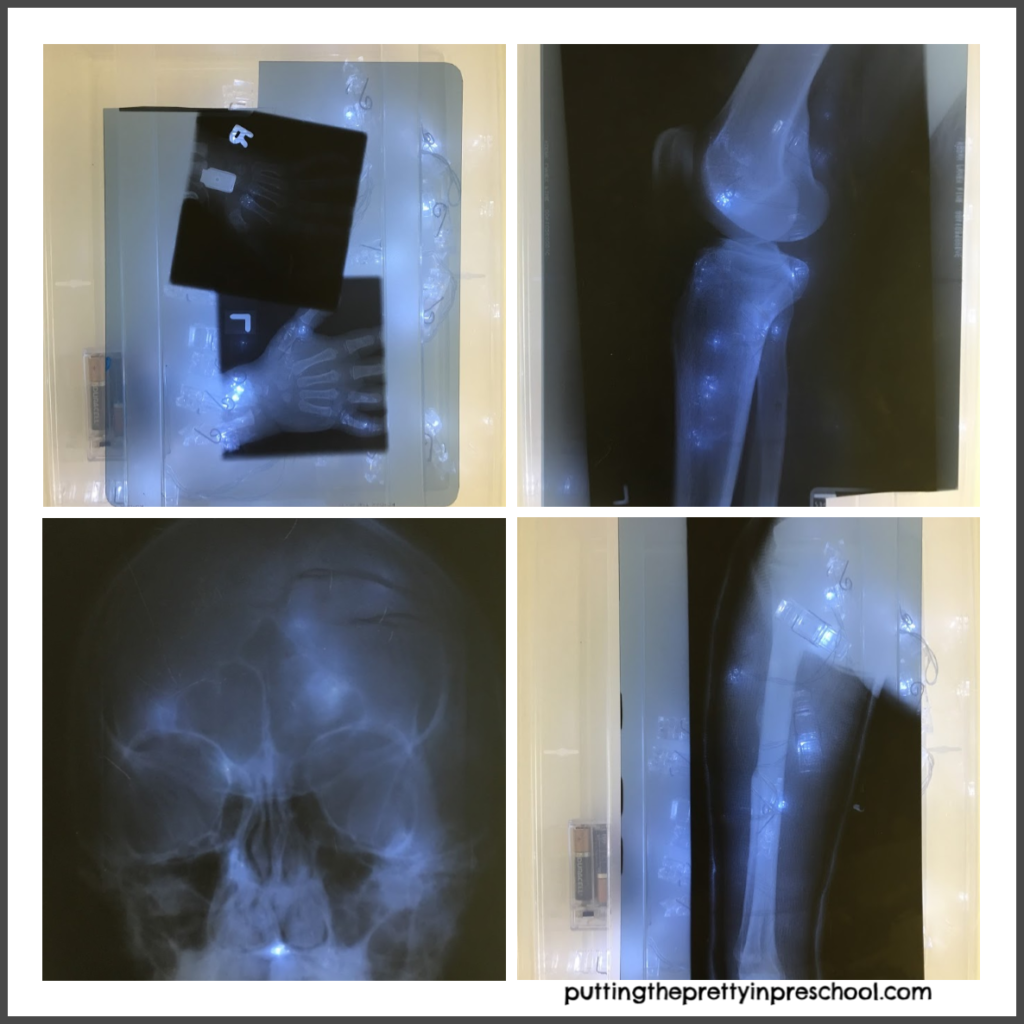 ---
Led string lights inserted in a covered, clear tub can serve as a DIY lightbox.
---
Stress that our bodies have skeletons and bones in them.
---
Felt Skeleton Activities
THE FINDS:
Felt skeleton (without bones)
Felt, hinged skeletons (with bones)
Cardboard skeleton (with bones)
Toy bones
ADD:
Q-Tips
Paper fasteners
---
ACTIVITY ONE: Add Bones To A Skeleton
Cut a few Q-Tips in half, and others into thirds. Leave some whole. Let children add toy and Q-Tip bones to the felt skeleton, using the cardboard one as an example.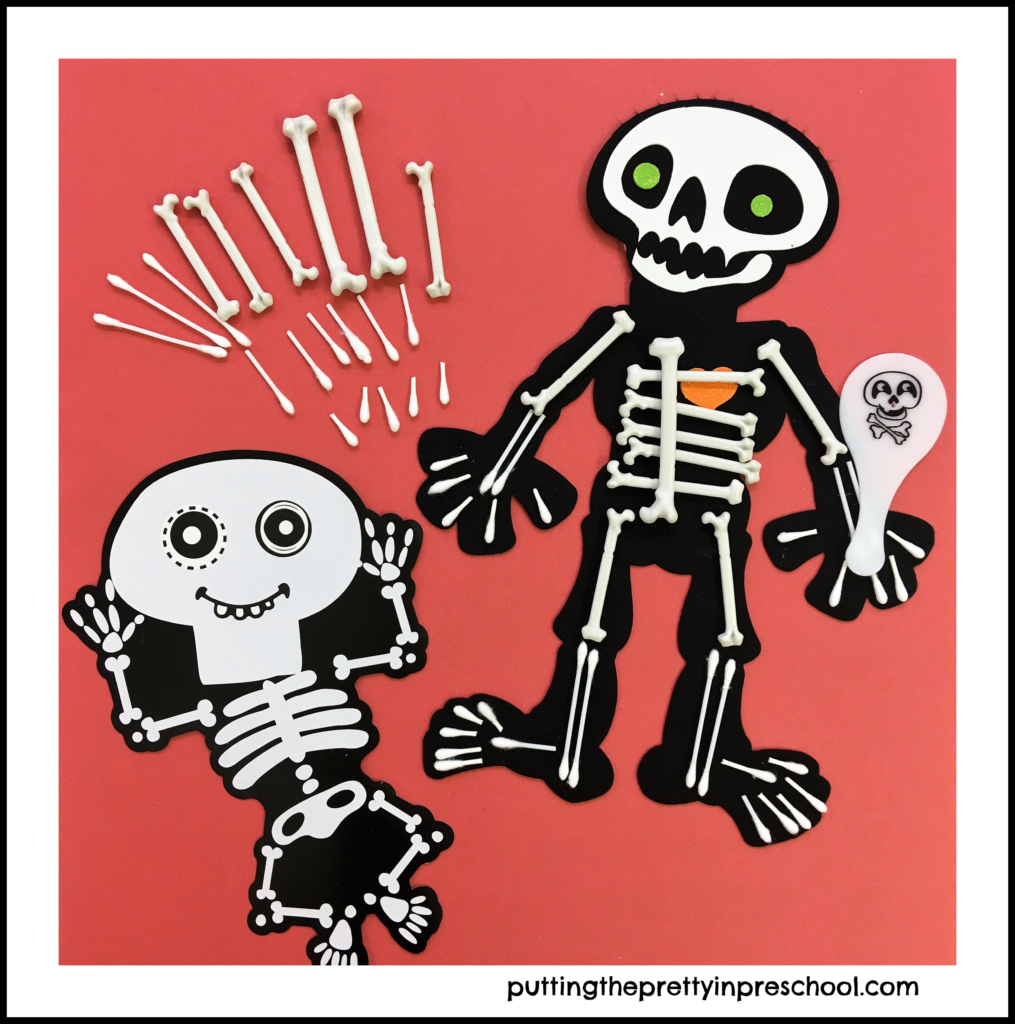 ---
ACTIVITY TWO: Skeleton Poses
Take turns moving a hinged, felt skeleton different ways. Discuss what it might be feeling and communicating.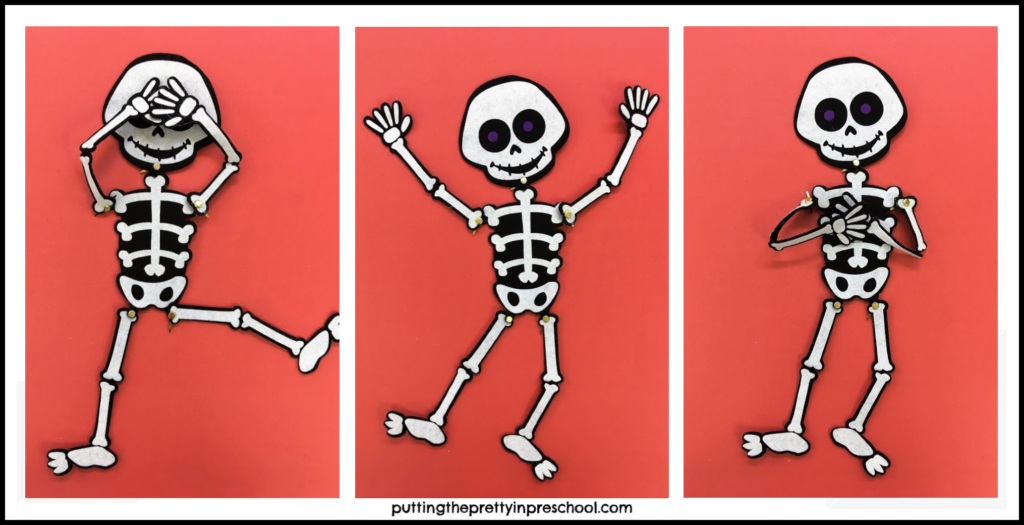 ---
ACTIVITY THREE: Put A Skeleton Back Together
Take apart the sections of a hinged, felt skeleton. Offer paper fasteners and invite children to put it back together, using the other skeleton as a model. This activity is great for enhancing fine motor skills.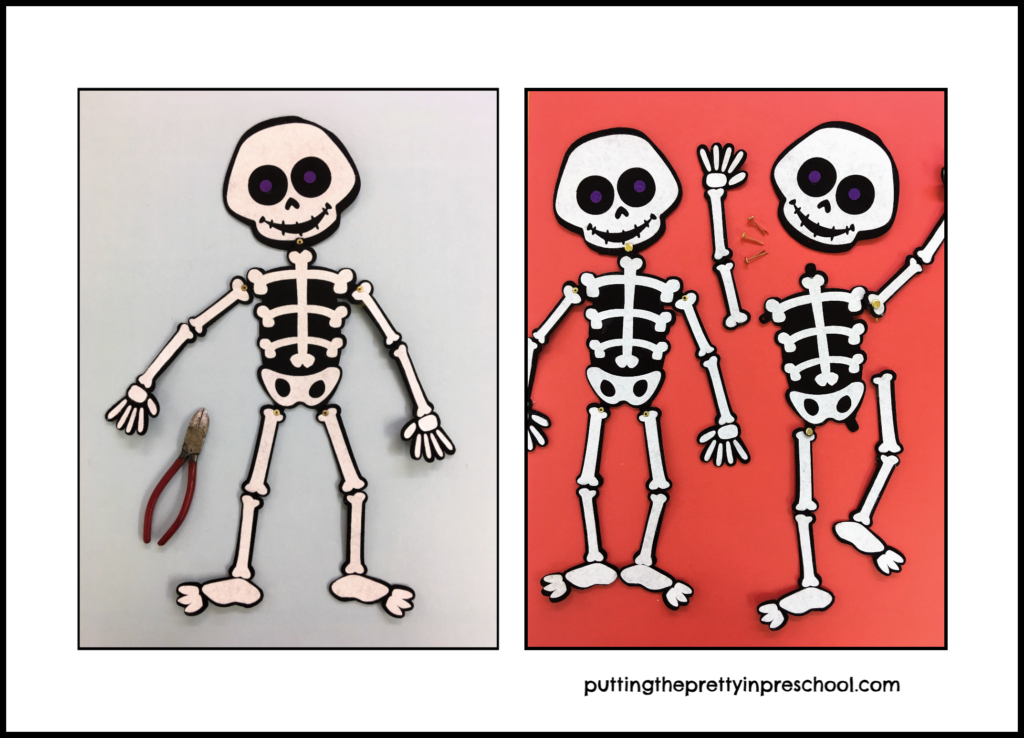 ---
Plastic Skeleton Activities
THE FINDS:
Three large, plastic hinged skeletons
Pet costumes
Adult fingerless gloves
Children's gloves and socks
Beaded jewelry strands
Stuffed animal
Candy bag
ADD:
Sticker gems and pearls
Large roll of paper
Felt pens
---
ACTIVITY ONE: Compare Height With A Skeleton
Decorate one skeleton with sticker and pearl gems to "glam it up.". Add some jewelry strands. Hang the skeleton on a wall with the caption: "ARE YOU TALLER THAN THIS SKELETON?"
Invite children to stand next to the skeleton. Measure and record who is taller.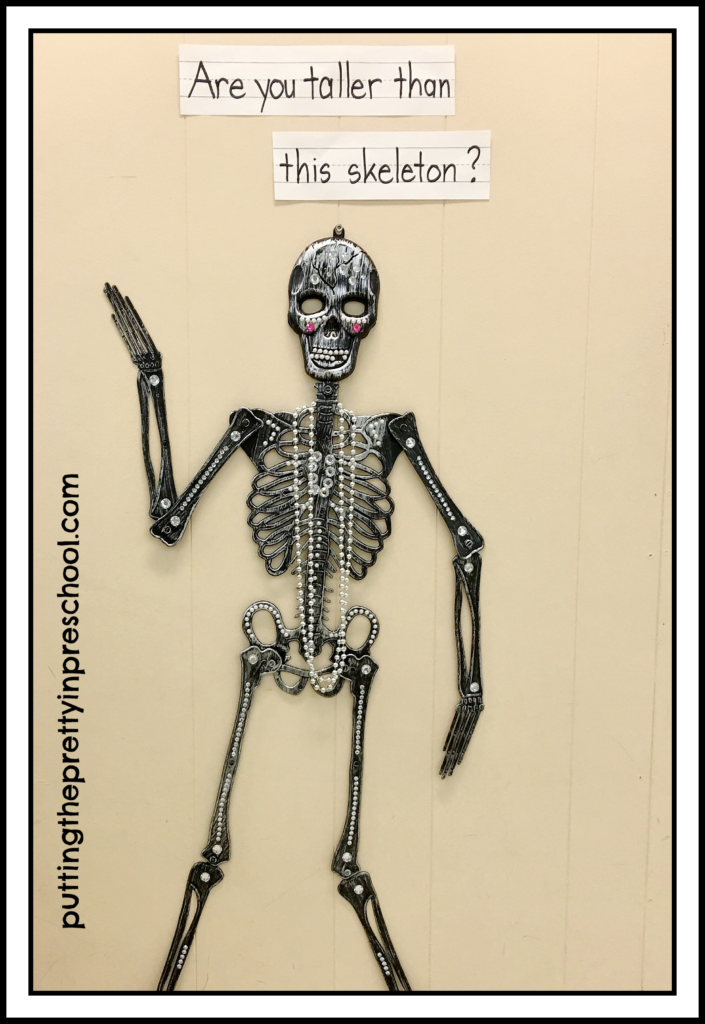 ---
Take a picture of each child next to the skeleton for a unique photo op.
---
ACTIVITY TWO: Dress The Skeleton
Set out a skeleton along with clothing, jewelry, and accessories. Invite children to dress the skeleton, offering help as needed.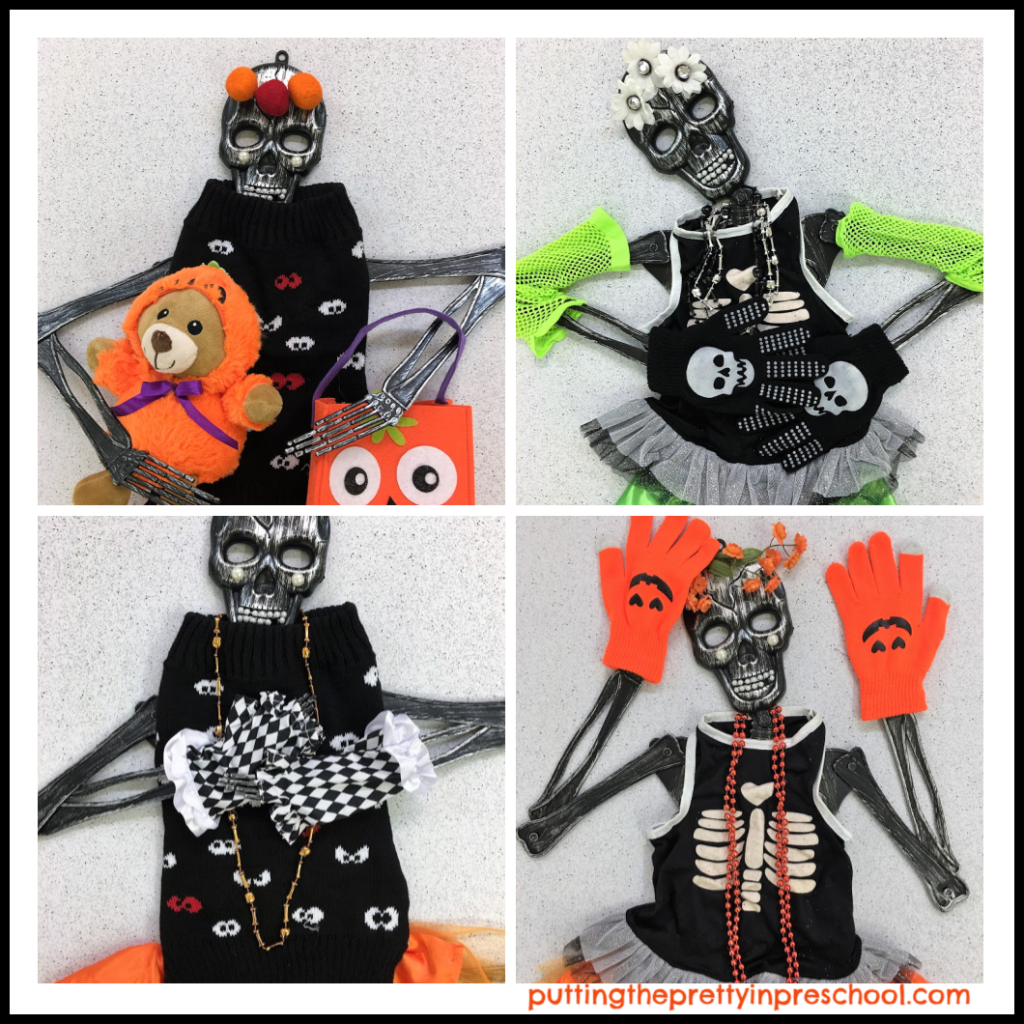 ---
ACTIVITY THREE: Traced Body With Skeleton
Trace each child's body on a large section of paper cut from a roll. Take a hinged skeleton apart and set the bones near the body tracings. Encourage children to add bones.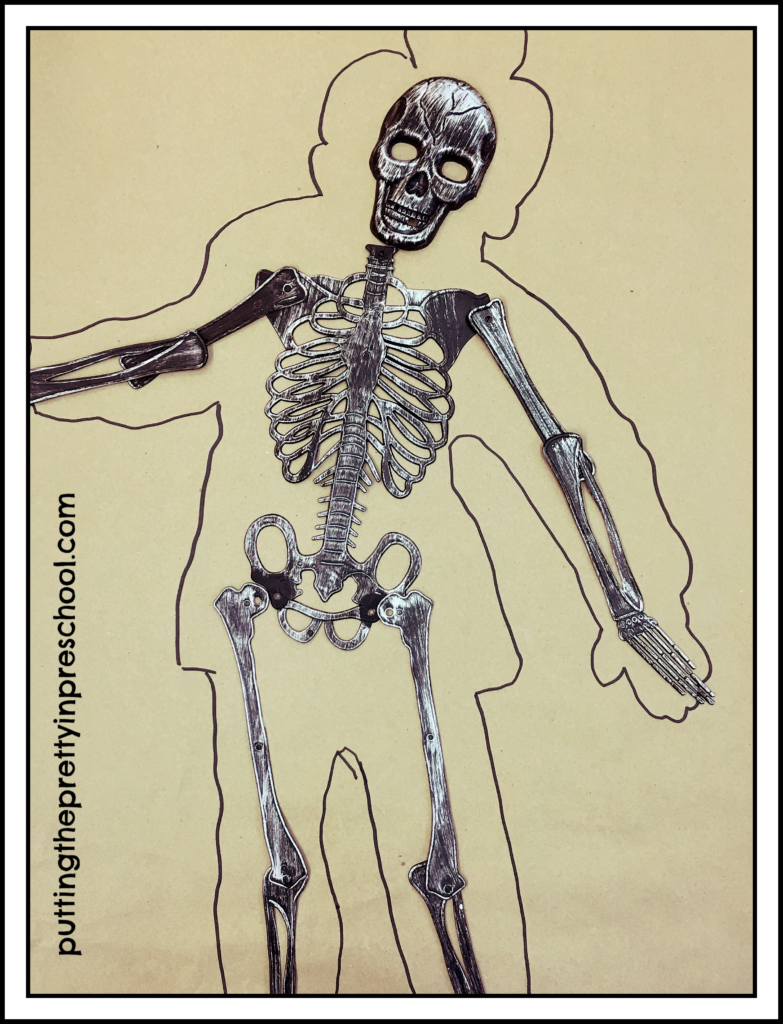 ---
Jumbo Skull Activities
THE FIND:
Jumbo felt skull
ADD:
Calendar pictures of animal heads
12 x 18 pieces of paper
Pastel crayons
---
ACTIVITY ONE: Guess The Animal
Slide the skull over each calendar animal head picture and ask children to "Guess The Animal."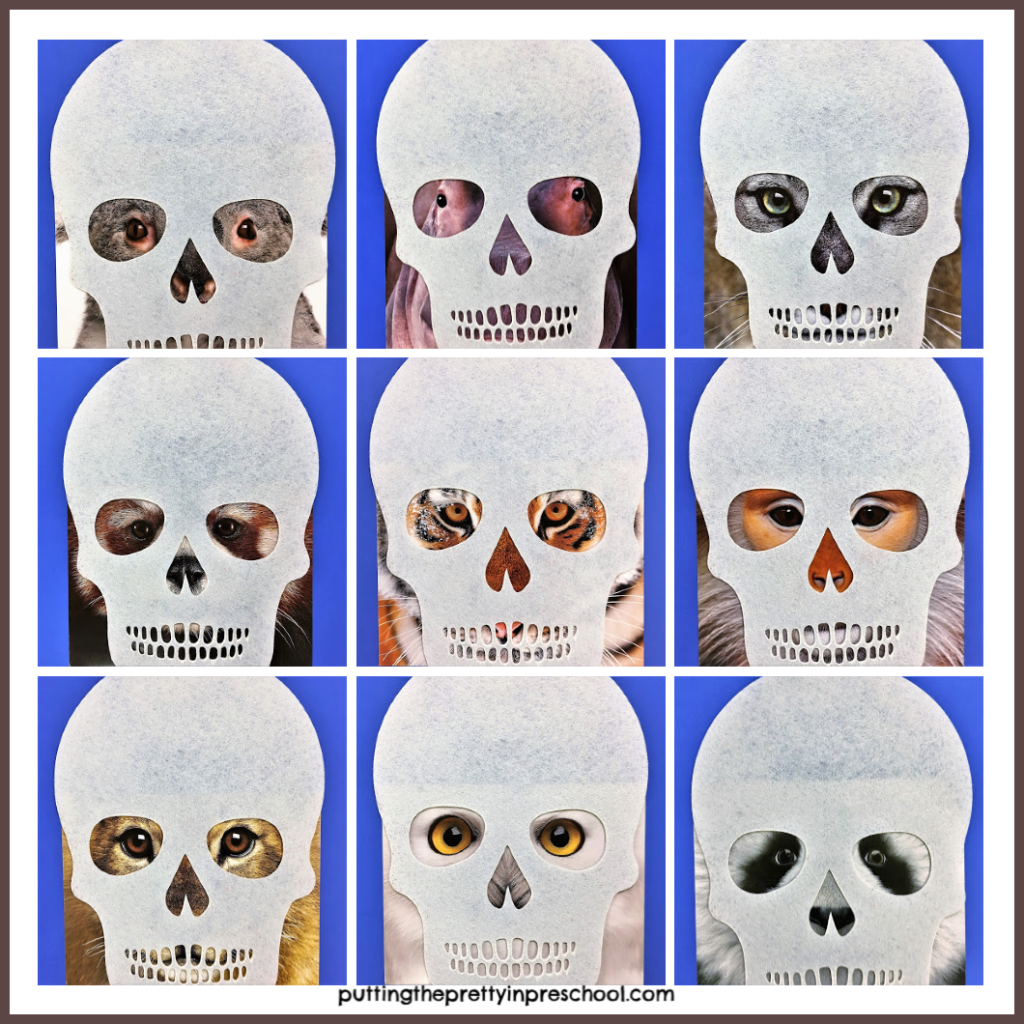 ---
ACTIVITY TWO: Trace The Skull
Place the skull on a table along with large pieces of paper and pastel crayons. Encourage children to trace and decorate the skull.

---
ACTIVITY THREE: Jumbo Mask Photo Op
Take pictures of children holding the skull as a "jumbo mask." The wall skeleton can be part of the backdrop.
---
Glitter Skull Math Activities
THE FIND:
Two tree branches decorated with metallic skulls
ADD:
Plastic, rubber or wooden numbers
---
ACTIVITY ONE: Make Patterns
Take the skulls off the tree branches. (The branches can be saved for other activities.)

Have children make patterns with them.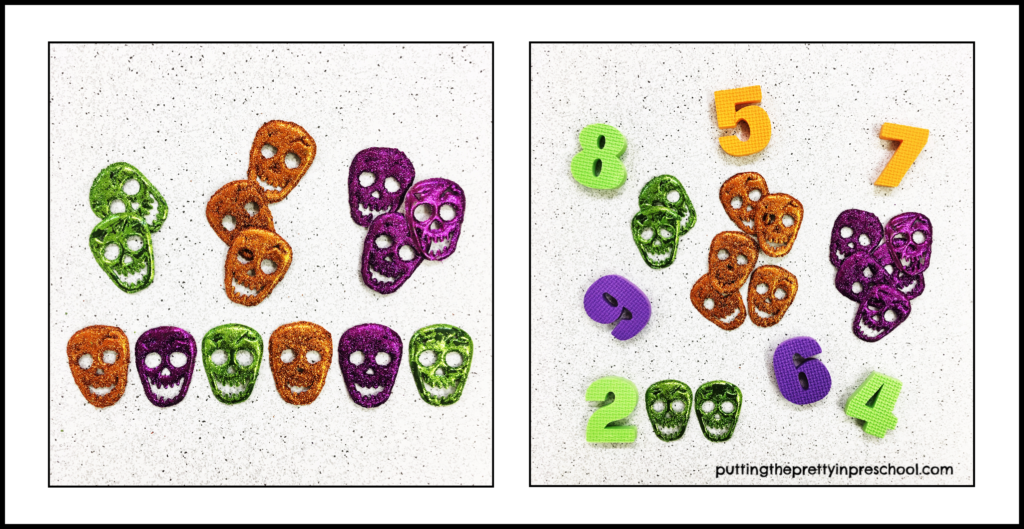 ---
ACTIVITY TWO: Count And Sort Skulls
Set out the skulls, and numbers 1 – 9. Invite children to count them and add the correct number. Encourage skull sorting.
---
Neon Skull Activities
THE FIND:
Neon skeleton party favors
---
ACTIVITY ONE: Sort And Match Skeletons
Have children sort and match skeletons according to their color.
---
ACTIVITY TWO: Make Patterns
Invite children to make patterns with the neon skeletons.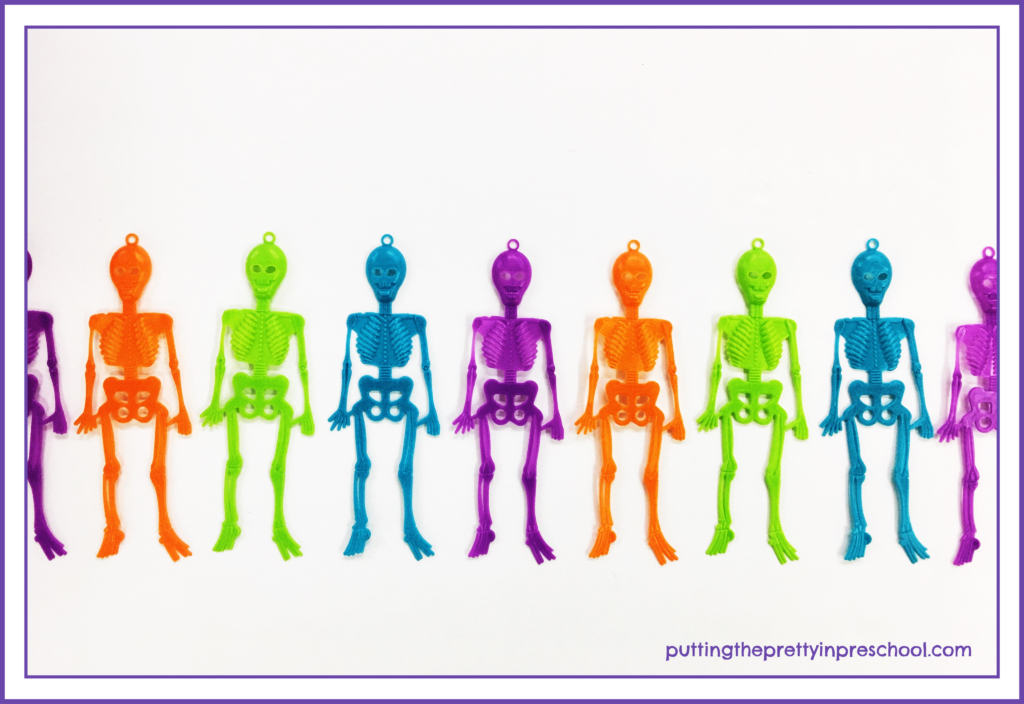 ---
Skull Printable
Download this cute skull printable that features basic shapes. Discuss the shapes. Invite children to glam it up with their favorite art medium and sticker gems and pearls.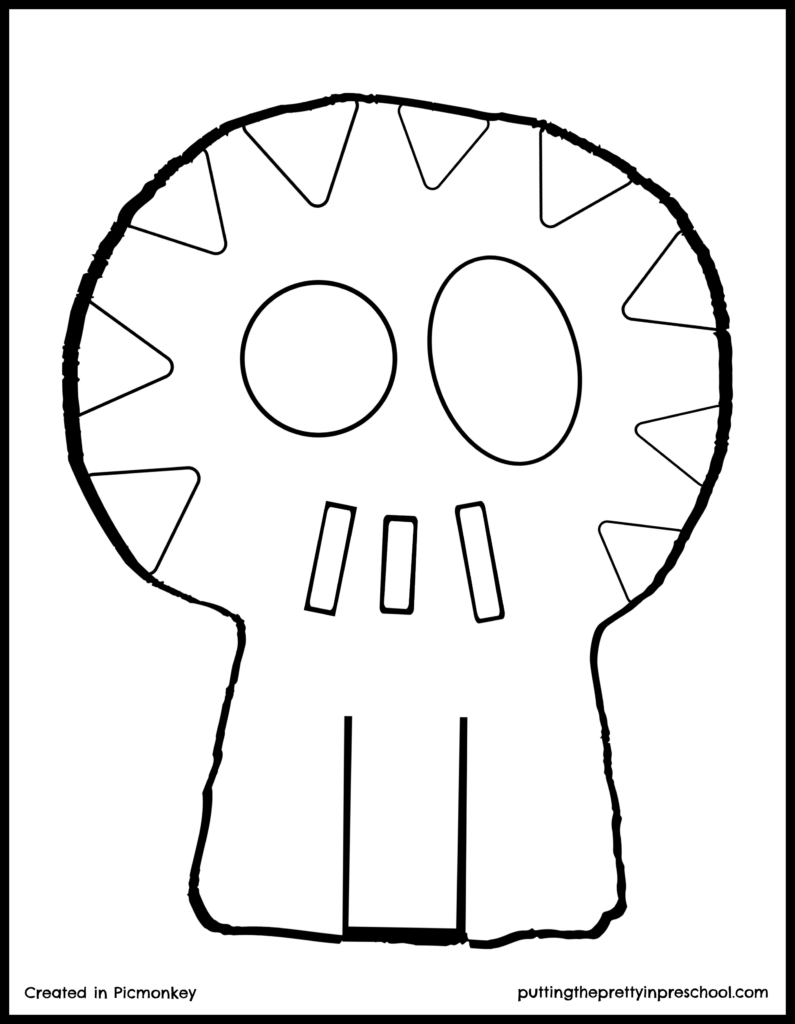 ---
Download the skull printable here. (This printable is for individual or one classroom use only.)
This skull is simple enough to use for a cutting activity.
---
My "go to" activities for late October are still pumpkins. But I'm sticking a few skeleton preschool theme activities in with the mix!
---
How do you feel about doing a Skeleton preschool theme with young children?
Are there some activities you would choose? Are there others you would stay away from?
Are there new activities you can suggest? Share below!
---
You may also like:
This tray features tiny skulls, bones, and spiders.
---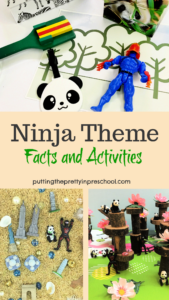 ---
Ugly Christmas Sweater Activities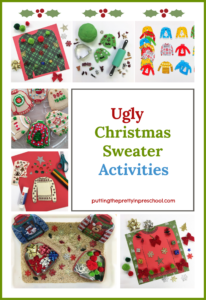 ---
Don't forget to share this post on Pinterest. Sharing is caring!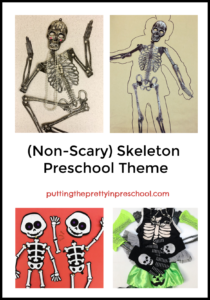 ---
© Annette Kaminsky
Follow me on social media for more ideas: