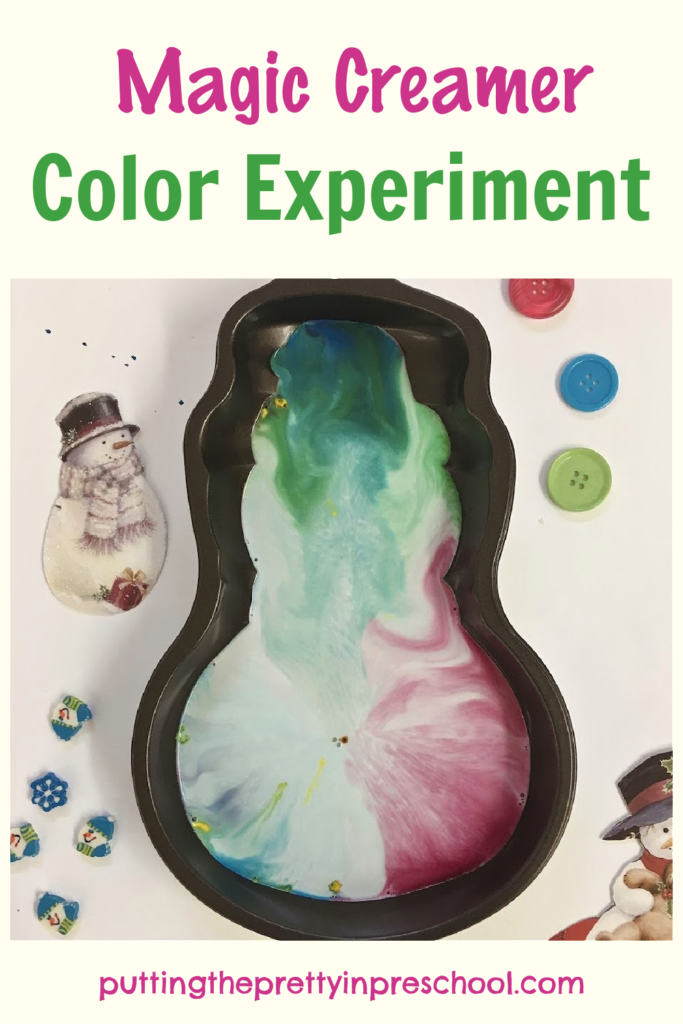 _______
It's been a while back, but I promised to try the always-fun magic milk experiment with homo milk or cream. So here's a post about a magic creamer color experiment.
_______
Follow me on Pinterest for more early learning ideas.
_______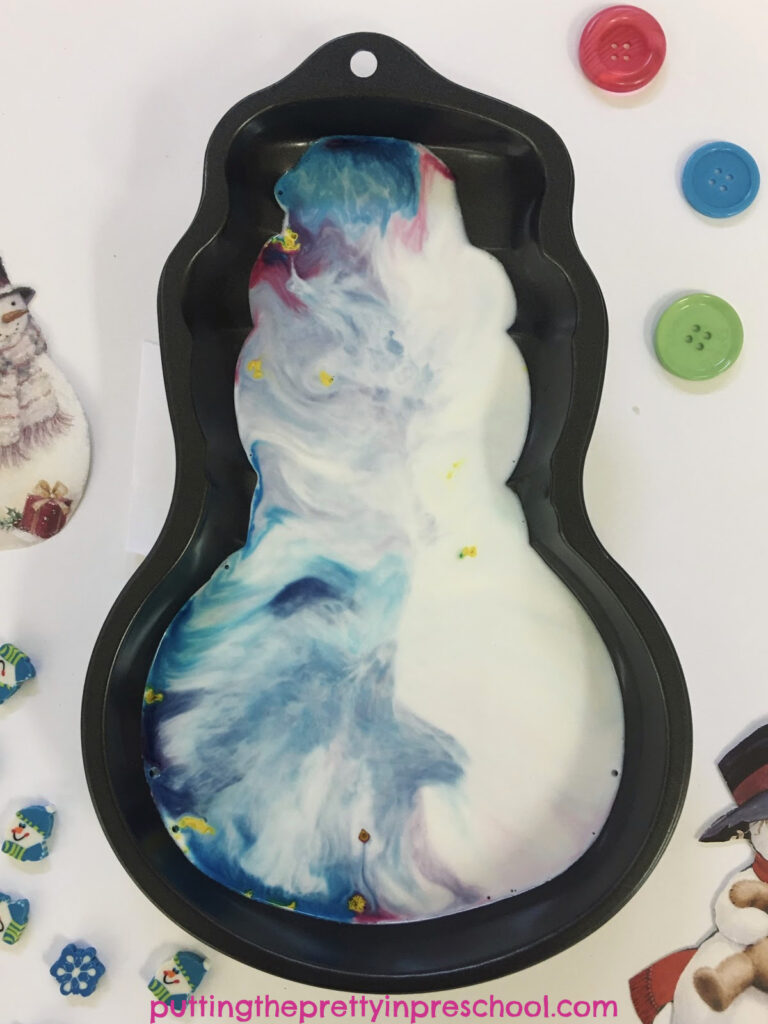 _______
Supplies Collected
Collected in this winter-themed version is:
snowman cake pan
half-and-half (10% milk fat) creamer
red, yellow, and blue food coloring
liquid dish soap
_______
The Magic Creamer Color Experiment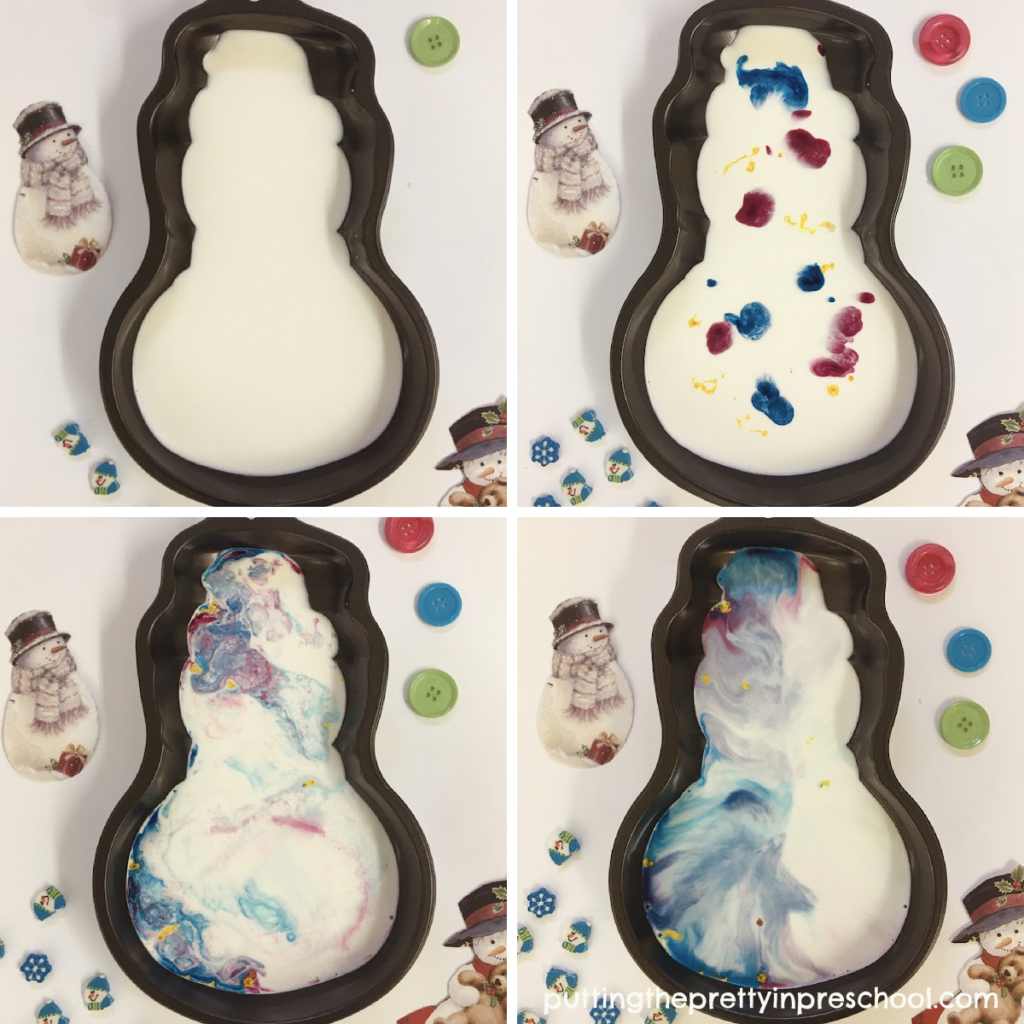 _______
To perform this easy science experiment, pour a layer of half and half (10% milk fat) creamer into a cake pan or small bin. My pick for this experiment is a snowman cake pan. It is medium-sized and fits the amount of liquid I have on hand.
Note: Half and half cream is equal parts whole milk and light cream. It isn't near as creamy as whipping cream but is creamier than the milk I've featured in past experiments. It is commonly used as a coffee creamer.
Next, add drops of red, yellow, and blue food coloring around the pan.
Then add drops of liquid dish soap onto some of the food coloring patches. The colors will immediately swirl around and make new color designs.
Close up, the color changes look super stunning.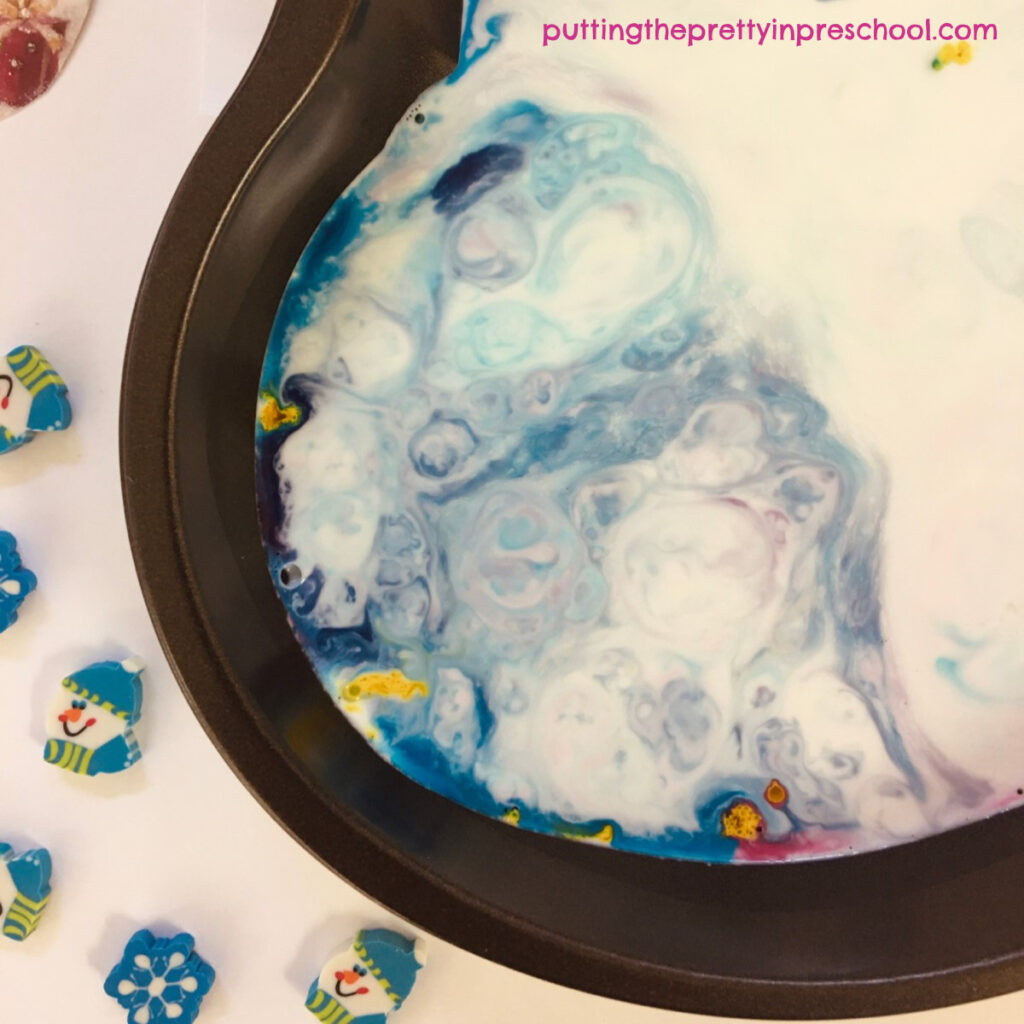 _______
After the color movement slows down, check back occasionally and you will see new color patterns immerge. The color designs will keep changing for at least half an hour.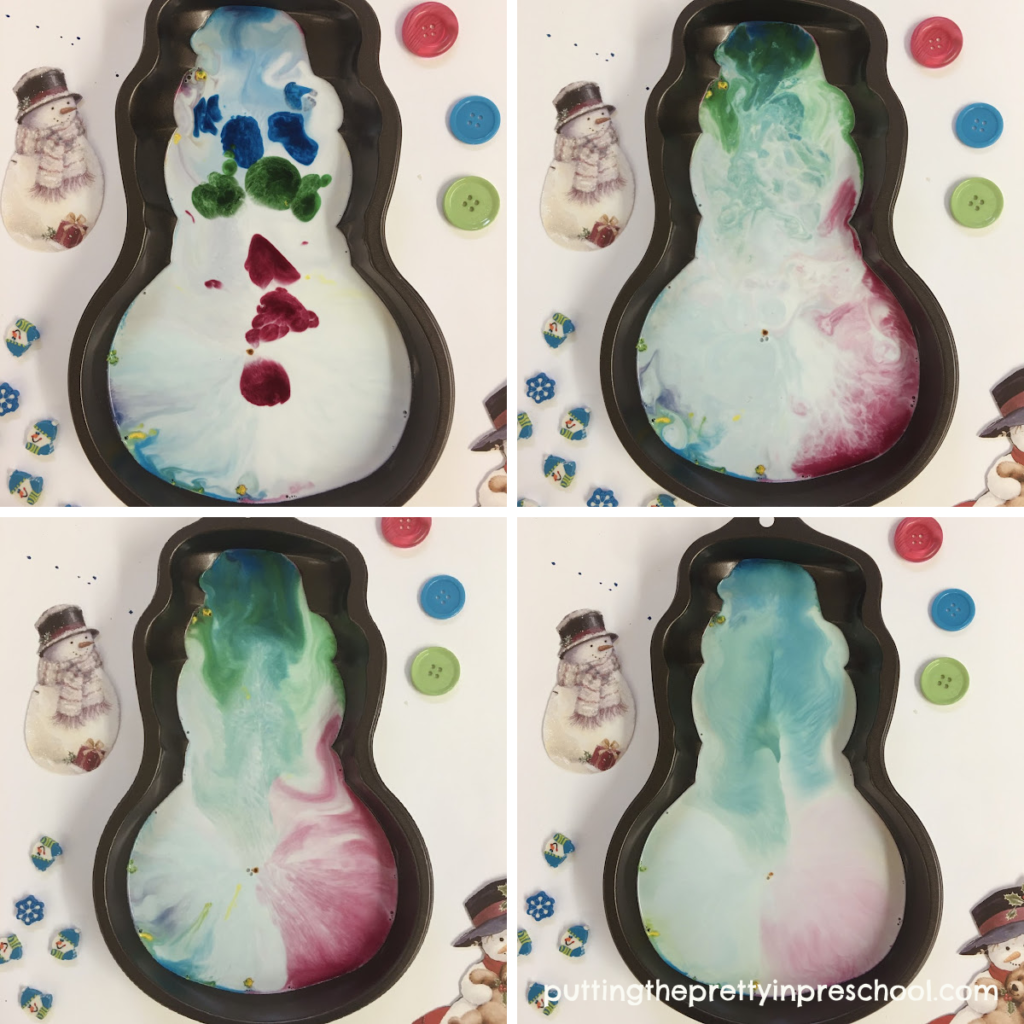 _______
At this time, try adding a few more drops of food coloring. I try to make a snowman face and buttons.
Add more dish detergent drops and watch the colors move and change again.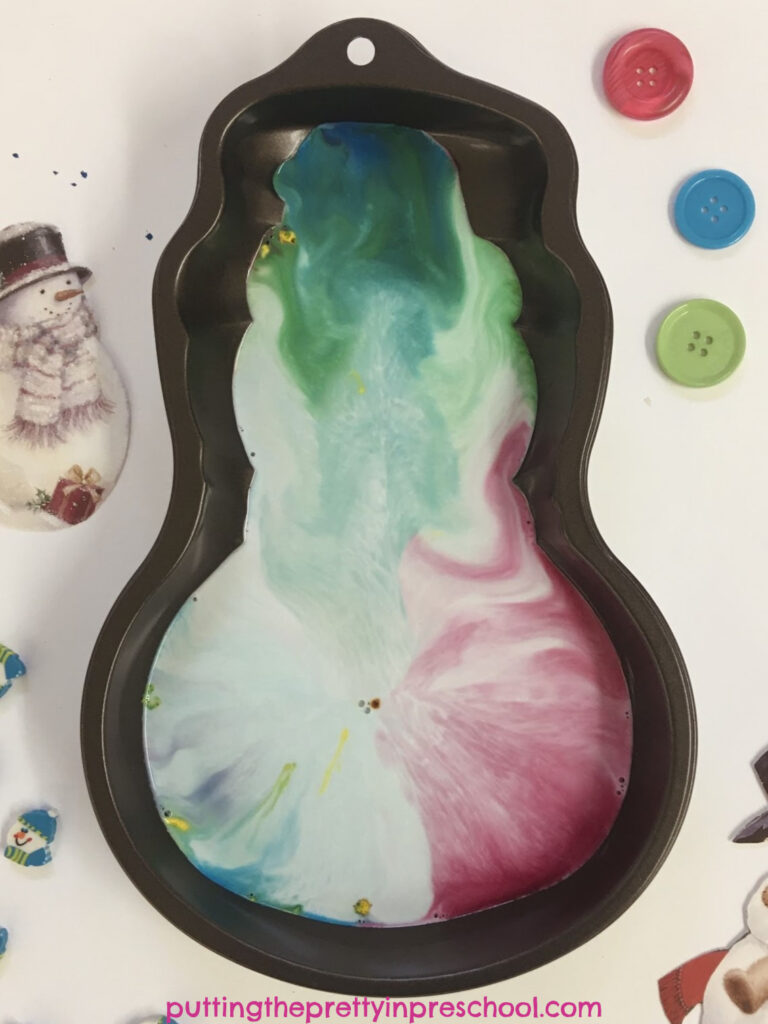 _______
Interpreting This Color-Changing Science Experiment
Although half-and-half (10% milk fat) creamer is made of a significant amount of water, it also contains fat and protein. These are both sensitive to changes in the liquid. When dish soap is added to the pan, it breaks up the surface tension of the half-and-half liquid and is attracted to the fat molecules. The fat molecules try to scurry away but end up bonding with the soap molecules. The movement of the food coloring makes this process visible. As more and more soap and fat molecules bond, the color movement slows down and eventually stops.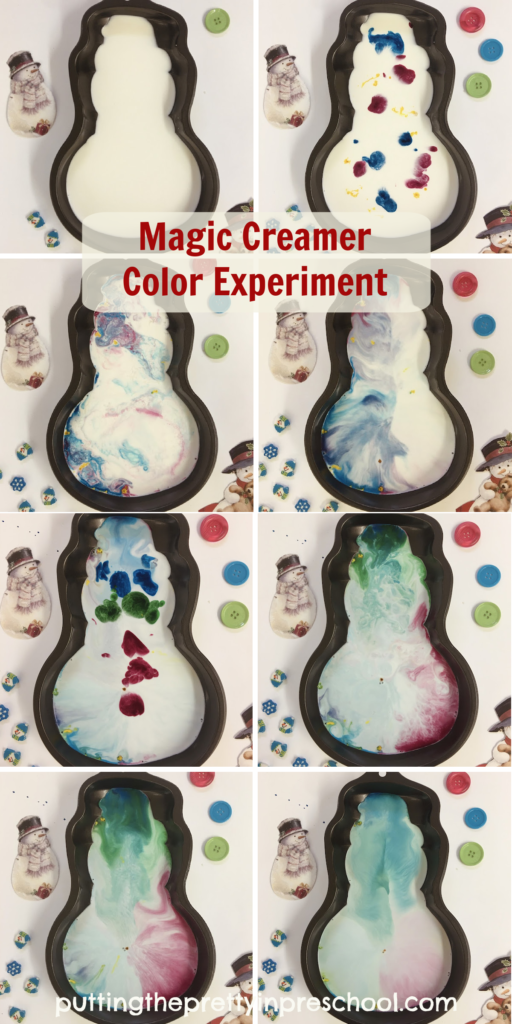 _______
Fat content in the half-and-half creamy liquid is super important in this science experiment.
The colors in the half-and-half coffee creamer experiment move at a slightly slower rate than 2% or 1 % milk, both of which I've tried successfully before. All three liquids show stunning color-swirling results.
_______
Related:
Color Explosion Science Experiment
_______
_______
You may also like:
Shamrock Dissolving Candy Experiment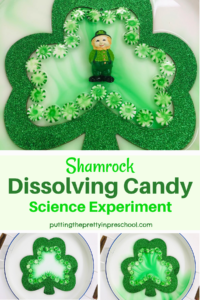 _______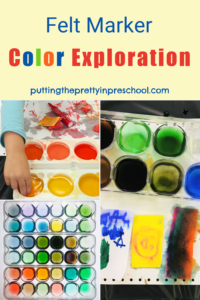 _______
Don't forget to share this post on Pinterest or your favorite social media channel. Sharing is caring!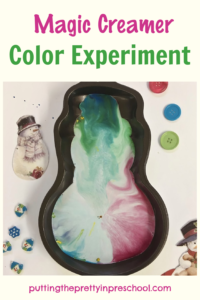 _______
© Annette Kaminsky February 17, 2023
_______
Follow me on social media for more ideas: