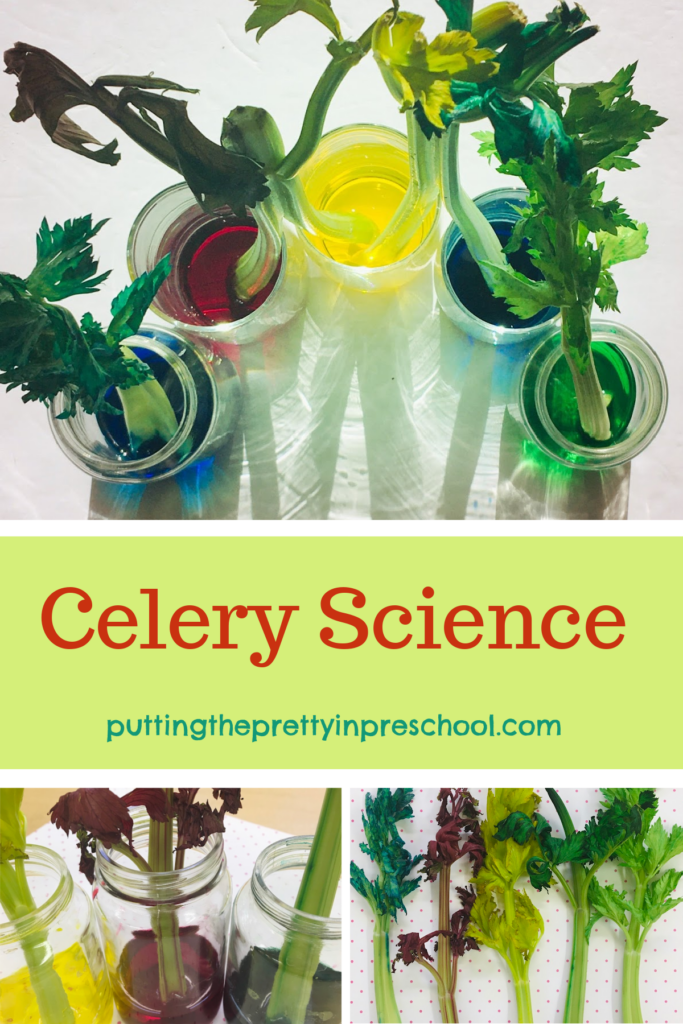 _______
This classic and colorful celery science experiment is easy to do and has quick results. It works well as a "color-changing celery tree" activity in autumn but is awesome to perform at any time of the year. Your early learner will be thrilled with the speedy and dramatic results of the experiment.
_______
Supplies To Collect
leafy celery stalks
glasses or jars
food coloring hues
pitcher with water
knife
cutting board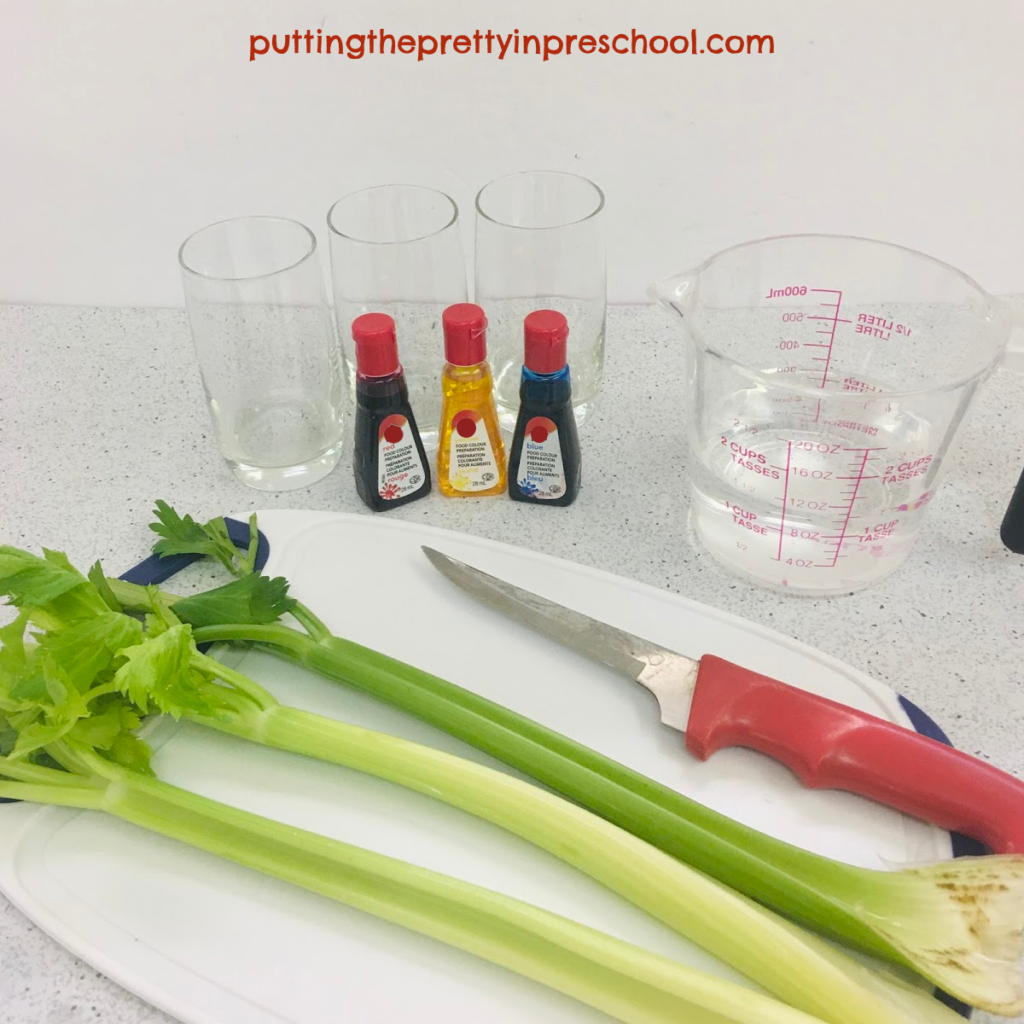 _______
Procedure
Cut the bottoms from celery stalks.
Invite your early learner to generously squirt food coloring hues into glasses or jars, and add about 4 centimeters of water to each one.
Have your child place a celery stalk in each container, and use it to stir the liquids.
Set the jars or glasses with celery on a table or windowsill.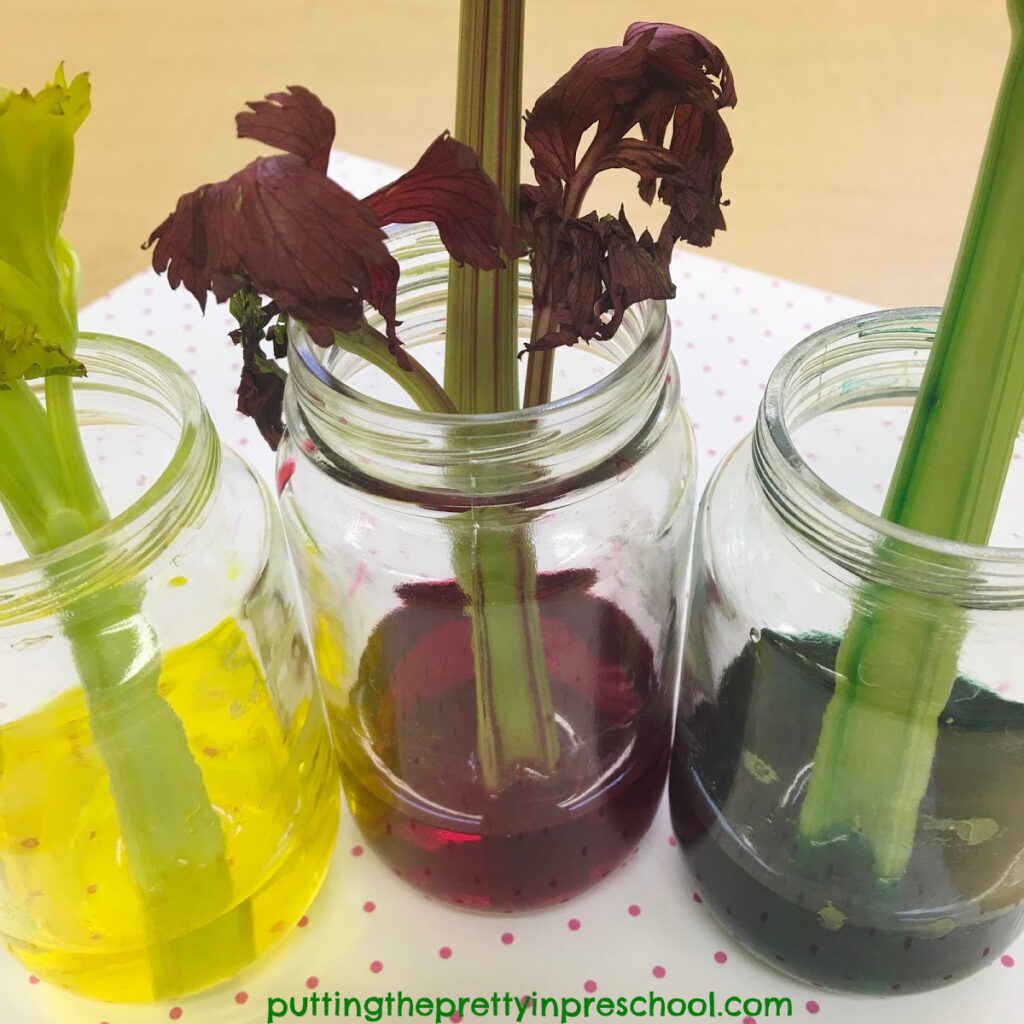 _______
Invite your little learner to look at the celery after a couple of hours. There will be a noticeable change in celery stalk and leaf colors.
Observe the celery with your child the following day. The leaves will be a darker shade of the water hue their stalk was set in than the day before. Colored lines running from the bottom of the stalks to the leaf tips will be clearly visible.
Add a little more water to each container if needed. Study the celery together a day or two later. The leaves and lines on the stalks will be a deeper color still.
Try the experiment with other food coloring hues. The leafy inner stalks below are dipped in turquoise, purple, and green-colored water.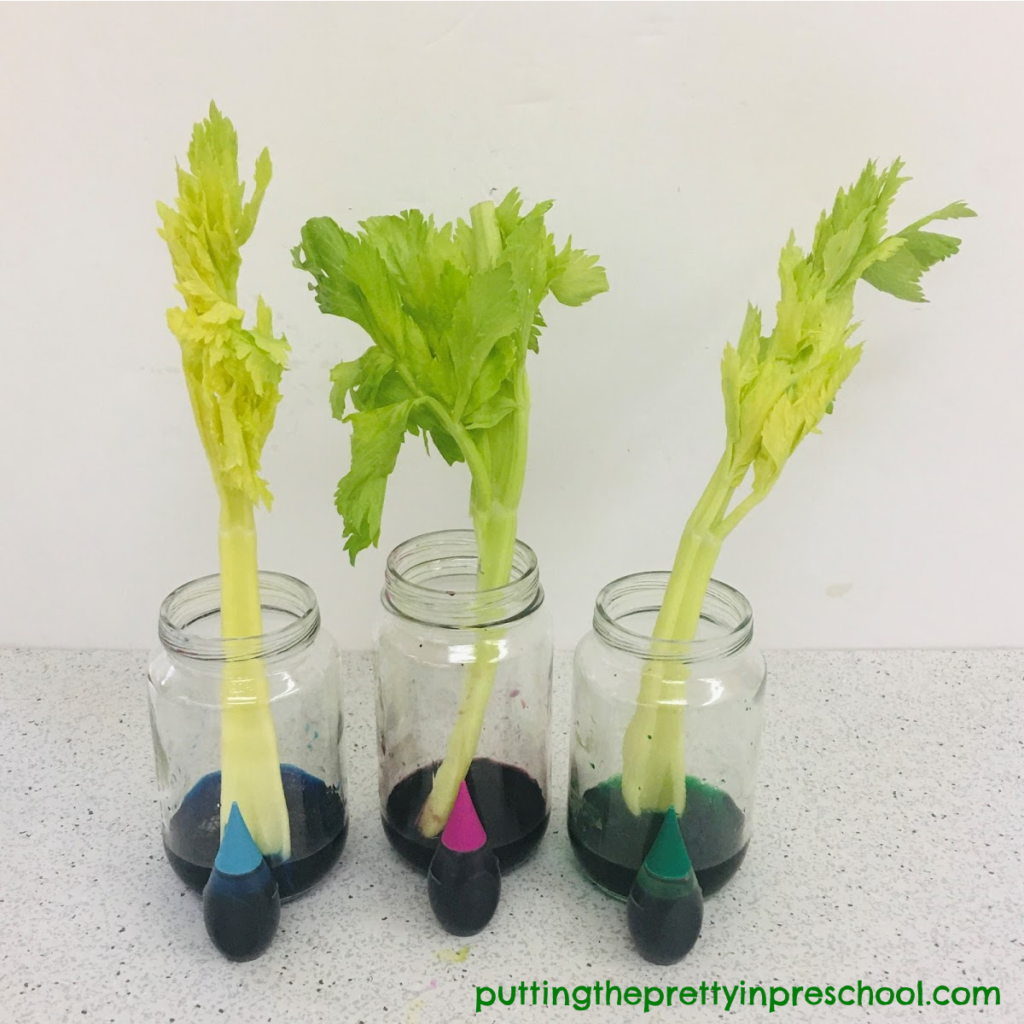 _______
Admire the transformed celery.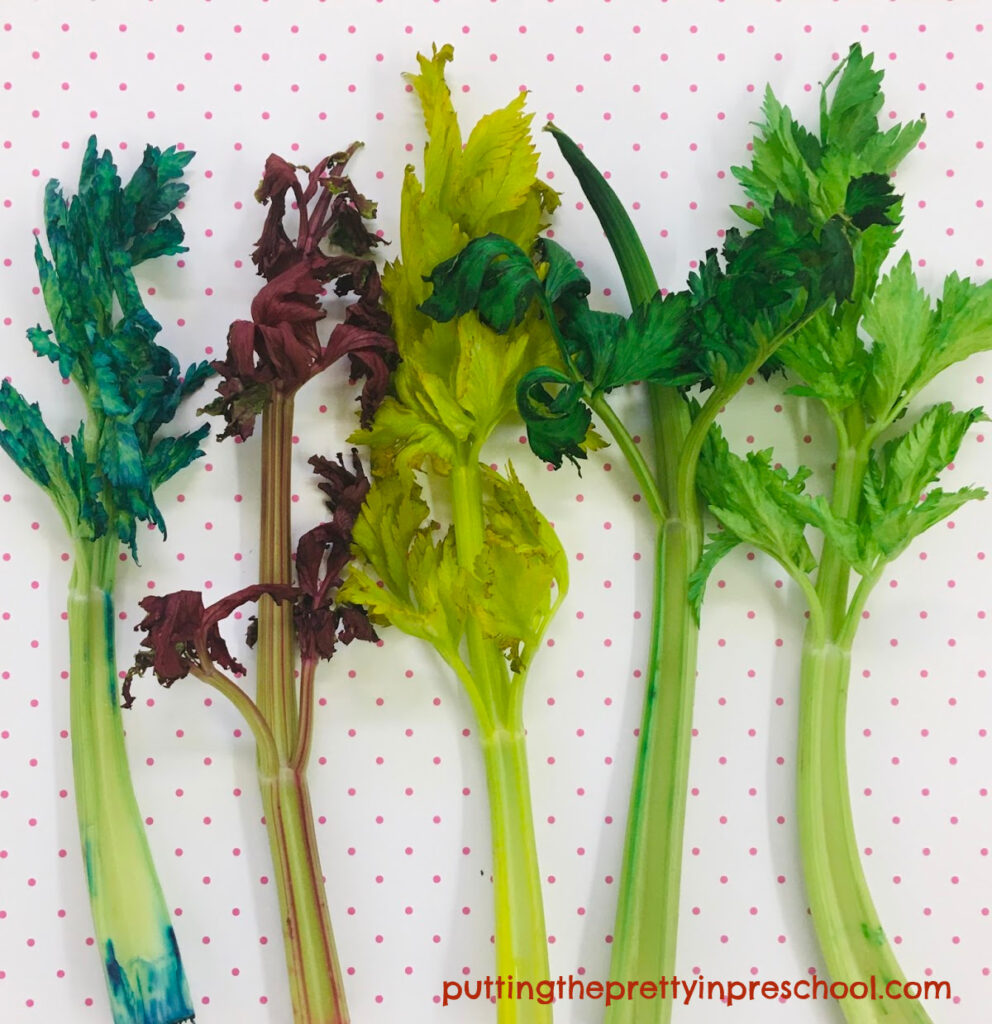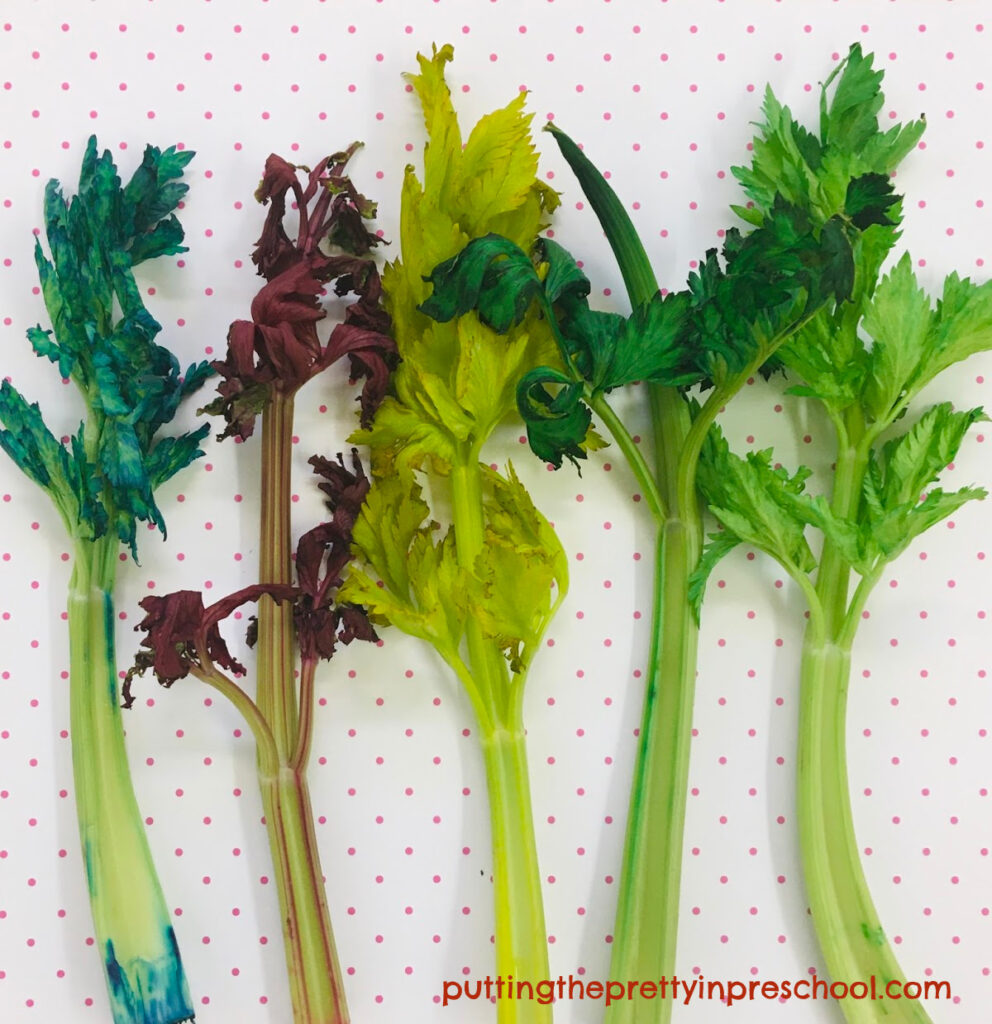 _______
Variation Of The Celery Science Experiment
Cut off the ends of celery stalks, and split the bottom half of the stalks into two parts.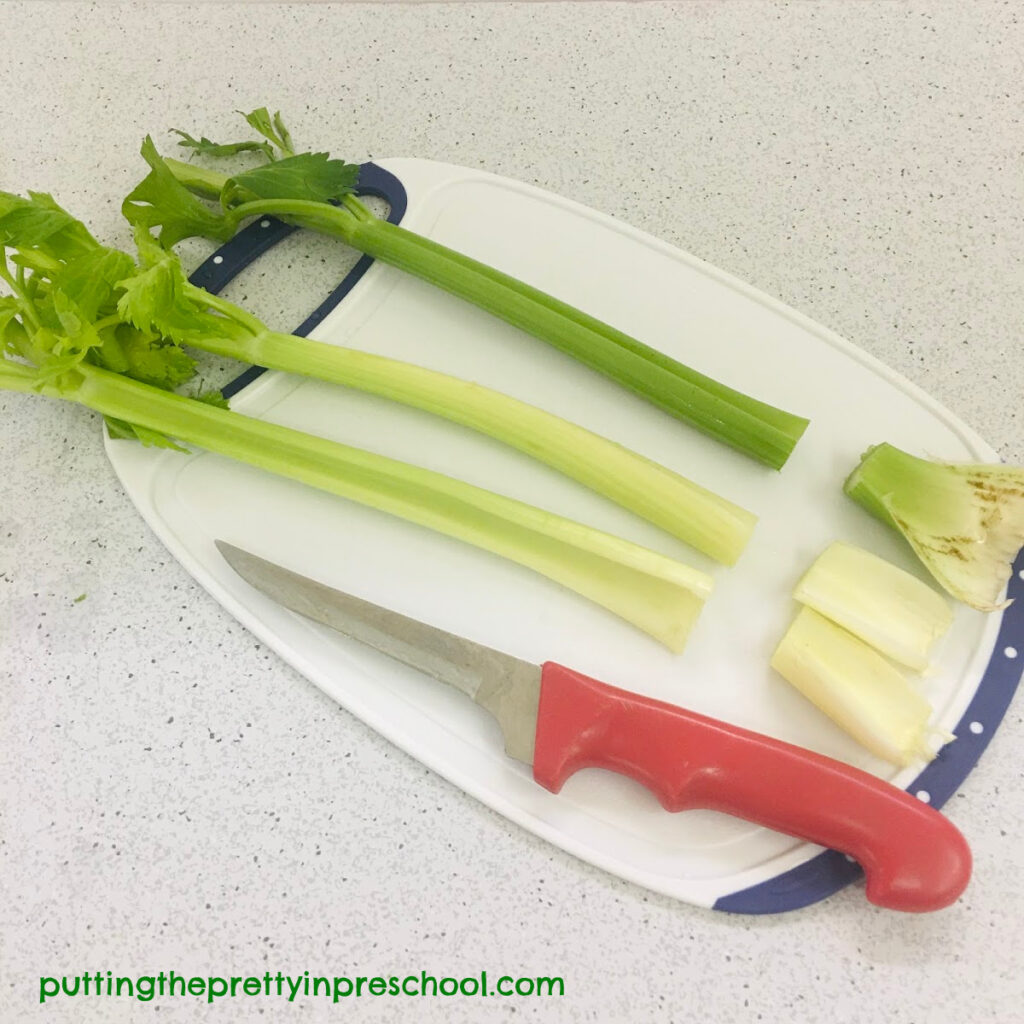 _______
Invite your child to squirt blue, yellow, and red food coloring into glasses or jars, and mix each hue with a bit of water.
Carefully place a section of one split celery stalk in red water, and the other in yellow. Put the bottom halves of another split celery stalk into yellow and blue water.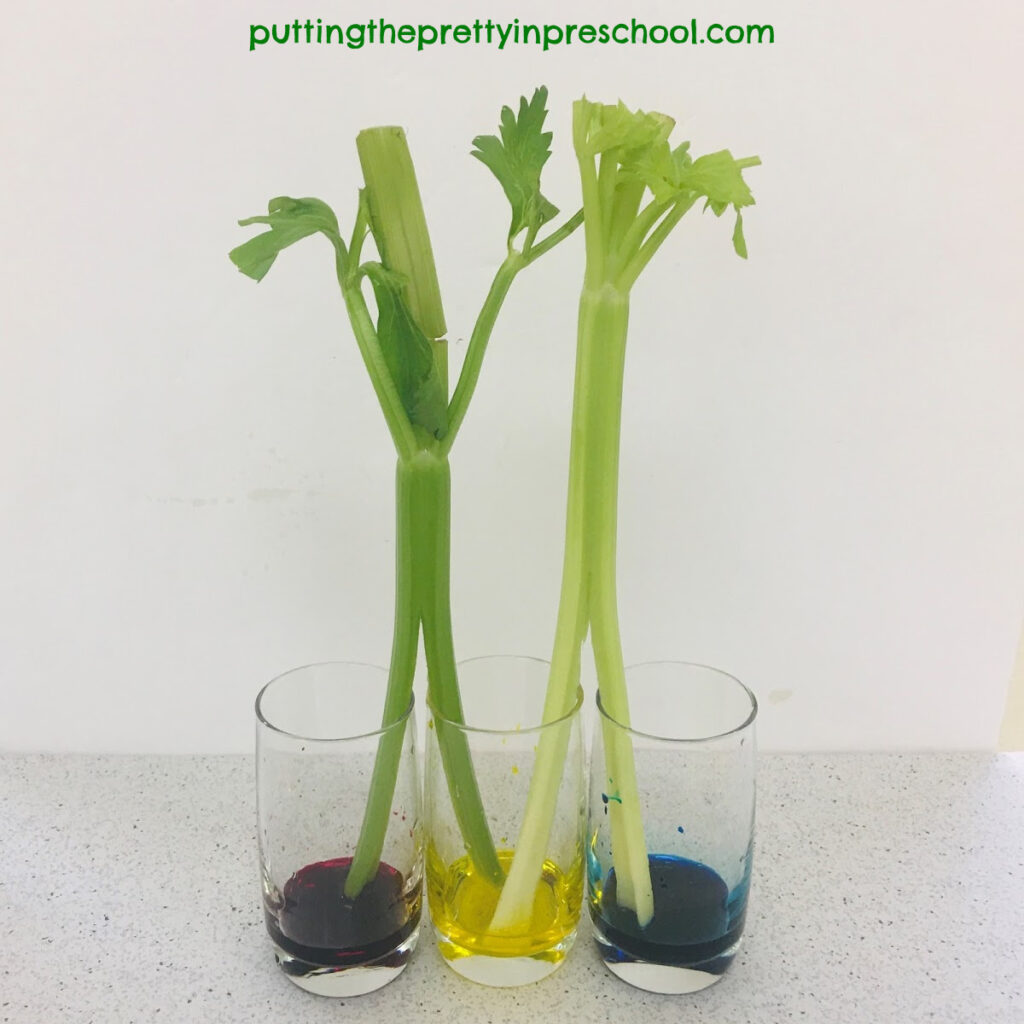 _______
Observe the celery with your little one after a couple of hours, the next day, and two days later.
You will see colored lines that extend from the bottoms of the celery stalks to the leaves. Each stalk will have lines and leaves in two different colors.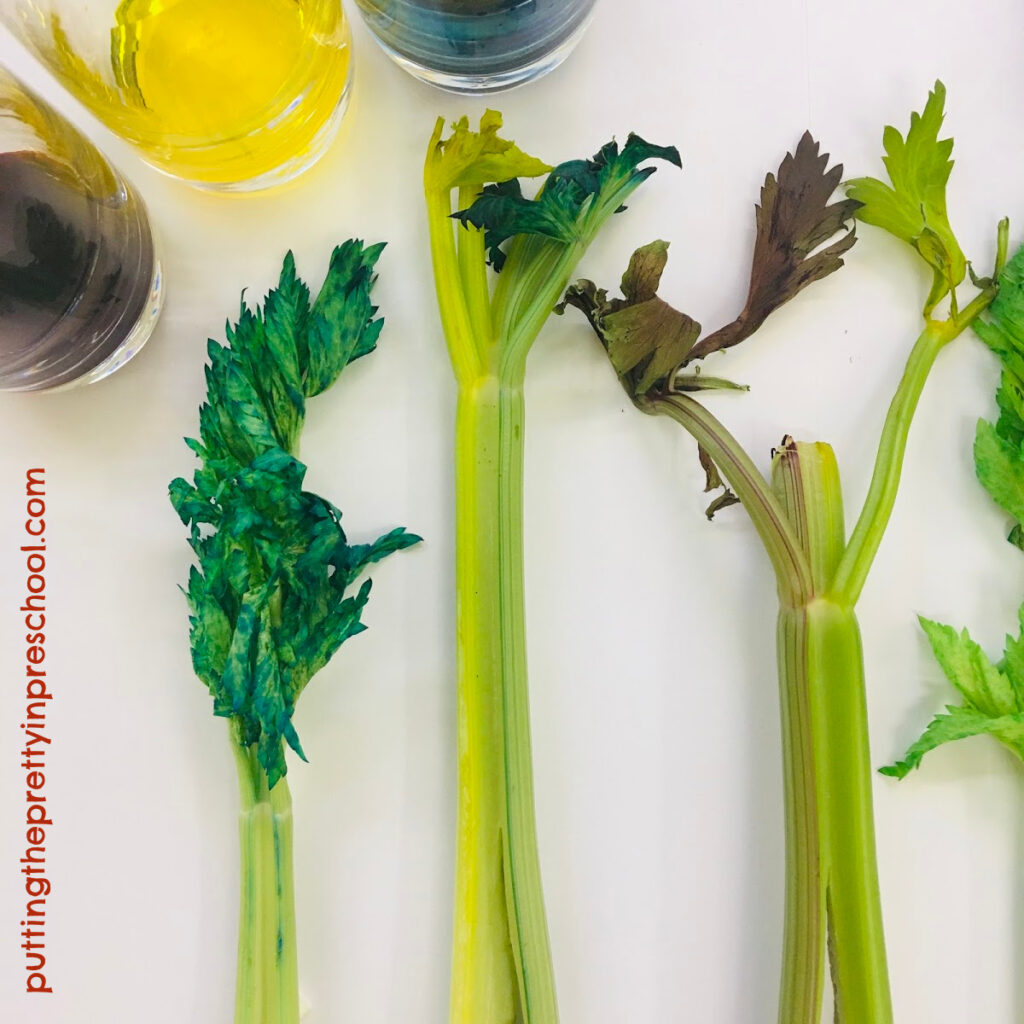 _______
The Science Behind The Celery Color Change Experiment
Celery stalks lose water through their leaves. More water gets pulled up from their roots to thirsty leaf tips through a network of hollow tubes called xylem.
The normally invisible process of water transport becomes visible when water accessible to celery stalks is colored.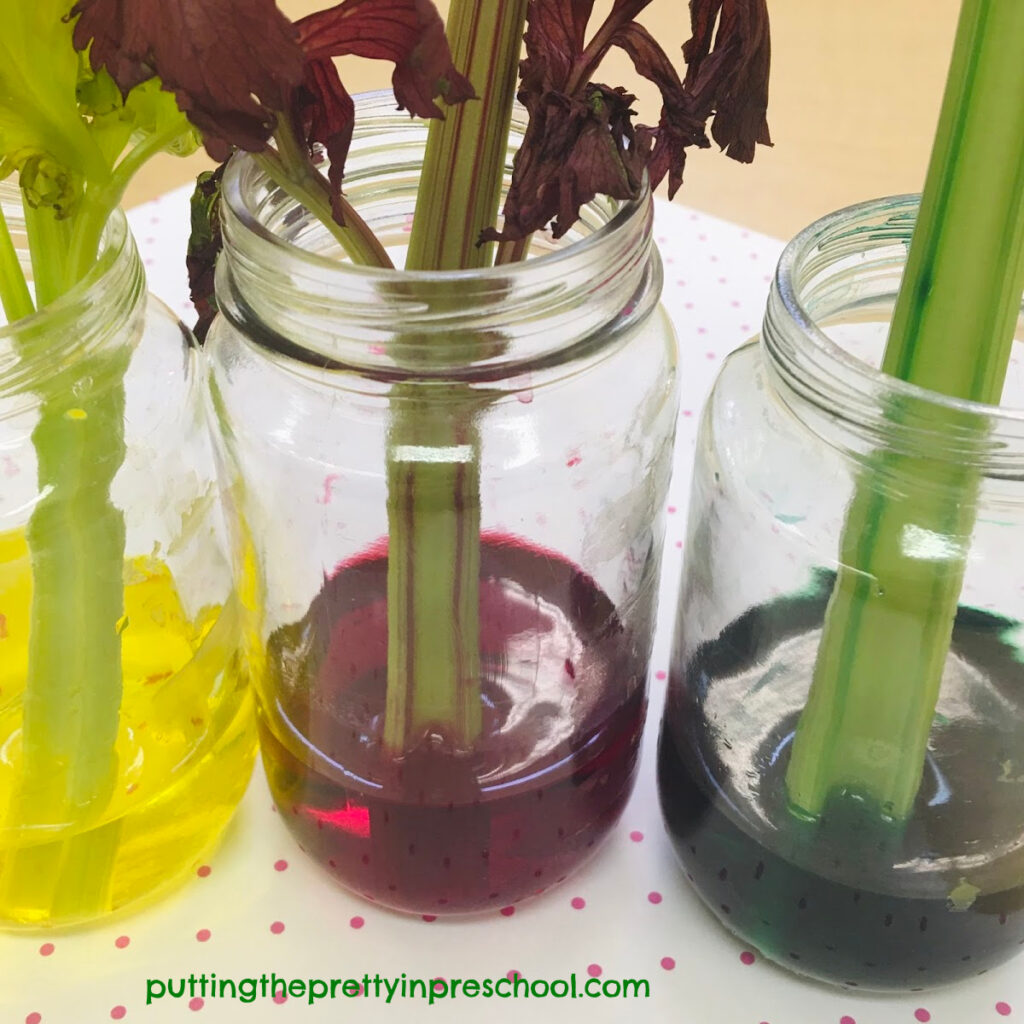 _______
The little dots on these celery slices are xylem tubes.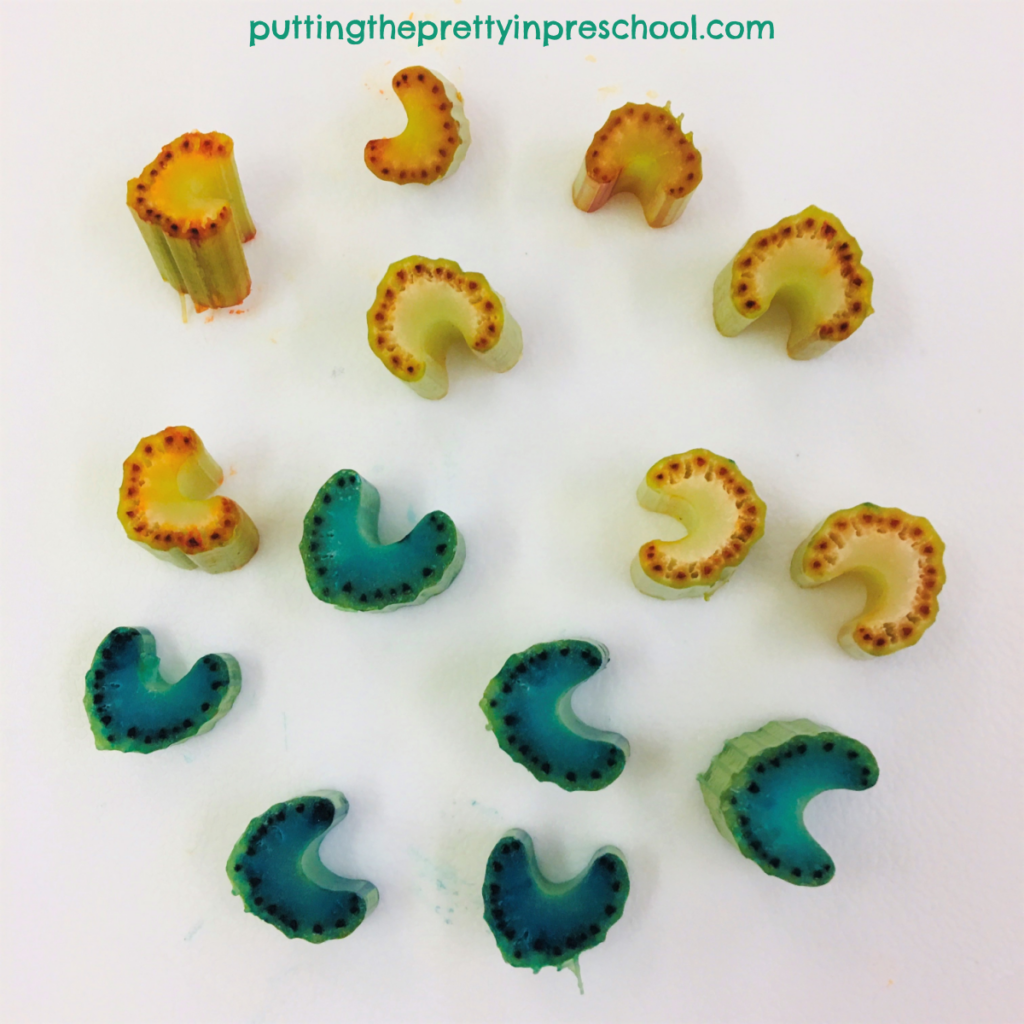 _______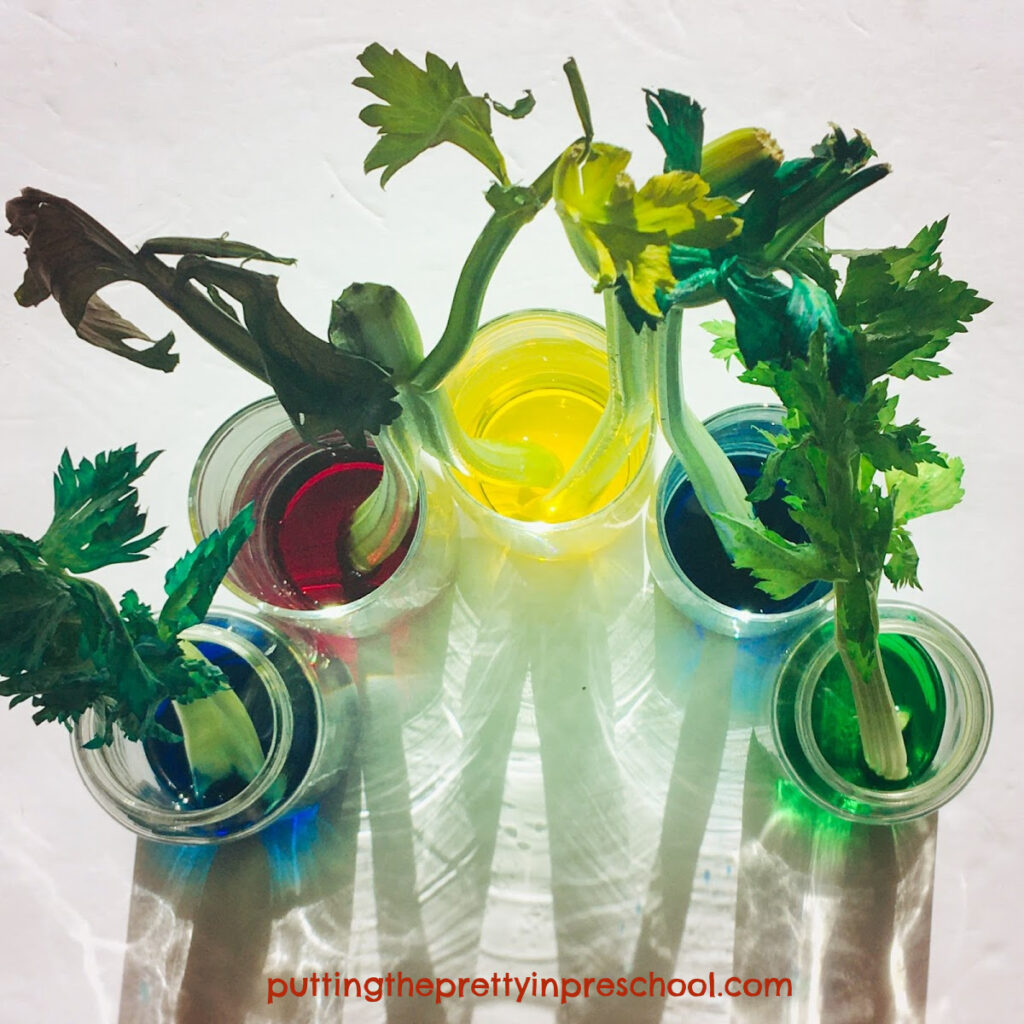 _______
Additional variations of this celery science experiment are featured at untamedscience.com.
_______
You may also like:
_______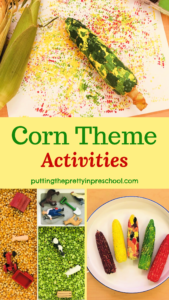 _______
Don't forget to share this post on Pinterest or your favorite social media channel. Sharing is caring!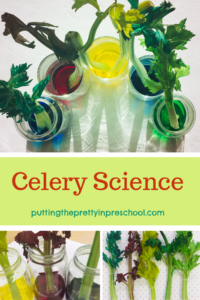 _______
© Annette Kaminsky October 14, 2020
_______
Follow me on social media for more ideas: