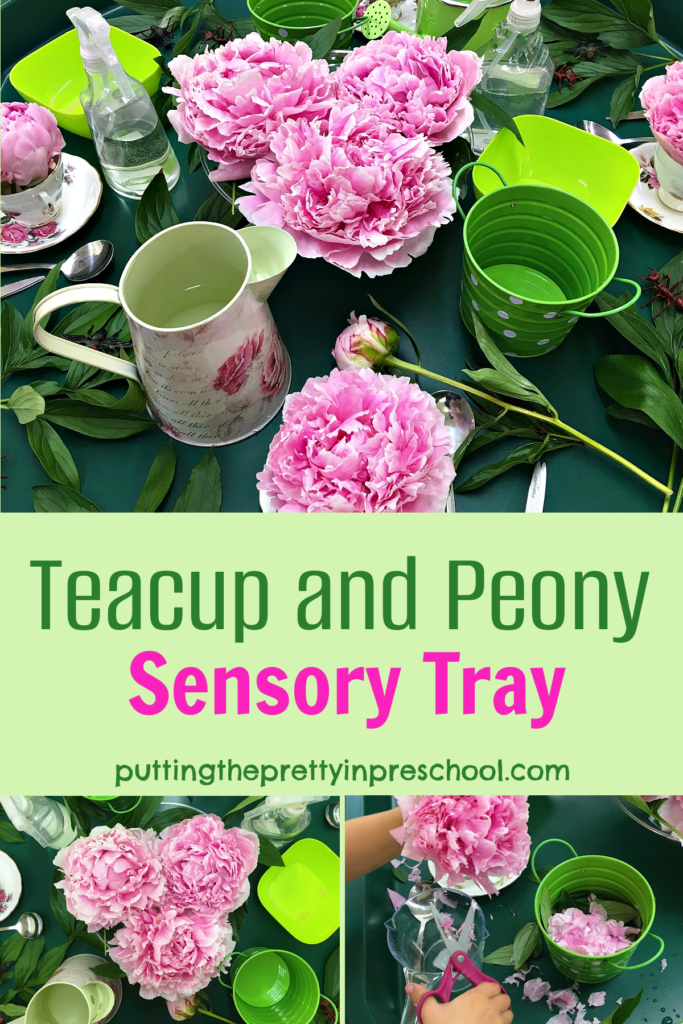 _______
This teacup and peony sensory tray is bound to wow the little charges in your care. The chance to cut gigantic flowers and use teacups in waterplay are sure to be tactile activities they want to try.
The flower-themed sensory tray is an afterthought of a project I originally wanted to do. A few years back I shopped for low, wide teacups to set peonies in as a gift for Mother's Day or year-end. But I couldn't find teacups in the shape I wanted. I decided to table the idea for the future, determined to pair peonies and teacups in some way.
We have a peony plant in our yard, so that makes an activity with the spotlight-grabbing flowers economical to do. This year peonies were late bloomers due to our extremely looooong winter! Mine didn't bloom in time for Mother's Day or our last day of preschool in June, so I decided on plan B: to feature peonies and teacups in a summer sensory tray!
_______
Follow me on Pinterest for more early learning ideas.
_______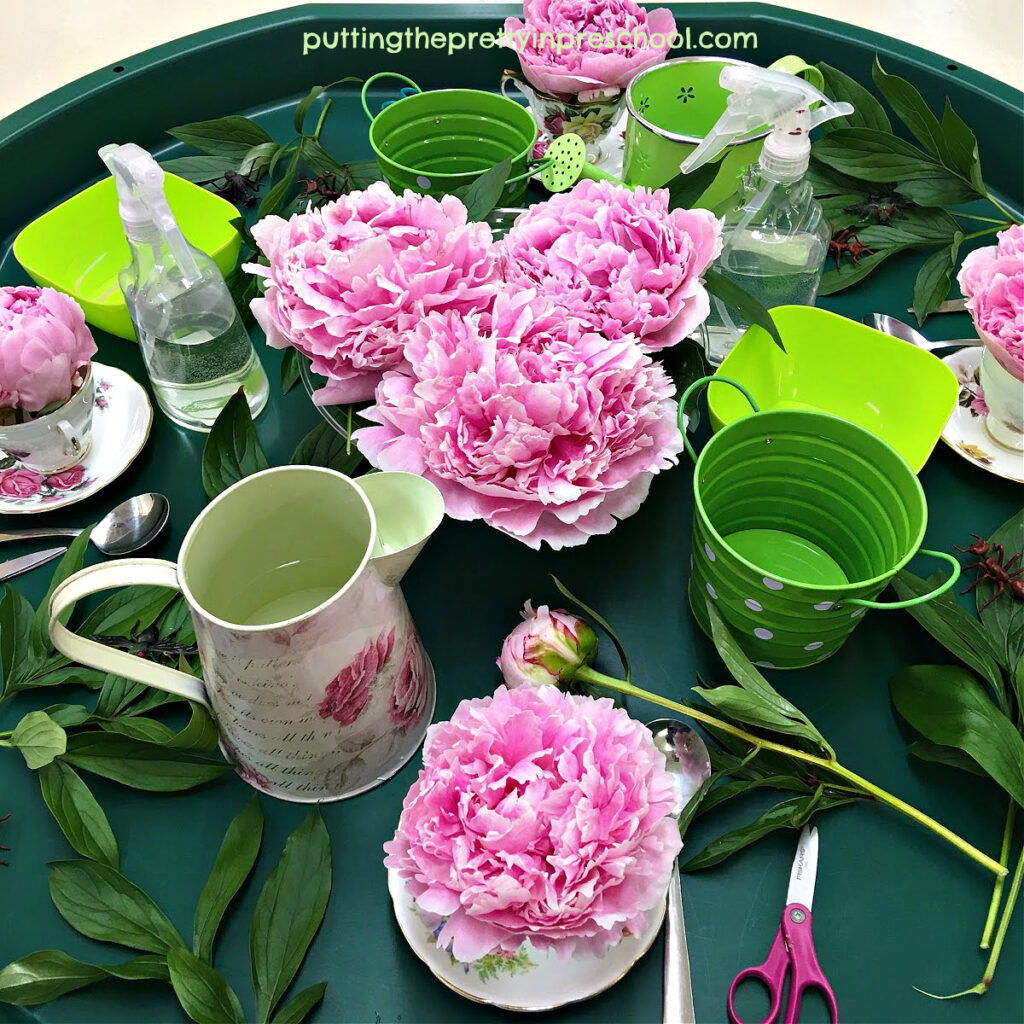 _______
Ten Peony Facts
Peonies are large, layered flowers that look like many-petalled roses.
The stunning flowers can measure up to 10 inches wide.
The blooms come in many colors, such as white, pink, red, coral, maroon, or yellow.
Many kinds of peonies are fragrant. Their smell varies from sweet, citrusy, or slightly spicy.
There are early, midseason, and late blooming varieties.
Peony plants are hardy to zone 3 and embrace cold winters.
The striking plants can live up to 100 years.
Ants are attracted to peonies, eating the sugary sucrose the buds secrete before they open.
Peonies make an excellent cut flower.
Popular throughout history, peonies symbolize romance and love. In China and Japan, peonies represent bravery, honor, respect, good fortune, and prosperity.
_______
Sensory Tray Supplies To Collect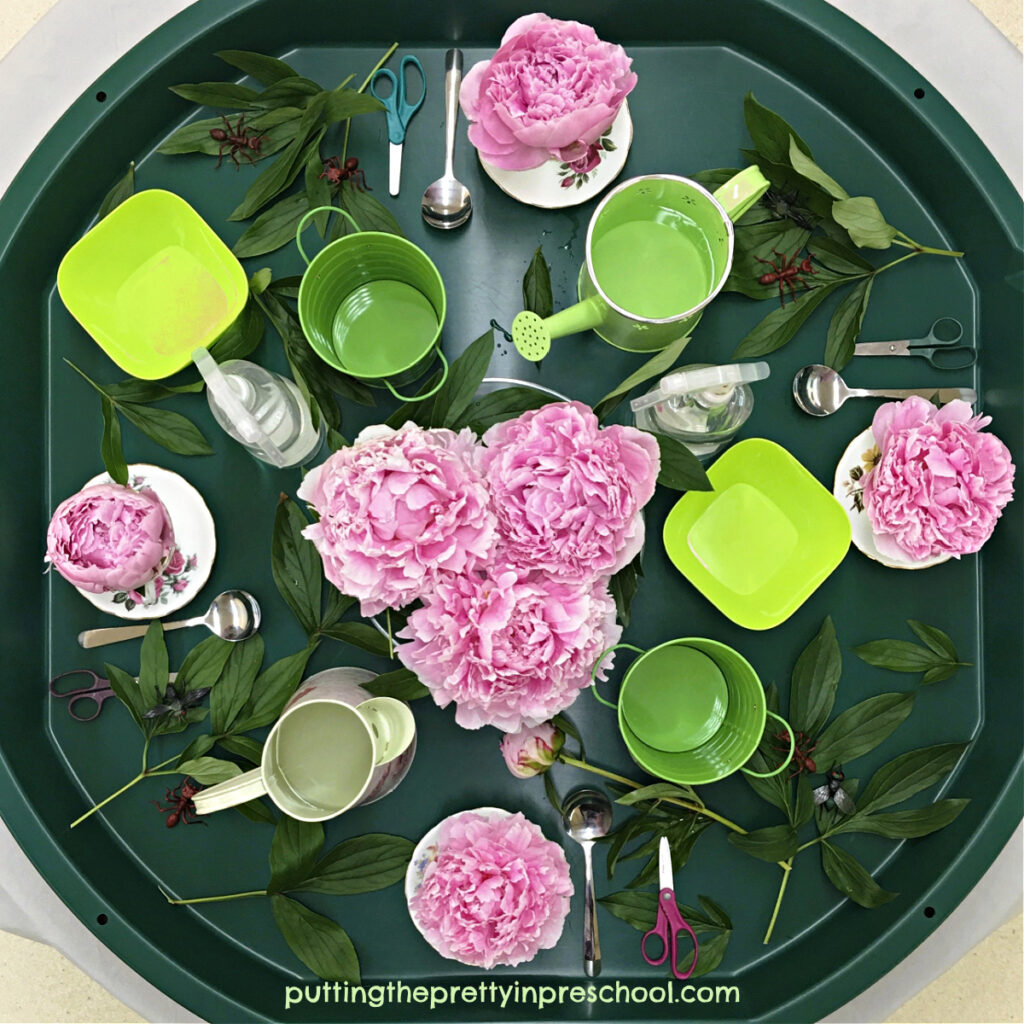 _______
For this easy-to-set-up sensory tray, gather the following:
large tray or bin
tea cups and saucers
cut peony flowers and leaf stems
peony bud sprays
bowls
cake stand
small plant pots and watering cans
ant and fly figurines
large tablespoons
scissors
_______
The Teacup And Peony Sensory Tray
In a large sensory bin or active world tray, set up stations with a teacup and saucer, large spoon, and pair of scissors.
Note: My featured tray includes china teacups and saucers.  Use unbreakable ones as an alternative if you are more comfortable with that. No matter which kind of cups and saucers you choose, this sensory activity should be supervised closely.
Set plant pots, bowls, and water-filled spray bottles, and watering cans around the teacup stations.
Cut peonies leaving two inches of stem, and set one in each teacup.
Position three large peonies cut right to the flower base on a cake stand in the middle of the play tray for an eye-catching centerpiece.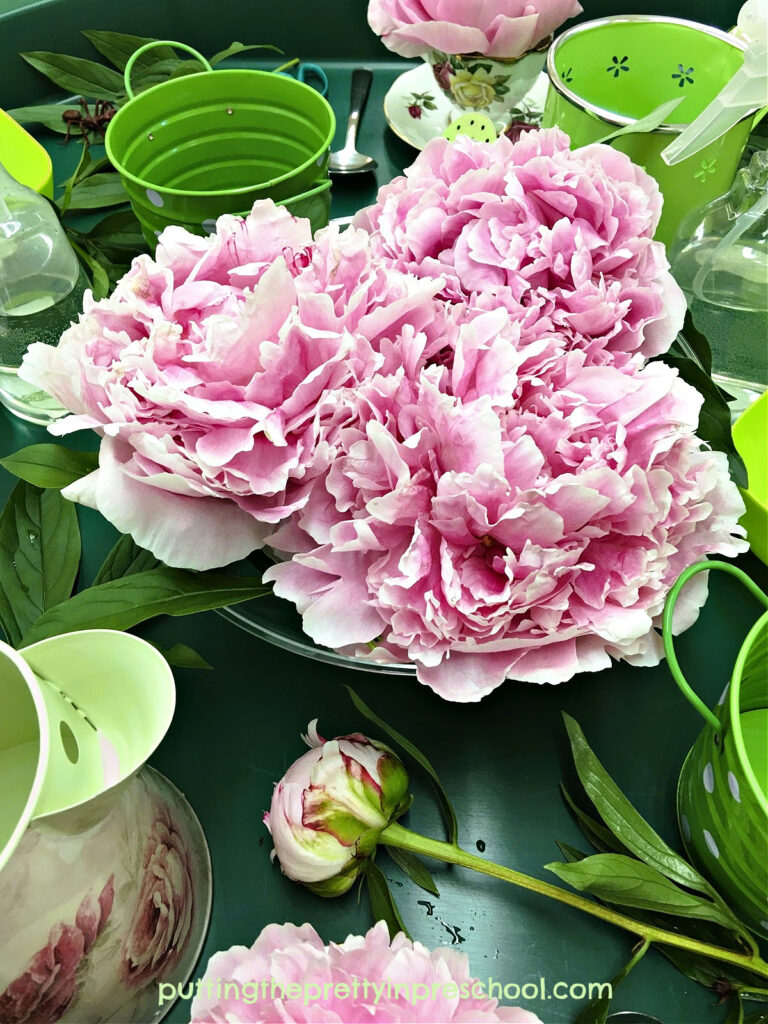 _______
Spread peony leaf stems and bud sprays around the bin, and top them with ant and fly figurines.
Invite your little learners to explore the dainty sensory tray.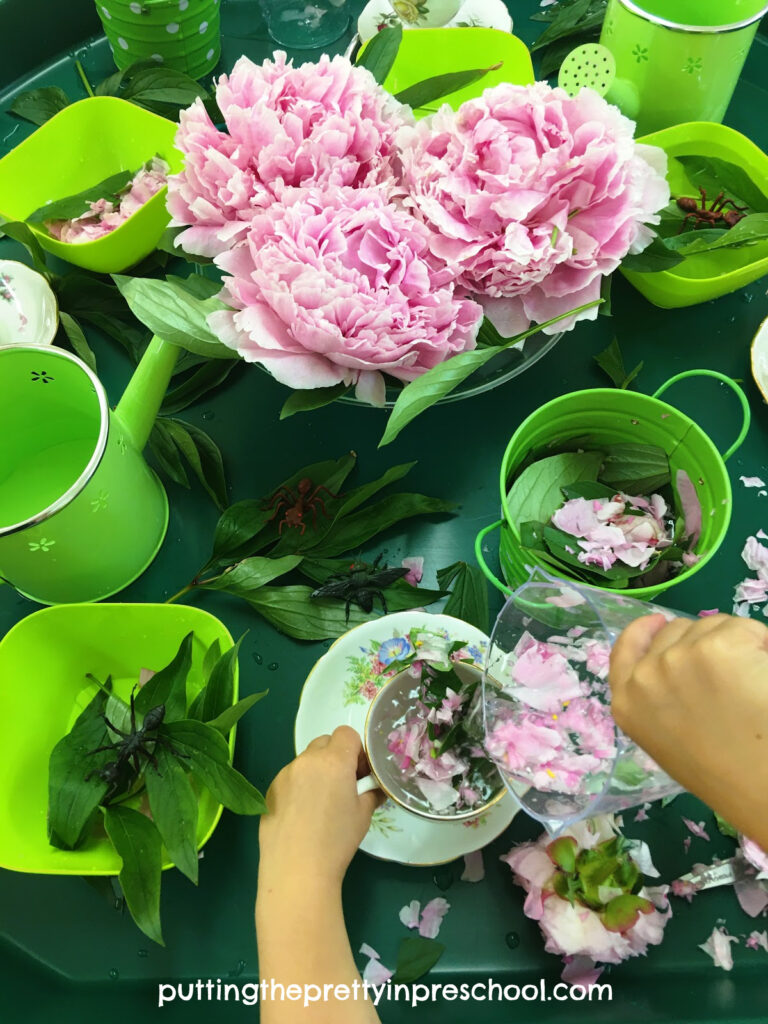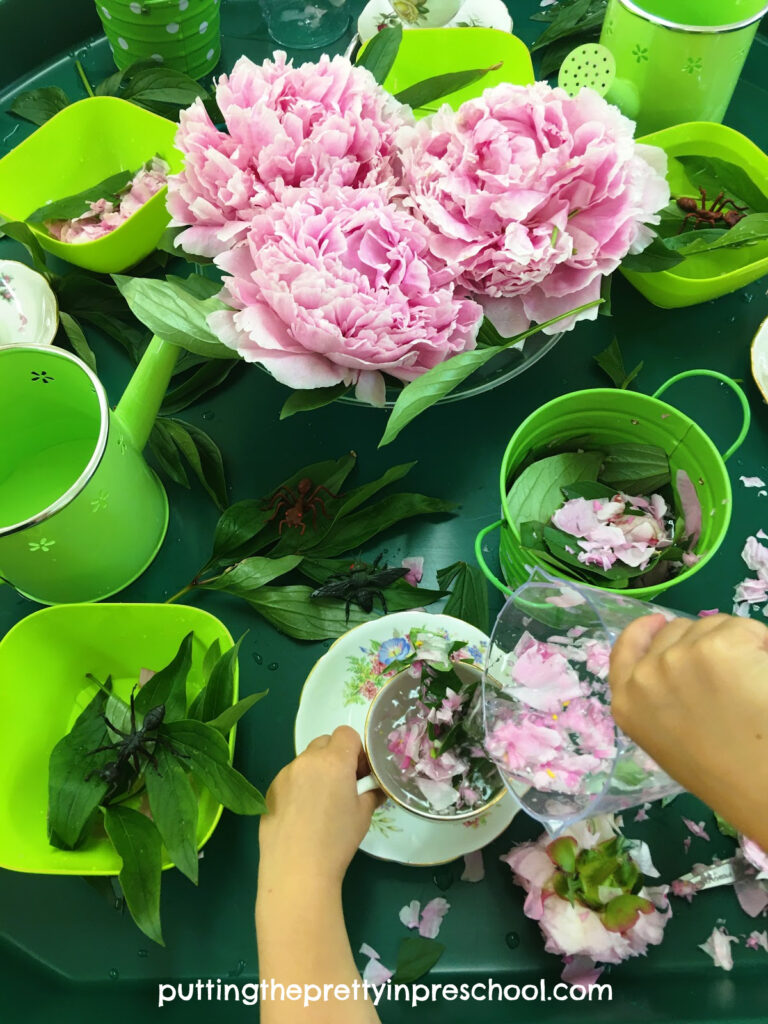 _______
Note: Before going ahead with the activity, I researched whether peonies are safe to use with children. Some websites say they are toxic if consumed in large quantities but not harmful to the skin if touched.
Since my students do not have a habit of putting things in their mouths, I decided these flowers were a go for a sensory tray. Aside from the tactile experience, I felt it would be a good opportunity to discuss plant-tasting and possible toxins/poisons.
If the children in your care like to explore by putting things in their mouths, choose an edible flower for this activity
Tip: To stave off ants, it's best to snip buds before the flowers bloom, and use them once they open. But since we only have one peony plant in our yard, I decided to wait until bloom time so my family could enjoy the flowers first!
_______
Benefits Of The Teacup And Peony Play Tray
Developing eye-hand coordination, practicing using scissors, exploring fluffy peony flowers, and getting the opportunity to use teacups are just some of the benefits of this gorgeous sensory invitation.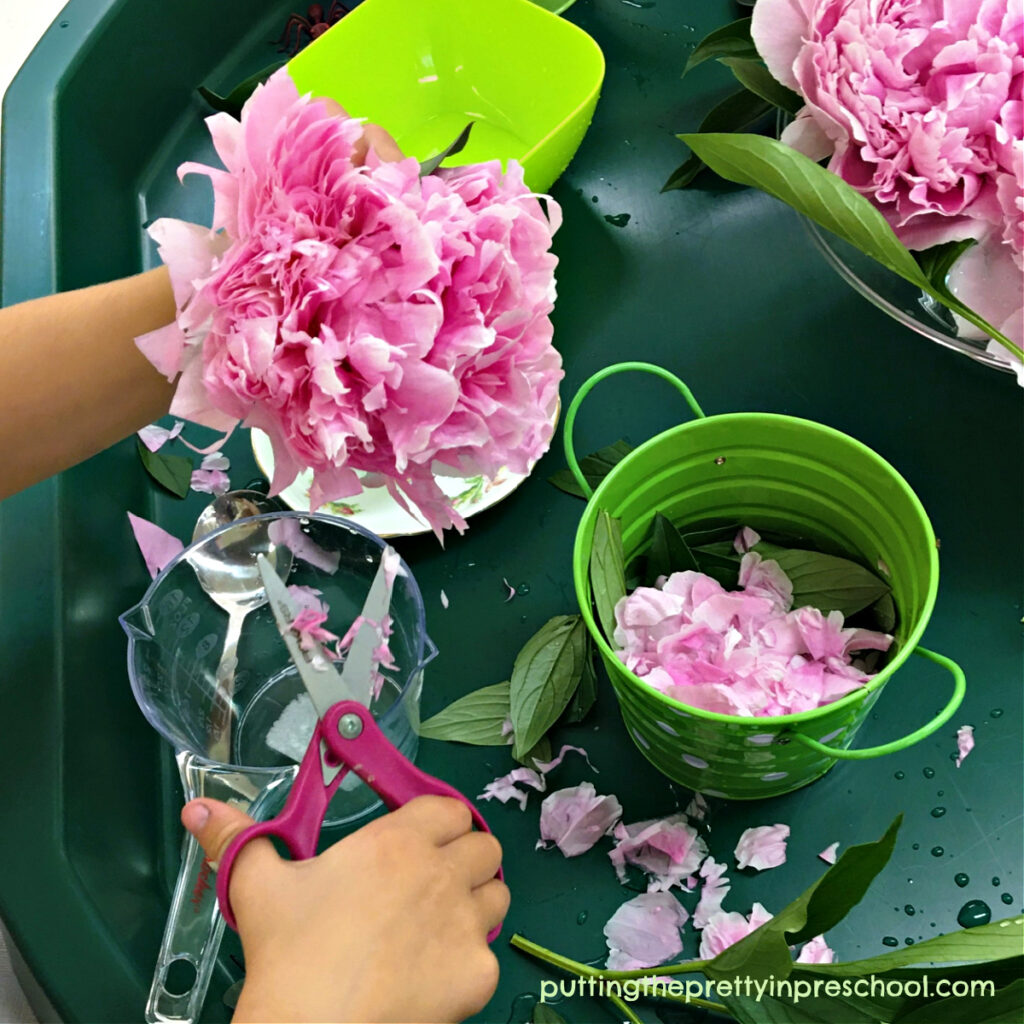 _______
Blogposts About Peony Flowers
Interested in learning more about peony plants? Here are two great blog posts about them:
_______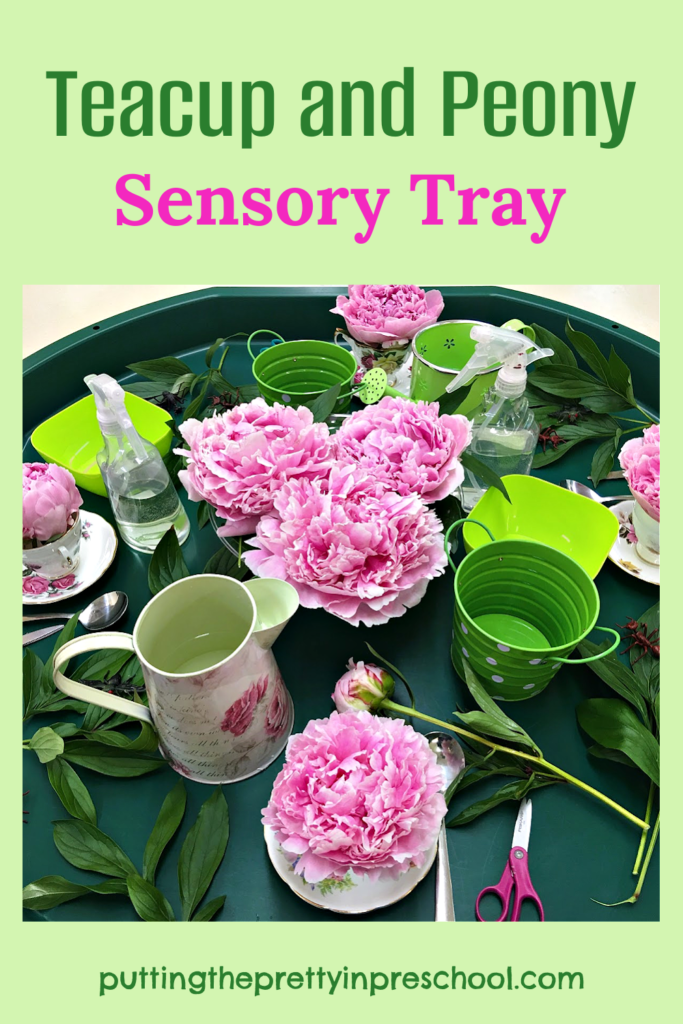 _______
Related: Lilac Flower Sensory Trays
_______
[Read more…]

about Teacup And Peony Sensory Tray