_______
Horse chestnut tree leaves are sizable and showy and have that "wow" factor.  They are deep green compound leaves with five to seven leaflets that live on a tree that is beautiful throughout the seasons. The palmate leaves are showcased along with large, spiked flowers in spring. They turn golden yellow in autumn and are accompanied by dramatic, prickly lime green fruits that are coverings for ultra-smooth nut-like seeds called conkers. The leaves are a spectacular subject for art. Featured in this post are five horse chestnut leaf art activities that are easy to do with your early learners.
_______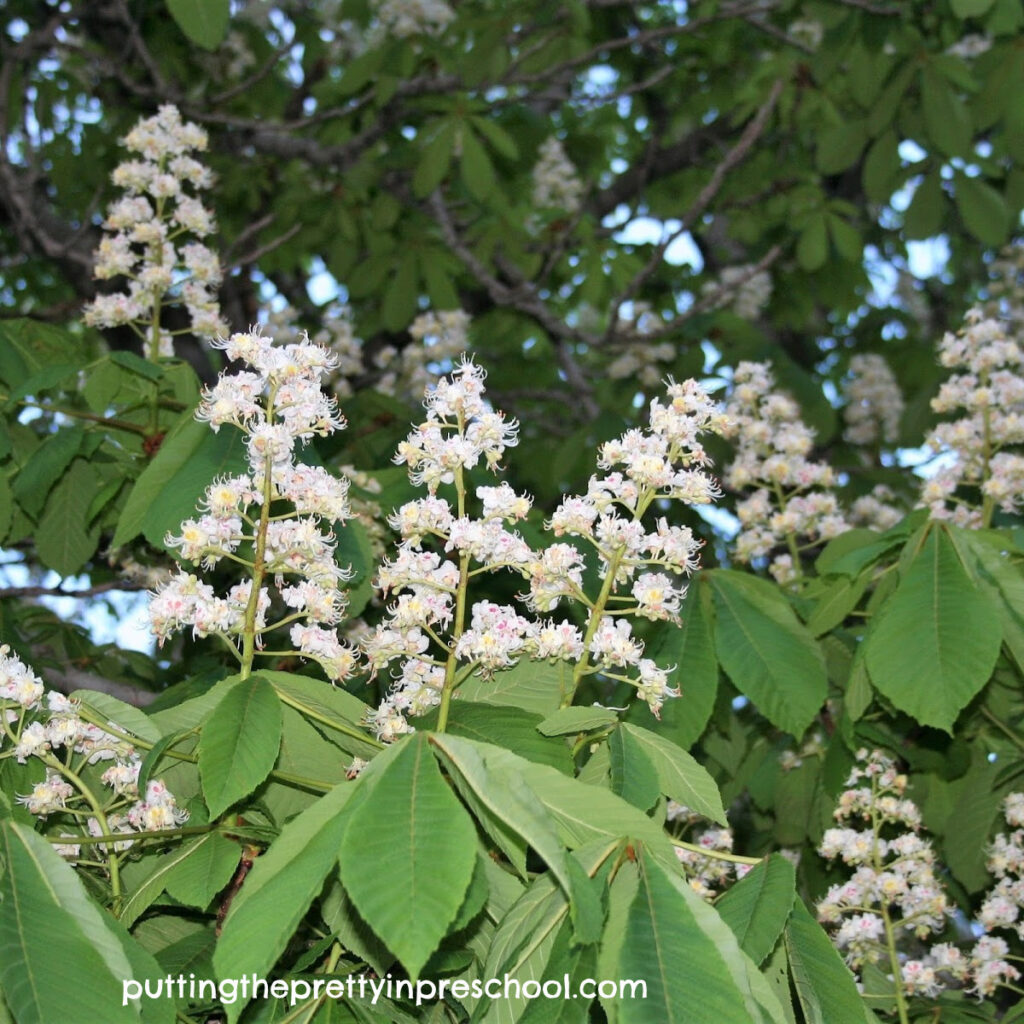 _______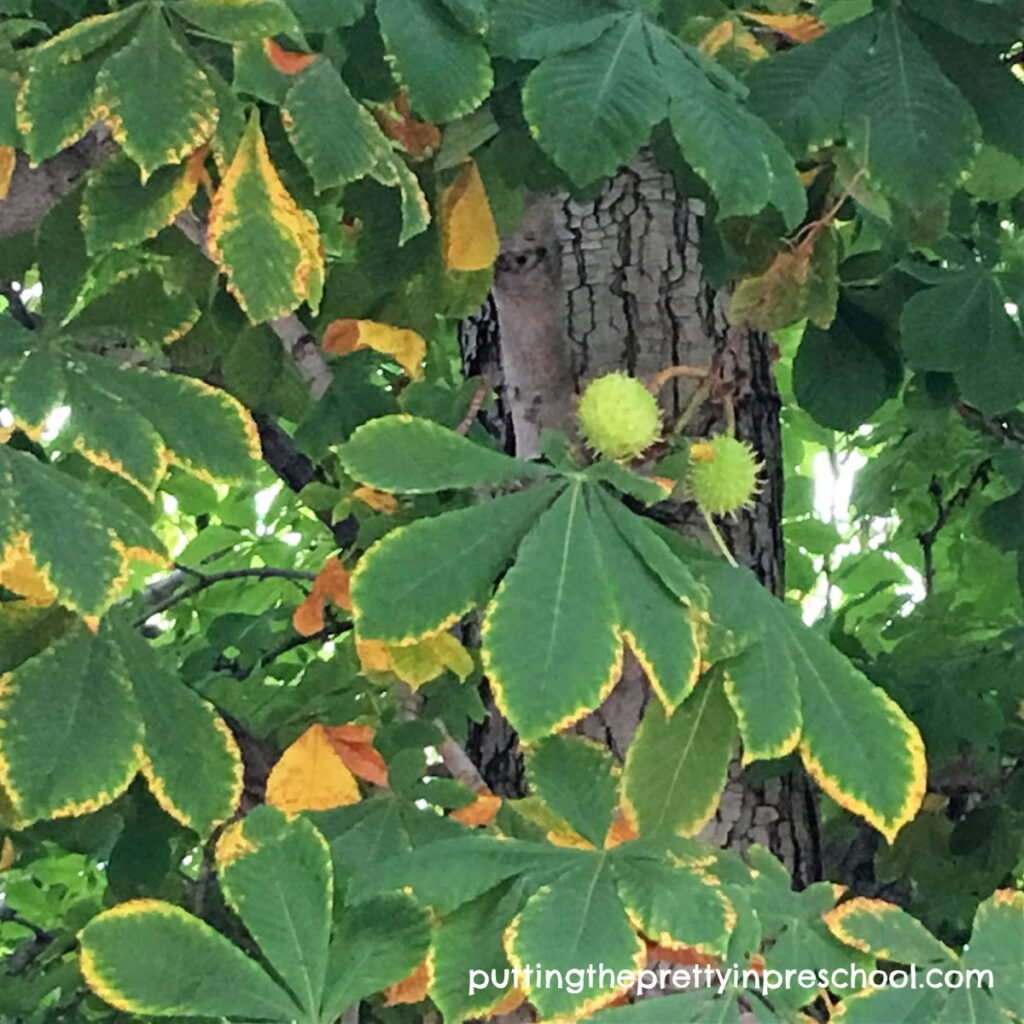 _______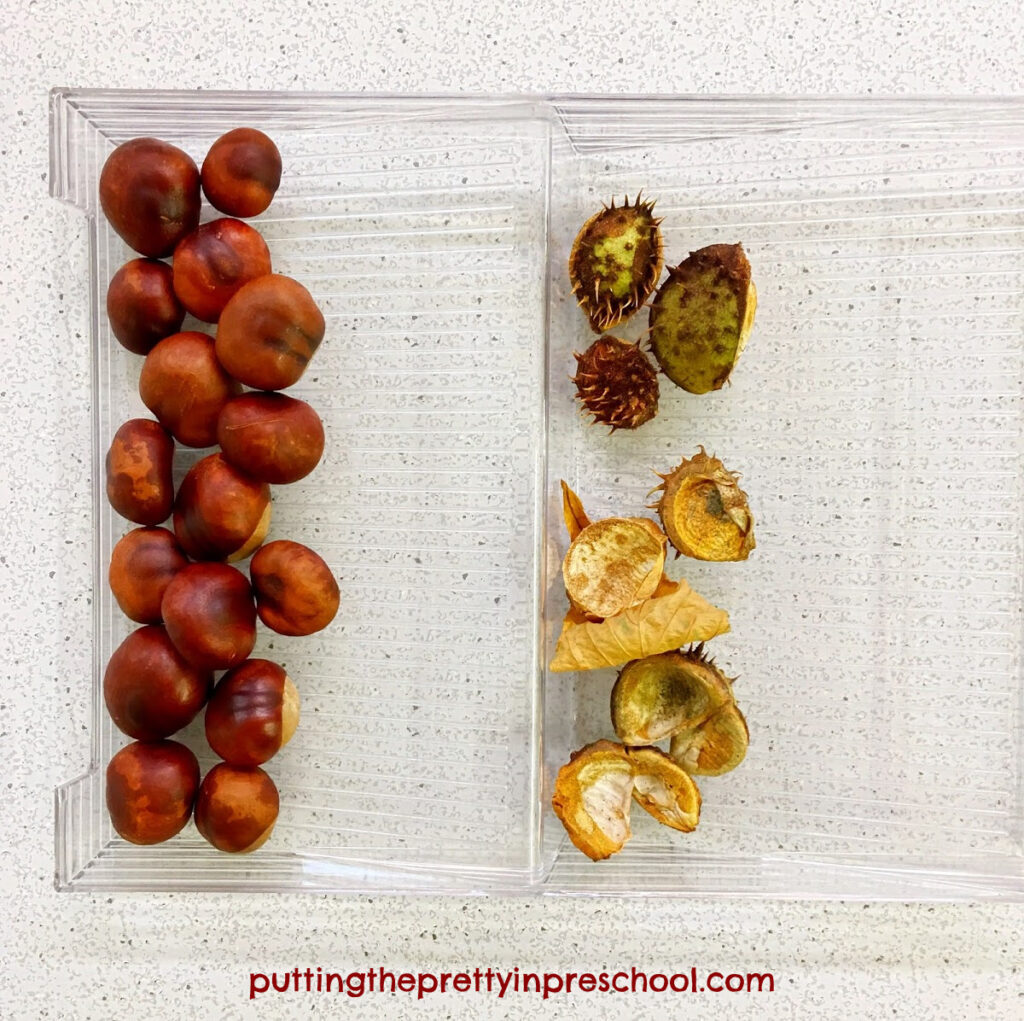 _______
Horse Chestnut Leaf Art Activities
Leaf Print
Set a horse chestnut leaf face down on a table with a paintbrush and tempera paint. Invite your child to paint the leaf, turn it over, and press it down on a sturdy piece of art paper.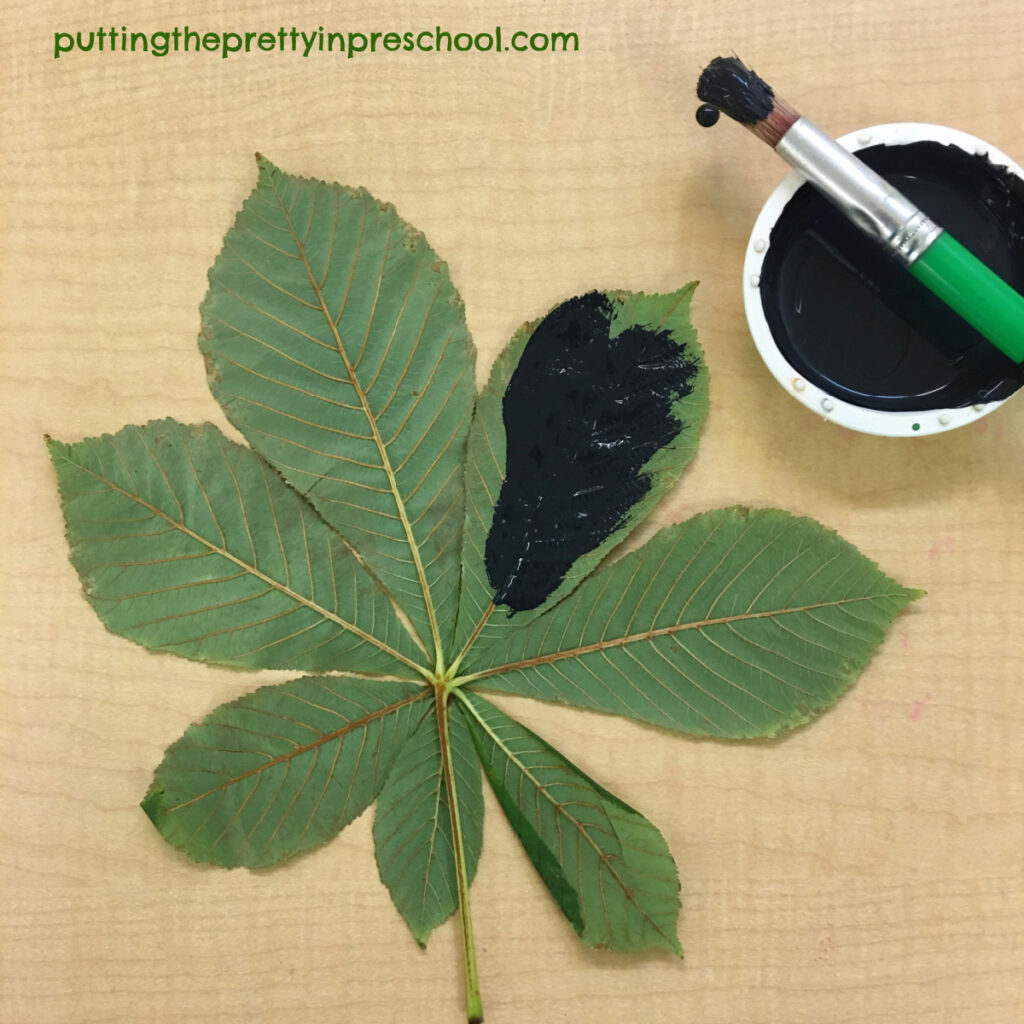 _______
Have your little one rub all over the painted leaf carefully, and remove it from the paper.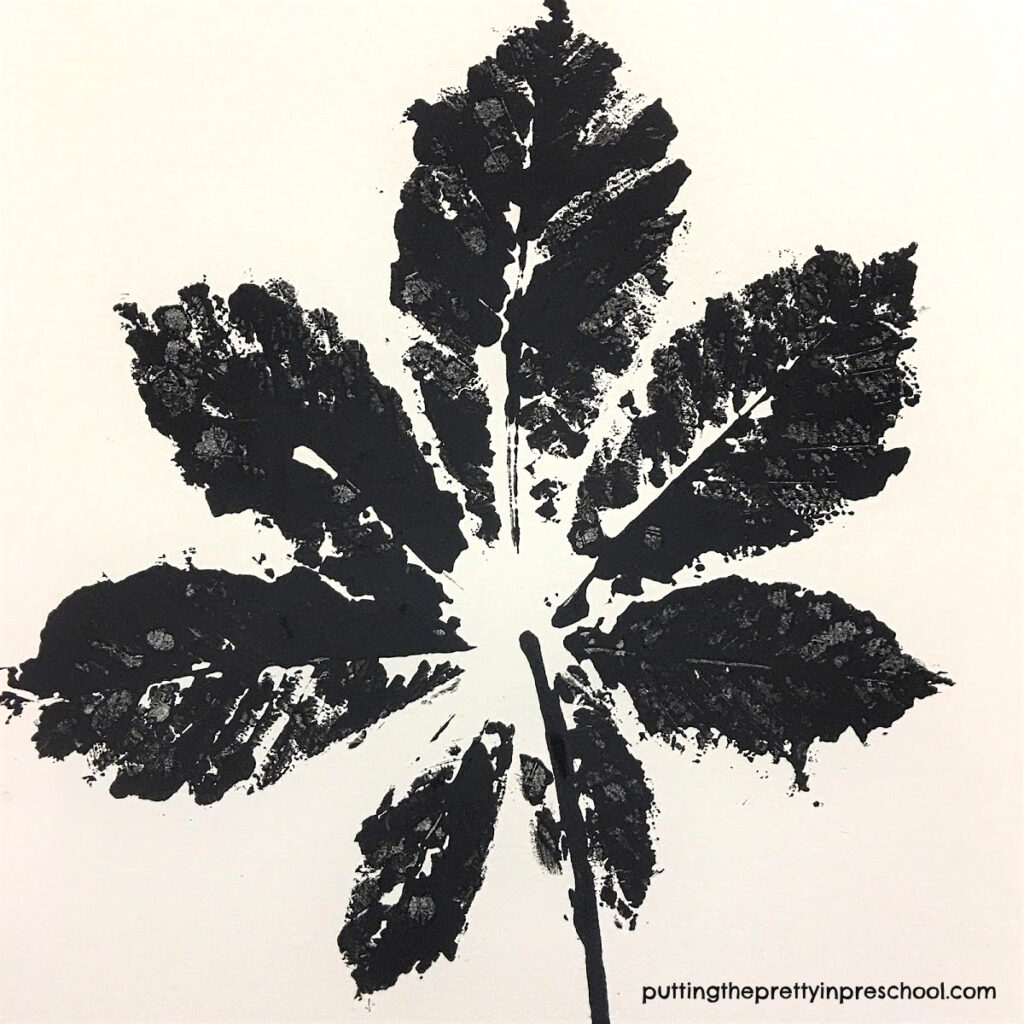 _______
A blackish paint produces an unexpected, striking black and white color scheme.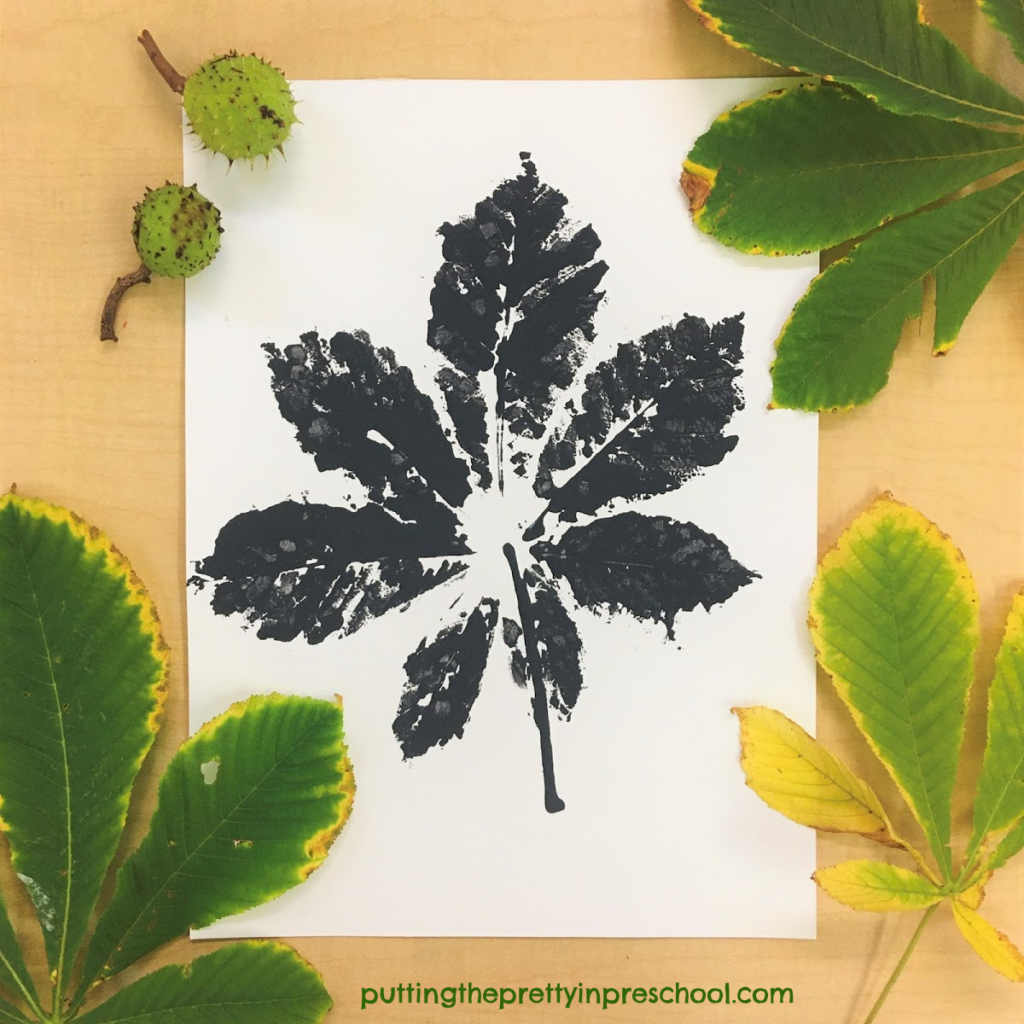 _______
Leaf Dot Art
Invite your little learner to place a large horse chestnut leaf on a piece of paper, and decorate the area around it with dot markers.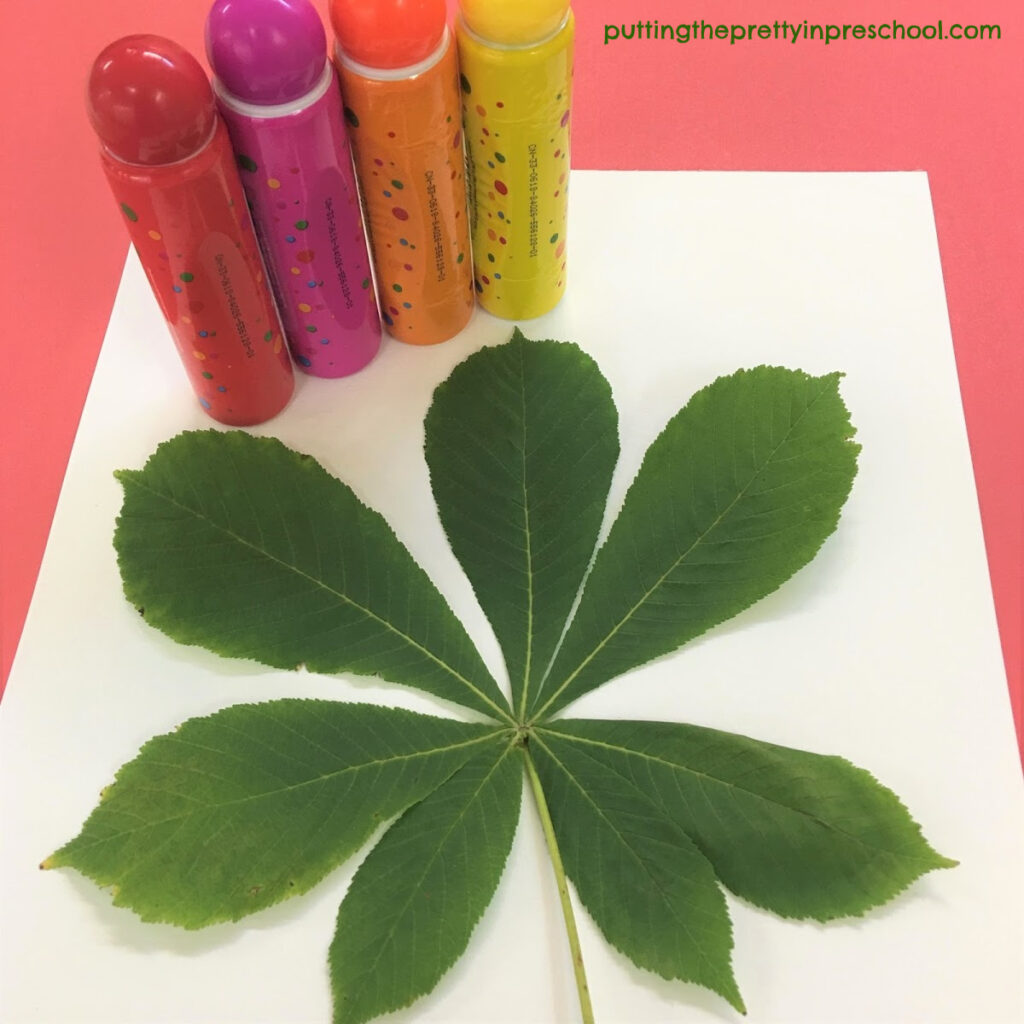 _______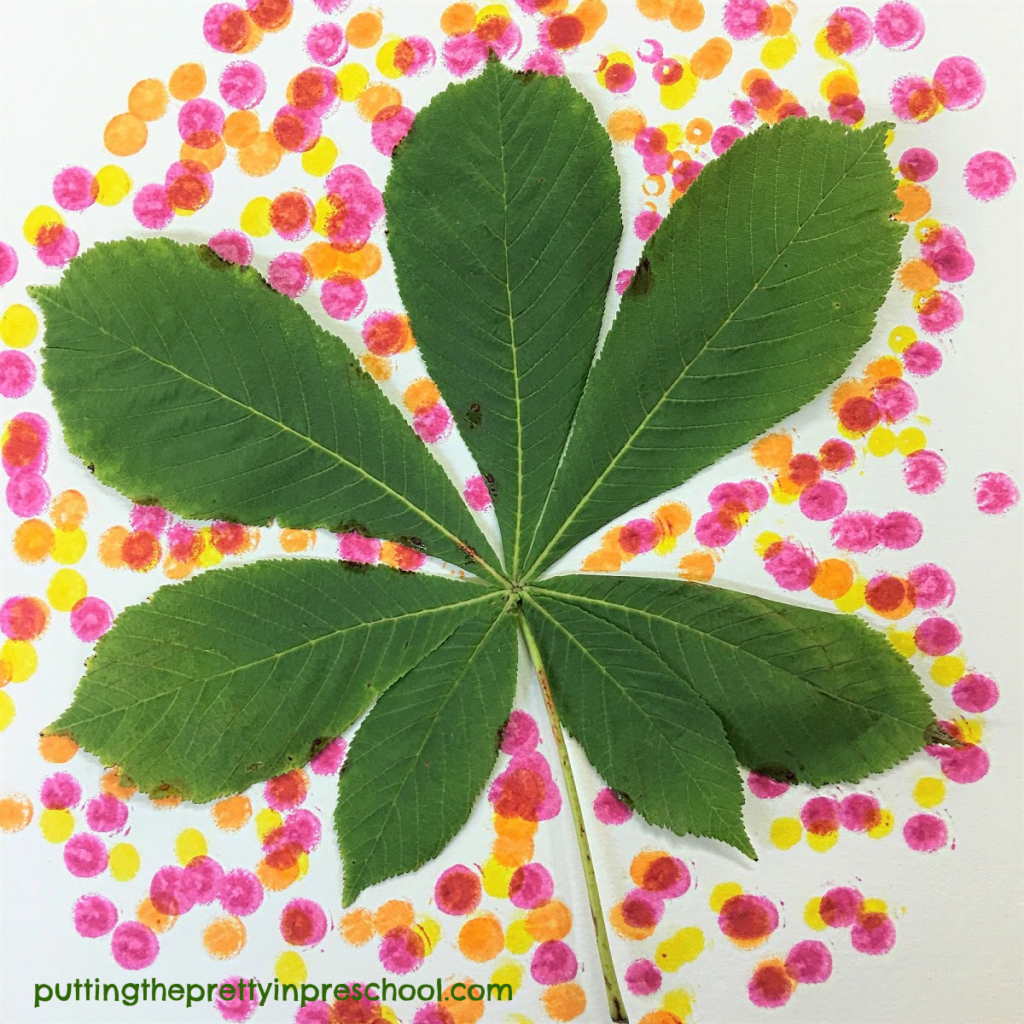 _______
Removing the leaf reveals a white silhouette.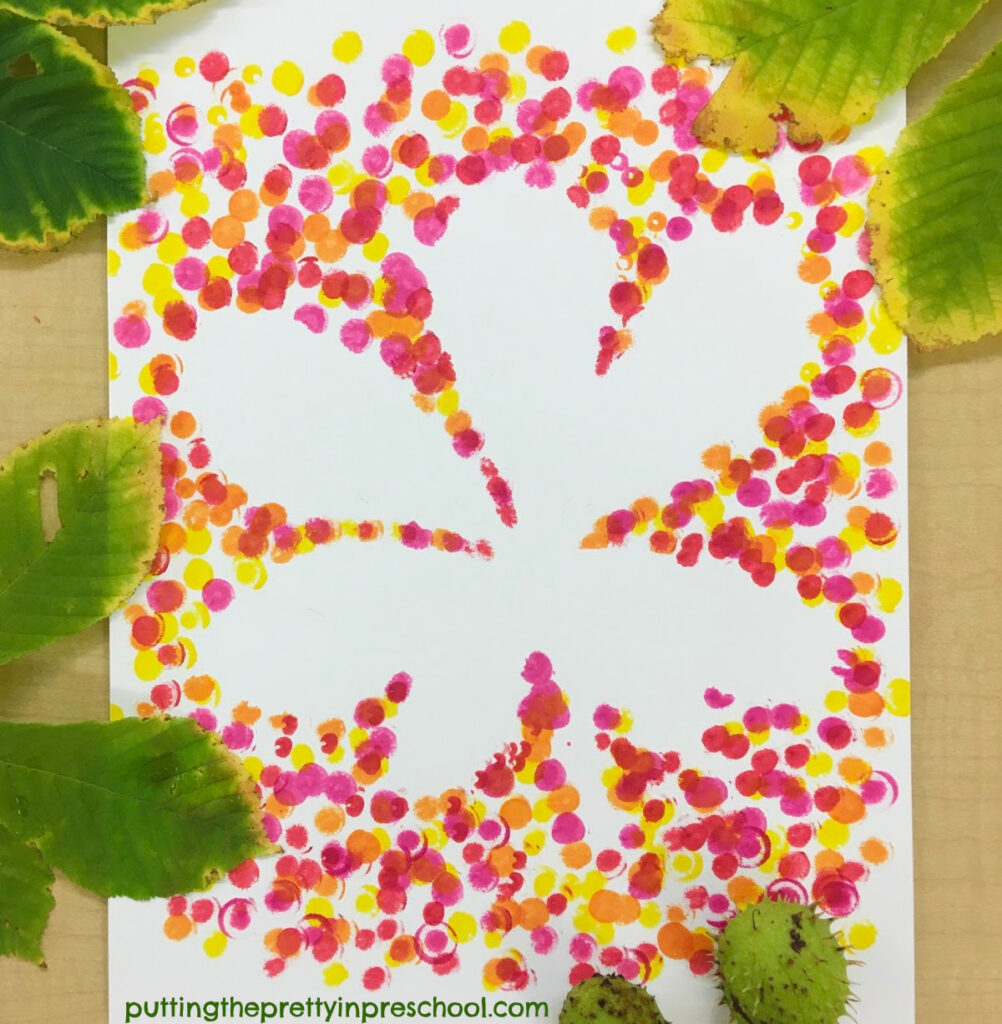 _______
Watercolor Resist Leaf
On a large, sturdy piece of paper, help your child trace around a horse chestnut leaf with a black pastel crayon. Carefully remove the leaf, and encourage your little one to add a midrib and veins to the leaflets. Offer a paintbrush and containers of liquid watercolors for painting the drawing. Food coloring hues mixed with small amounts of water can also be used.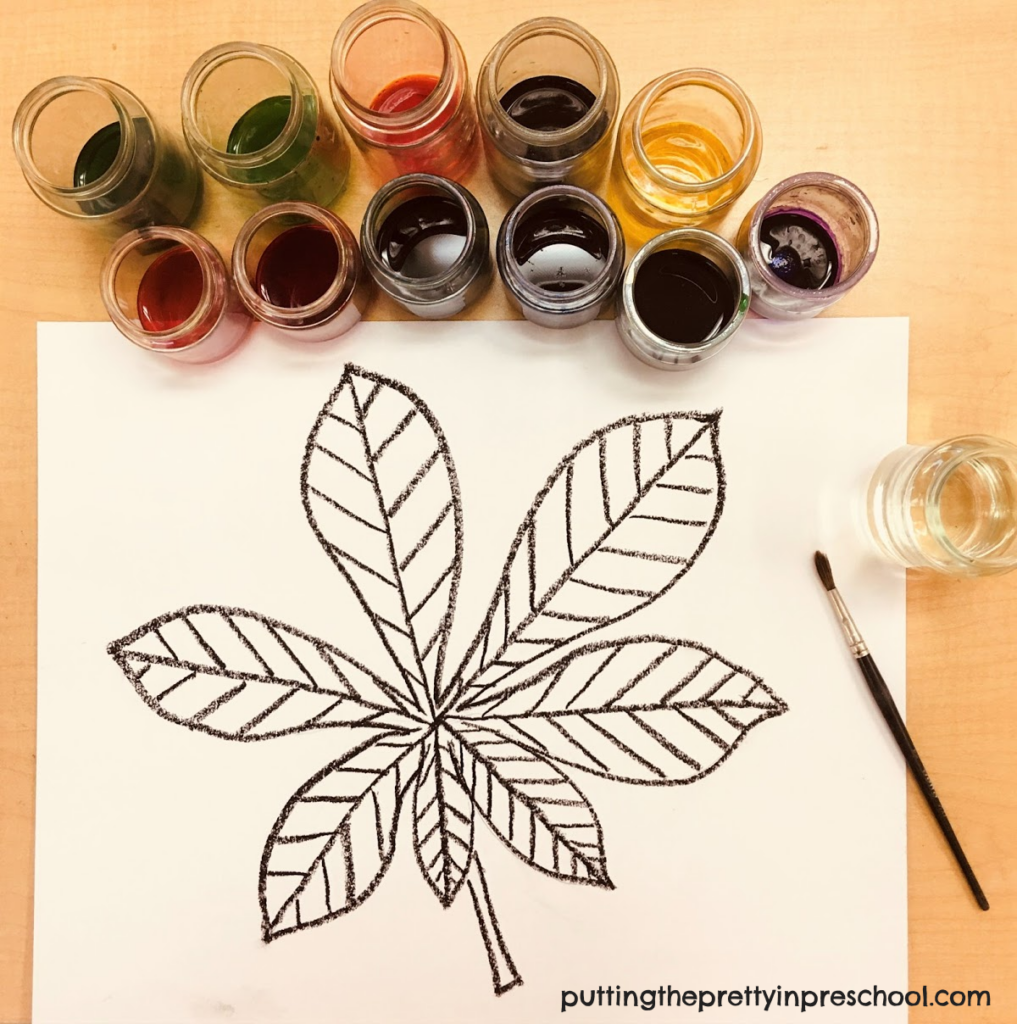 _______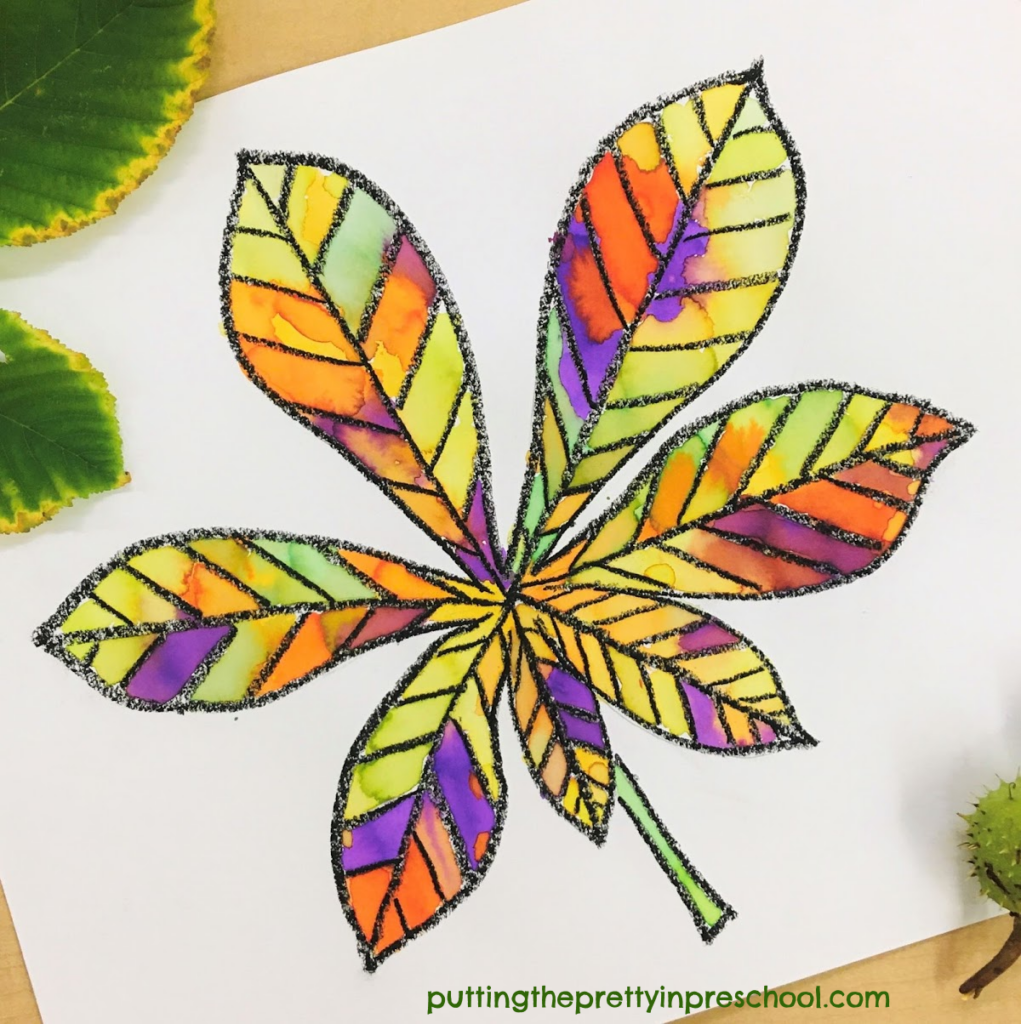 _______
View a video tutorial of this watercolor resist leaf art project.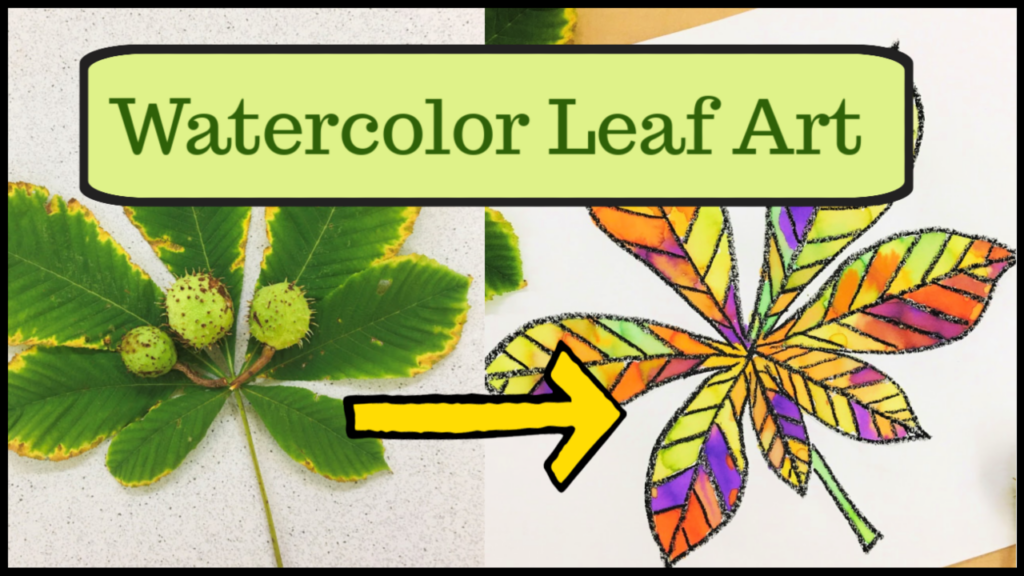 _______
Crayon Relief Leaf
Ask your early learner to place the compound leaf under a piece of thin paper. Offer a selection of peeled crayons. Have your little one rub over the leaf with crayons held upright or laid flat.
A pastel rainbow color scheme adds softness to this art project.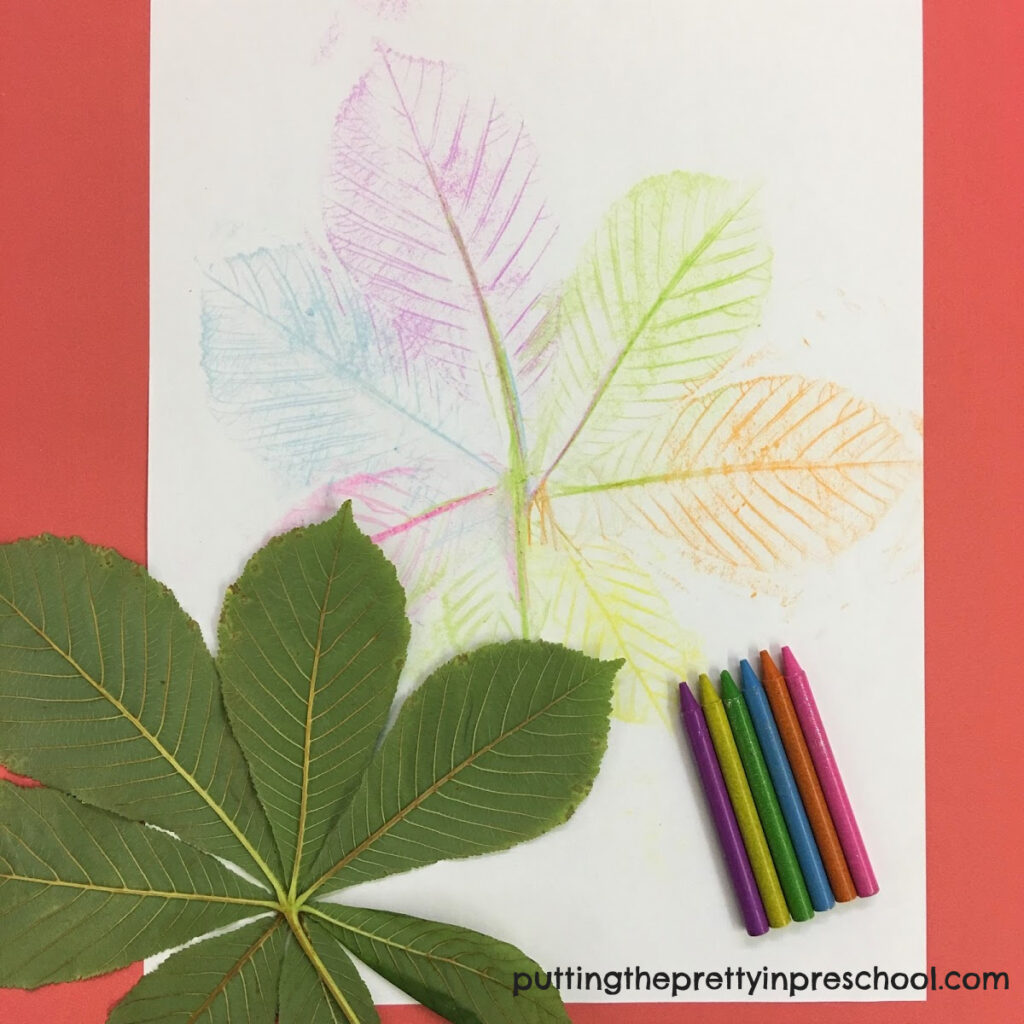 _______
Foil Leaf Rubbing
Place a horse chestnut leaf face down on a table. Lay a slightly larger piece of aluminum foil over it. Help your child gently press the foil over and around the midribs, veins, petiole, and edges of the leaf.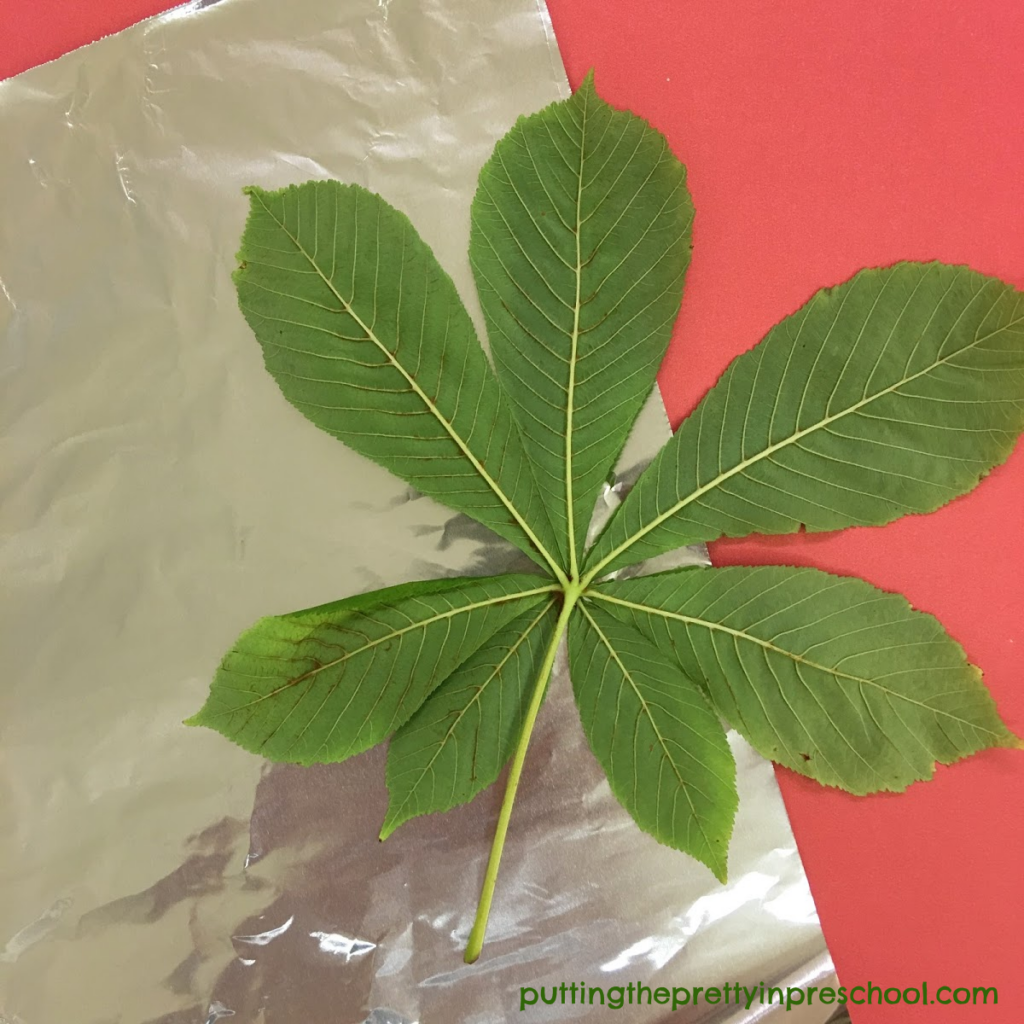 _______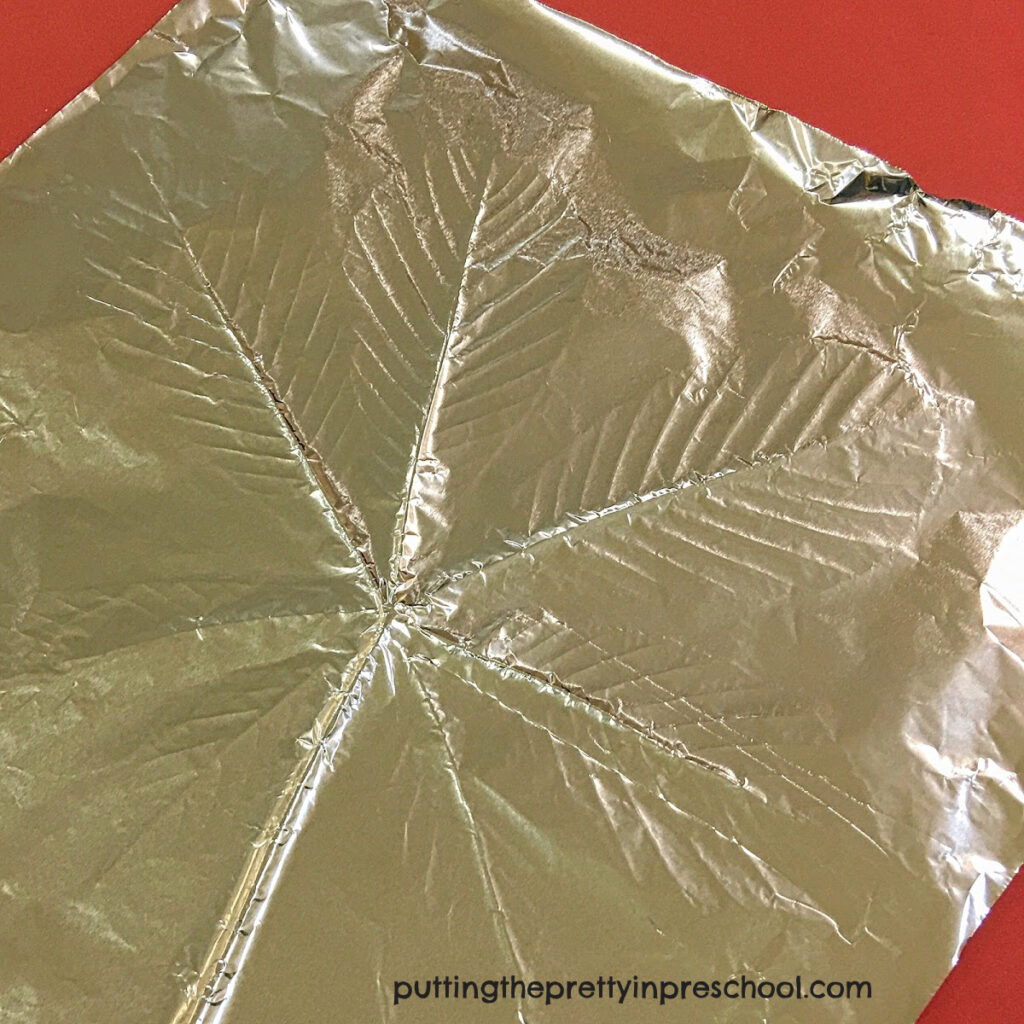 _______
If you are lucky enough to have a horse chestnut tree close to where you live, it can be fabulous to study and photograph throughout the seasons. And horse chestnut leaf art activities add ambiance to home or classroom decor from spring to autumn.
_______
Do you have a favorite horse chestnut leaf art activity or a preferred leaf for art? I'd love to hear about it in the comment section below.
_______
[Read more…]

about Horse Chestnut Leaf Art Activities