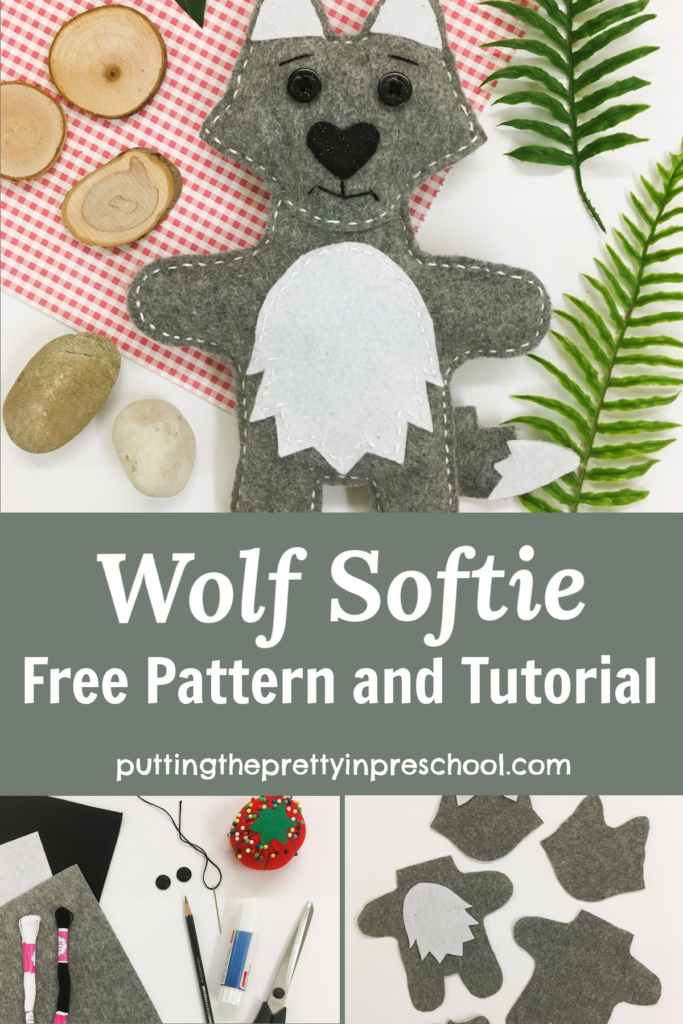 _______
This charming DIY grey wolf softie is ready to be included in storytime or play. It is an entry for #sewasoftie on Instagram, and part of a tutorial hop organized by Trixie Symonds on her amazing "Sew A Softie" website. The theme for the July 2022 softie sewing projects is "magic."
It seems like a poor fit for a wolf softie to be part of a magic theme. After all, wolves are depicted as anything but magical in many storybooks. They are usually hungry villains that are devising a plan to eat one or more of the other characters for dinner!
Although super entertaining, these books give wolves a negative reputation. But there is a trend wherein authors write stories that portray wolves as more sympathetic. The tales "pull out the magic rather than the madness" in their wolf characters. And that's how wolves, including my softie, fit into the 2022 "magic" theme for the current "Sew A Softie" topic.
_______
Supplies To Collect
To craft the wolf softie, gather together the following supplies:
9 x 12 inch felt sheet of white glitter felt, and a same-sized sheet of black glitter felt
three 9 x 12-inch sheets of grey felt
white and black embroidery thread
embroidery needle
sewing pins
polyester fiber fill
two small black buttons
scissors
white glue
glue paddle
wolf softie pattern
_______
Making The Grey Wolf Softie
Download this pattern to make the wolf. You may wish to make yours slightly bigger. If so, enlarge the pattern using a photocopier.
_______
_______
Cut two heads, two bodies. and a tail out of grey felt. Snip a chest, two ears, and two tail tips from white. Cut a heart nose from the sheet of black.
Note: You'll have most of the black felt left over, but it will be useful for other projects, such as this lovely star wand by @life.with.moon.and.co.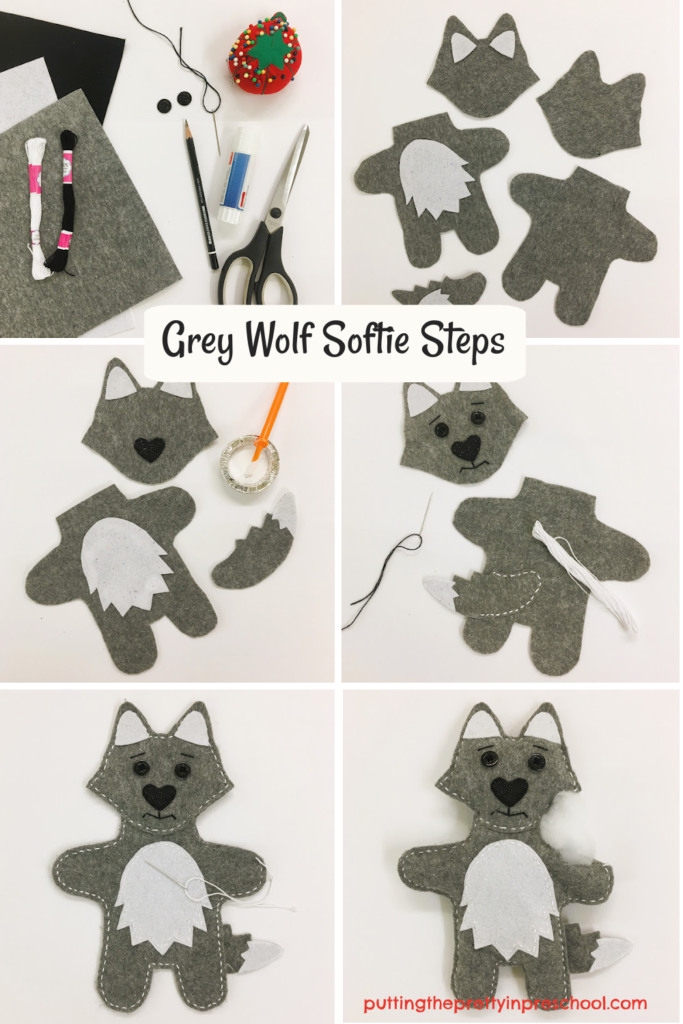 _______
Using white glue and a glue paddle, adhere the ears and nose to the front piece of the head, and the white chest to the front section of the body. Then glue a white tip to both sides of the tail.
Using black embroidery thread, stitch on the button eyes. With a back stitch, add on a mouth. Then stitch on eyebrows to give the wolf a little more character. You can lightly pencil in dots and lines on the felt first to mark where the facial features should go.
Note: You can change the formation of the mouth and eyebrows to give your wolf a unique expression.
Then, attach the tail to the back of the body with a running stitch. Stitch the white chest on the front.
Afterward, pin the front and back head pieces together and stitch around the sides and top. Leave an opening at the neck.
Next, pin the heads to the bodies, and the front to the back. Make sure all pieces match and are ready for sewing.
With a running stitch, fasten the head and body parts together.
Using the same stitch, go around the body of the wolf, leaving an opening for the fiber fill.
Note: The thread color for most of this wolf is white. Black or grey thread works well too.
Stuff the wolf with polyester fiber fill.
Finally, sew closed the opening in the wolf.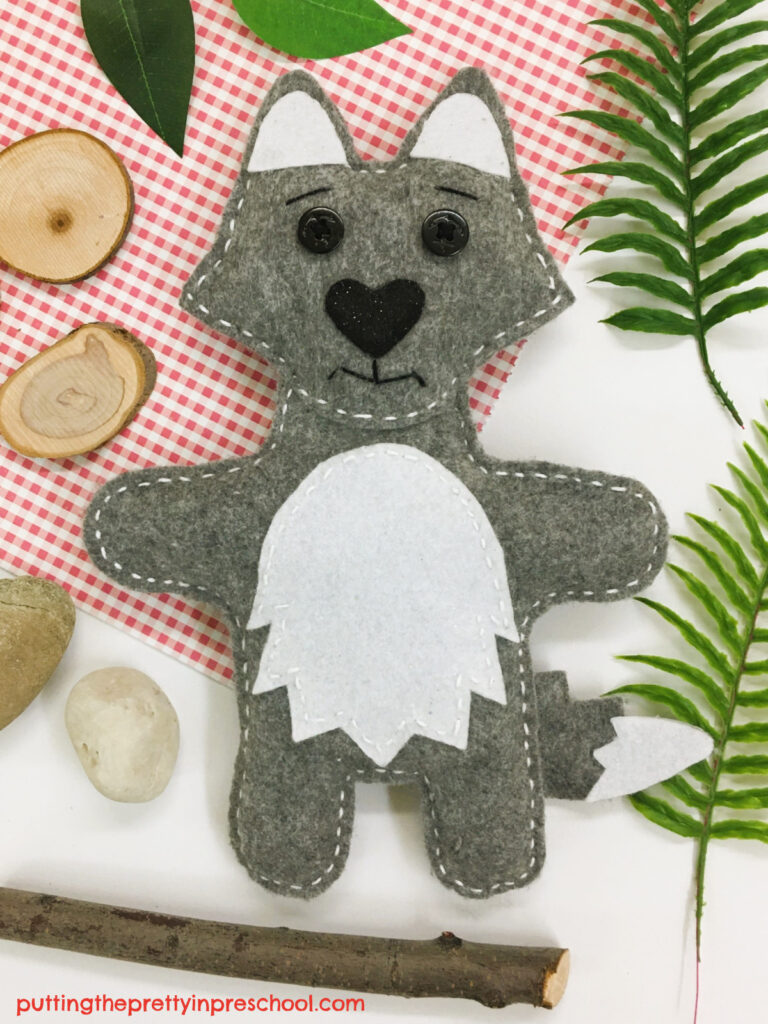 _______
Good Books Featuring Wolves
This wolf softie could make its first appearance just before or after reading a few storybooks to children featuring wolves. It would be a handy accessory for retelling stories. Below is a list of delightful storybooks to share. In each one, the supporting characters succeed in "pulling out the magic rather than the madness" out of the wolf.
The Wolf, The Duck, And The Mouse by Mac Barnett
Brenda Is A Sheep by Morag Hood
Sheepish by Helen Yoon
When A Wolf Is Hungry by Christine Naumann-Villemin
The Wolf's Chicken Stew by Keiko Kasza
Little Wise Wolf by Gijs van der Hammen
The Girl And The Wolf by Katherena Vermette
Two notable books about little wolves are:
The Way Home For Wolf by Rachel Bright
Little Wolf's First Howling by Laura McGee Kvasnosky and Kate Harvey McGee
_______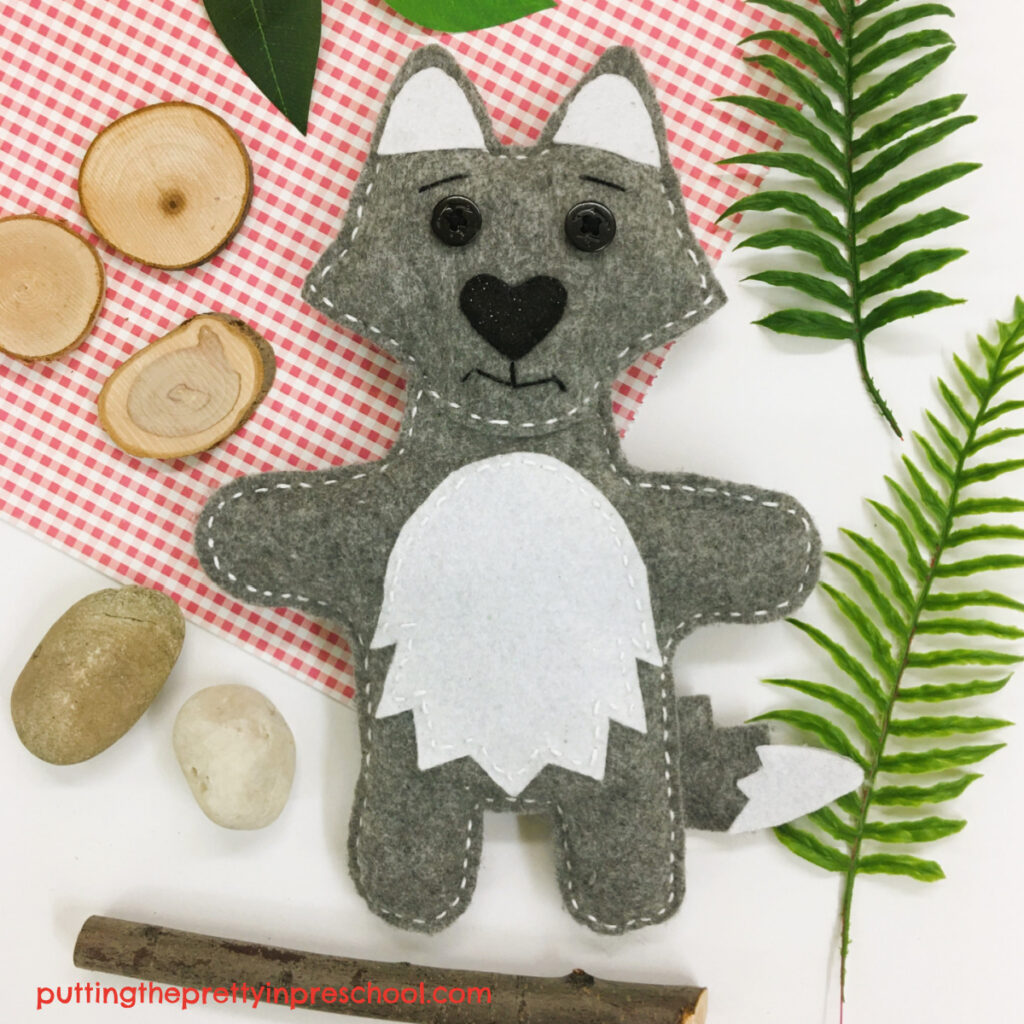 _______
Ten Wolf Facts
Sharing positive characteristics about wolves helps in understanding their magic. Here are ten fascinating wolf facts:
Wolves are the largest member of the dog family.
Grey is the most common wolf color.
Living in packs, wolves are social creatures who mate for life.
Female wolves have four to six pups at a time.
Recognized as a "keystone species," wolves play an instrumental role in keeping nature in balance.
Wolves help control deer and elk populations, and this benefits many plant and animal species.
They are good at working as a team when hunting.
Their leftovers are prime food for many scavengers such as birds, bears, and beetles.
When the animal carcasses decompose, they add valuable nutrients to the soil.
Wolves are afraid of people and are not known to attack them. Killing livestock isn't common.
_______
Sewing a softie is a rewarding experience. Learning new skills, using unique materials, creating a design or following a pattern, practicing eye-hand coordination, and having a cuddly finished project to cherish are all benefits. Include this grey wolf softie on your list of crafts to try!
_______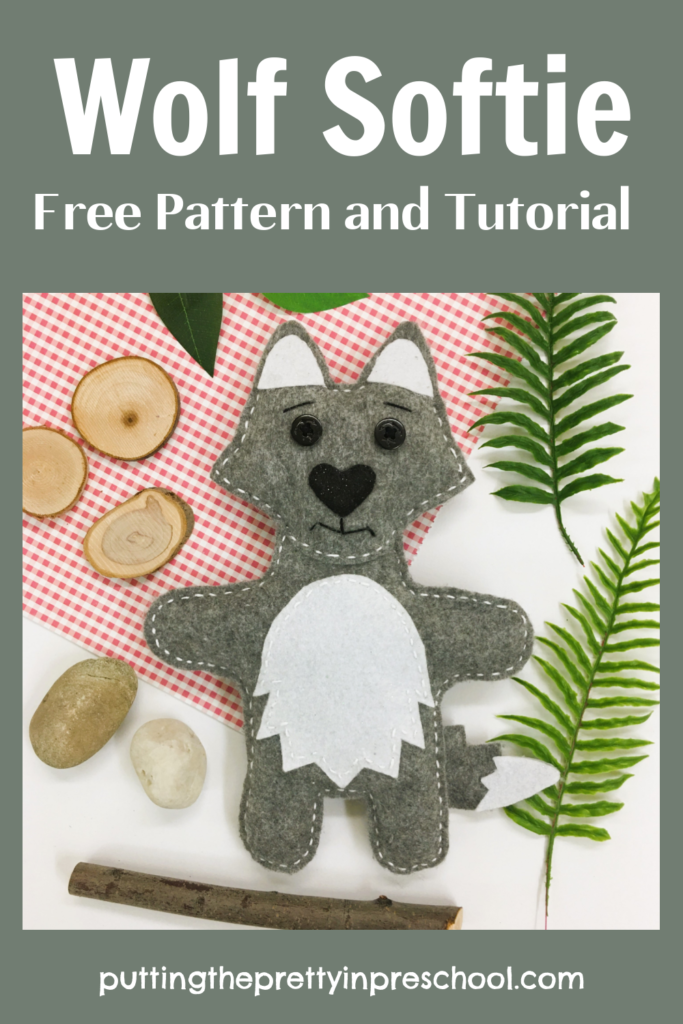 _______
To learn more about sewing softies, check out the book Sewing Simple Softies by Trixi Symonds and Deborah Fisher.
[Read more…]

about DIY Grey Wolf Softie