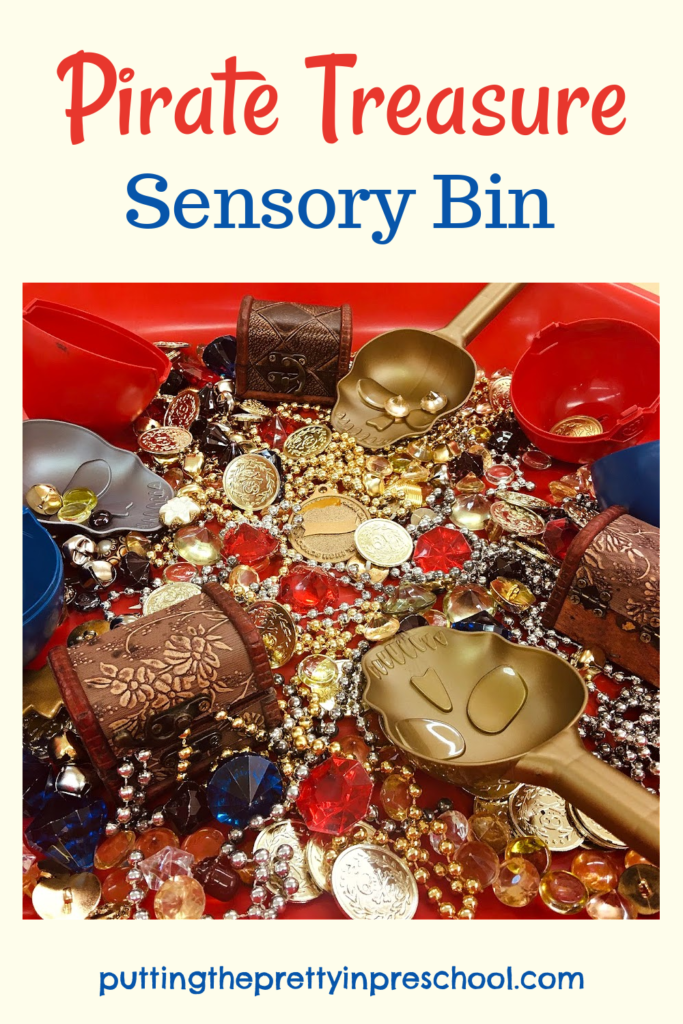 _______
This sparkling pirate treasure sensory bin has loose parts your little mateys will be eager to explore. The low-maintenance bin will spark meaningful discussions and inspire endless creativity. Learning opportunities will naturally happen while children sort through the contents of the bin.
_______
Supplies To Collect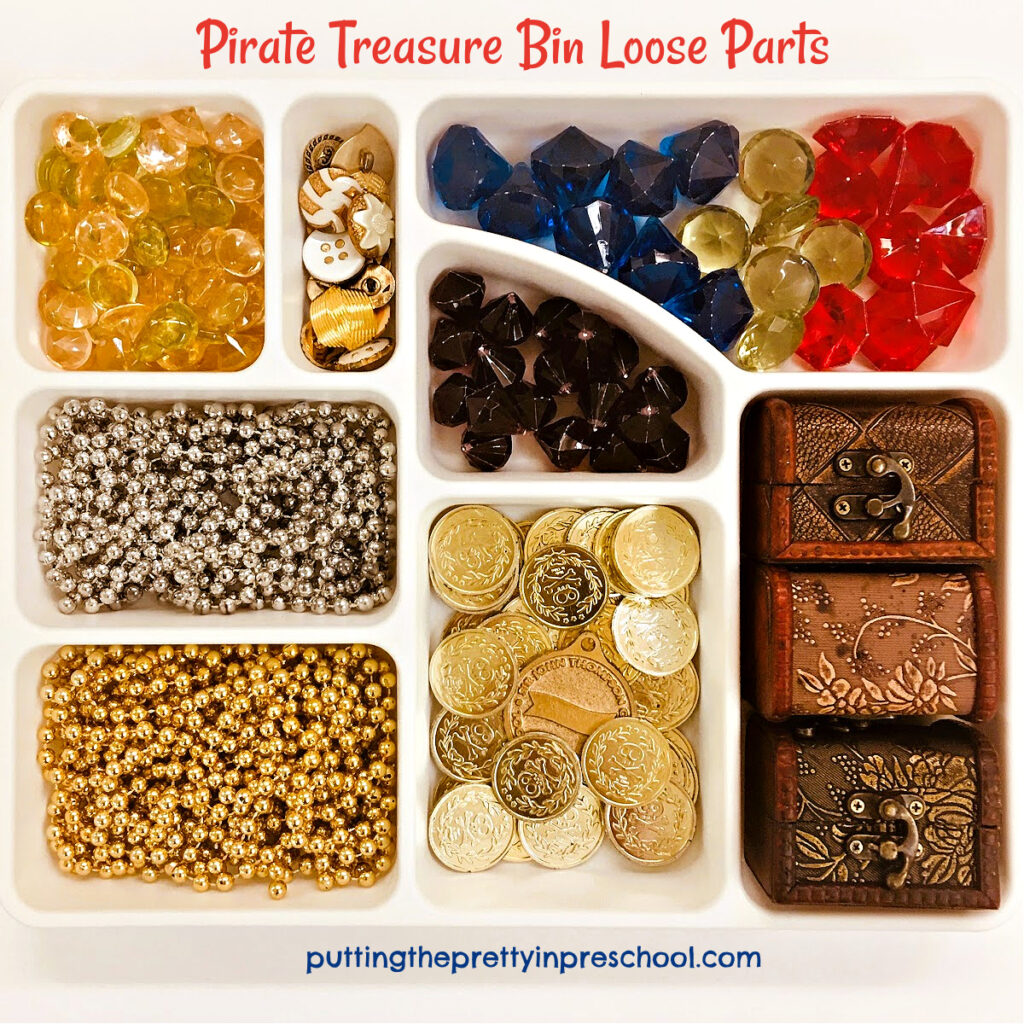 _______
This treasure-filled bin features the following items:
large blue, red, and clear acrylic diamond gems
round gems
ornamental gold buttons
gold medal and coins
metallic silver and gold round bead necklace strips
large egg-shaped storage containers
miniature treasure chests
skull shovels
_______
Follow me on Pinterest for more early learning ideas.
_______
The Pirate Treasure Sensory Bin
The chosen bin for this activity is a red saucer sled, which is inexpensive to buy. It accommodates three or four children at a time.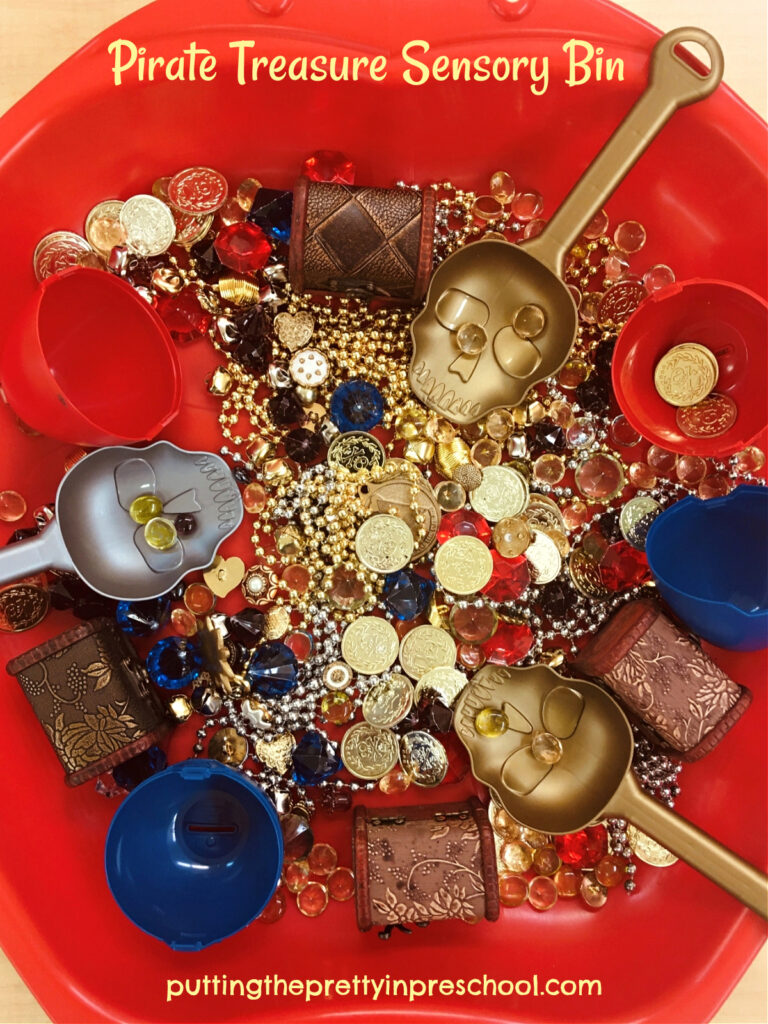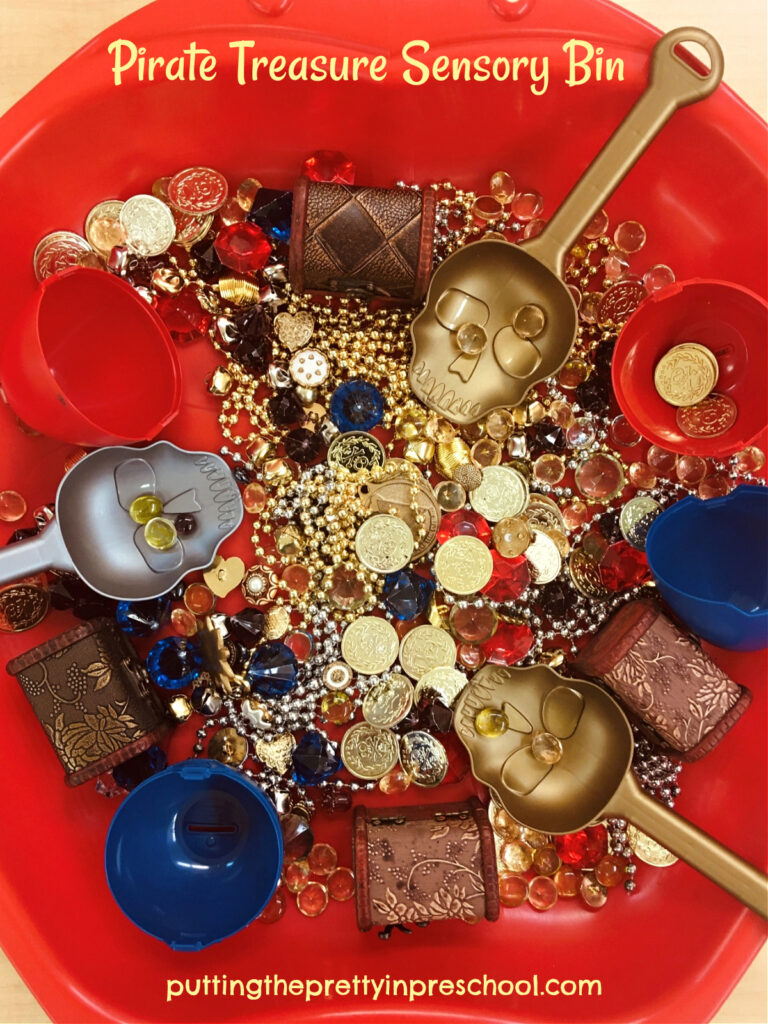 _______
The skull shovels are part of sand playsets. And the "treasure eggs" are toy storage containers repurposed for this activity.
Loaded into the bin are glistening buttons, coins, metallic bead garland strips, a medal, mini treasure chests, and round and diamond acrylic gems. The loose parts fill the tub, so no sensory base is required.
_______
Benefits Of This Sensory Bin
It's always exciting to introduce loose parts to children, and the ones in this pirate treasure sensory bin offer a host of learning opportunities:
Describing loose parts (language development)
Sorting and counting pieces (math)
Placing treasures in eggs and chests (eye-hand coordination, fine motor control)
Picking favorite treasures (making choices, noticing beauty)
Discussing heavy and light treasure chests and containers (math)
Guessing "What's inside the egg?" (making predictions, show and tell)
_______
The Pirate Treasure Bin In My Classroom
This treasure-filled bin is currently in my preschool classroom, and every day the childrens' interest in it grows. The red diamonds are imagined as "fire gems", and the blue ones as "water gems." The container eggs are described as "power balls", and the skull shovels are occasionally used as walkie-talkies. Bead garland strips are formed into a heart shape, and a domed button is reimagined as a "snow globe."
Some children collect a variety of loose parts, and others choose just the coins so they can be rich and buy lots of things!
At times pieces get taken to other play centers, offering additional opportunities for creative thinking.
After a few days of exploring the bin, it is now on the light table, offering "enlightened" opportunities for exploring and sorting.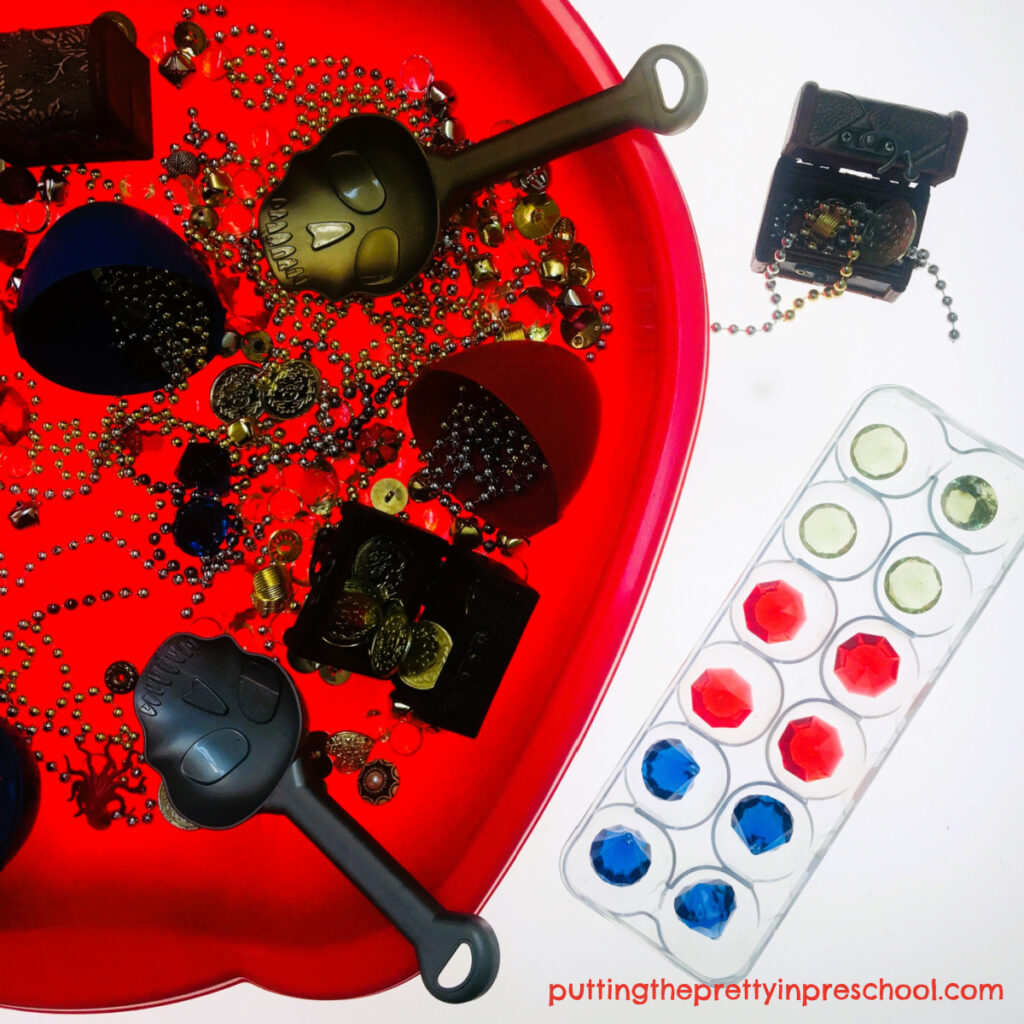 _______
"Arrrrrr" you ready to make this pirate treasure sensory bin? I highly recommend it.
_______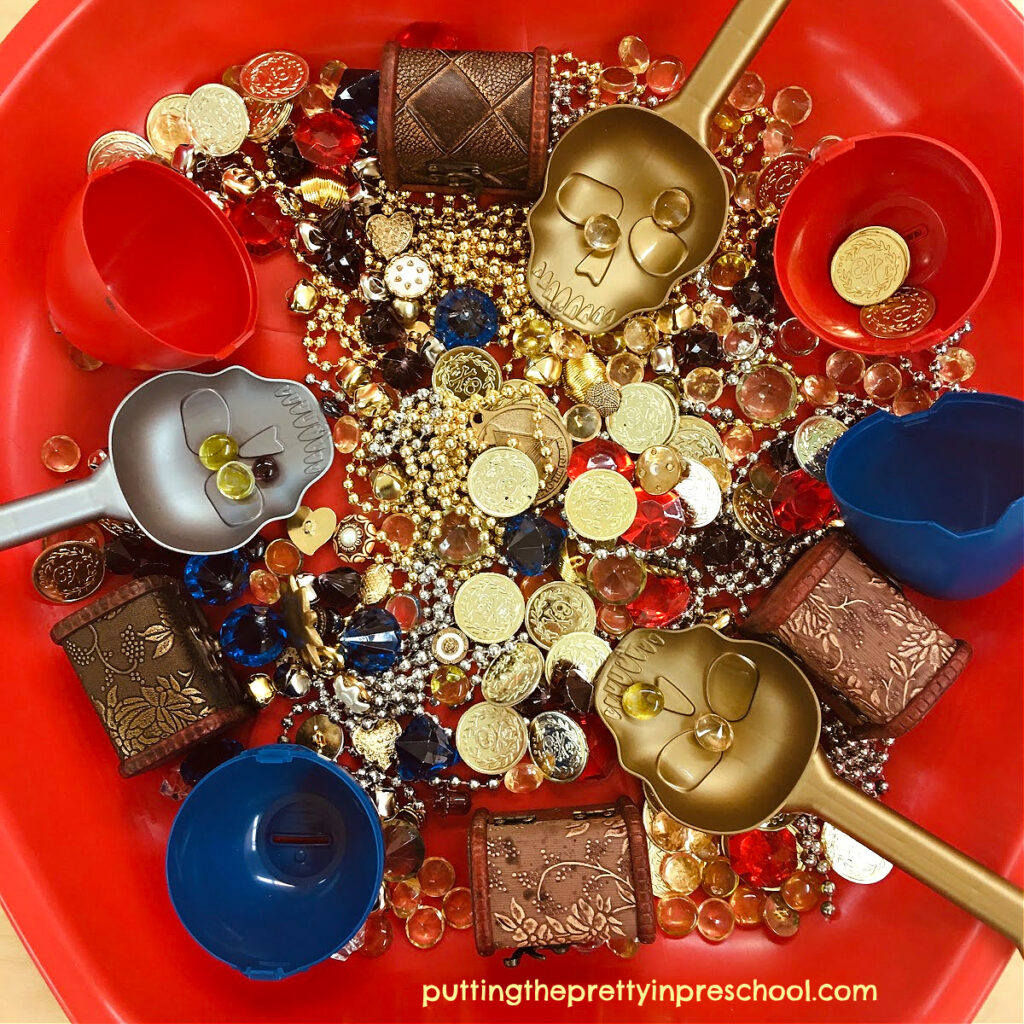 _______
Related: New Year's Eve Sensory Tray
_______
_______
You may also like: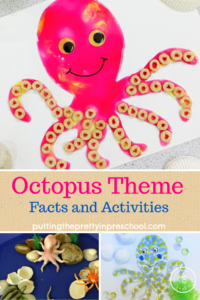 _______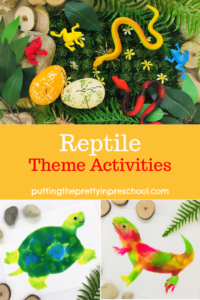 _____
Don't forget to share this post on Pinterest or your favorite social media channel. Sharing is caring!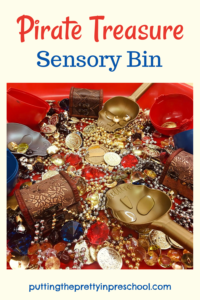 _______
© Annette Kaminsky March 11, 2022
_______
Follow me on social media for more ideas: