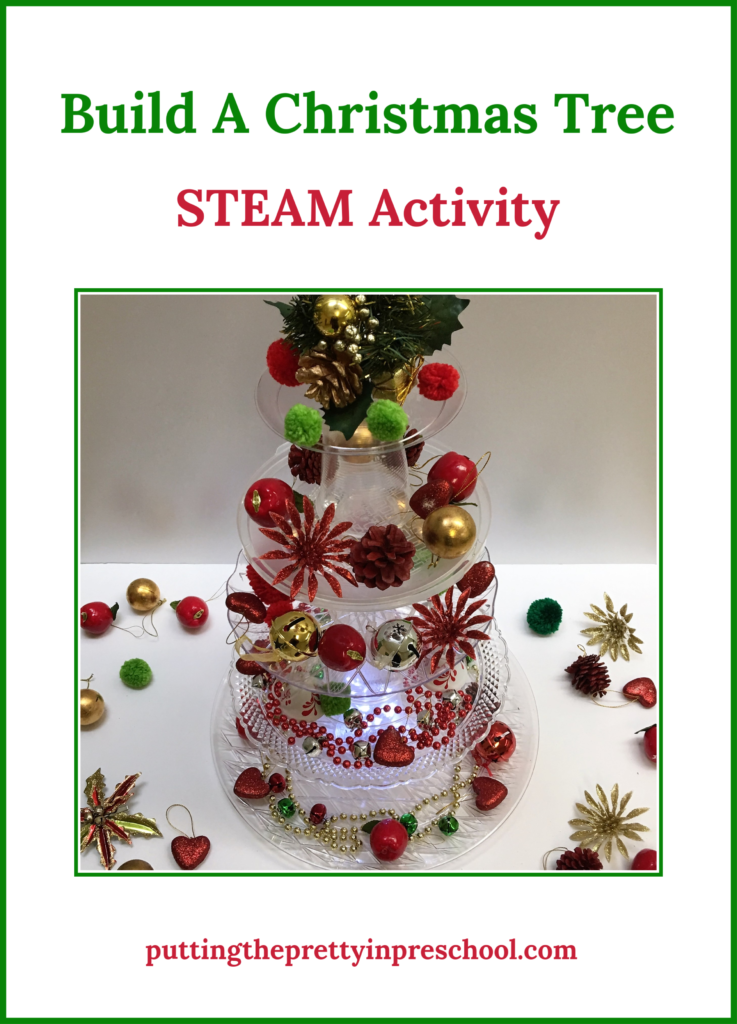 ---
This "Build A Christmas Tree" STEAM activity offers a unique opportunity to incorporate construction, lights, and Christmas decorations in an engaging way. Materials needed are readily available and easy to collect. In the process of building a tree and decorating it, young children progress in many areas of development.
---
Materials To Collect
Clear plastic plates
Clear plastic serving trays
Clear plastic lids (if needed to complete the size range)
Clear plastic cups
Individual lights
Nonbreakable Christmas decorations
Picture/template of the completed project
The serving trays and plates should be of different sizes. I added one clear plastic lid because I could not find the size needed in a plate or tray.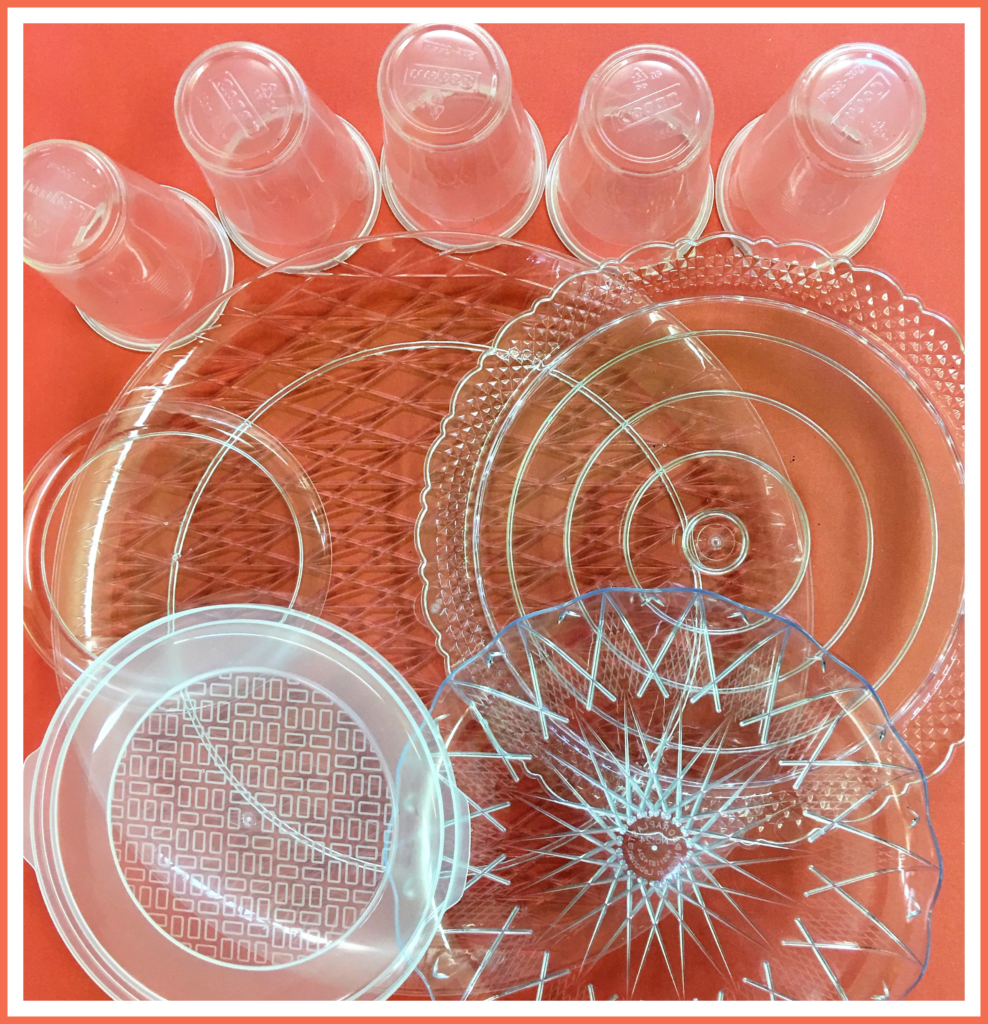 ---
Christmas bell decorations and garland add sensory appeal to this activity.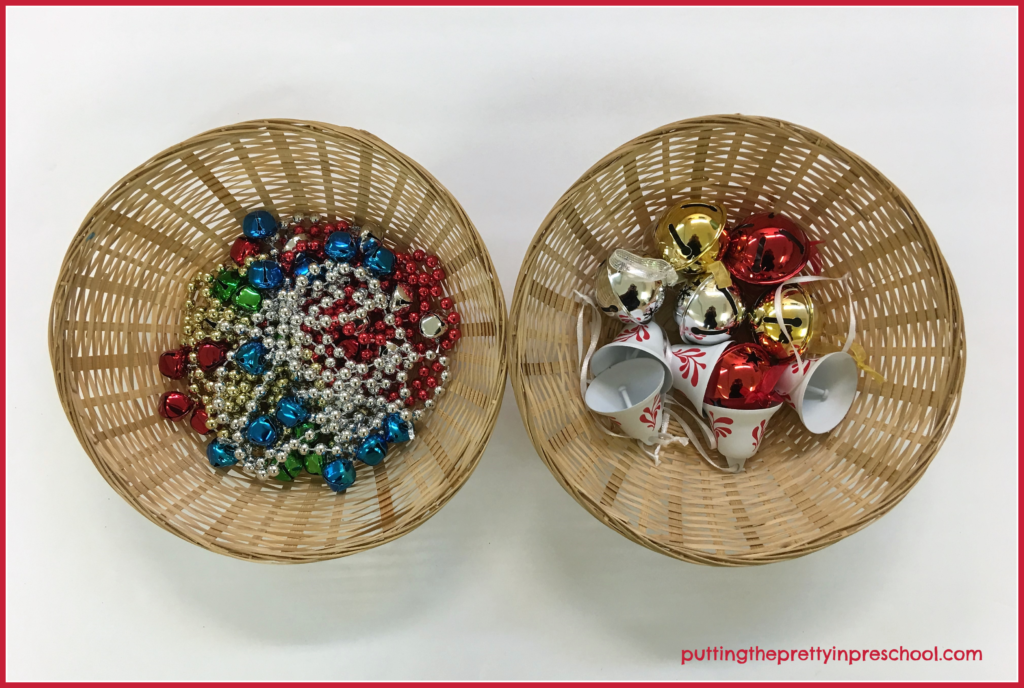 ---
Stage the "Build A Christmas Tree" Activity
Set out the construction materials and Christmas decorations on a table with ample space.
Display a picture of the completed project. (A picture can be downloaded further down the post.)
Challenge children to build a tree and decorate it. Offer help as requested or needed.
A snack tray works well as the largest and bottom piece, as decorations can be stored on it.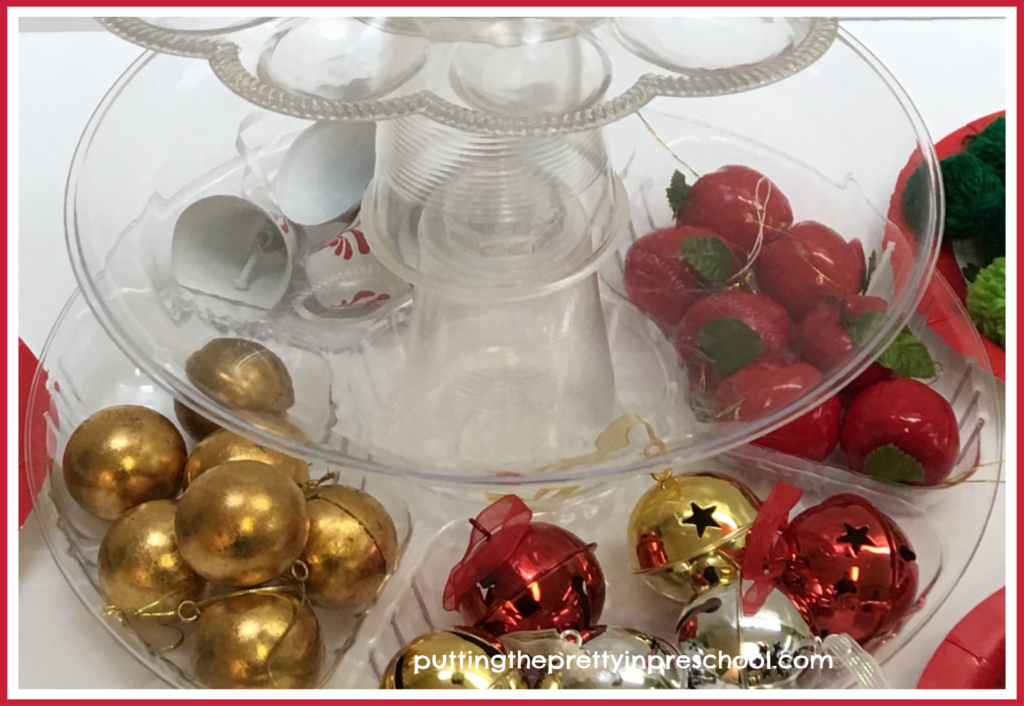 ---
"Build A Christmas Tree" STEAM Learning Possibilities
Building a stacked tree offers many opportunities for learning. Here is a list of developmental areas and growth possibilities for each one using this construction activity.
---
Math
Practice ordering sizes from smallest to largest.
Match sizes and shapes.
Learn about height, length, measurement, symmetry, and balance.
Count layers on the tree.
Science
Learn cause and effect when putting heavier and lighter decorations on higher or lower parts of the tree.
See the results of adding lights to different parts of the tree.
Fine And Gross Motor Control
Develop eye-hand coordination in placing decorations in just the right spot.
Language Development
Name objects.
Describe decorations as heavy, light, hard, soft, fluffy, metallic, bright red, rough, or smooth.
Creative Development
Create a unique tree by choosing from many kinds of trimmings and lights.
Sensory Exploration
Feel different textures and notice smells.
Observe seasonal colors and shapes.
Hear the jingling sound of bells.
Social Development
Learn to co-operate when building the tree with other children.
Enhance friendships when working together as a team.
Self Esteem Enhancement
Gain a sense of satisfaction in building and decorating a unique tree by oneself or with friends.
Opportunity to make choices.
---
Learning Possibilities Download
Download this list of learning possibilities to use as a handout for teachers, caregivers or parents.
---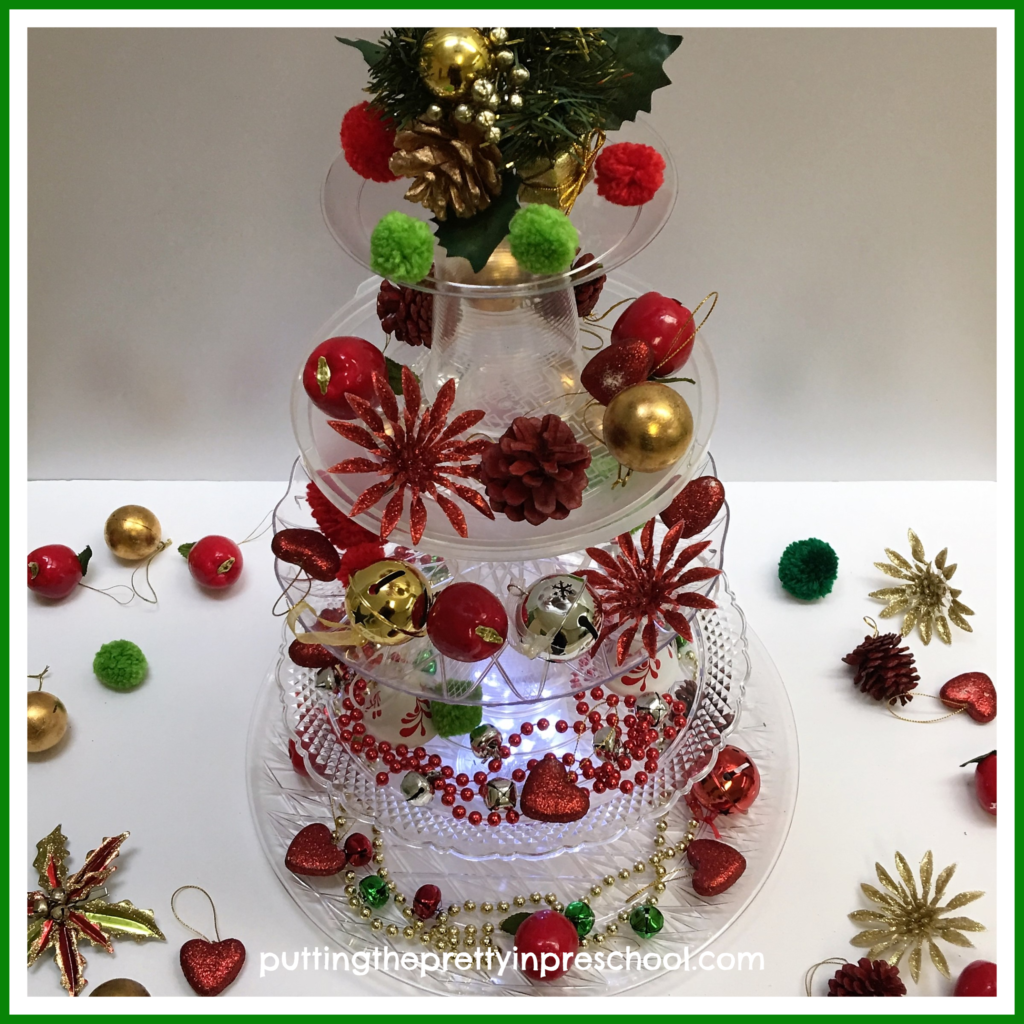 ---
This activity is perfect for an adult and children to work on. The stacked tree is challenging to make, and early learners may appreciate some grown-up assistance. And adults can offer decorating challenges to extend the learning experience, ie.
Can you make a tree shape with these circles and cups?
Can you put all the pom poms on?
Can you find a spot for the acorns?
Can you put two bells on the tree?
Can you put heavier pieces on the bottom tray?
Can you put a pom pom on each side of a circle shape?
---
Reproducing A Design From A Template Or Photo
Studies show that reproducing a design from a template or photo enhances mathematical skills and brain development. This is a more structured kind of construction play. However, it's perfectly okay to offer these materials in two ways:
Challenge children to build a tree similar to a template or photo, and offer the materials in an open-ended way another day.
Offer materials in an open-ended way first, and challenge children to build a template design as a follow-up activity.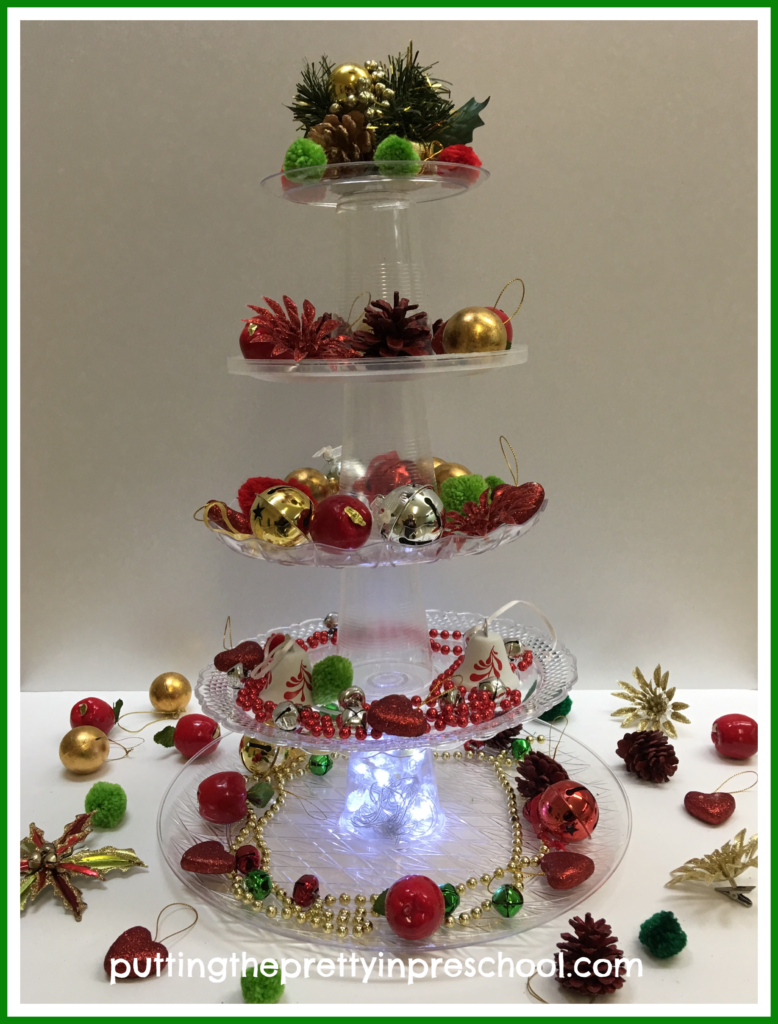 ---
Download a picture to use as a pattern here.
---
This "Build A Christmas Tree" STEAM activity can be offered on a tabletop, or placed on a light table. It can be set in the room at different places over a period of days or moved around by the children. The accessories can be saved for other light/light table activities.
---
For more Christmas tree building ideas, view a post on the website Left Brain Craft Brain.
---
You may also like:
Santa's Beard Scissor Activity
---
Don't forget to share this post on Pinterest or your favorite Social Media channel. Sharing is caring!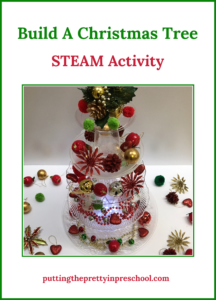 ---
© Annette Kaminsky
Follow me on social media for more ideas: