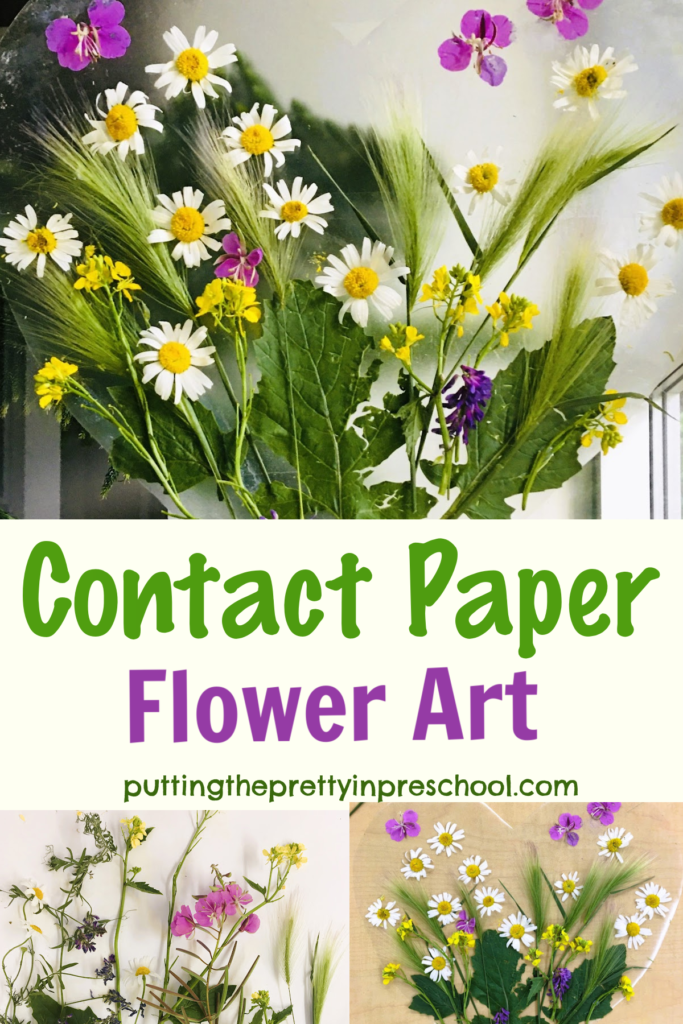 _______
For at least two years I have been wanting to try a floral window art project with contact paper. And I was hoping to use flowers and foliage growing in the wild in my first attempt, just to give them a moment. Although this summer I purchased more flowering annuals than usual and the blooms are taking over my yard, this contact paper flower art project is made with wildflowers and greenery found in our city. It is surprisingly effortless to do, and little learners can easily join in.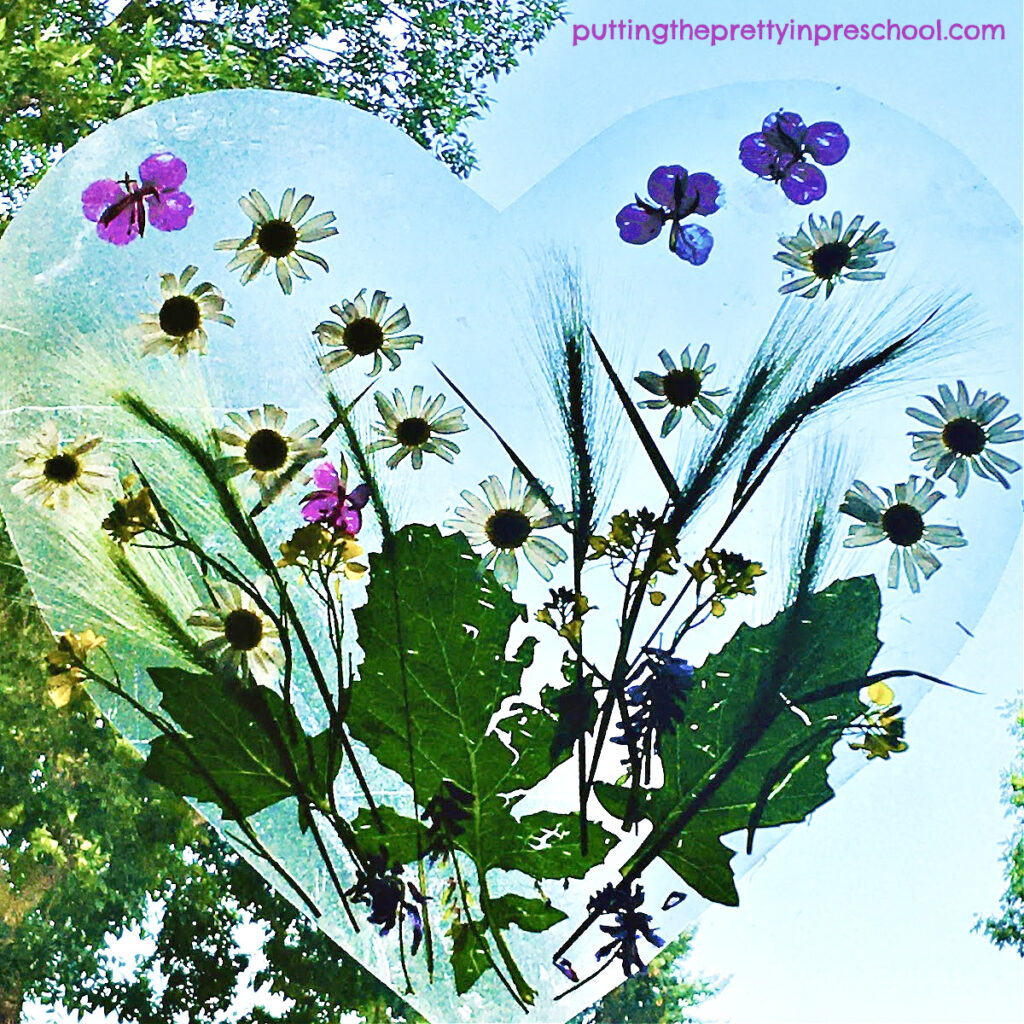 _______
Follow me on Pinterest for more early learning ideas.
_______
Creating Contact Paper Flower Art
To create this transient nature art project, start by gathering flowers and greenery to use. A natural wildflower patch at a local dog park provided all I needed for this design.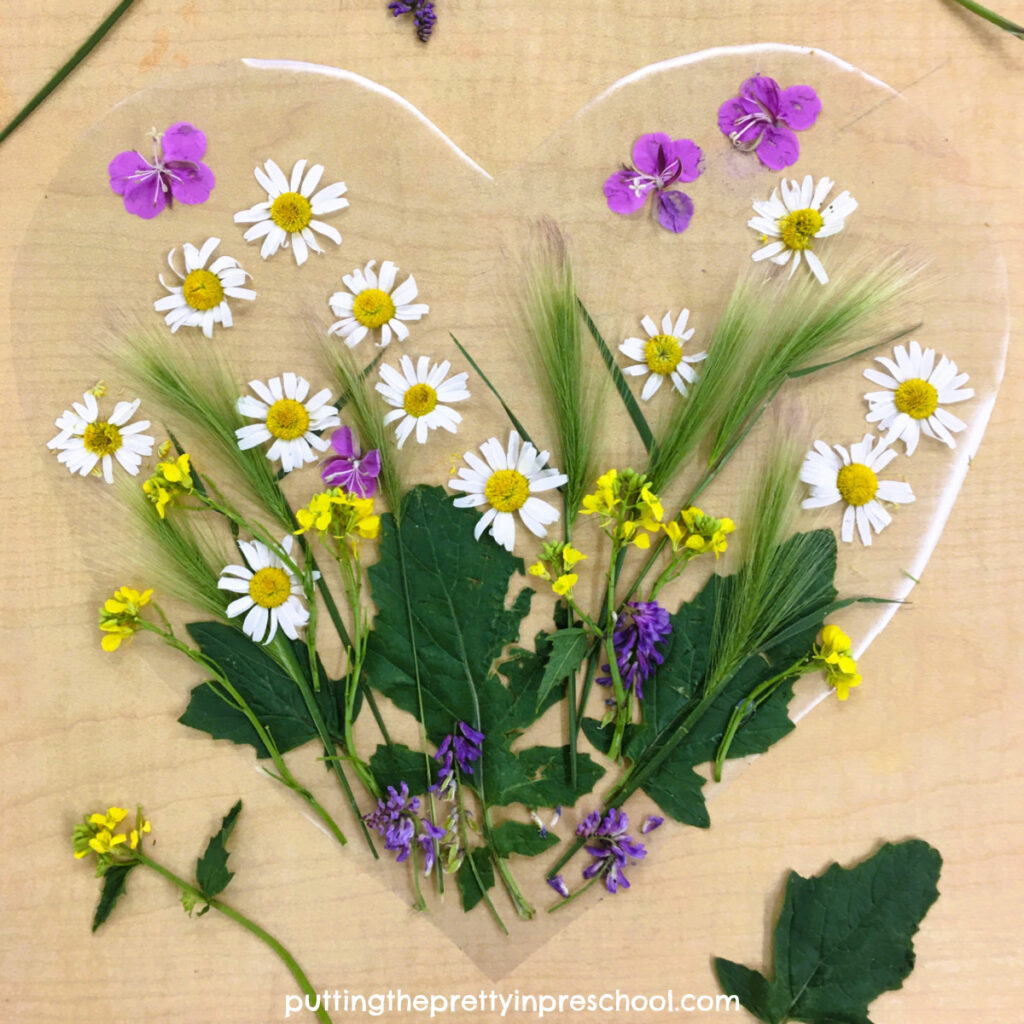 _______
Note: It is a good idea to check if the plants you find are toxic to humans before you decide to include them. If so, do not offer them to little learners to use in the project.
Next, cut a shape from contact paper. You can simply snip off a rectangular strip, or create a special shape such as a heart or star.
Then slowly and carefully peel off the backing so it comes off smoothly without wrinkling the sticky contact paper.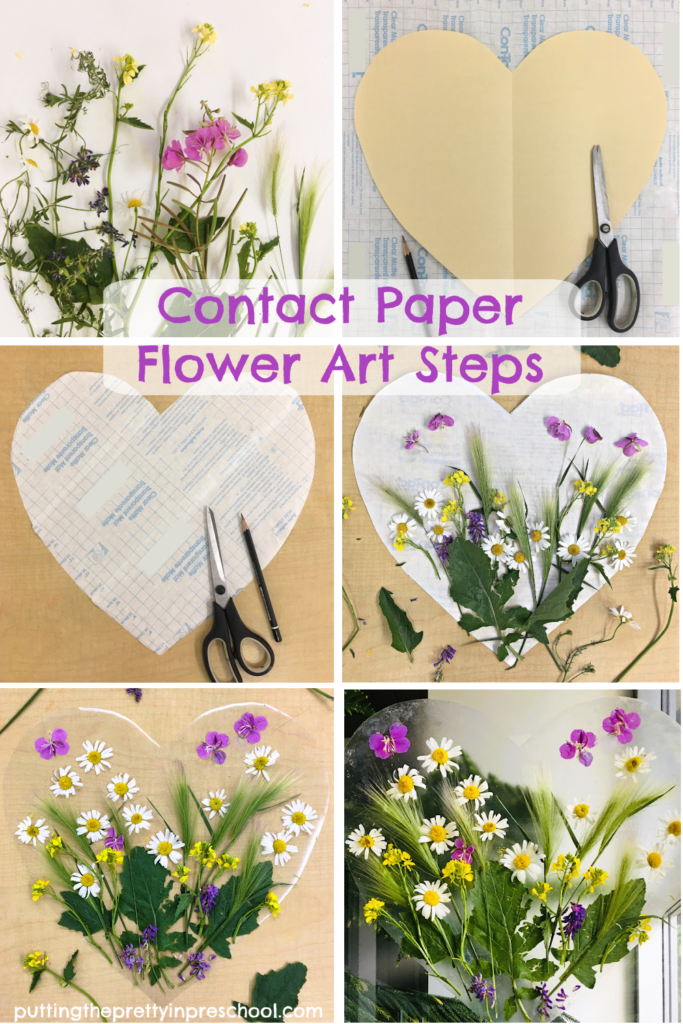 _______
If you have a specific design in mind, use the peeled-off paper as a dummy to plan the arrangement of the flowers.
Afterward, transfer the flowers and foliage to the contact paper, and gently press them down. It works well to start with greenery and then add flowers.
In my design, the daisies are plump in the middle but tolerate a good finger press and adhere well. And the four-petalled purple flowers work perfectly as butterflies.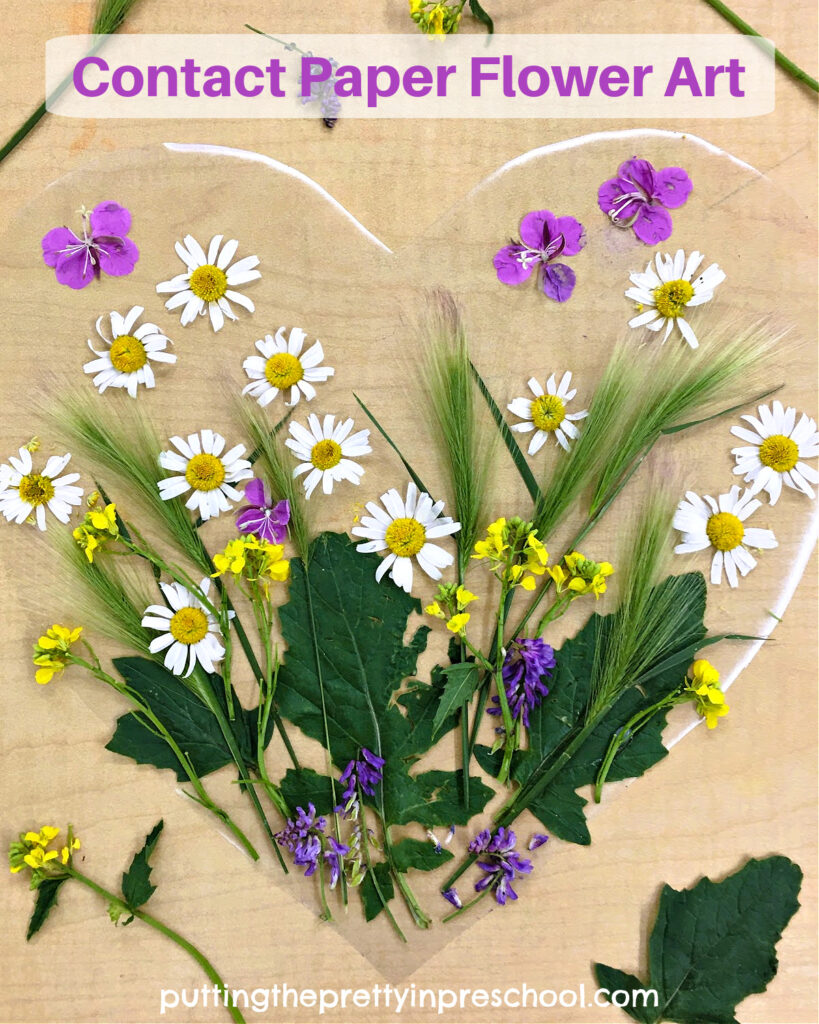 _______
This contact paper art project with wildflowers looks beautiful displayed in a window. Just use a glue stick to add adhesive to the window of choice, and gently press the flower art over it. The glue washes off easily without leaving any marks after the project is taken down.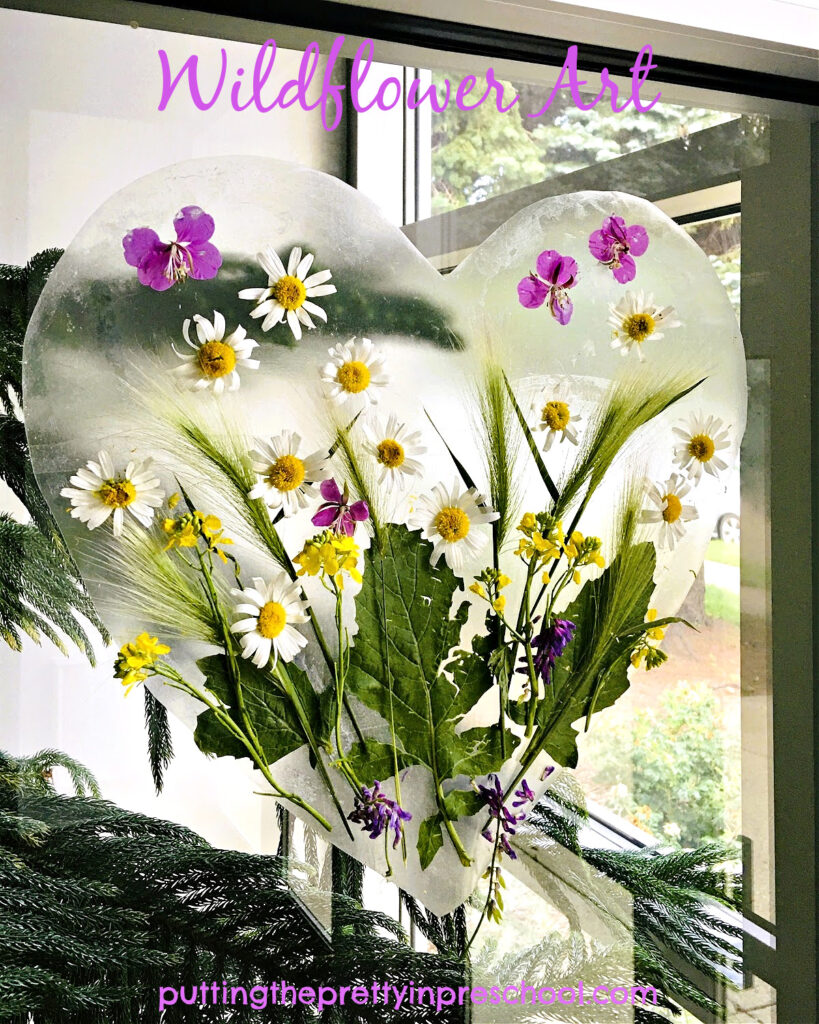 _______
More Contact Paper Flower Art Ideas
Here are more ways to create or display contact paper flower art:
Instead of setting this art project on a table, tack the contact paper to a window first and offer the art activity there. Besides providing a novel way to create art, it improves little learners' core body strength and eye-hand coordination.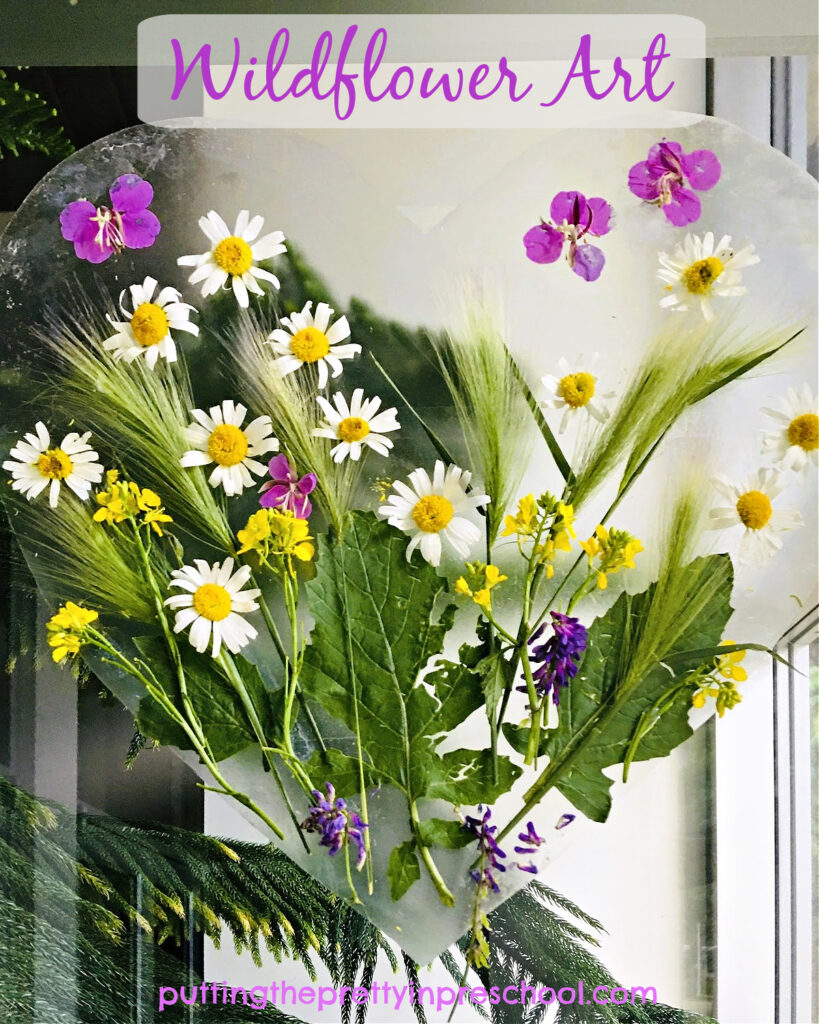 _______
To provide a unique invitation to create, set the contact paper on a table and place a frame around it. Add a tray of flowers and foliage for little learners to use to decorate the sticky surface.
_______
To make this tacky art project more durable, add a cardboard frame.
Another way to display the art is to use a glue gun to adhere a strip of yarn to the top of the completed project and hang it on a tree.
_______
_______
You may also like: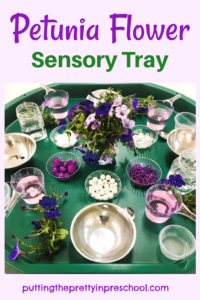 _______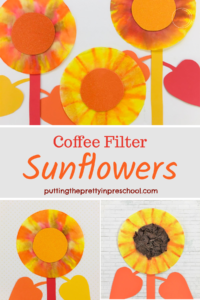 _______
Don't forget to share this post on Pinterest or your favorite social media channel. Sharing is caring!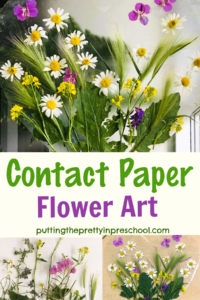 _______
© Annette Kaminsky August 4, 2023
_______
Follow me on social media for more ideas: