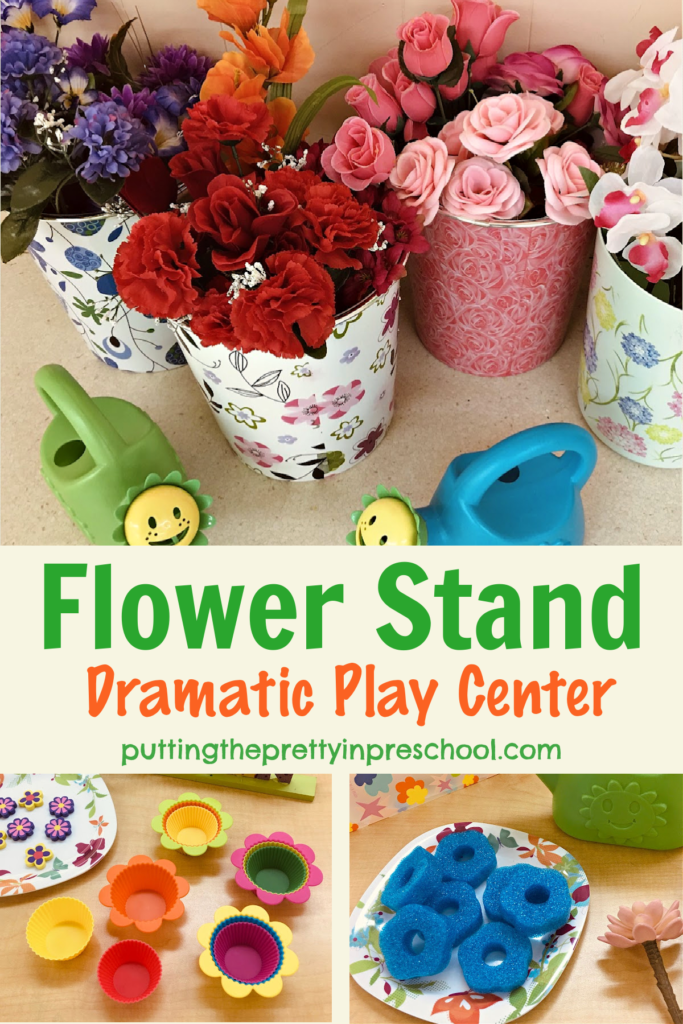 _______
A flower stand dramatic play center can be set up in minutes and will be a colorful, inviting place for your little learners to play. It was this summer's dramatic play center at my preschool, and absolutely everyone enjoyed it. In addition to making a great spring or summer pretend play area, it's perfect for Valentine's Day or Mother's Day.
_______
Follow me on Pinterest for more early learning ideas.
_______
Supplies To Collect
Dollar stores are an excellent resource for stocking a flower stand pretend play center, as they often have a good selection of artificial flowers at a low price. Keeping an eye out for flower theme supplies on regular shopping runs will lead to discovering interesting accessories to add to the stand.
Here's what's in my flower stand:
a variety of artificial flower branches
small decorative garbage cans
flower-themed plates, bowls, and ice cube trays
pool noodles flower slices
flowery gift bags
bulletin board slabs in a flower shape
flower erasers and reusable ice cubes
flower-themed silicone baking molds
plastic vases
watering cans
gardening gloves
play money
flower stand sign
signs with plant quotes
_______
The Flower Stand Dramatic Play Center
The flower branches are set out in small decorative garbage cans. They look appealing when organized in individual or analogous colors.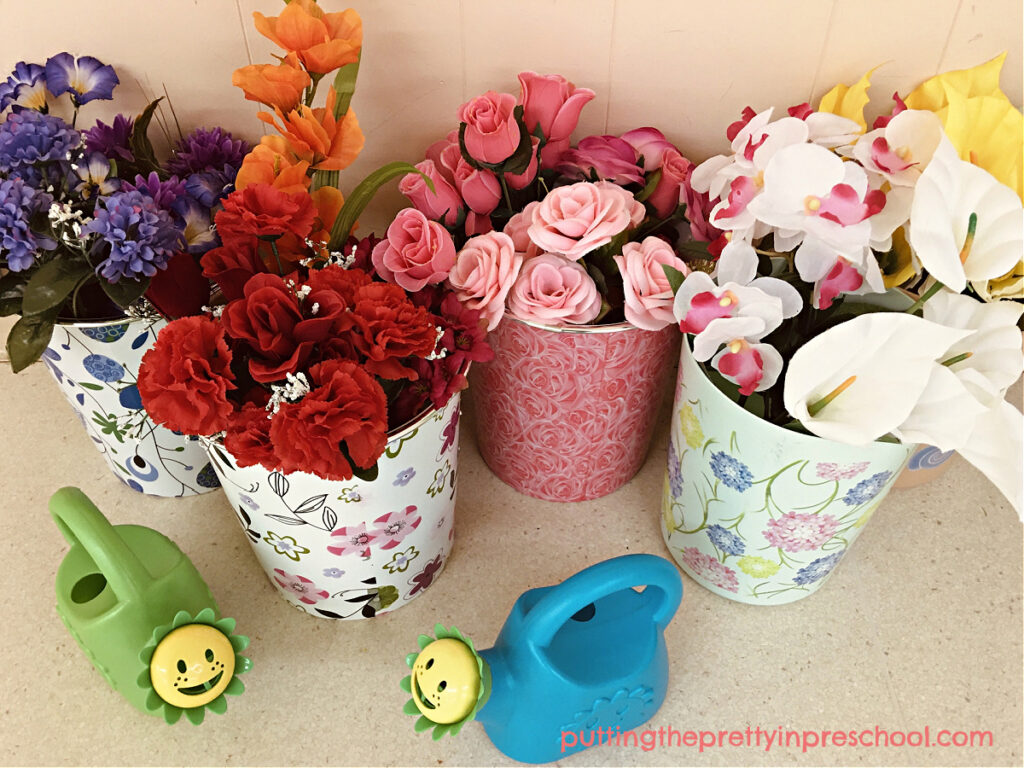 _______
There is no harm in setting out the sprigs randomly. Little learners will eagerly rearrange the blooms in ways that suit them.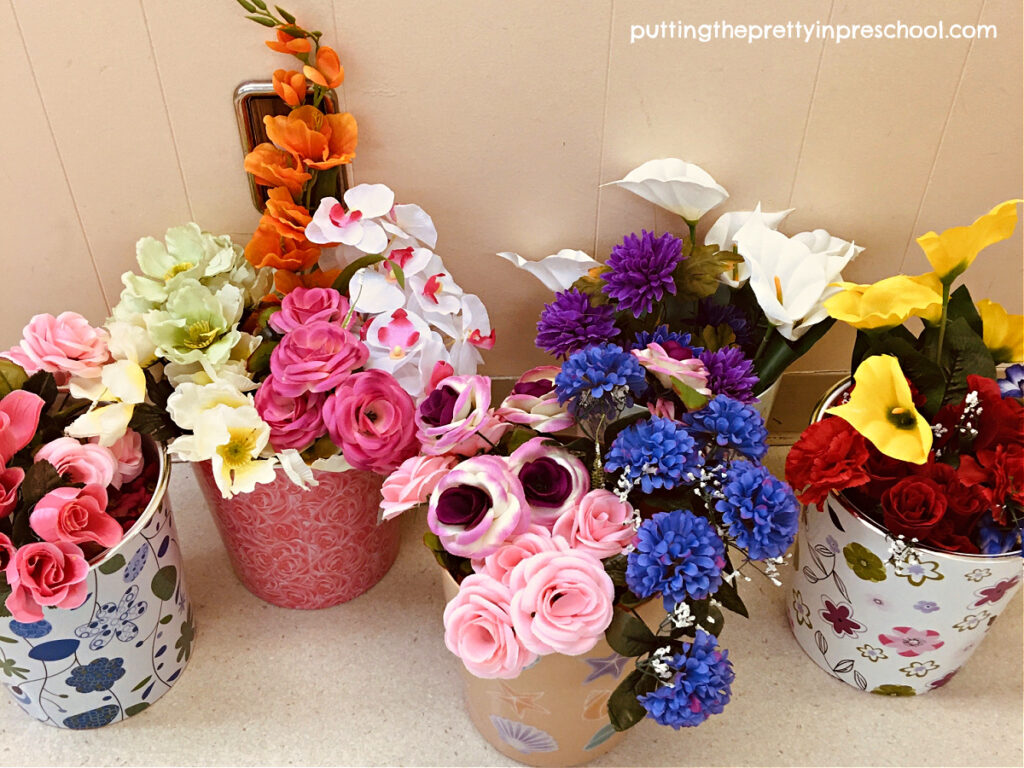 _______
Other supplies are arranged on a shelf and/or table. This user-friendly shelf on casters houses supplies superbly and is perfect for dramatic play centers.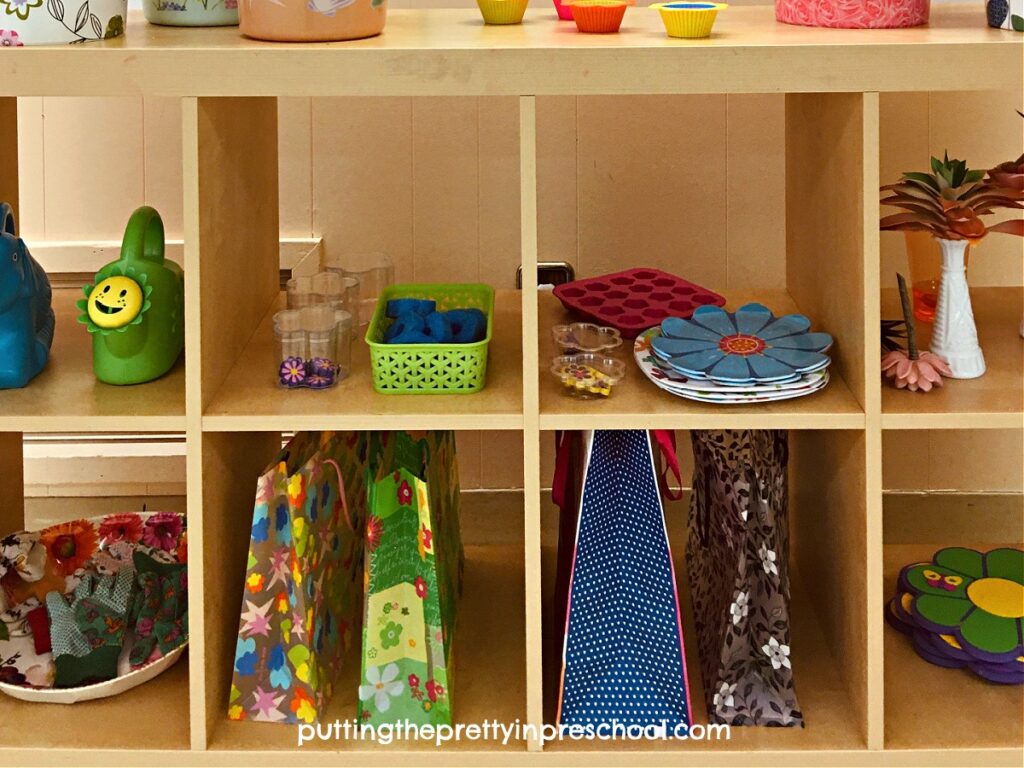 _______
Flower-theme silicone baking cups with different colored inserts are great for developing eye-hand coordination and for discussing colors. In this center, they are repurposed as mini-interchangeable puzzles!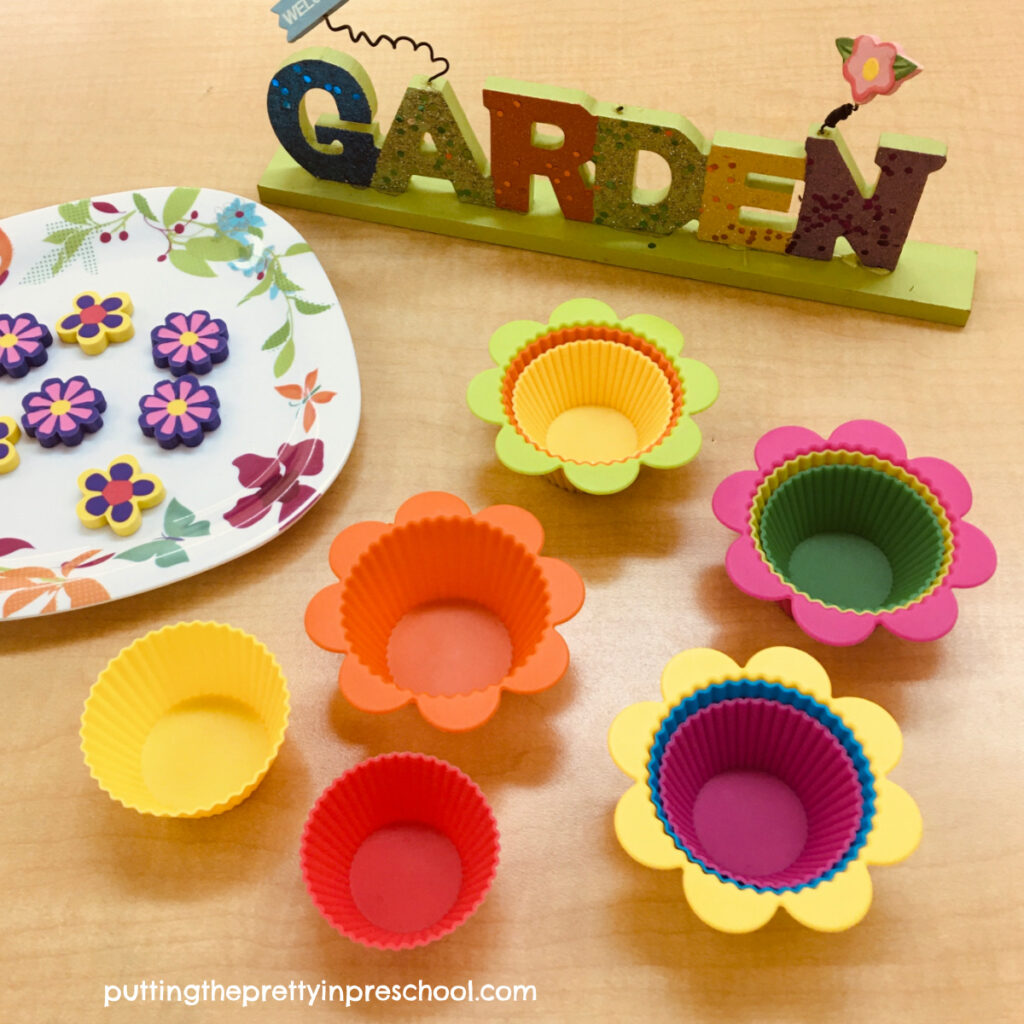 _______
Flower-shaped pool noodles cut into thin slices make pretend play "cookies."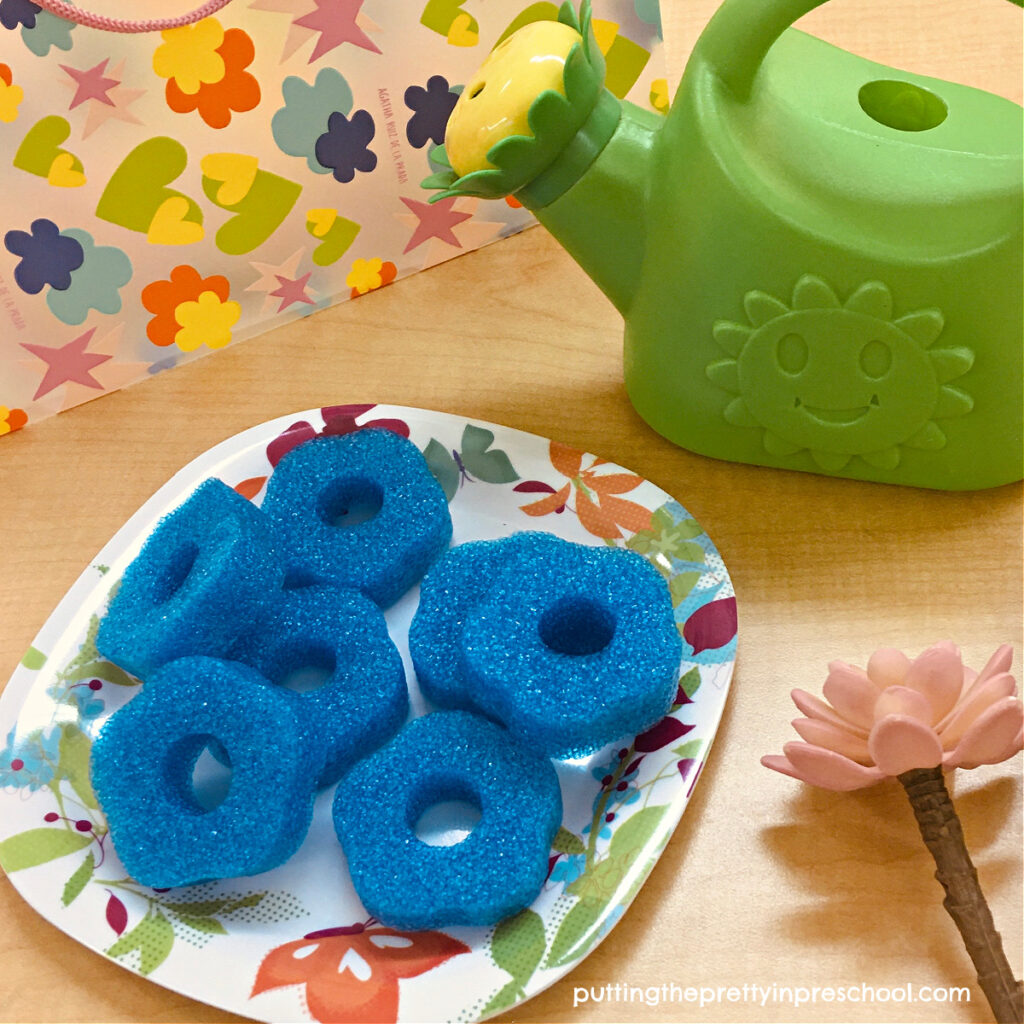 _______
Tip: Slice a pool noodle section into one to two-inch wide flower-shaped treats on a cutting board with a sharp kitchen knife.
Succulents, a last-minute find, add variety and texture to the flower choices. Their smaller size makes them easy for little learners to handle and move around. My preschoolers loved them, so I will definitely be adding more over time.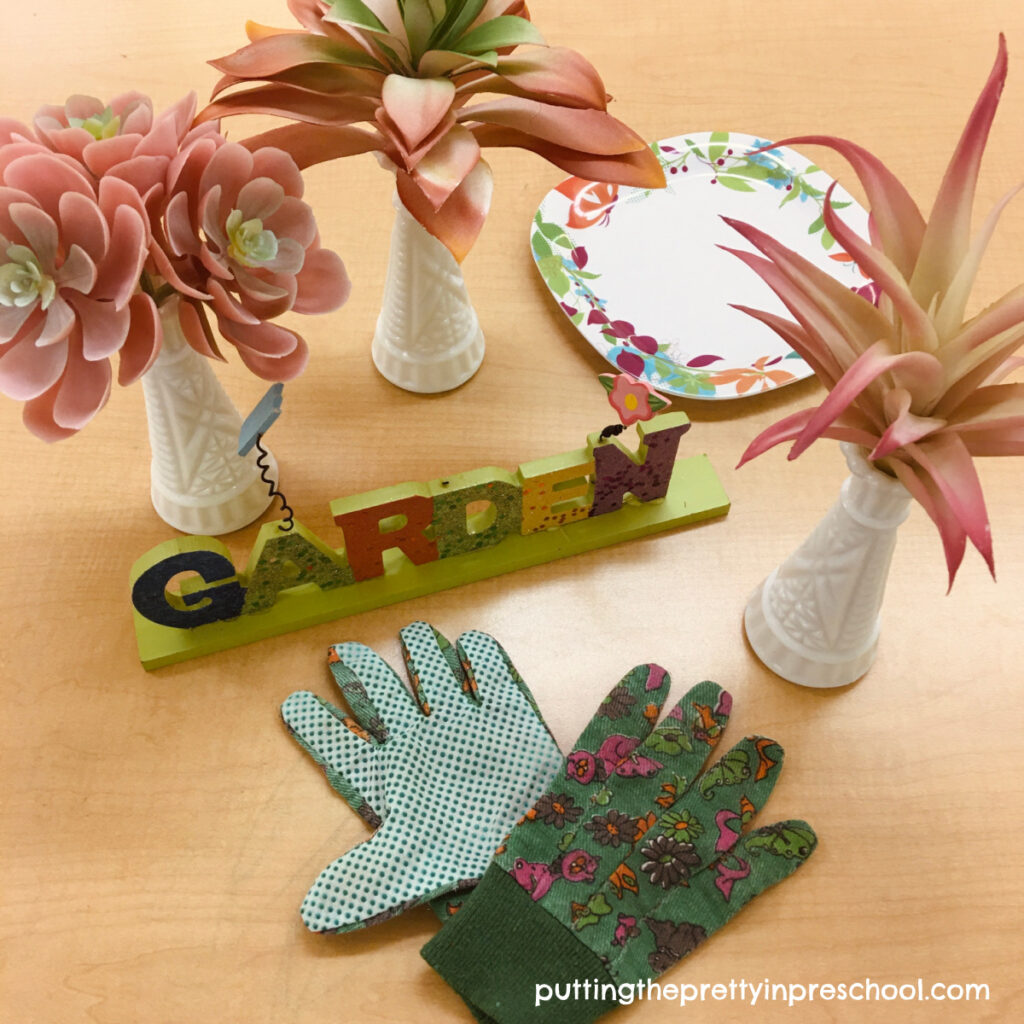 _______
A flower stand sign and quotes about blooms add opportunities to engage with print.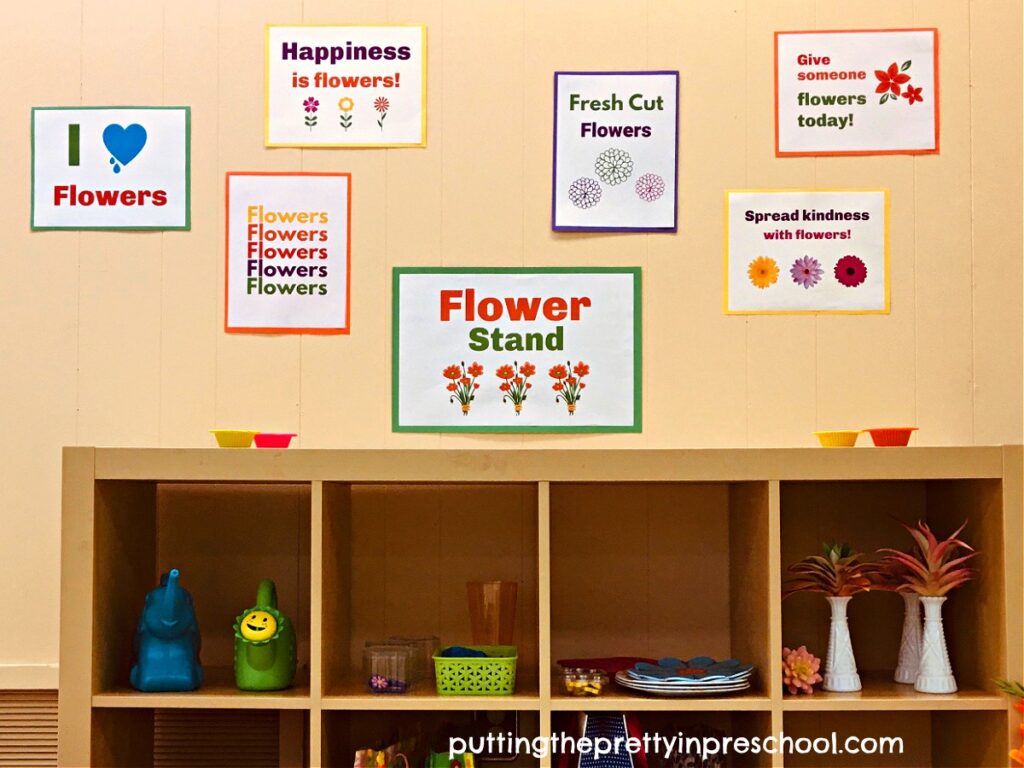 _______
Click here to view the Flower Stand Dramatic Play Center as a video.
_______
Learning Through Play Possibilities
There is a lot of learning through play potential in this flower stand dramatic play center. The center has opportunities for:
discussing job titles such as florist, cashier, and delivery truck driver.
taking turns to be a customer.
recognizing colors of flowers and accessories.
counting supplies and coins, sorting flowers by color, and discussing large and small bouquets.
experiencing and handling beautiful, aesthetically pleasing things.
A flower-themed cardmaking station would be an awesome center to go along with this flower stand. Little learners would be thrilled to make cards for the store.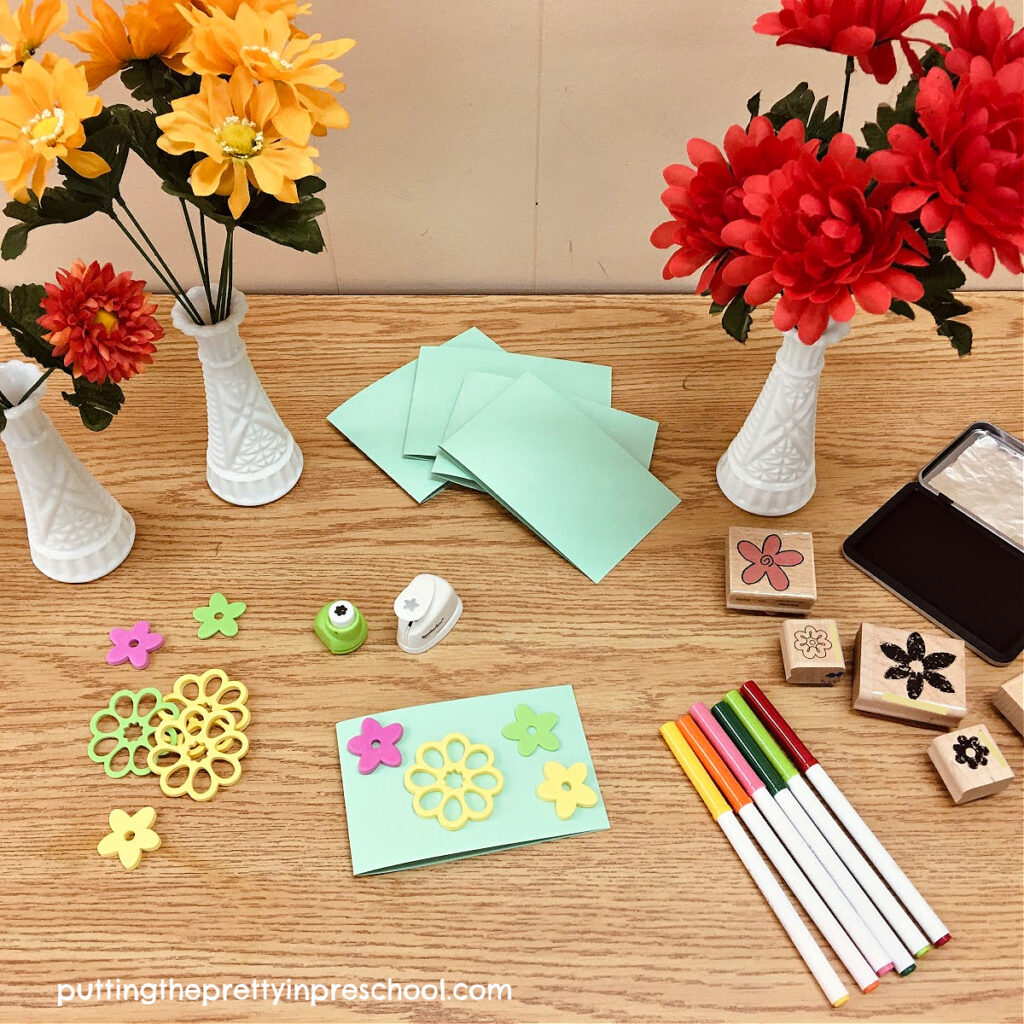 _______
And wouldn't a flower stand be wonderful in bright, warm fall colors? My flower stand is transitioning to an autumn-themed one next week!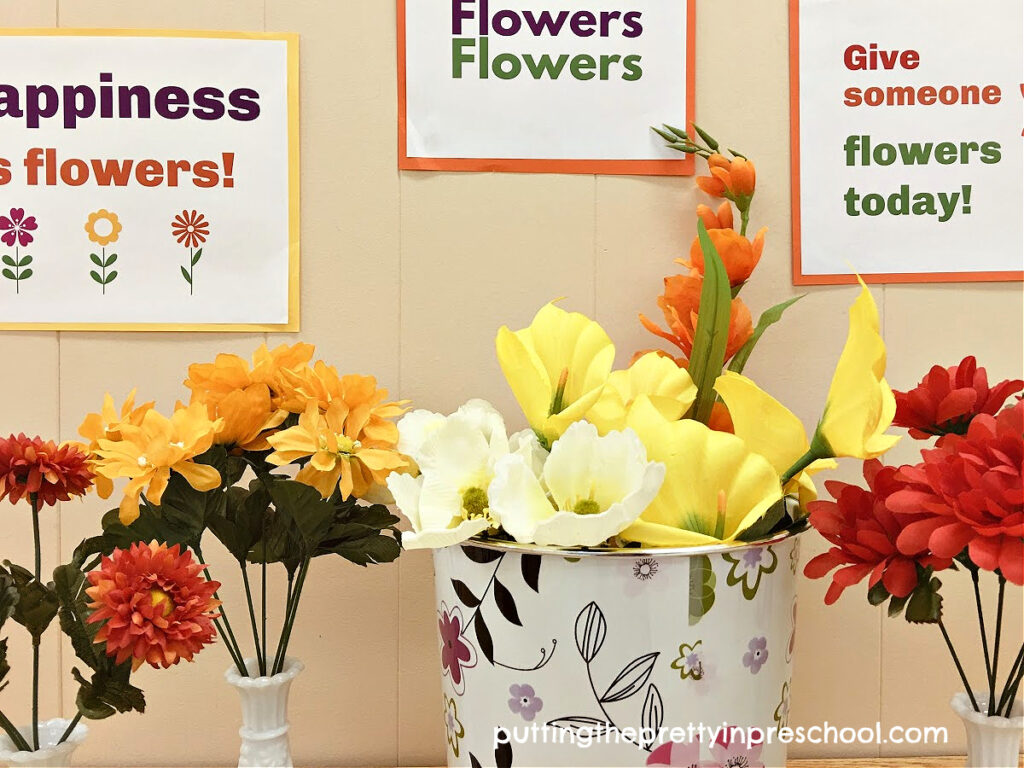 _______
Related: Lemonade Stand Dramatic Play Center
_______
_______
You may also like: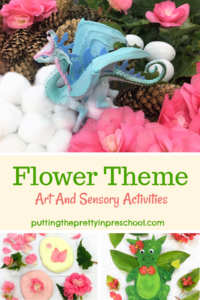 _______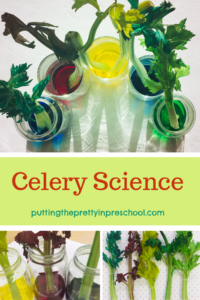 _______
Don't forget to share this post on Pinterest or your favorite social media channel. Sharing is caring!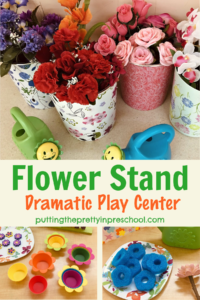 _______
© Annette Kaminsky September 12, 2022
_______
Follow me on social media for more ideas: