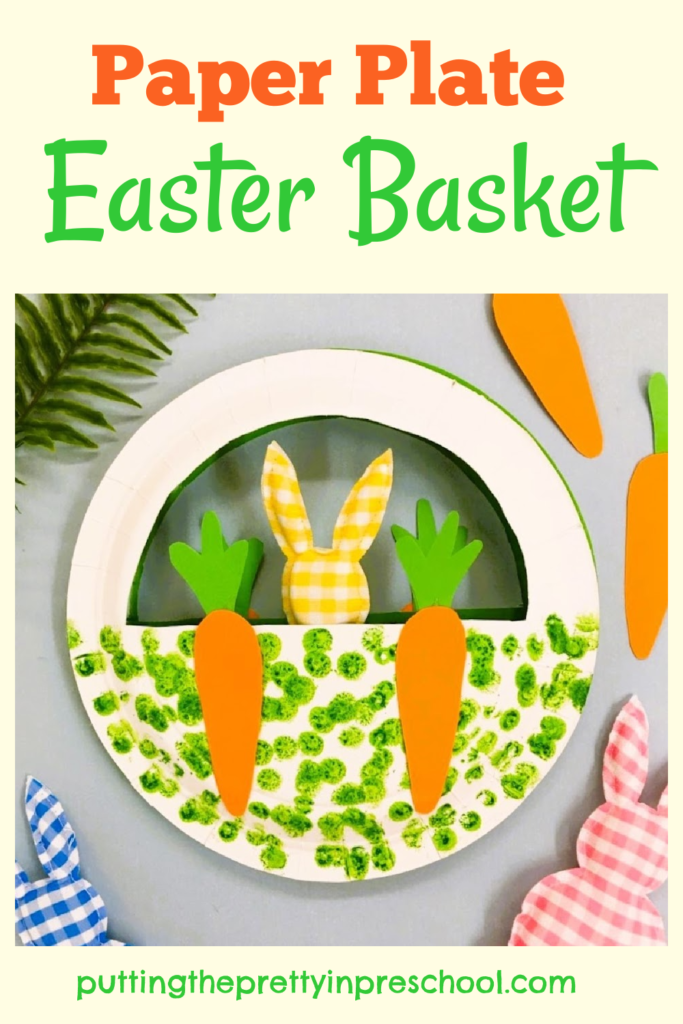 _______
This paper plate Easter basket craft is inspired by an Easter purse spotted on a shopping trip. I wanted to make one for each of my preschoolers as part of their Easter party favors, and here's what I came up with.
_______
Follow me on Pinterest for more early learning ideas.
_______
Supplies To Collect
There are only a few supplies to collect for this bunny and carrot-themed craft. Gather the following items:
paper plates
green dot markers
orange and green construction paper
stuffed bunnies
scissors, ruler, and pencil
glue stick and glue gun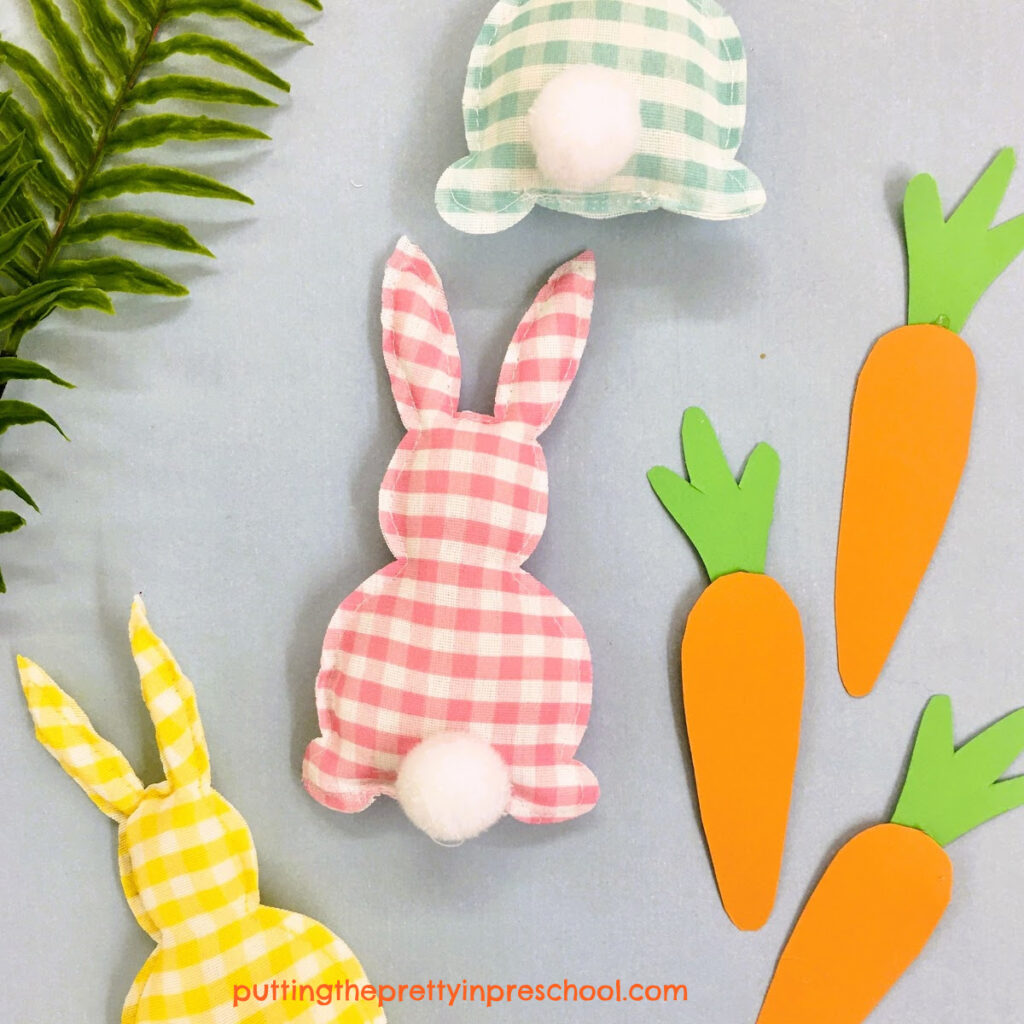 _______
Making The Paper Plate Easter Basket Craft
The first thing to do in making a few of these paper plate Easter baskets is to cut out sections of paper plates to create half-circle openings and handles. There are different kinds of paper plates, and I recommend choosing a sturdy version.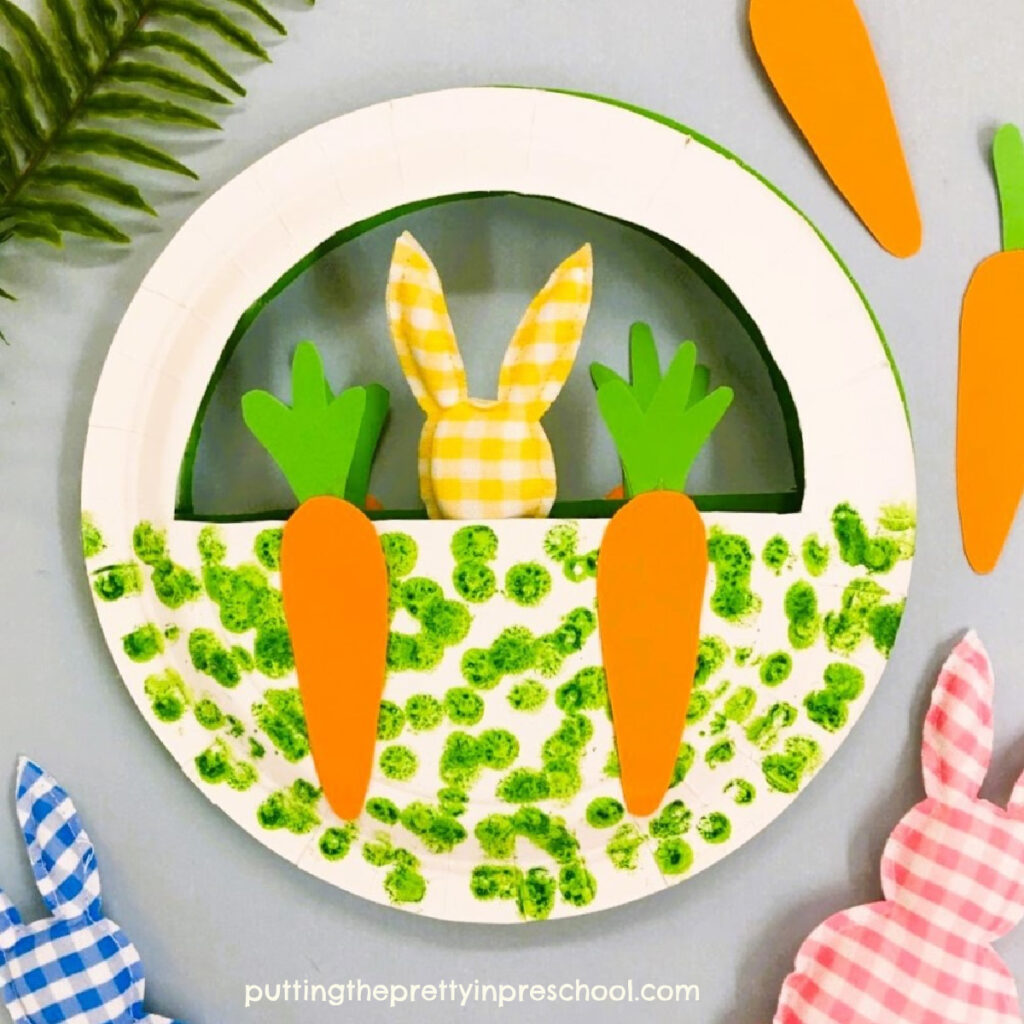 _______
Next, give two of the plates to each child who will get a basket, and ask the little charges to decorate the bottom half of their plates with a green dot marker.
Note: Instead of using dot markers, participants can decorate the basket sides with crayons, paint, and/or Easter stickers.
Afterward, cut carrots from orange construction paper, and carrot tops from green construction paper. With a glue gun or glue stick, adhere the carrot tops to the carrots.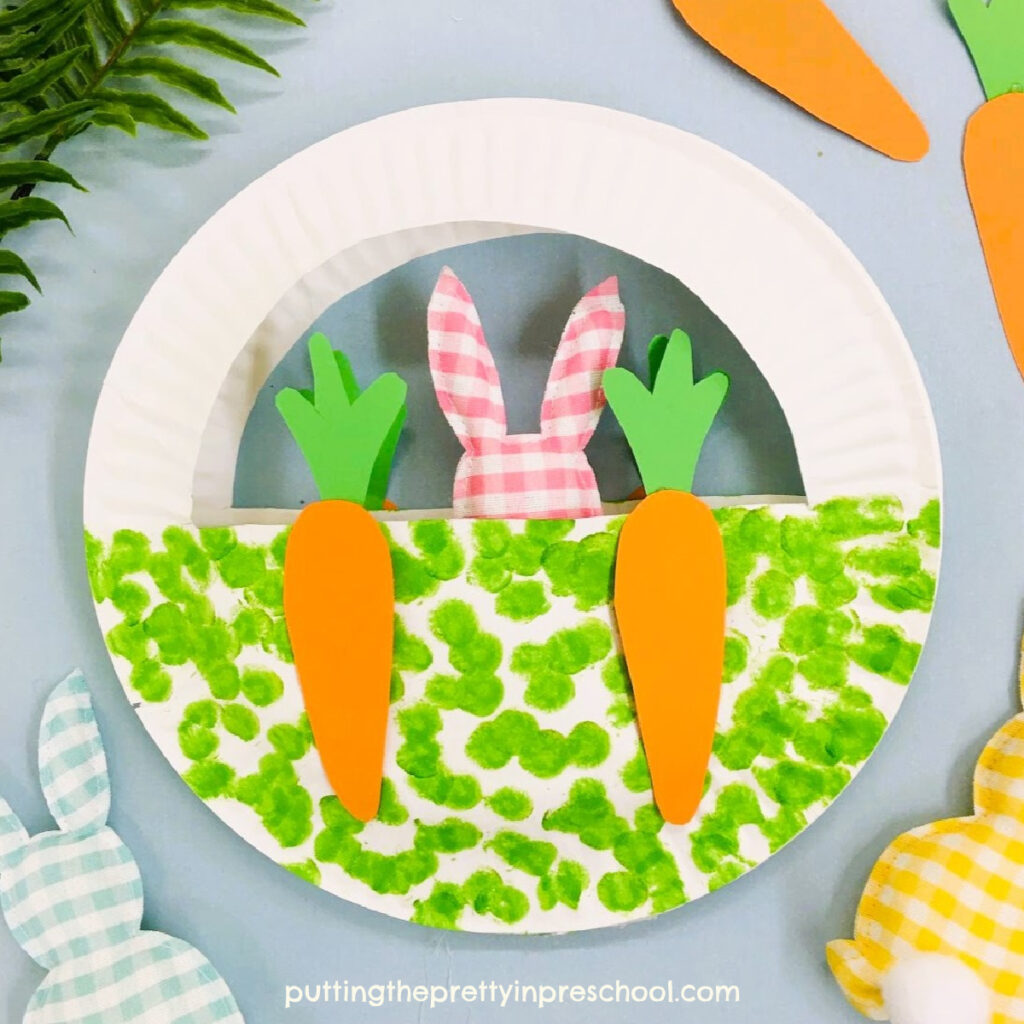 _______
Cutting and putting together the paper carrots take a little time. When this task is done, the basket sides will be dry and ready to be assembled. Use a glue gun to carefully adhere the decorated half of each pair of cut plates together so that the openings and basket handles match. Leave the handles unglued.
Then glue two carrots on each side of every basket. Make sure the carrots on one side of the baskets align with the carrots on the other side.
Next add a small stuffed bunny to each basket. My bunnies are from a disassembled Easter garland snapped up at a party store. Fortunately, it was easy to remove each bunny from the garland, and the yellow, pink, and blue stuffies are safe to use in the paper plate Easter baskets.
Before handing out the baskets to your little charges, add Easter grass and wrapped chocolate eggs to them. The children will be delighted with the craft and treats!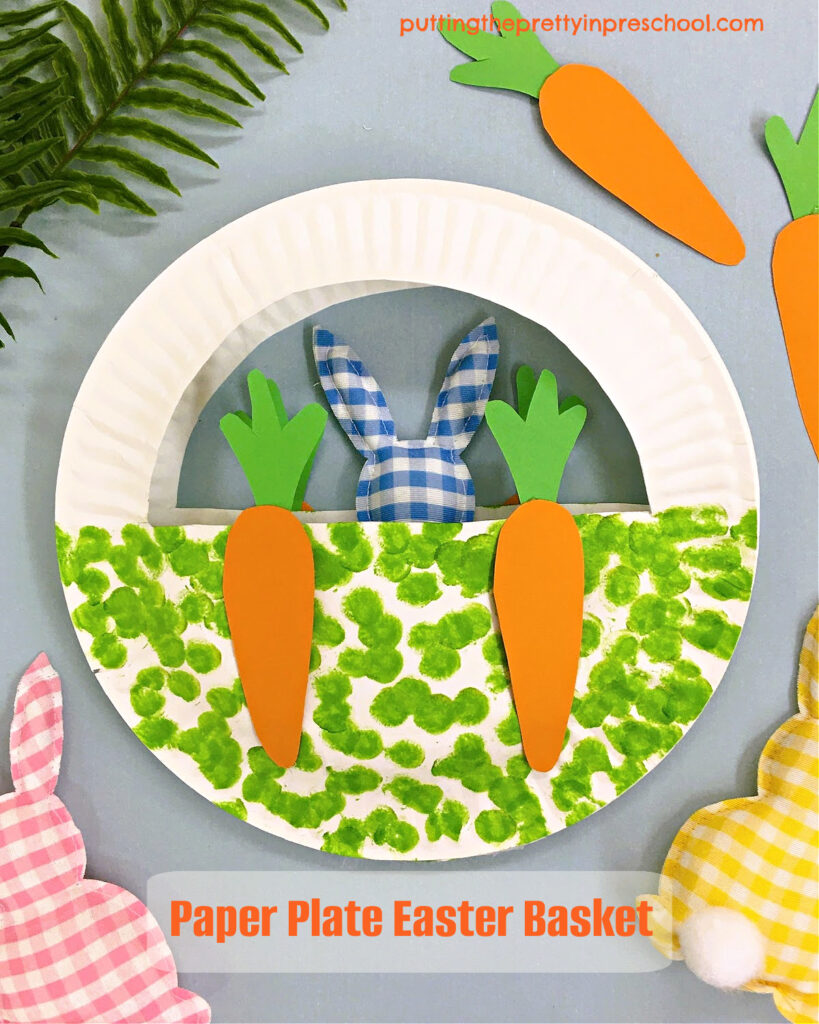 _______
To help make this craft, feel free to download this basket, bunny, and carrot template to use as a guideline. Happy crafting!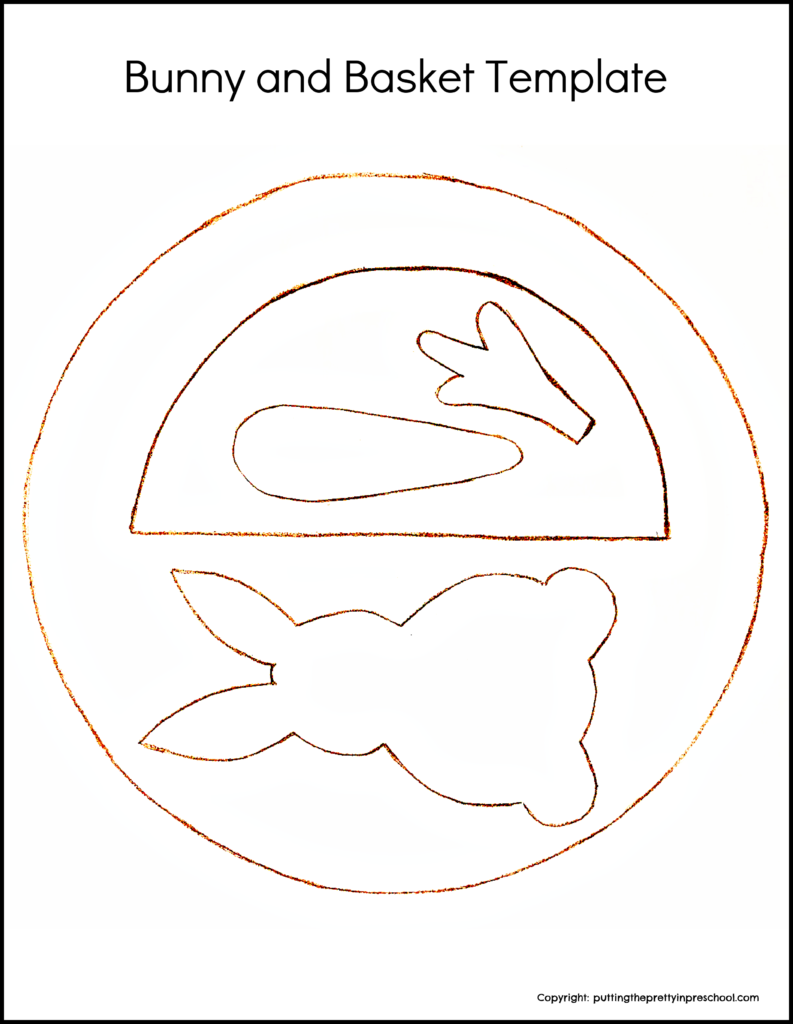 _______
This printable is for individual or one classroom use only.
_______
Related:
_______
_______
You may also like: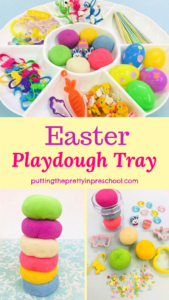 _______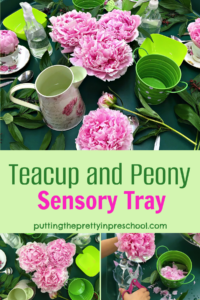 _______
Don't forget to share this post on Pinterest or your favorite social media channel. Sharing is caring!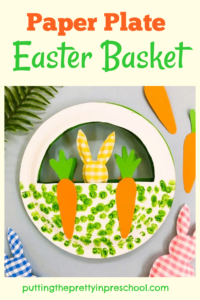 _______
© Annette Kaminsky April 2, 2023
_______
Follow me on social media for more ideas: