You read it correctly: this blog post is about painting with chocolate. It's easy, it's fun, and your workspace will smell divine. The activities featured have a process art focus. A few embellishments will make the art display worthy or ready to give away.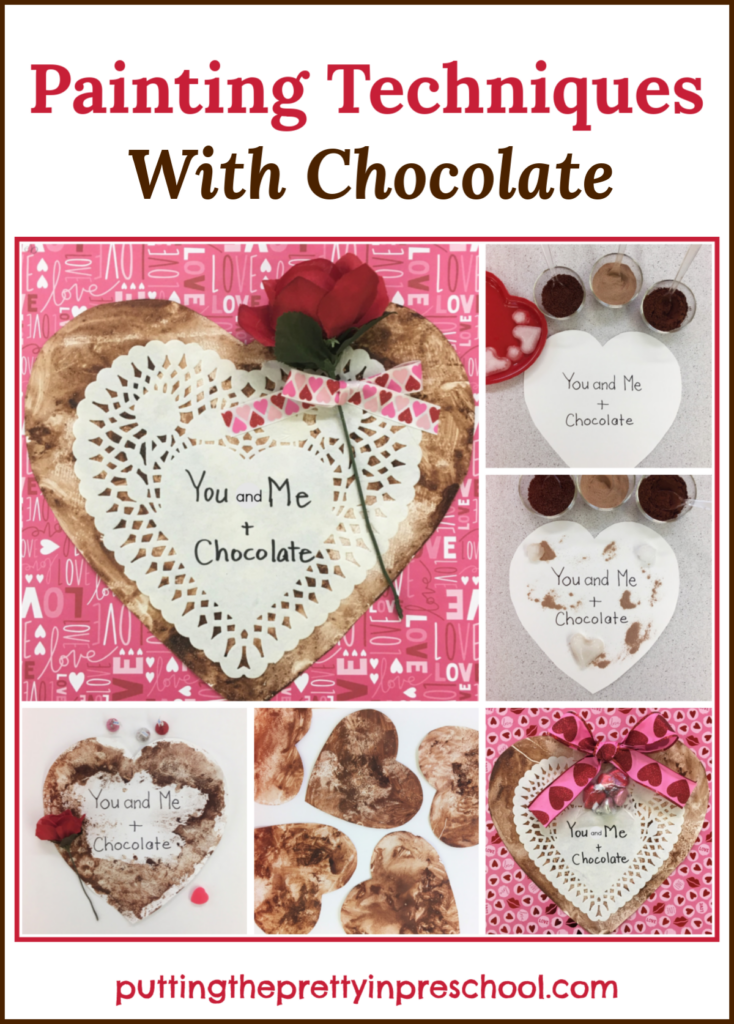 _______
Supplies To Collect
hot chocolate powder
cocoa powder
chocolate sprinkles
bowls and spoons
sturdy white paper
waterproof felt pen
ice cubes
tray for ice cubes
paintbrush
container of water
doily heart
decorative 12-inch x 12-inch cardstock
ribbon
plastic (or real) rose
small plastic pouch
chocolates
_______
Activity One: Painting With Chocolate And Ice Cubes
Freeze different sizes of ice cubes.
Cut a piece of sturdy paper into a large heart shape. Optional: Write the words "You and Me + Chocolate" on the heart with a waterproof felt pen.
Scoop hot chocolate powder and cocoa into bowls. Add spoons.
Set out a tray of slightly melted, very wet ice cubes along with the paper heart and bowls of chocolate ingredients.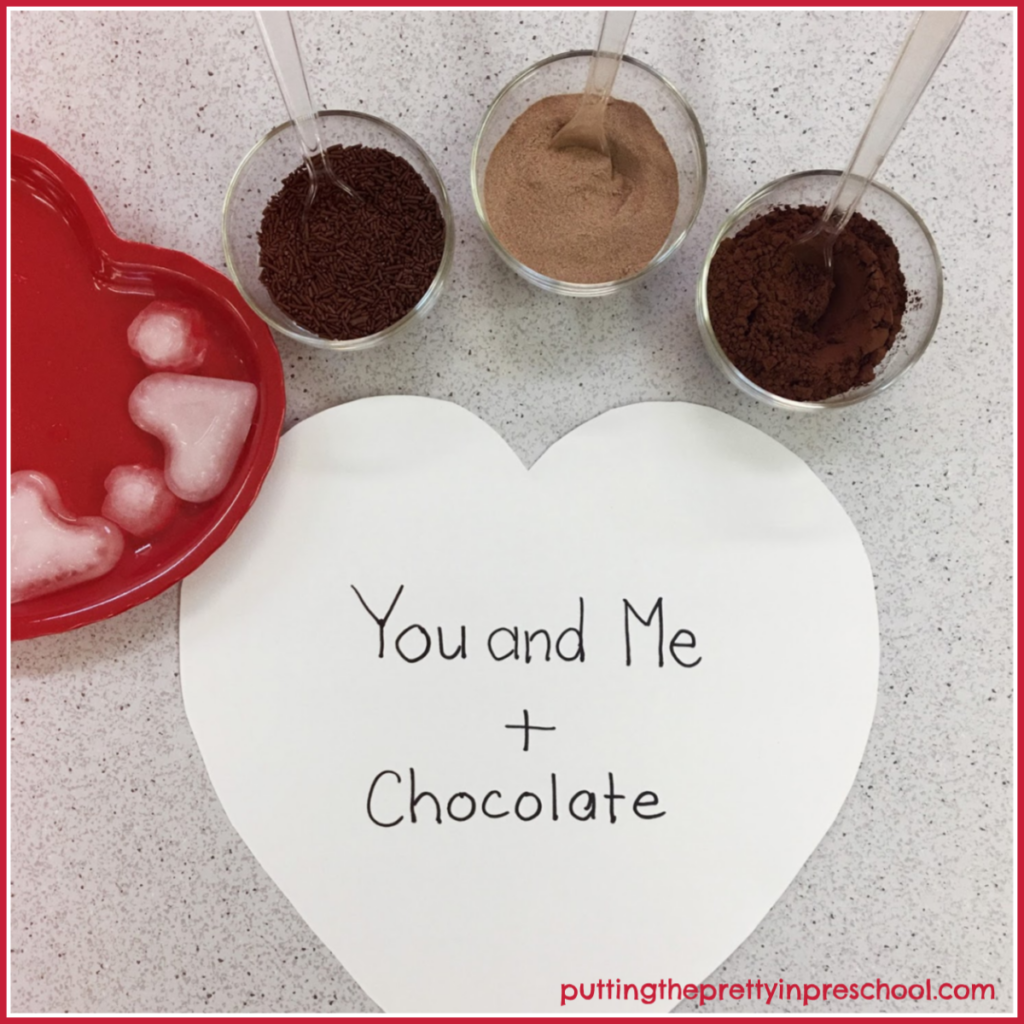 _______
Start the activity off by saying that the powders are "mystery paints." Ask your child to guess what the paints might be. Smelling the powders will give the answer away pretty quickly.
Invite your child to scatter hot chocolate powder and cocoa on the heart-shaped paper. (Chocolate sprinkles can be added later.)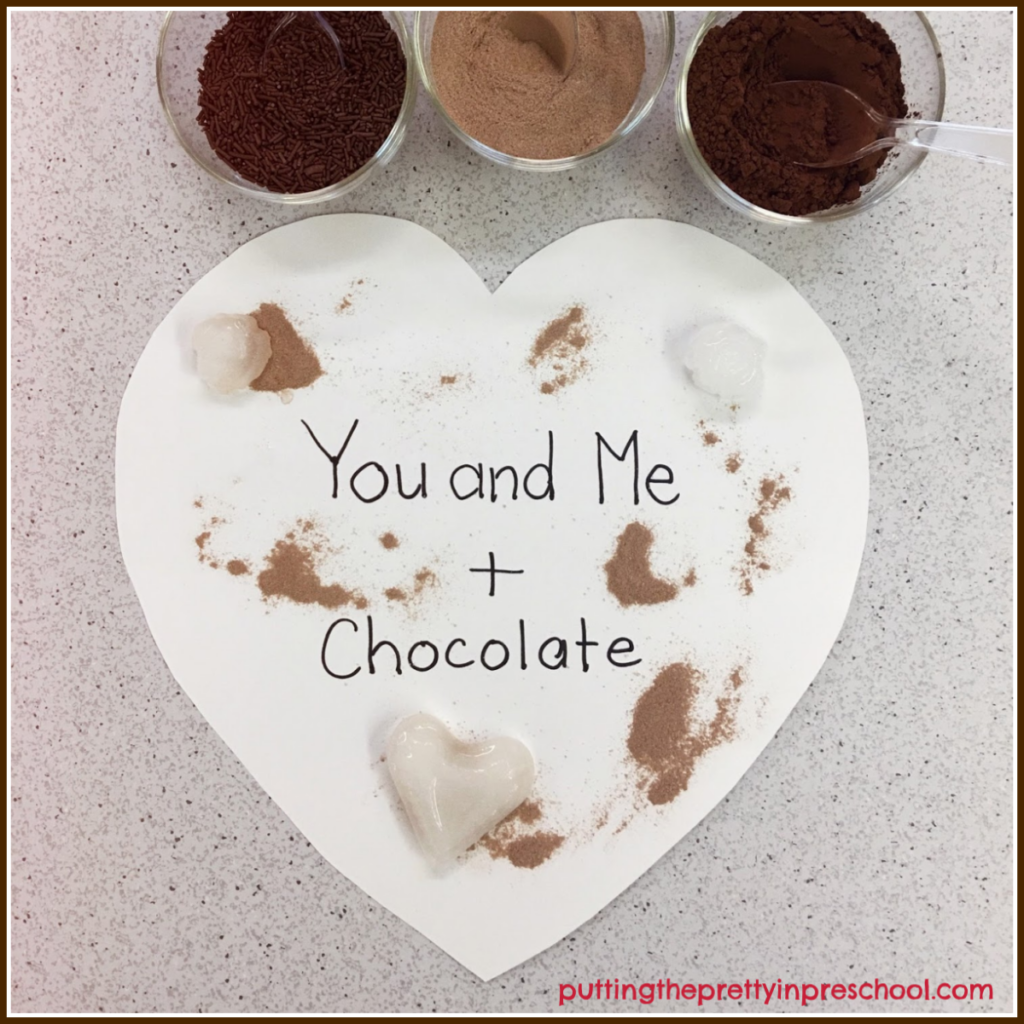 _______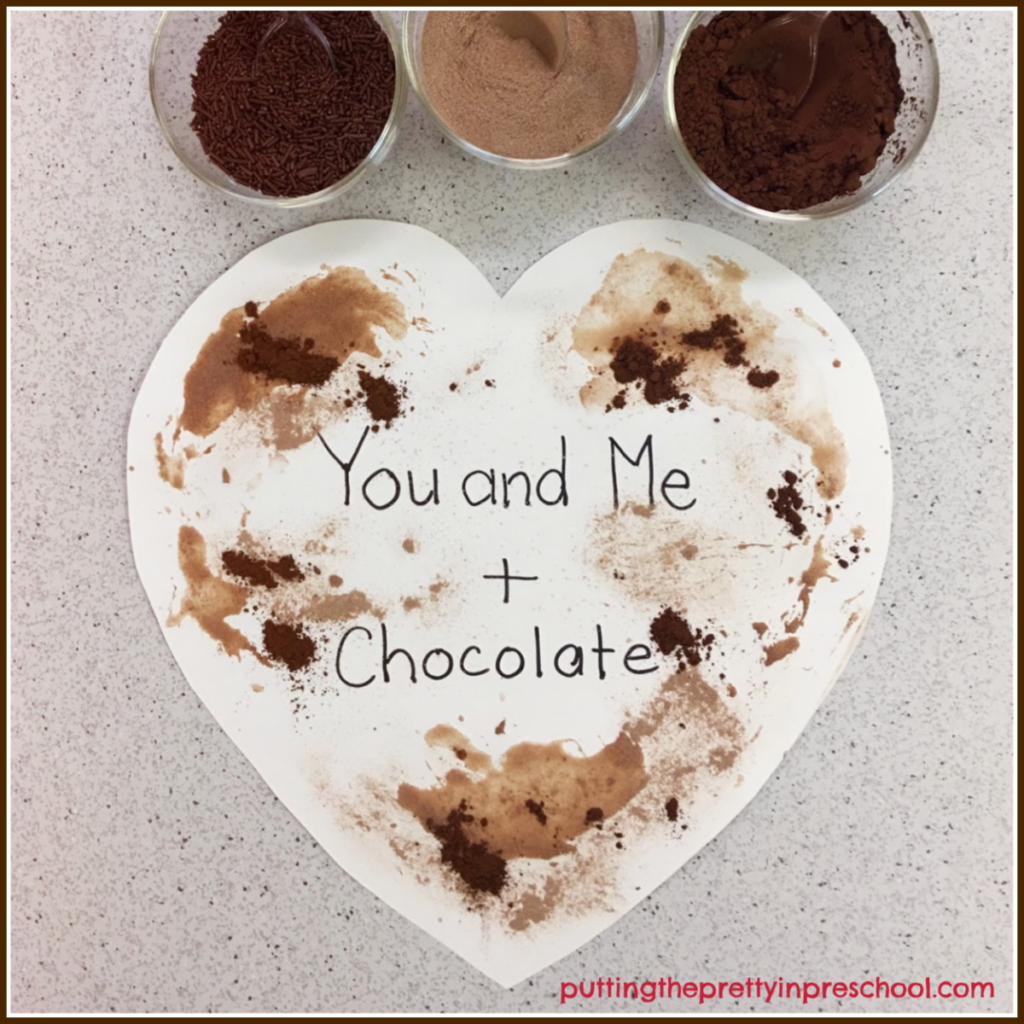 _______
Ask your child to swish the powders around the heart with ice cubes, which will make spreadable chocolaty paint.
Offer a paper towel to dab on wet spots if desired. The pattern on the paper towel will add texture to the heart painting.
_______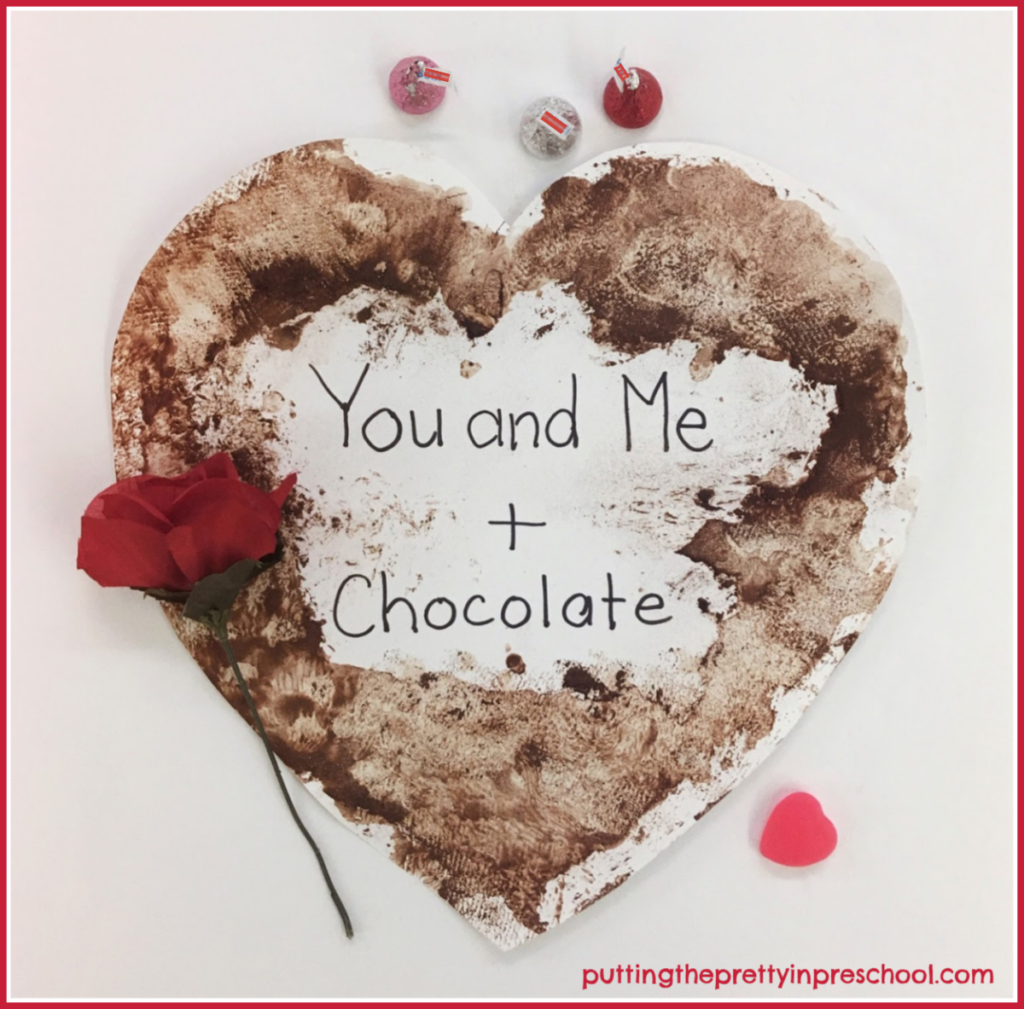 _______
Optional: Near the end, your child can add chocolate sprinkles to the heart. This will lead to a discovery that they make it harder to move the ice cubes around.
_______
Activity Two: Brush Painting With Chocolate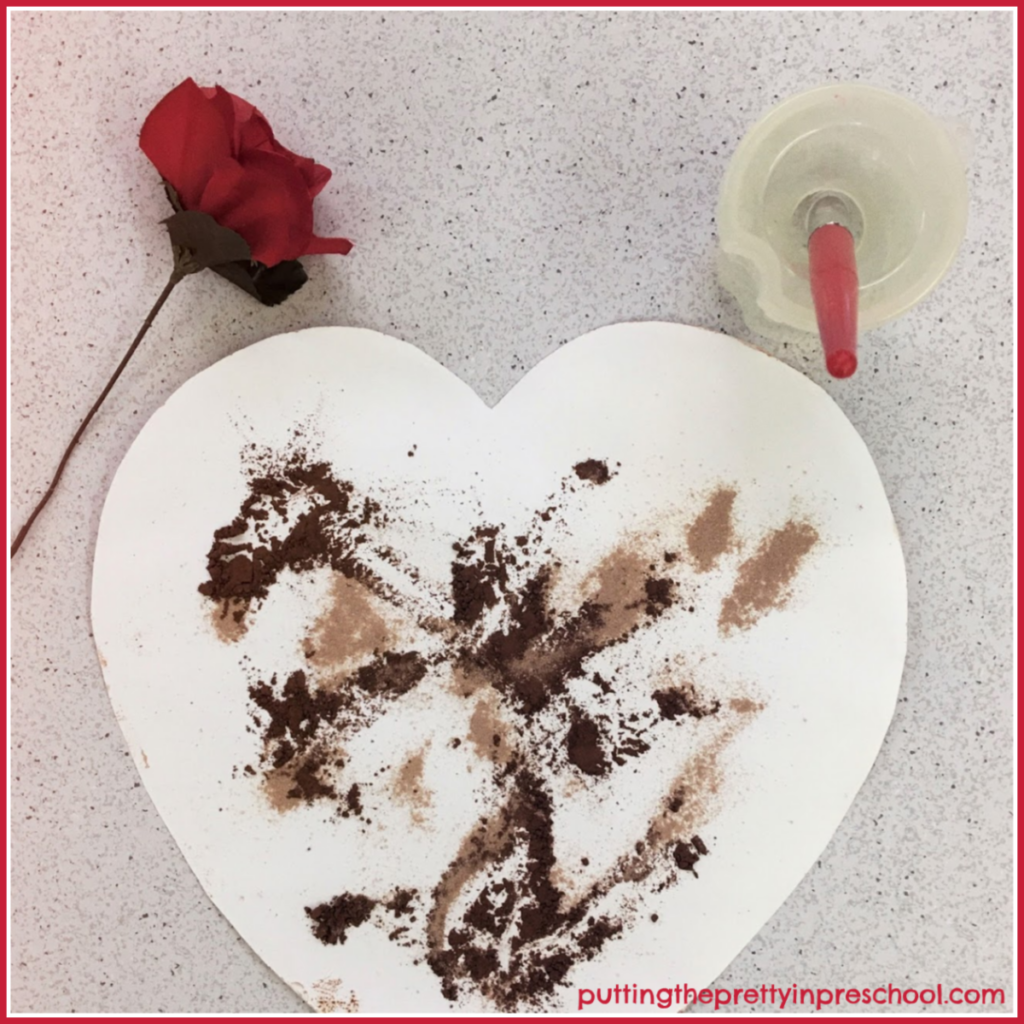 _______
Brush painting is a less messy option if there isn't much time for cleanup.
Invite your child to scatter hot chocolate and cocoa on a paper heart.
Offer a container of water and a paintbrush. Encourage your child to add water to the dry ingredients and paint the heart.
A paper towel can be used to soak up excess liquid.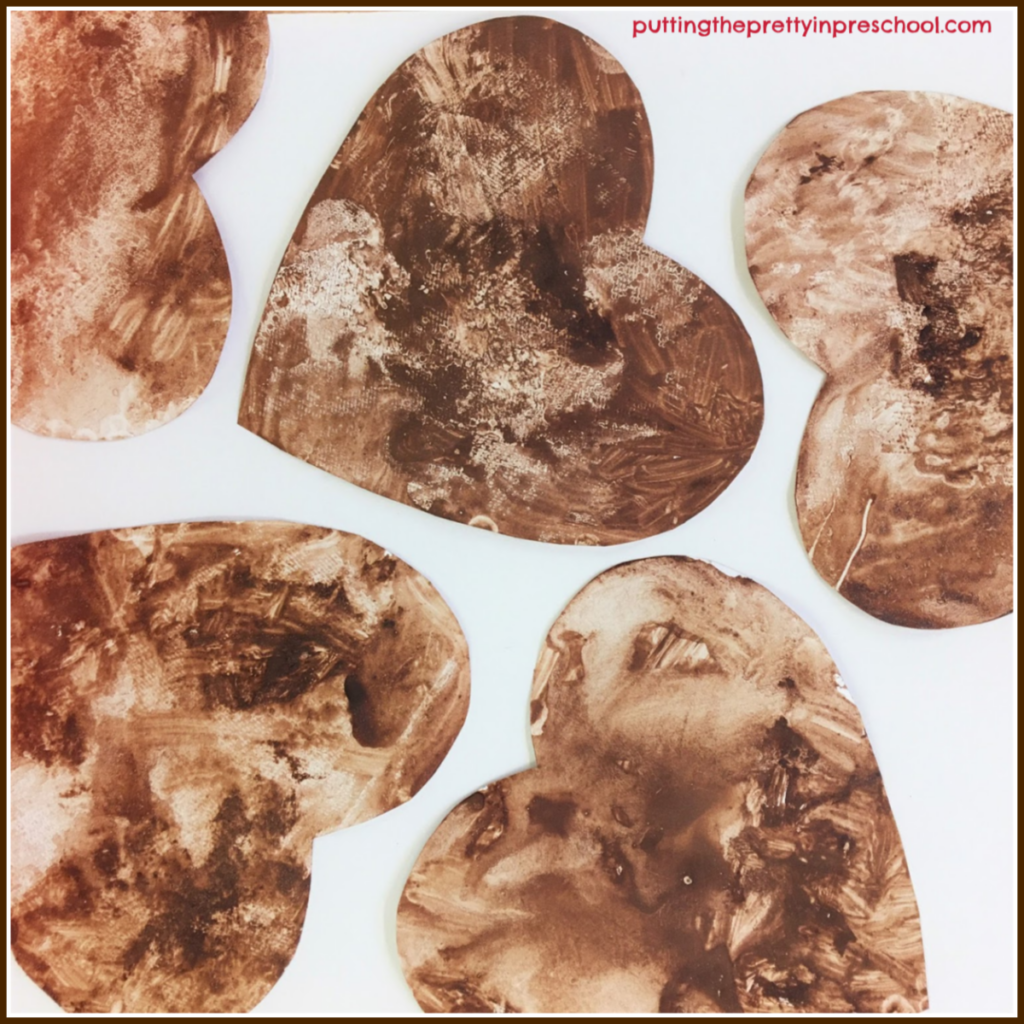 _______
Activity Three: Fingerpainting With Chocolate
The ice cube painting project and brush painting activity can both be turned into fingerpainting experiences. Mixing a higher concentration of cocoa and a little less water results in a fingerpaint-friendly paste that is luscious to spread around. Chocolate sprinkles can be added to enhance the sensory experience.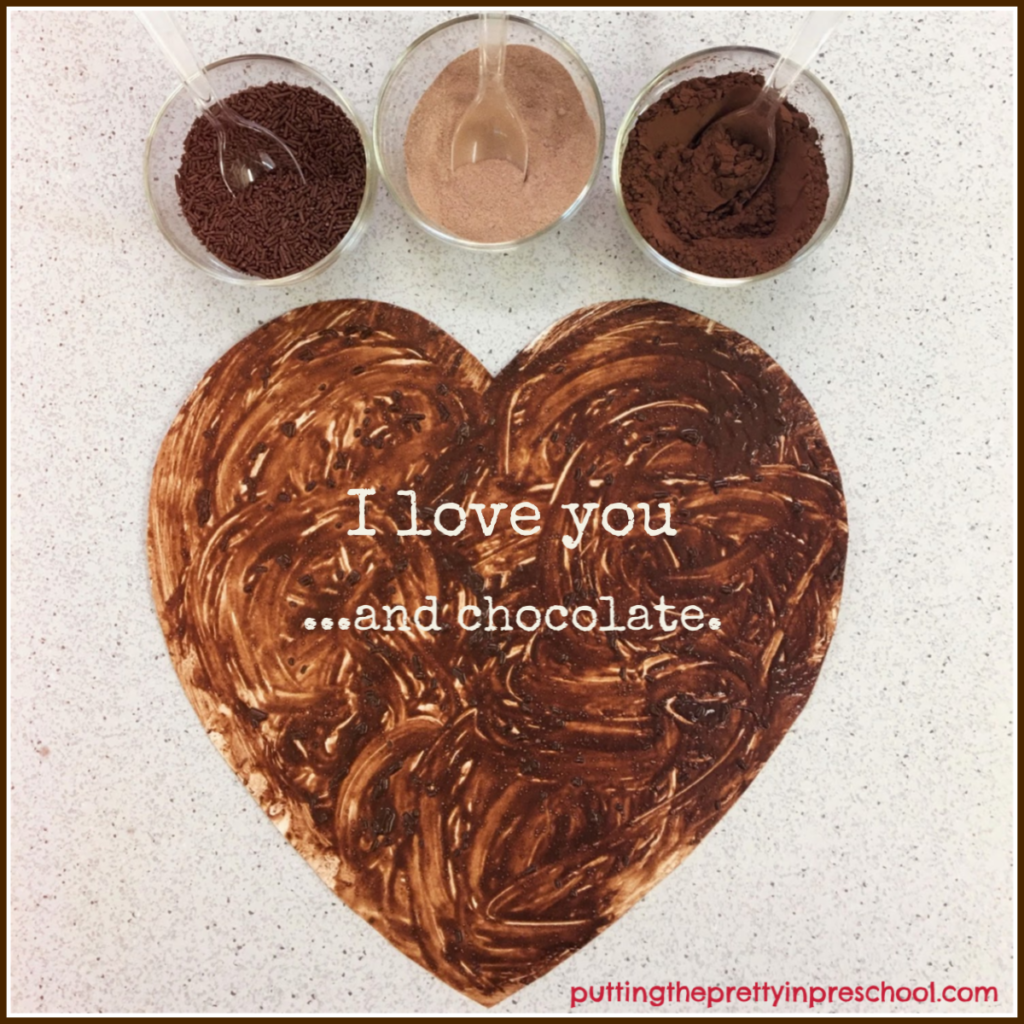 _______
Painted Heart Valentine
Adding a few embellishments will turn a chocolaty heart into a valentine to give away or art piece for display.
The brush-painted version is my favorite for turning into a keepsake. Any extra dry powder can be scraped off with a kitchen scrubber before the heart is added to a craft valentine.
Write the words: You And Me + Chocolate on a doily heart.
Use a glue gun to attach the doily to the painted heart.
Mount the heart on a 12-inch x 12-inch piece of decorative paper.
Add a bow and a real or crafted rose.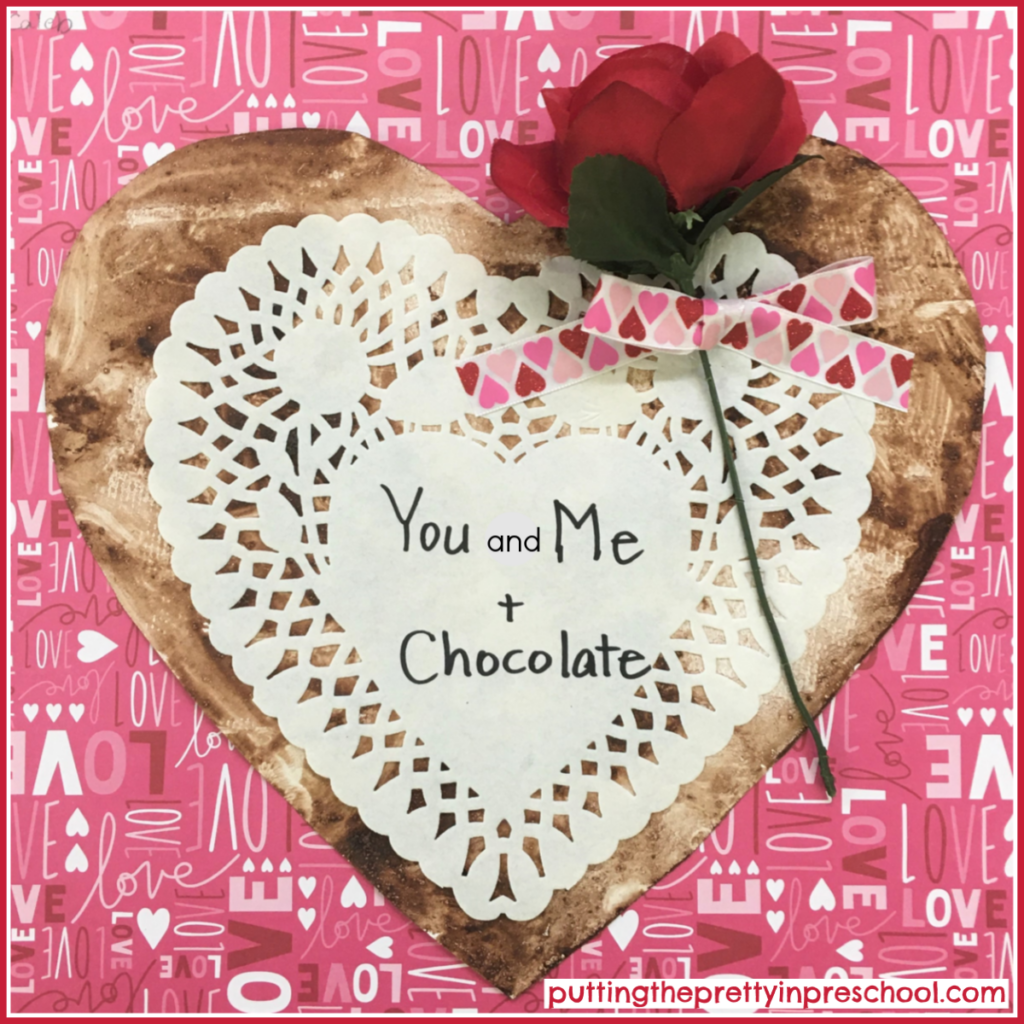 _______
Or add a bow and small pouch with chocolates.
_______
Art, Science, and sensory learning come together in these easy-to-do painting with chocolate activities. Your early learner will certainly be excited to try them.
_______
[Read more…]

about Painting With Chocolate