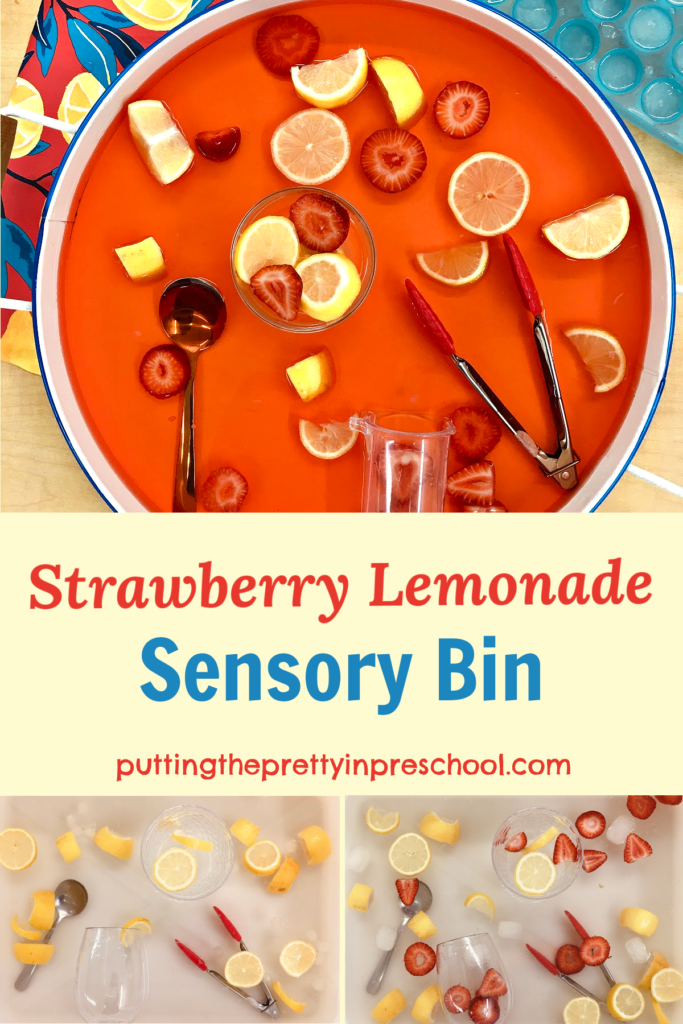 _______
This taste-safe strawberry lemonade sensory bin is refreshing in the heat of the summer and would brighten up a cool fall or icy winter day. Any time of the year, it is bound to be a huge hit with your little learners. They'll especially love the lemonade ice cubes in the bin!
_______
Follow me on Pinterest for more early learning ideas.
_______
Supplies To Collect
Gather the following for this colorful and tasty sensory bin:
tray or tub
lemons
strawberries
can of frozen lemonade
ice cube trays
red and yellow food coloring
plastic glass and bowl
large spoon
kitchen tongs
knife
cutting board
plastic tablecloth
_______
Preparing The Strawberry Lemonade Sensory Bin
_______
To prepare this oh-so-easy lemonade sensory bin, do the following:
First, mix a container of frozen lemonade with water according to the package directions.
Next, pour lemonade into a variety of ice cube trays and freeze overnight.
Just before playtime, wash the lemons and strawberries. Cut strawberries into halves and slices, and lemons into halves, quarters, and slices.
Then cover the table the sensory bin will be set on with a plastic tablecloth.
Pour a layer of cool water into a container the size of a food service tub. A smaller tub or tray will work fine for one child to play in.
Note: If more than one child is participating in the activity, offer an individual lemonade sensory bin to each child.
Next, set in a non-breakable cup and bowl, kitchen tongs, and a large spoon.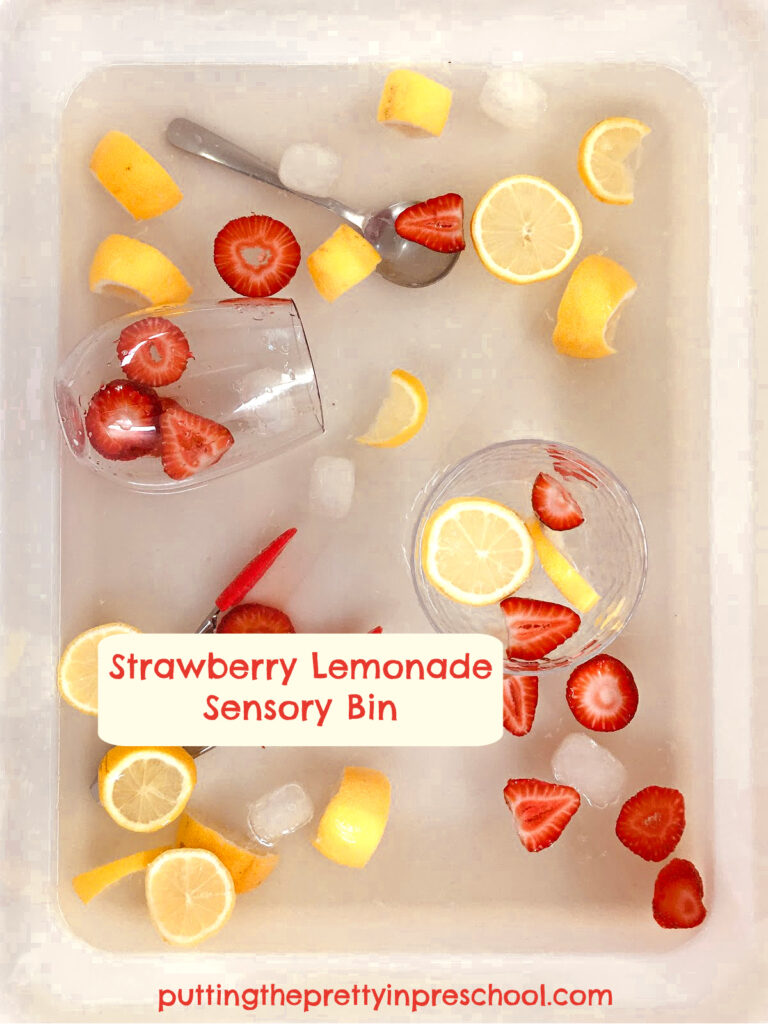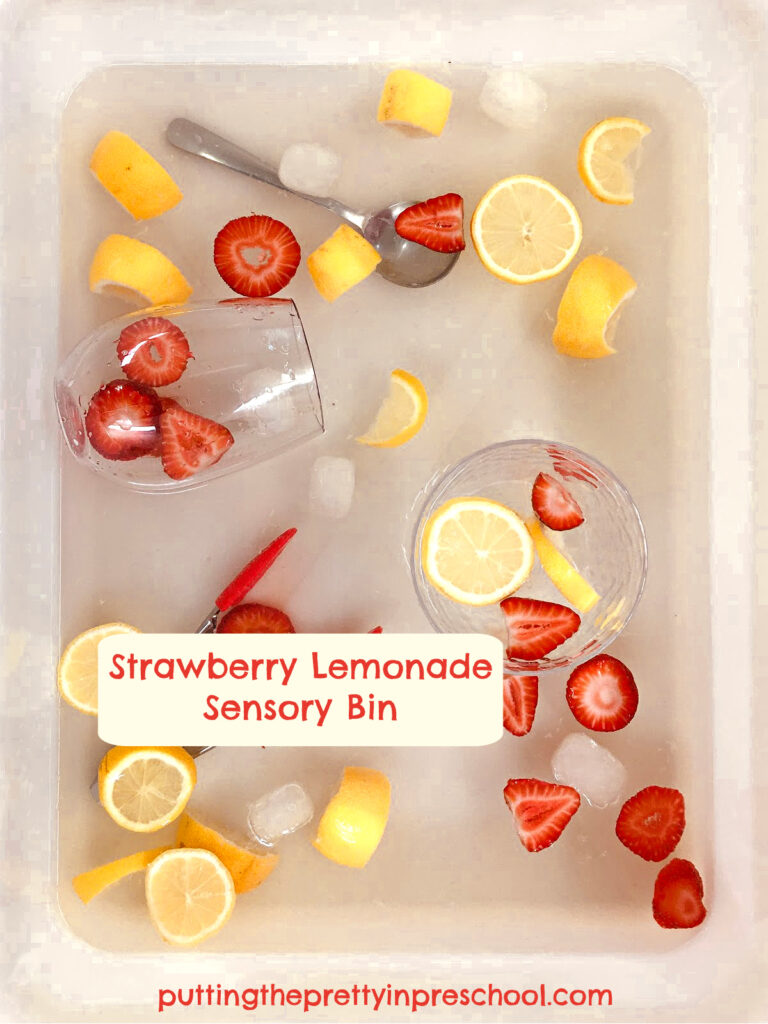 _______
Afterward, sprinkle in cut lemons and strawberries.
Lastly, add lemonade ice cubes in a variety of sizes and shapes.
Note: Smaller ice cubes are easier and safer for little learners to taste. Larger ones are easier to see in the bin.
_______
Strawberry Lemonade Sensory Bin Exploration
You may wish to offer this bin with just lemon slices and lemonade ice cubes first.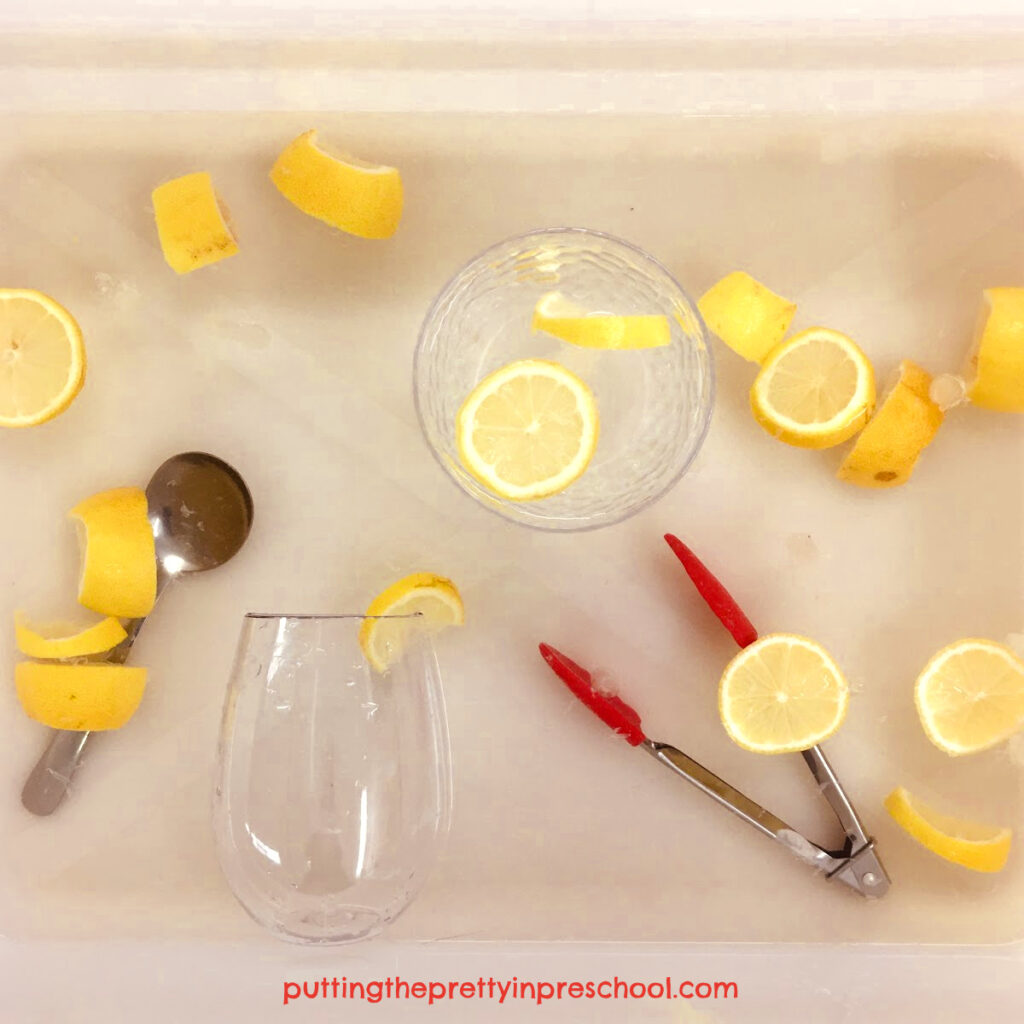 _______
Strawberries can be sprinkled into the bin at the start, or put in a little later to add interest and sensory exploration possibilities.
Turning the water into a shade of coral by squirting in a few drops of red and yellow food coloring further adds to the learning through play experience.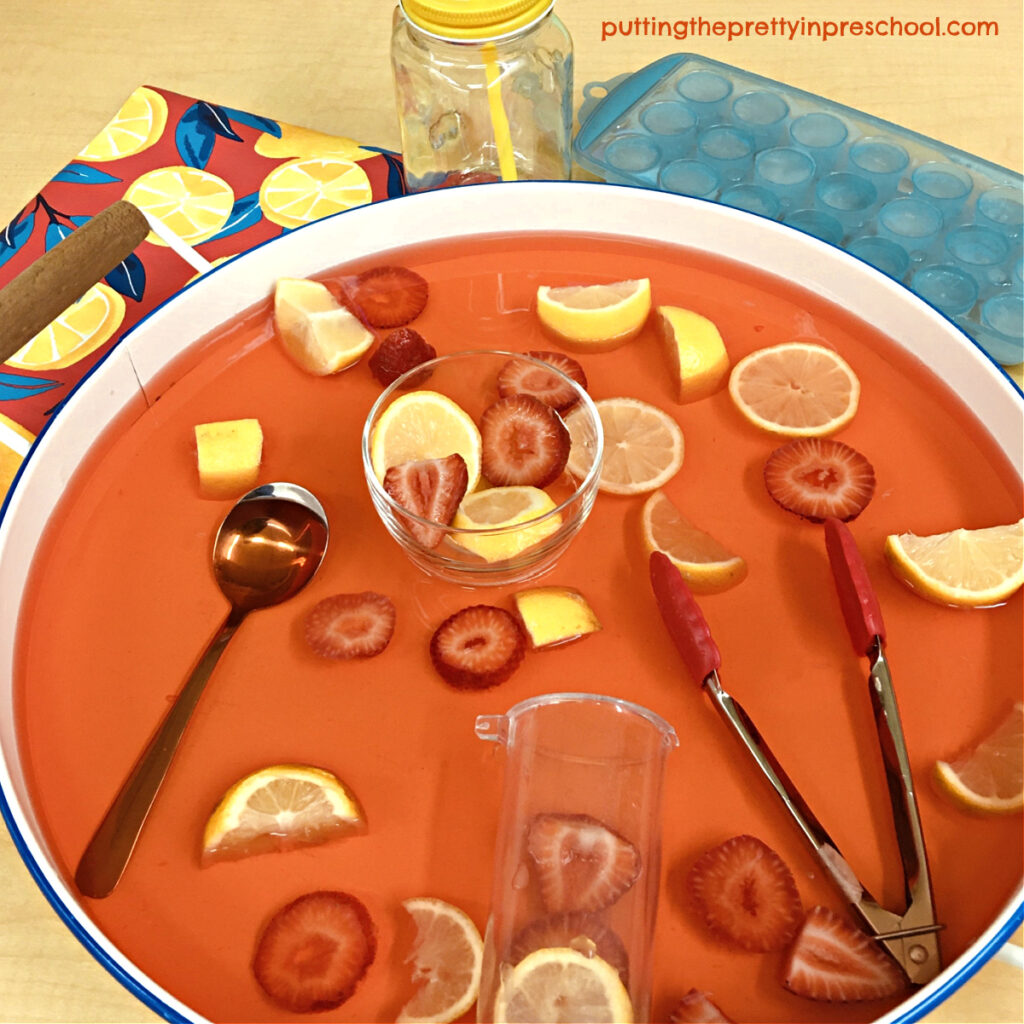 _______
Benefits Of The Lemonade Sensory Play
Your little learners have the opportunity to use all of their senses in this taste-safe bin. They can…
taste sweet and sour foods
feel cold, sticky, and smooth food parts
smell the refreshing scent of strawberries and lemons
hear the foods splash into cups and be stirred into bowls
see the colorful lemons and strawberries, and subtle ice cubes
Lots of interesting conversation naturally occurs while children explore their lemonade sensory bin, enhancing language.
Developing eye-hand coordination while scooping and pouring and exercising fine motor control by squeezing lemons and using kitchen tongs are also benefits. And when the color of the water is changed, little learners experience science!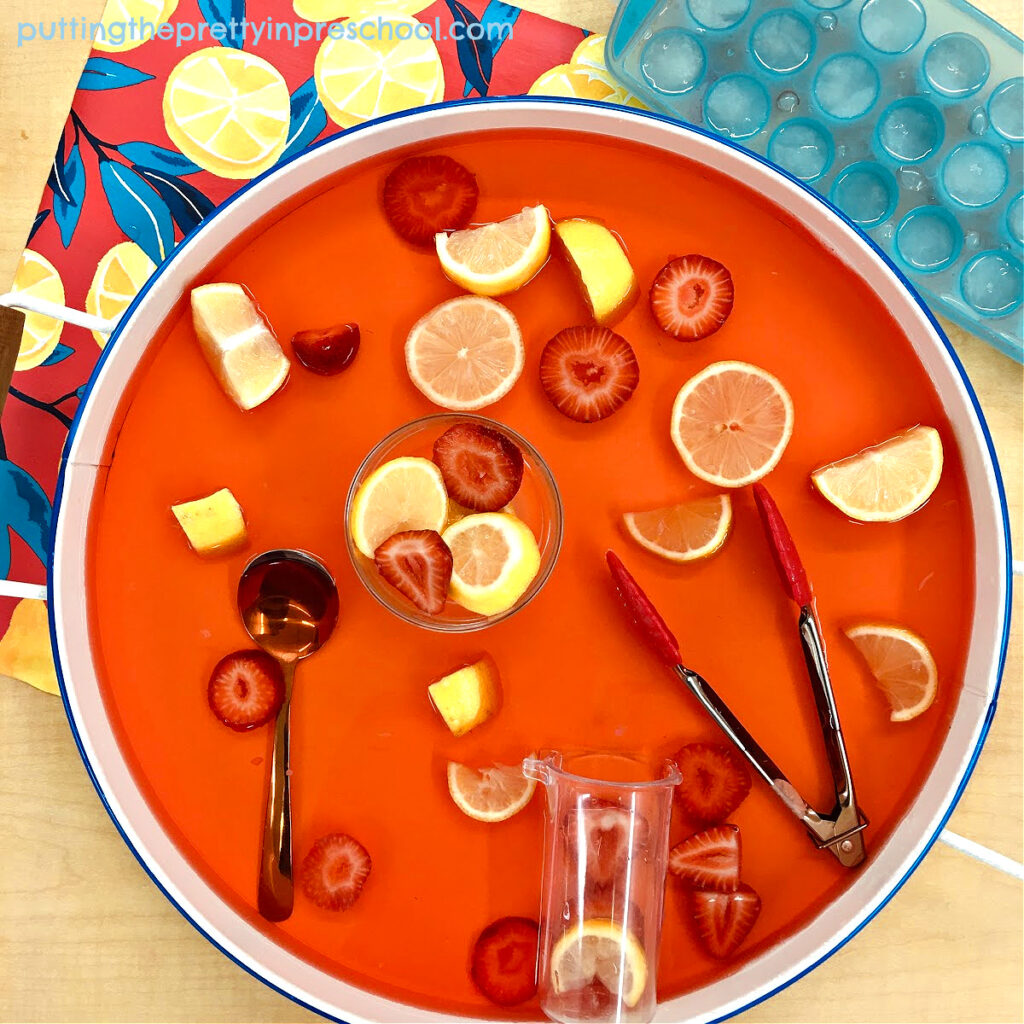 _______
Lemonade Recipes
Interested in trying some new lemonade recipes, or discovering more additives for a lemonade sensory bin? Check out this excellent post "The Twelve Best Lemonade Recipes" by gypsyplate.com.
_______
Related: Strawberry Hot Chocolate Sensory Bin
_______
[Read more…]

about Strawberry Lemonade Sensory Bin