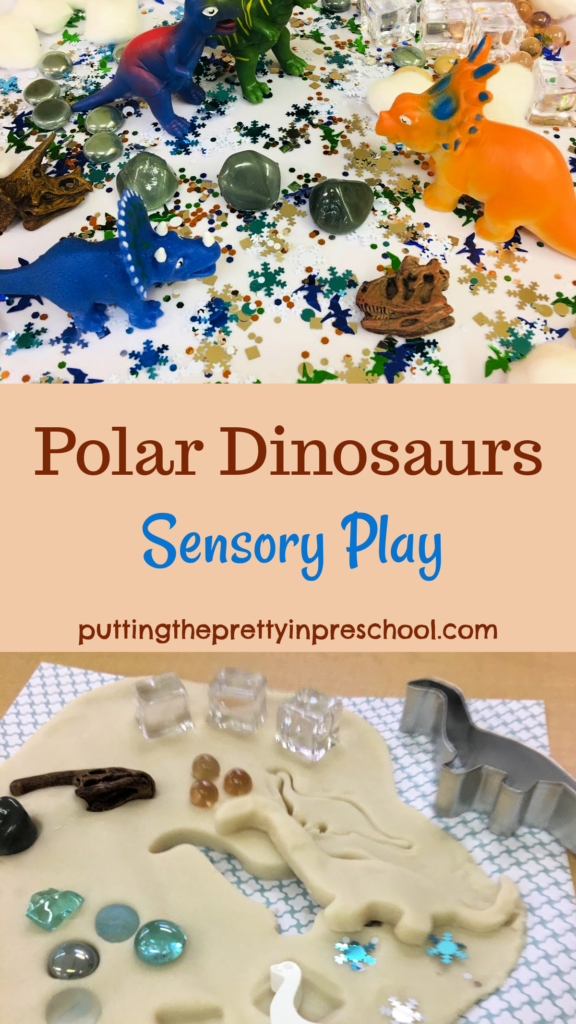 _______
Could dinosaurs have survived in polar areas of the world? Since fossils of many kinds of dinosaurs have been discovered in cold, icy regions, this question has been carefully pondered. Early learners can explore this idea through polar dinosaur sensory play.
_______
Polar Dinosaur Discoveries
Northern Alaska is the best polar location to find dinosaur fossils, as fossils of many uniquely different dinosaurs have been unearthed there.
Fossils from at least eight types of dinosaurs have been discovered in Antarctica.
Dinosaur fossils have also been found in Siberia, Canada, southern Australia, New Zealand, and the southern tip of South America.
There have been discoveries of dinosaur trackways, footprints, teeth, skin impressions, and bones.
Collecting dinosaur fossils in polar regions is challenging because of the extreme weather conditions, rugged, hard to access places and difficulty in removing fossils.
_______
Polar Dinosaur Sensory Tray
A simple way to incorporate the idea of polar animals living in cold parts of the world is to set up a polar dinosaur sensory tray.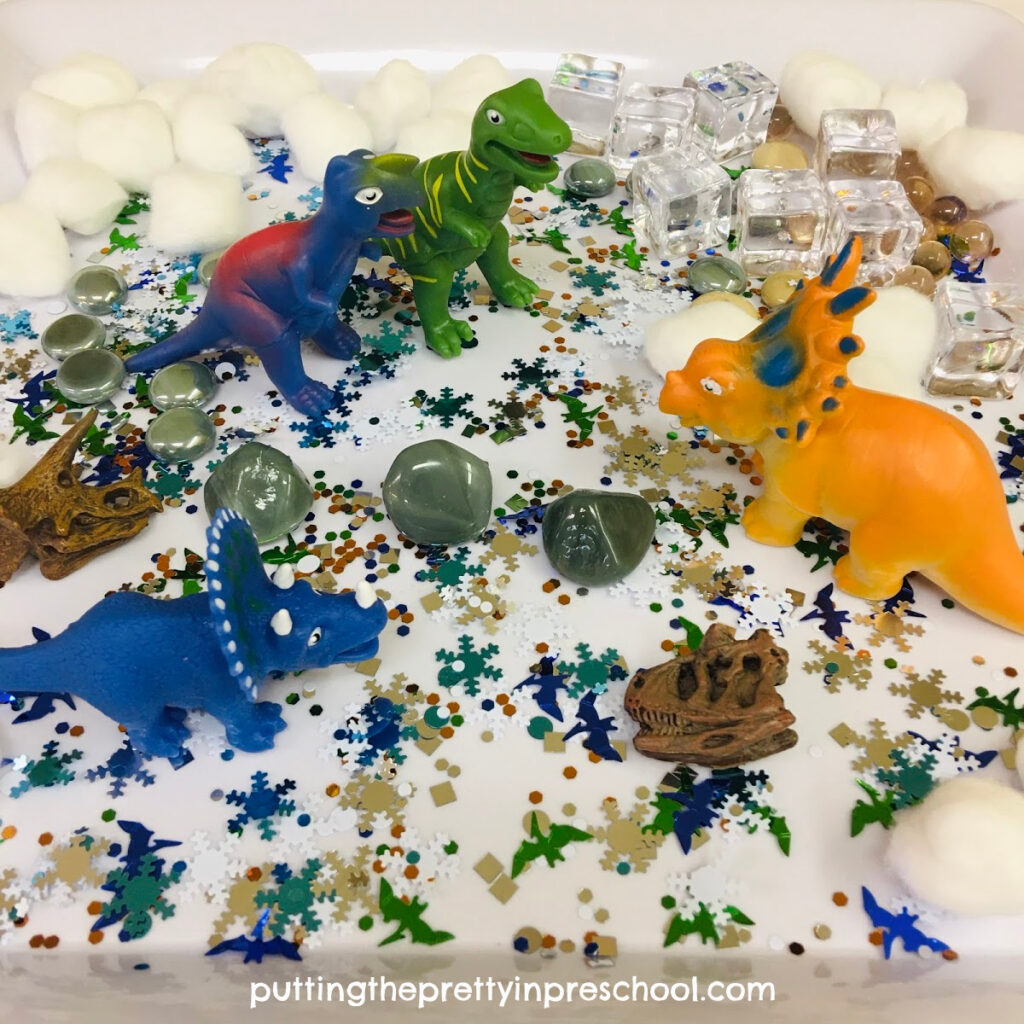 _______
Items in the tray:
dinosaur figurines and skulls
acrylic ice cubes
turquoise acrylic gems
white, cream, and blue gems
stones
cotton balls
snowflake confetti
dinosaur confetti
_______
This is an eye-pleasing tray that is bound to draw children in. It works well for individual sensory play.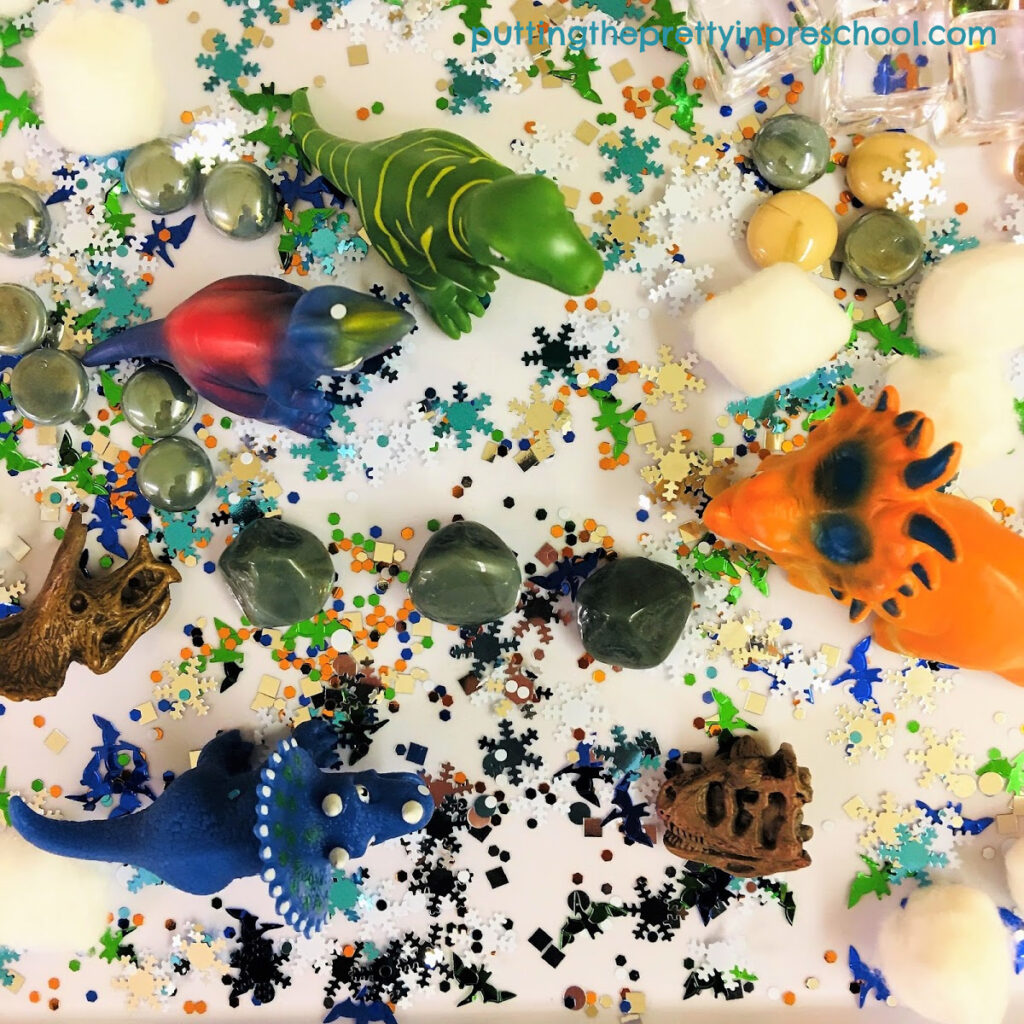 _______
Polar Dinosaur Playdough Tray
You can use most of the above items for a polar dinosaur playdough tray. I exchanged the dinosaurs for miniature ones and took out the cotton balls.
For the oh, so soft playdough recipe, click here.
_______
Dinosaur cookie cutters add to the play possibilities.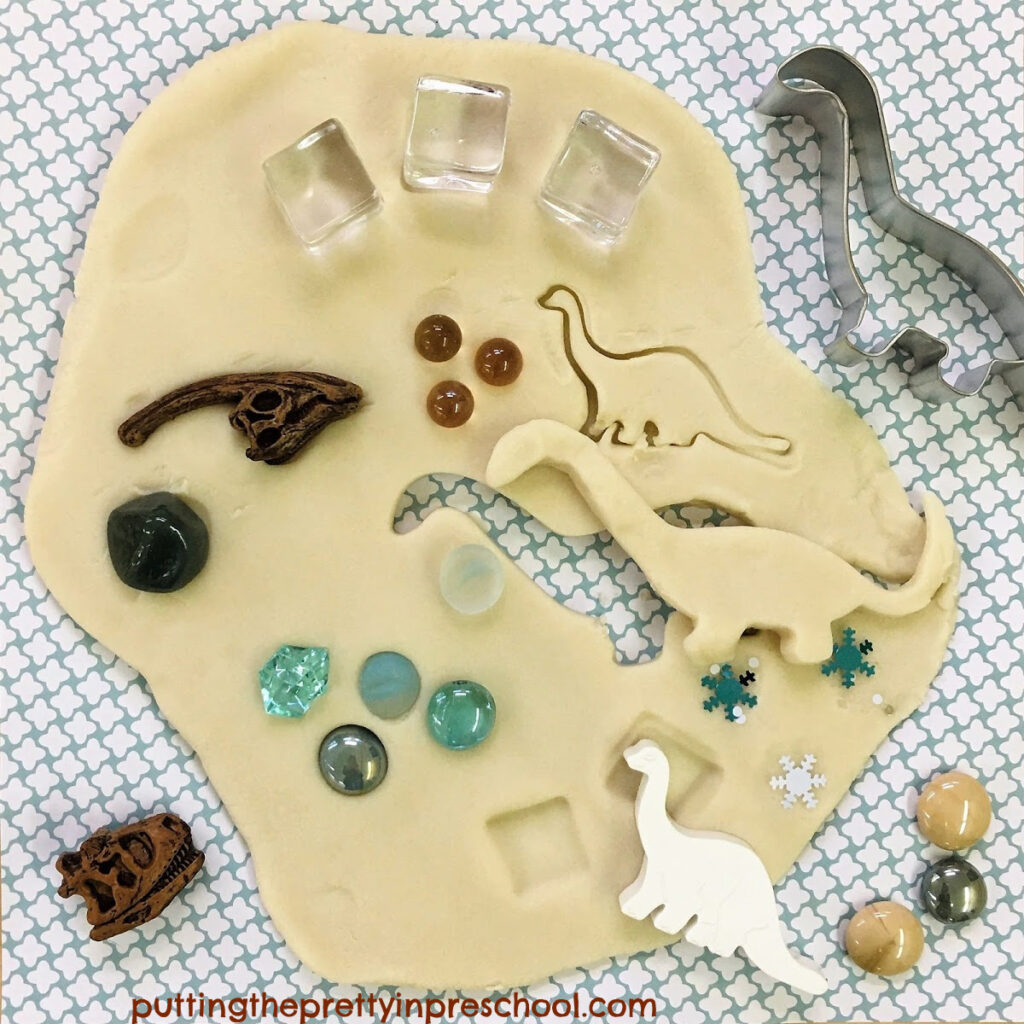 ---
Polar Dinosaur Sensory Tube
After using snowflake and dinosaur confetti in sensory trays, sprinkle some in a large clear plastic water bottle. Then add mini dinosaur figurines and water. Set the bottle out as a sensory tube for little learners to explore.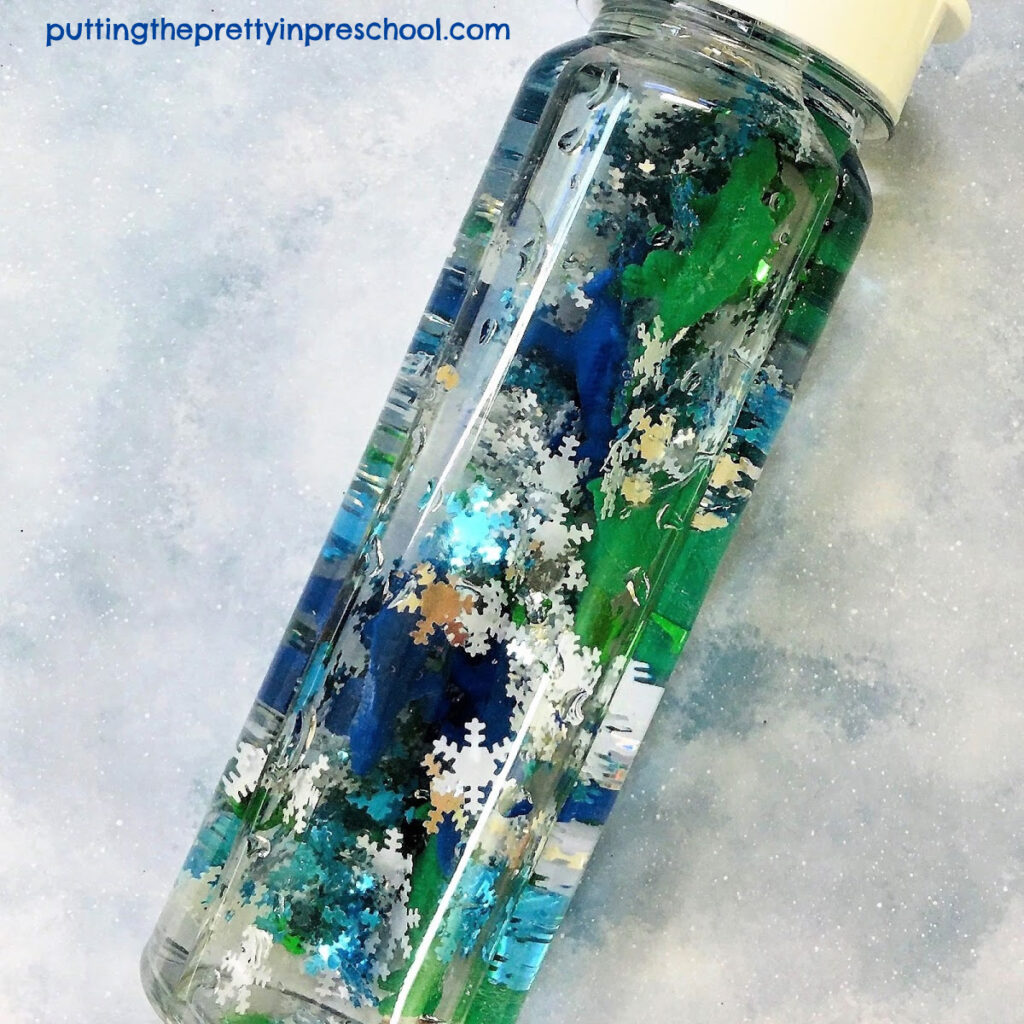 _______
What Scientists Think About Dinosaurs and Polar Regions
Some dinosaurs could have lived in dark, chilly places, and may have hibernated in winter. Others could have adapted to the colder weather.
Still others may have migrated to polar regions in spring/summer because food was plentiful like many animals do today.
When dinosaurs roamed the earth the climate around the world was much warmer than today. Although polar lands had freezing temperatures and some snow, the weather was milder.
Fossils of leaves, pine needles, and trees show evidence that many polar areas were covered with forests when dinosaurs lived.
_______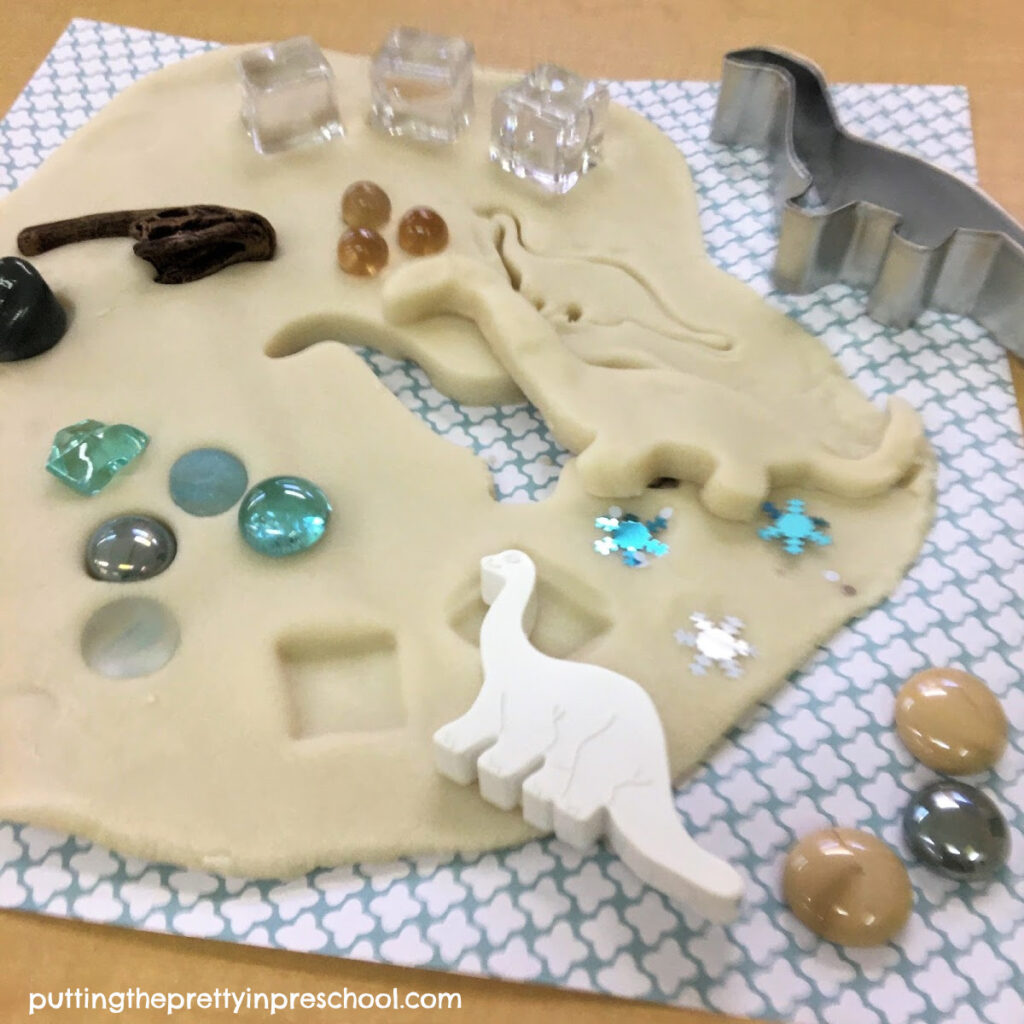 _______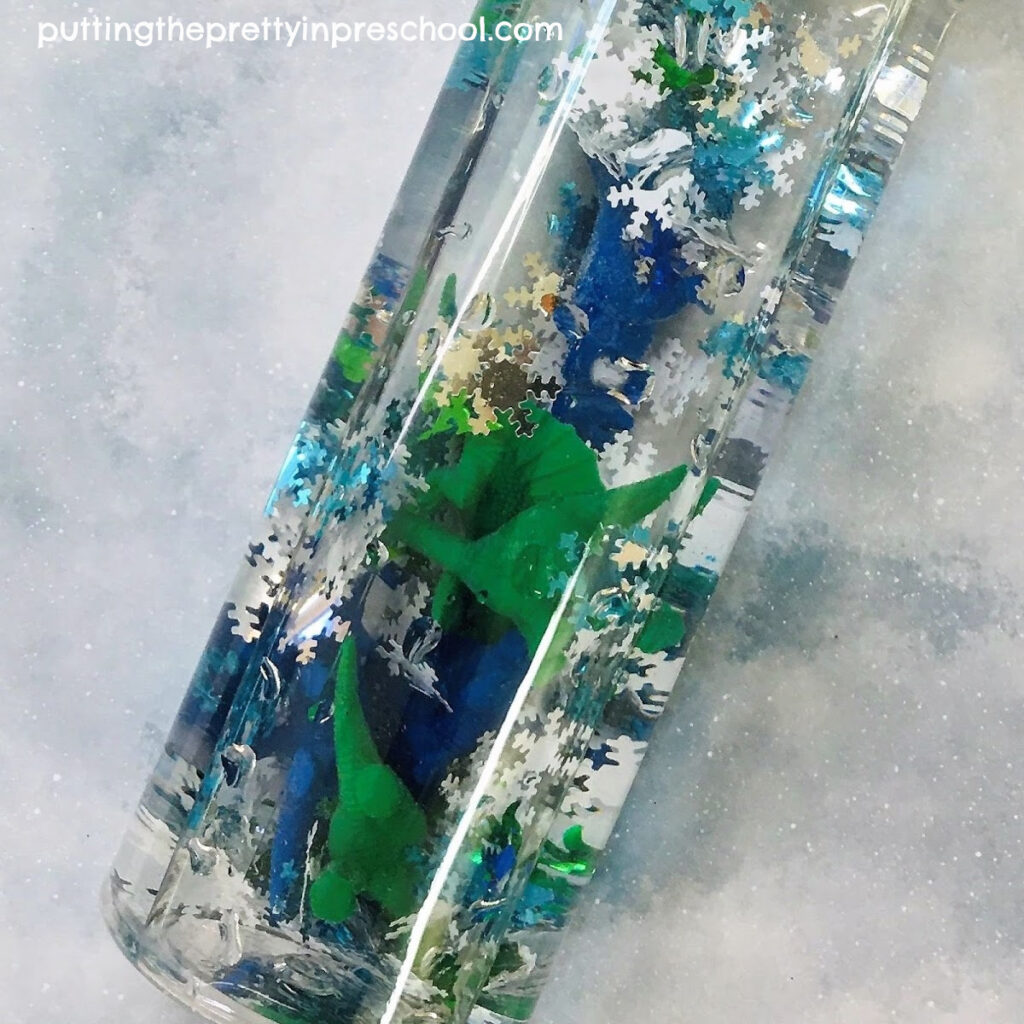 _______
[Read more…]

about Polar Dinosaur Sensory Play