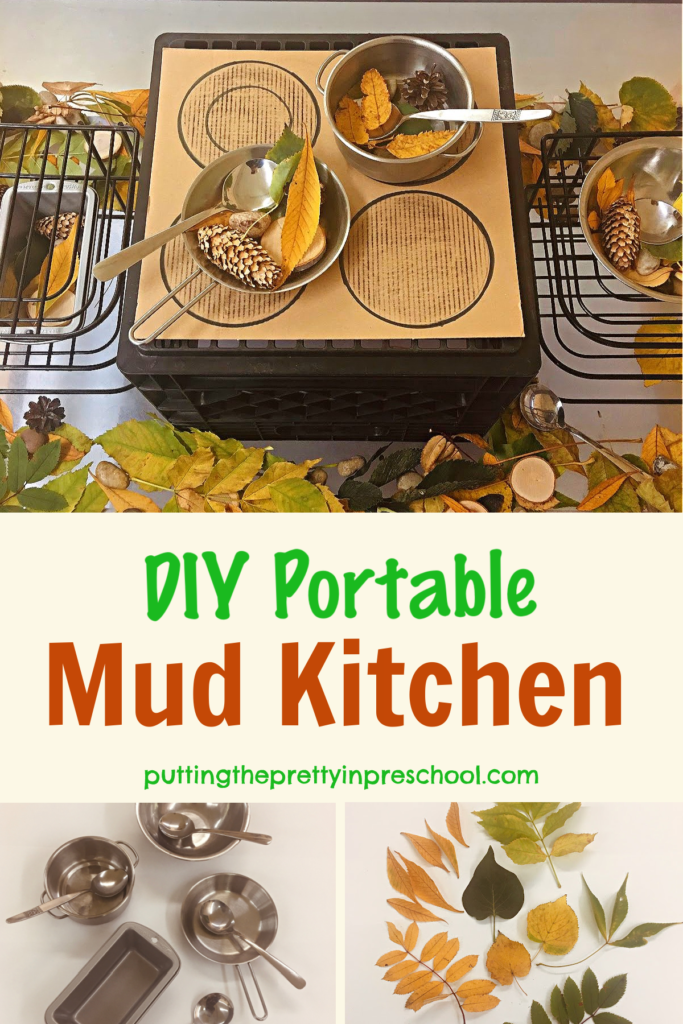 _______
I am a huge fan of mud kitchens but also love a DIY portable mud kitchen option.  A "to go" mud kitchen that can be taken on nature outings or set anywhere in the classroom is economical and easy to set up. And it offers a multitude of imaginative play opportunities.
_______
Follow me on Pinterest for more early learning ideas.
_______
Portable Mud Kitchen Supplies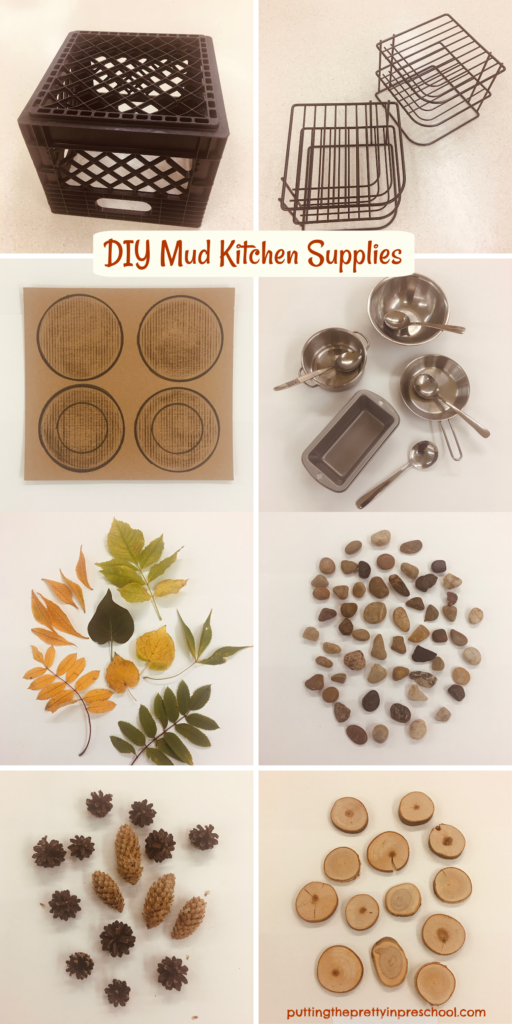 _______
To make a pop-up mud kitchen, simply use supplies you have on hand. Gather the following:
milk crate
small wire shelves
cardboard box square
play pots and pans
loaf pans and muffin tins
soup spoons
wood slices
pine cones
rocks
leaves
black permanent marker
black crayon
circle tracers
_______
The DIY Portable Mud Kitchen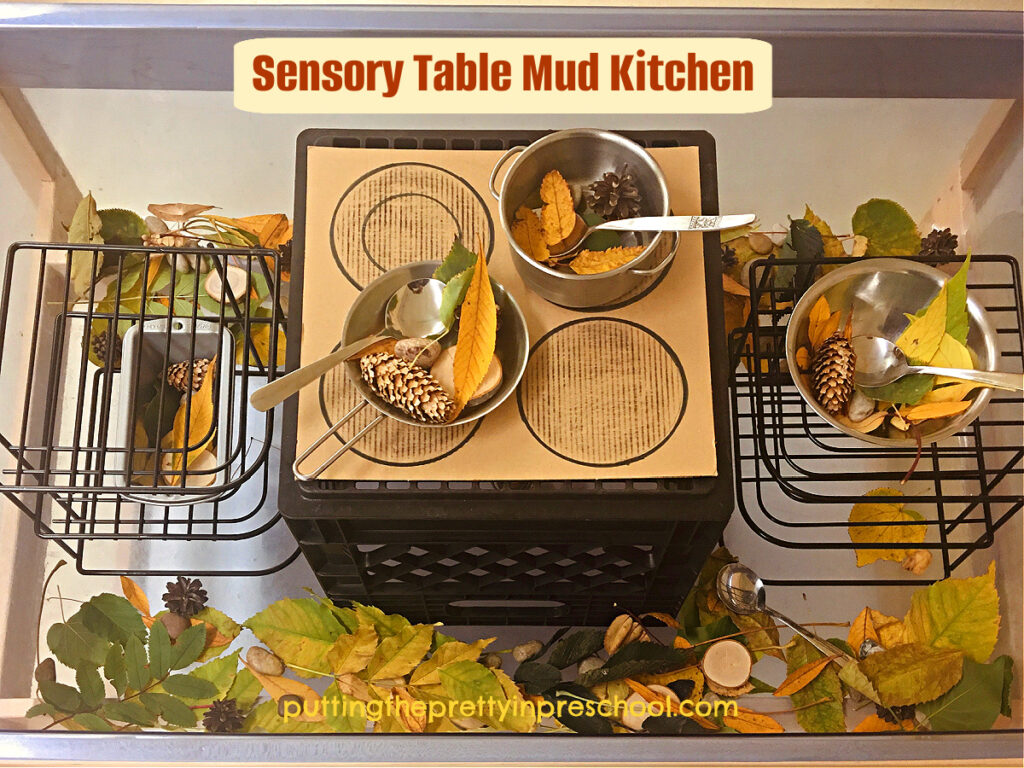 _______
This portable mud kitchen can be set up anywhere. In the classroom, it allows you to bring in natural materials for early learners to explore in an effortless way.
To put it together, start off by using circle tracers (think food container lids) to draw stove burners on a cardboard box square with a black permanent marker. Color in some of the circles with a black crayon.
Place the stove top drawing on an upside-down milk crate. Or draw stove burners on the bottom of a box.
Set the crate and drawing (or box stove) in a sensory table (sand and water table.)
Add small wire shelves (available at dollar stores).
Collect old pots, pans, muffin tins, and serving bowls and place them in the table. Include serving spoons.
Sprinkle in rocks, wood slices, pine cones, and leaves in a variety of colors. Invite little learners to explore the center.
It's that simple!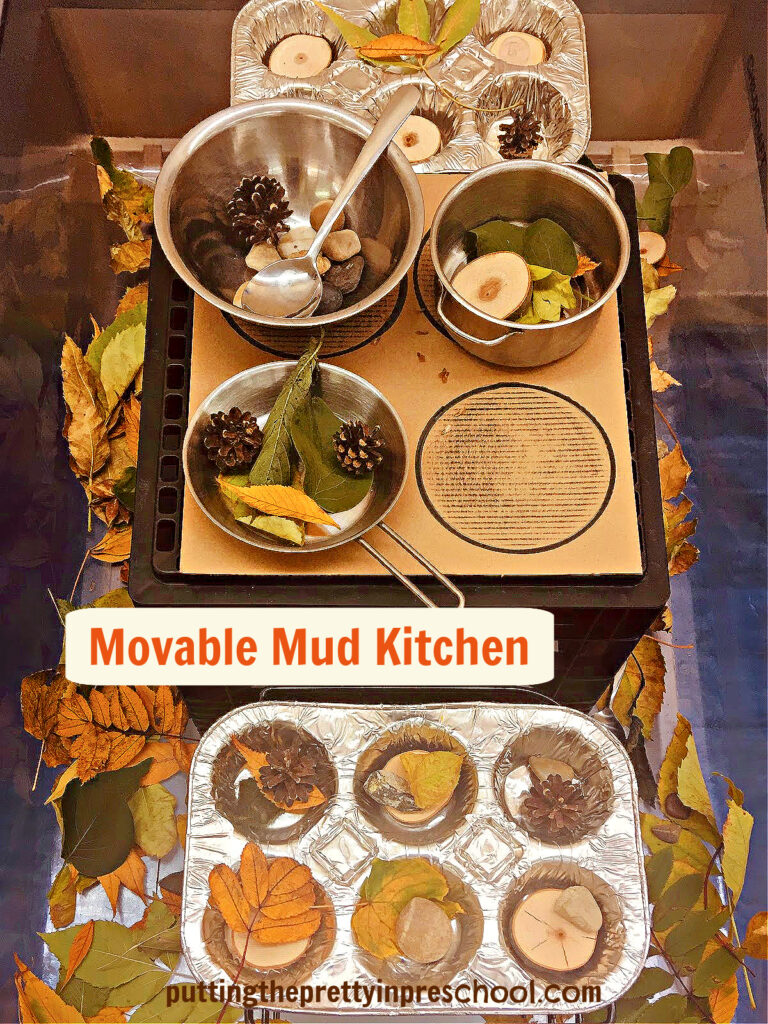 _______
More Mud Kitchen Play
This setup can be taken outside and arranged on the ground or on a bench. Load all the supplies in the crate for easy transport.
A metal bowl "sink", a pitcher of water, tea cups, whisks, potato mashers, and ladles would add interest and sensory opportunities to this center.
An active world tray positioned on the ground works well as a base instead of a sensory table. Or set up the supplies on a tarp.
_______
Related: Fall Sensory Play
_______
[Read more…]

about DIY Portable Mud Kitchen