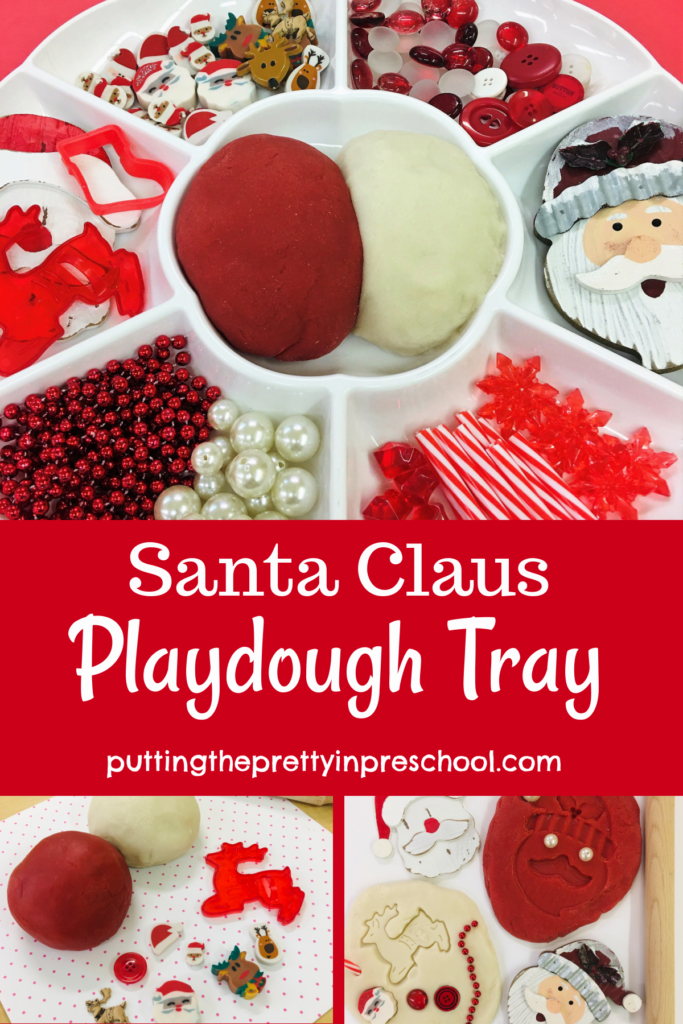 ---
This Santa Claus playdough tray is stocked with white and cherry red dough. You'll want to save this post to have the recipes on hand, as they are oh so soft and aromatic.
Santa Claus is a fun part of Christmas celebrations, and legend has it that he lives at the North Pole. With the help of his elves, he makes toys all year long. He fills a sack with toys on Christmas Eve and delivers them to children all around the world in a sleigh pulled by eight reindeer.
---
Related: Read a Christmas Santa Claus Story about how the jolly man may have originated on howstuffworks.com.
---
Santa-themed Loose Parts Tray
Santa Claus is most often pictured with a long white beard and red, fur-trimmed clothing. So red and white loose parts are predominant in this collection.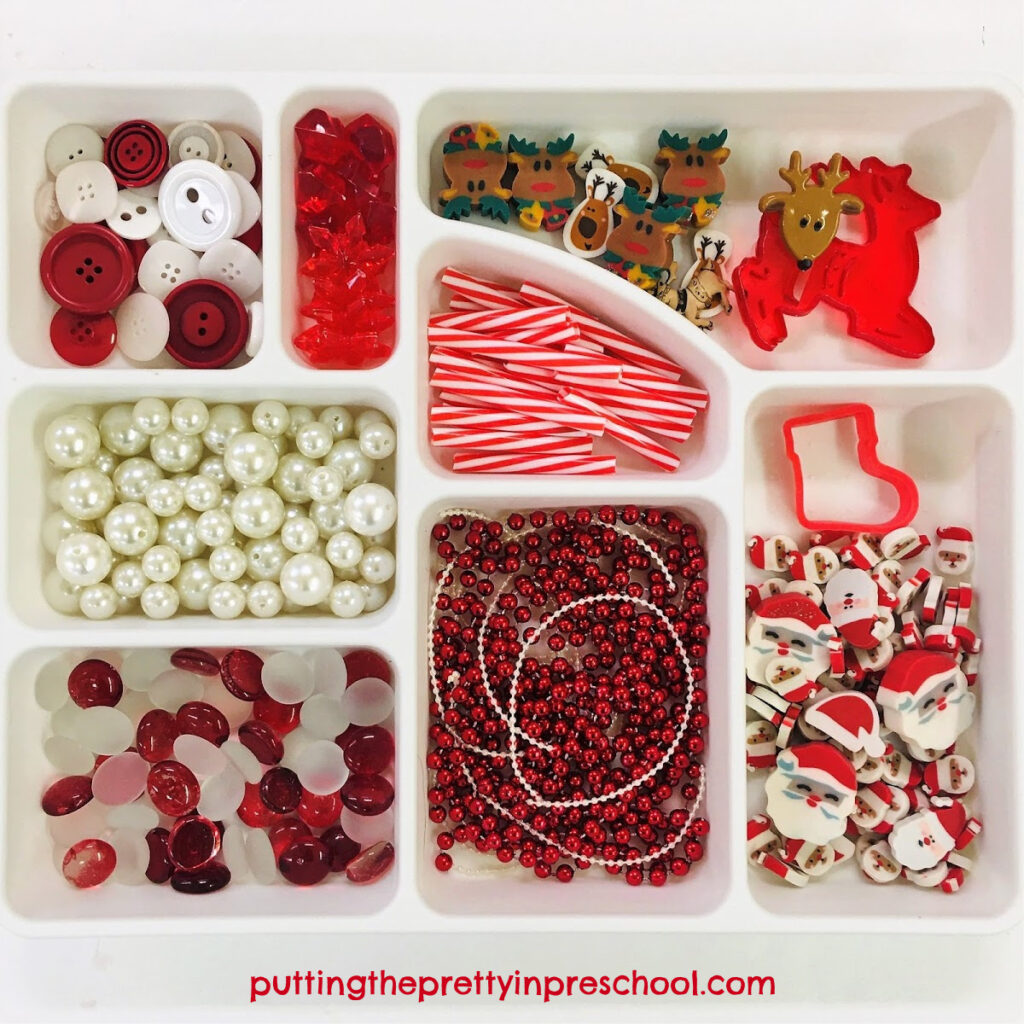 ---
The tray includes:
Santa and reindeer erasers
reindeer ring and buttons
red snowflake gems
red and white round gems
various sized white pearl beads
cut up candy striped straws
reindeer and stocking cookie cutters
Santa Claus and present shaped cookie cutters could be added to the tray.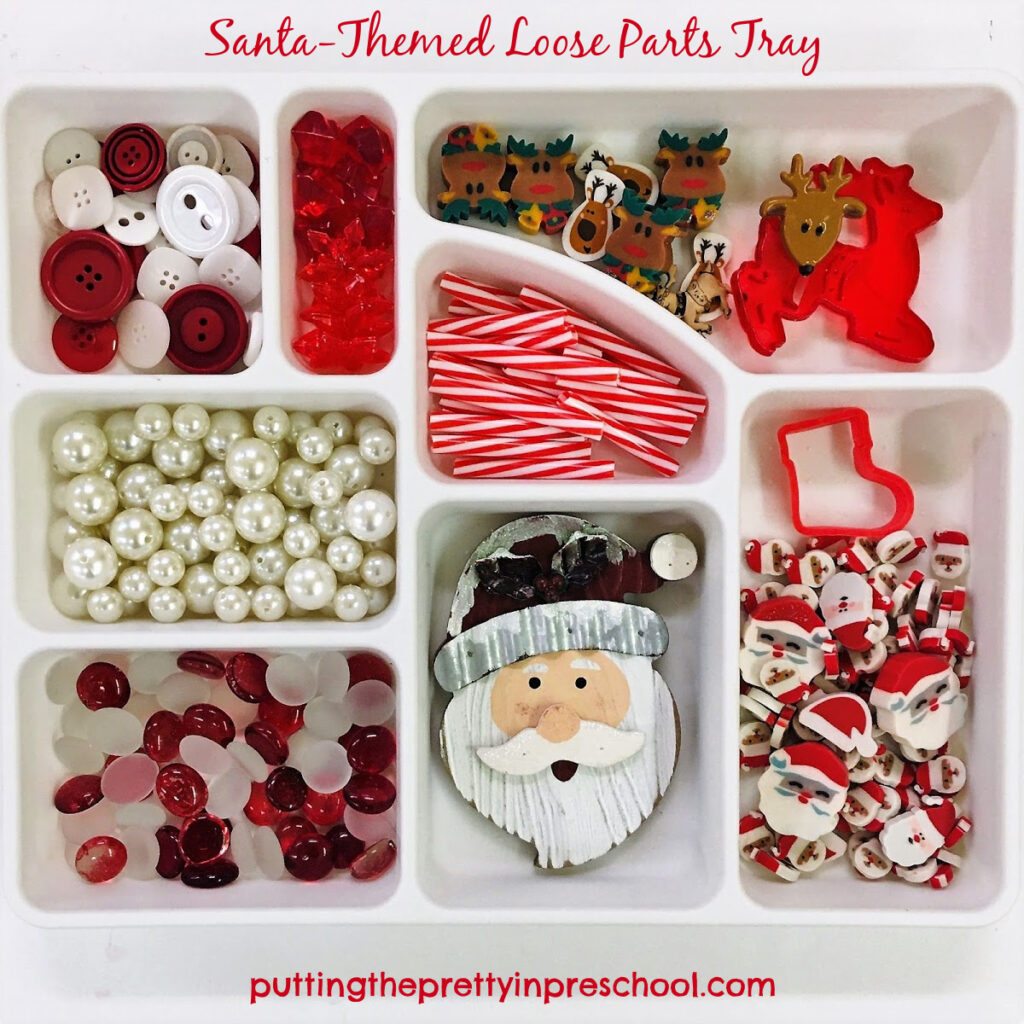 ---
White Playdough Recipe
My go-to basic playdough recipe (featured in this post) has the following ingredients:
2 cups flour
1 cup salt
4 teaspoons cream of tartar
2 cups water
3 tablespoons oil
---
Add the first three ingredients to a sturdy pot and mix them together.
Stir two tablespoons of oil into two cups of water.
Add the water and oil to the dry ingredients and combine.
Heat on the stove on medium heat.
Stirring frequently, cook until the mixture is no longer glossy and the dough forms a ball.
Place the dough on a cutting board.
Knead when cool, adding in one more tablespoon of oil.
Store the playdough in a sealed plastic bag.
---
[Read more…]

about Santa Claus Playdough Tray